Apr 10 2016
Apologies for a long post. It's the National Long Distance Championship, not just some random training day.
Morning weight – one kilo under the limit. OK.
The day started quite relaxed. We took the girls to the launching area. Inspected the boats. Romana and Iva did some front stop adjustments.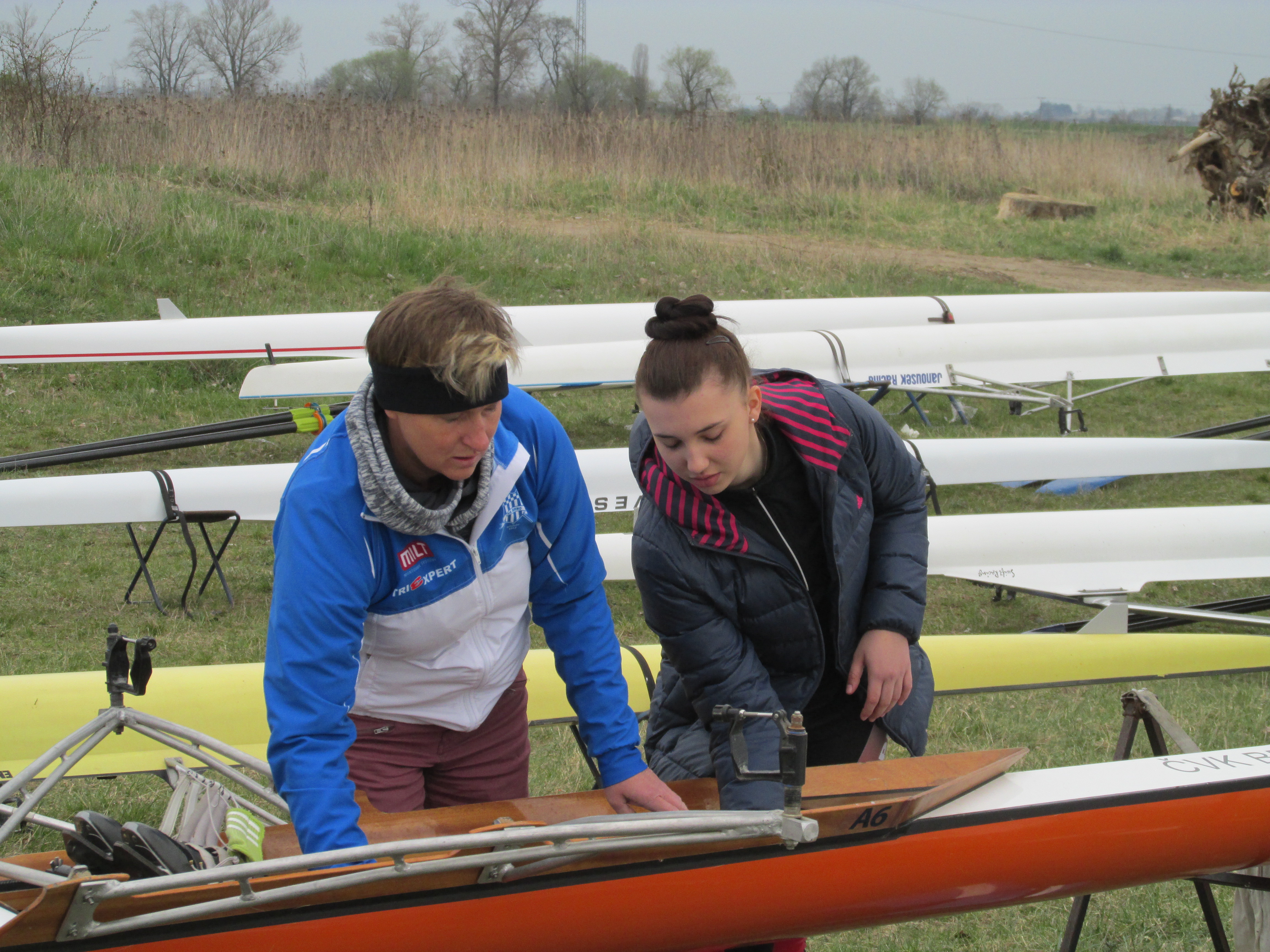 By that time the boys (juniors) pairs and singles were launching for their races. We took the car and drove along the course. At the final bridge we stopped and cheered for the pairs. I took a few pictures. This year they shortened the intervals between starts from 60 seconds to 30 seconds. I think it's a good thing. It makes the racing more interesting both for crews and for the spectators. The first wave of boats arriving was an impressive sight.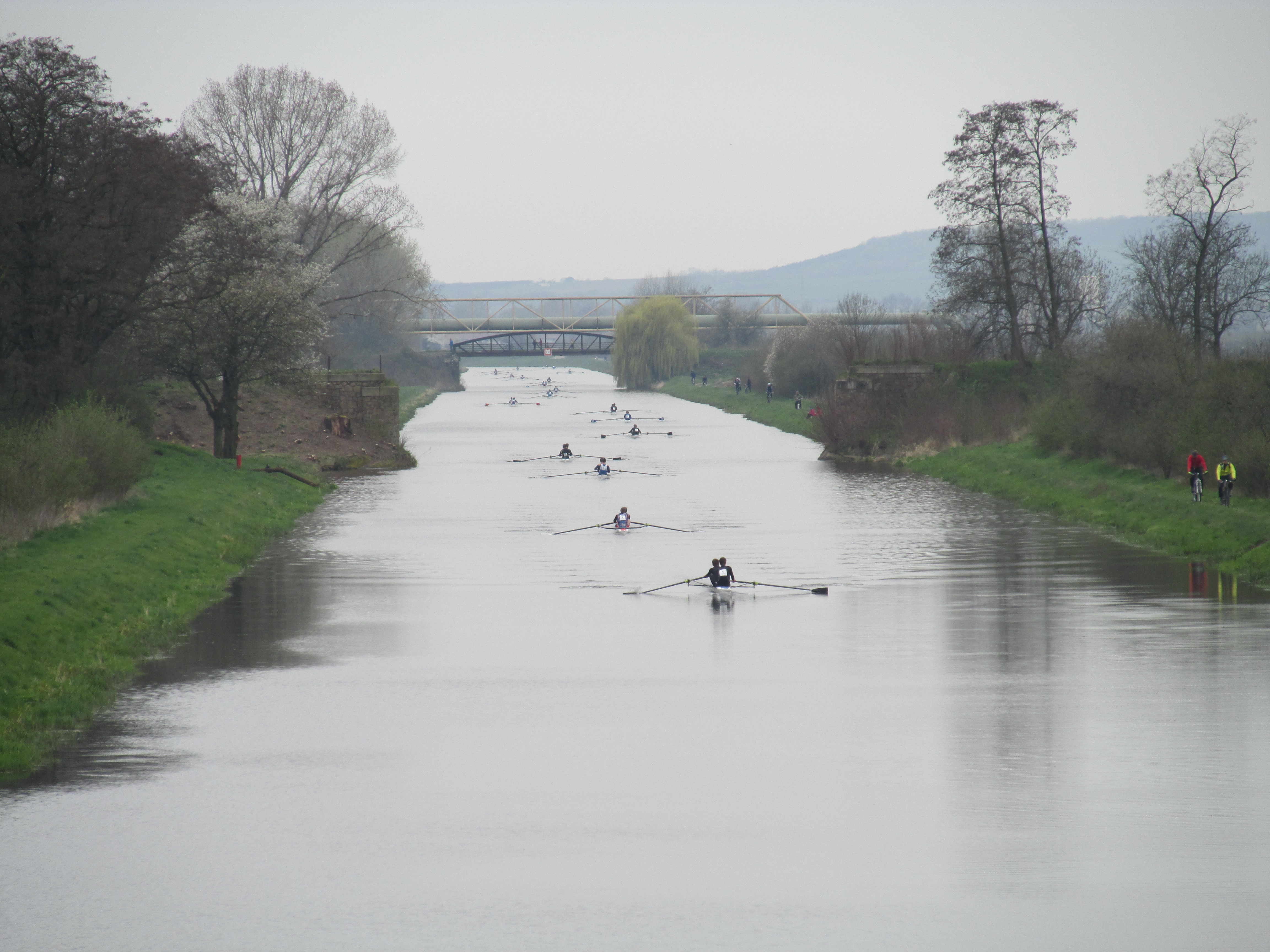 Ah, there were "our" guys: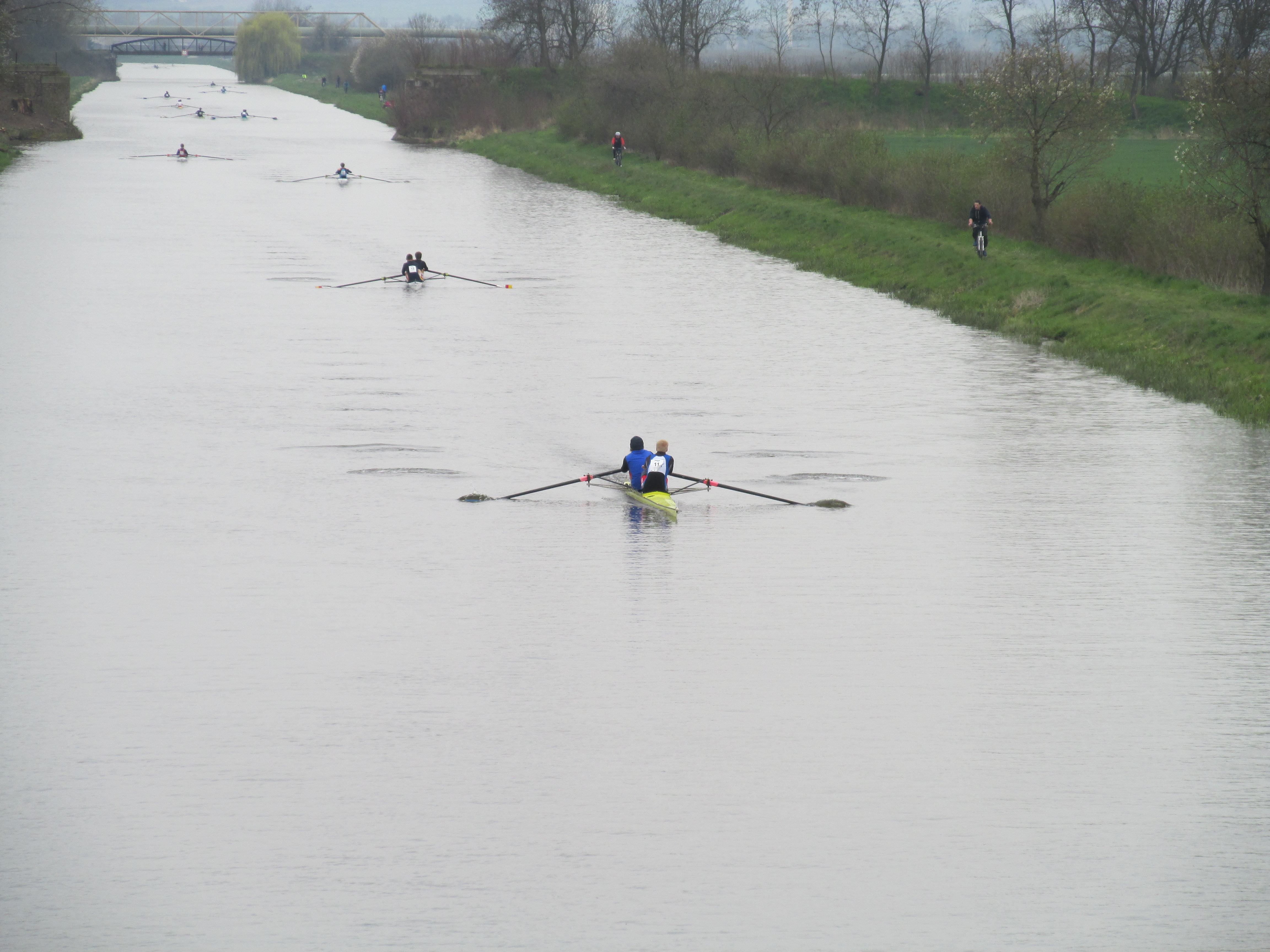 We cheered our lunchs out, ran across the bridge to see them rowing towards the finish and cheered some more: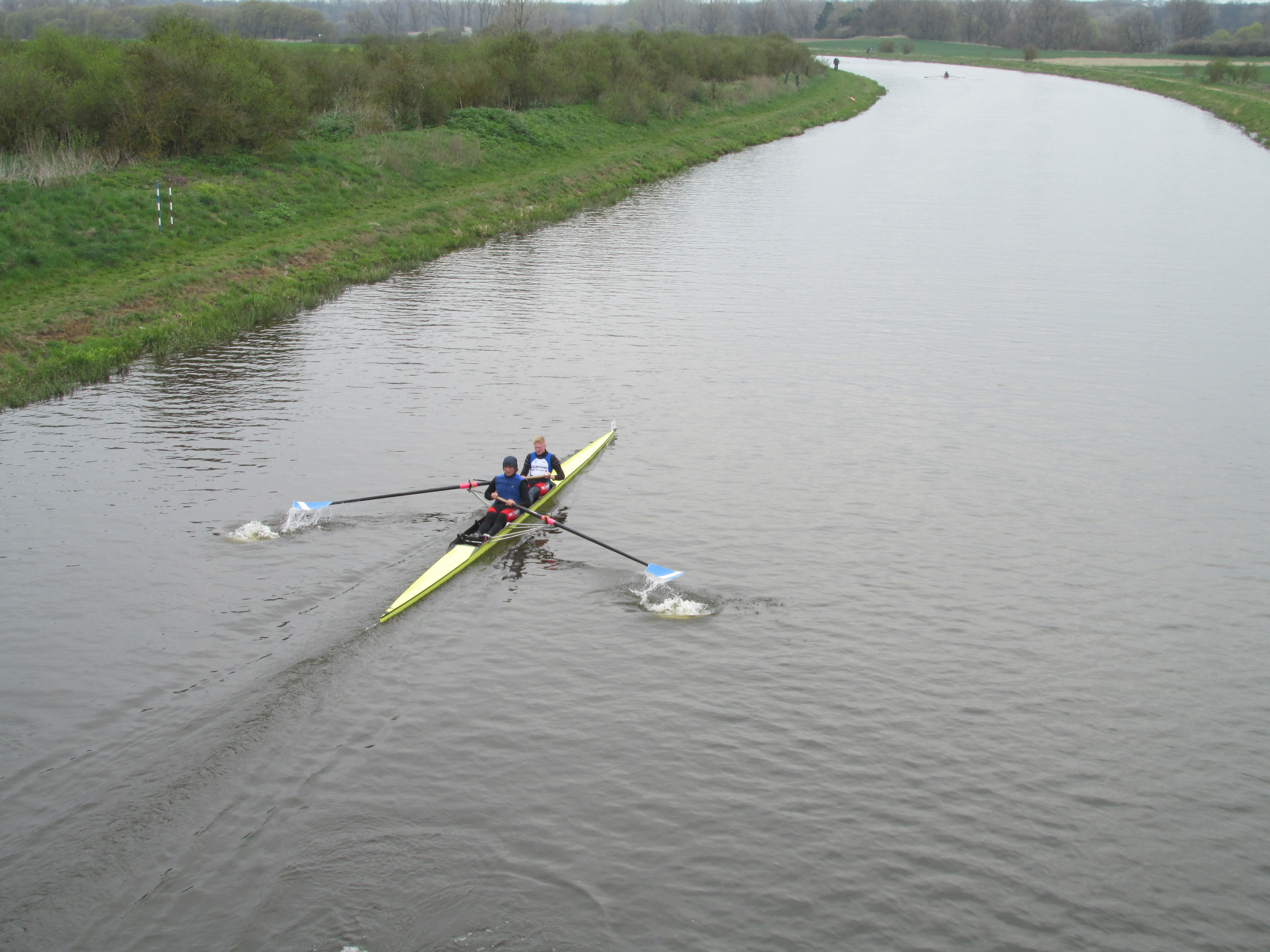 We also tried to help them with the steering on the only turn on this course. You can lose quite some time rowing the wider curve.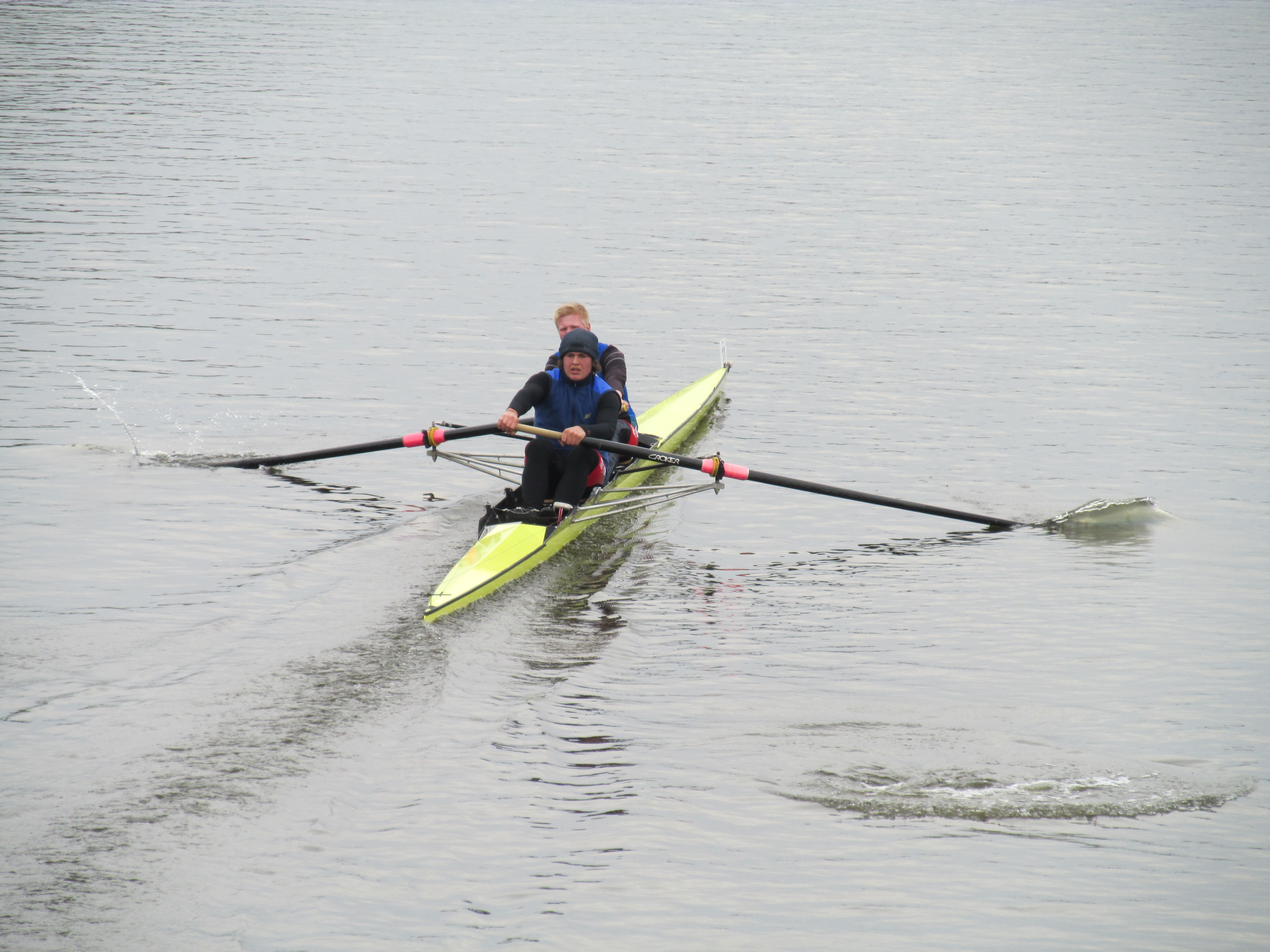 I wanted to take more pictures of our club's crews, but the batteries in my camera died and I didn't have spare ones with me. One needs a good optical zoom to take nice rowing pictures of this kind of races, so I will spare you the iphone pictures. You see either a dot in the distance, or a pixelated rower …
Then we drove to the finish area to pick up the singles of our junior guys. I timed the time from arriving at the dock to having the single ready on the trailer. Ten minutes per boat. Two people working together.
We had to wait a bit more for some speedcoaches to be brought back to the start. Finally we were ready and drove back to the launching area.
By then it was time to get the girls ready for their race, and I had to go to the weigh-in. There we had to wait (not weight) a bit, so we chatted with the rest of the field. I was of course the oldest guy. I started in the elite LW category, for lack of another suitable Masters category. So most guys were between 20 and 25 years and do nothing else than rowing and studying.
I weighed in a solid kg under the limit. Good. First hurdle. There were a couple of single scullers and pairs who had to go running to shed a few hundred grams.
Girls were ready and went to the start of their races, Lenka rowing my single. We took the trailer to the finish area again. We managed to get the trailer quite close to the docks, but it took us a lot of time to park the trailer and car in a way that would enable us to move quickly once we would have my single. Then we waited. I checked the live updates on my phone to see the progress of the girls. My race was scheduled for 14:33.
13:08 – Lenka starts
13:25 – I saw Lenka's first lap time on the live results page – a slow time of 11:12. Damn. Not good. Why is she so slow?
13:30 – The 4k time appeared. 20:27. So she rowed the second 2km in 9:15? That's quite an acceleration. Or the timing girl at the 2k made a mistake with the bow number.
13:38 – Lenka arrived at the finish in a final time of 30:05.5. I was on the dock helping Iva out of her single. I passed her boat to two guys of our club and impudently claimed stayed on that dock, shouting to Lenka to land her boat here. A couple of girls on the water were not amused, but I didn't care. The clock was ticking.
13:50 – Boat ready on the trailer. Off we go.
13:51 – We have driven 100m. A guy has parked his car on a very bad spot. We had to decouple the trailer, drive the car through the narrow opening, then manually maneuver the trailer through.
13:54 – A further 100m on the way. An oncoming trailer. The guy stopped. Decoupled his trailer, pushed it off to a parking spot. Then got back to his car, and got out of the way. I tried to stay calm.
14:00 –  We were on the main road. In hindsight, I wonder if it would have been faster to park the trailer close to the main road and carry the single there.
14:15 – Arrived at the launching area. Got the boat on slings. Moved the footstretcher. Put the boat in the water. A quick pee. Bow number. Rear-view mirror. Phone. Flip-flops (so I wouldn't have to walk barefoot in the finish area). Go. When I pushed off I had about 15 minutes to the start time and I knew I was going to make it.
Of course I had forgotten a few things. To take a sip of my water. To take a shot of Gu energy-gel, my favourite placebo. And I didn't have the XGPS160. That last thing was not a big issue. Using the phone's GPS, the pace bumps around a bit more, but the average pace is very usable.
I knew I would not have time to go through my complete checklist, so I had mentally prepared a priority list. The mirror was on the top. I know I lose a lot of speed on strokes where I turn to look. The phone was nr 2. Gives stroke rate and average pace. Flip-flops were nr 3.
I didn't have time to do an elaborate warming up. Just did one 10 stroke interval on the way to the start. I arrived there with 4 minutes to my starting time. No time to turn around and row more. Just wait. Concentrate.
The guy before me started. Between him and me, there was a 60 seconds gap, because bow number 347 had withdrawn.
"Bow 348 – 15 seconds."
Pushed start on the phone. Prepared in starting position.
"5 – 4 – 3 – 2 – 1 – go". I was started.
A few high rate strokes to get going, and then settle to race pace. Rate was 28. Rippled water and head wind. I tried to row under the north bank to get some shielding, but it didn't help much. I tried to focus on my head race stroke. Long. Not too slow on the recovery. Long. Reach.
Bow 349, started 30 seconds behind me, was slowly gaining on me. Behind him there was a 5 minute gap and then women's pairs.
Pace was around 2:02 on the first 500m, then started to drop to a more realistic 2:08. I tried to keep it under 2:10.
The guy behind me slowly gained. Ahead of me there was a large gap of water.
It is difficult to write anything interesting about the next 3km. I was struggling to keep the rate high and it started to drop to 27, then to 26.5. The guy behind me gained on me. The headwind was steadily blowing. The water was rippled. The canal is long and straight. A few factories, a few bridges. I tried to focus on technique. Long reach. I had the impression that that worked. That the guy was gaining slower when I focused on technique. But then the head wind pushed a bit harder, I got a bit more tired, and the technique became sloppy again.
At the 3km point, our head coach shouted "long" to me. Reach. I reacted. He shouted something positive, probably meaning that it was better now. This was really the most difficult part of the whole row.
Damnit. I thought. I am rowing against the elite. No problem to get taken over. I am rowing this as a time trial with myself.
The bridge at the 3.5km point. Almost 2km of straight canal to go to the final bridge, the one I had stood on in the morning, cheering for the juniors.
Somewhere on this stretch the guy passed me. It was a non-event. I moved a bit to the middle of the canal. The guy passed me. His coach on the bicycle shouted something to him. For about twenty strokes we were rowing next to each other, then he made another move (or perhaps I slowed down a bit more) and then he was gone.
Well, he was still there. Just two boat lengths ahead of me.
My average pace had now crept over 2:10. There had been a few instances where the wind had pushed my pace over 2:20 and that was having it's effect on my average pace.
Final bridge. Then the final turn.
"Our" juniors, as well as Lenka and Iva on the bank. Cheering. That was nice. Encouraging. I grinned. (Apparently the girls had been shouting something really silly, and the juniors told them that they made me laugh, and if they would continue shouting silly things, I would have to laugh so hard I couldn't row. In reality I was just happy that somebody cheered and I didn't really hear what they were cheering.)
I did the turn well. I hesitated a bit if I should go real close to the bank (and row in the other guy's puddles) or take a slightly wider turn, but then I decided to go into the puddles.
Final straight 30 strokes. Beep. Finish. Stopped the clock. Here are the stats:

Workout Summary - 2016-04-09-1415.CSV
--|Total|-Total-|--Avg--|Avg-|-Avg-|-Max-|-Avg
--|Dist-|-Time--|-Pace--|SPM-|-HR--|-HR--|-DPS
--|08105|37:08.0|02:21.4|24.0|169.5|175.5|08.6
Workout Details
#-|SDist|-Split-|-SPace-|SPM-|AvgHR|MaxHR|DPS-
01|02190| 11:11 |02:33.1|20.7|161.0|170.0|09.5 | row to start
02|05915| 25:57 |02:11.6|27.3|178.0|181.0|08.3 | Race

Here are all the cool graphs. The pace graph is a bit spikey because I didn't use the XGPS160.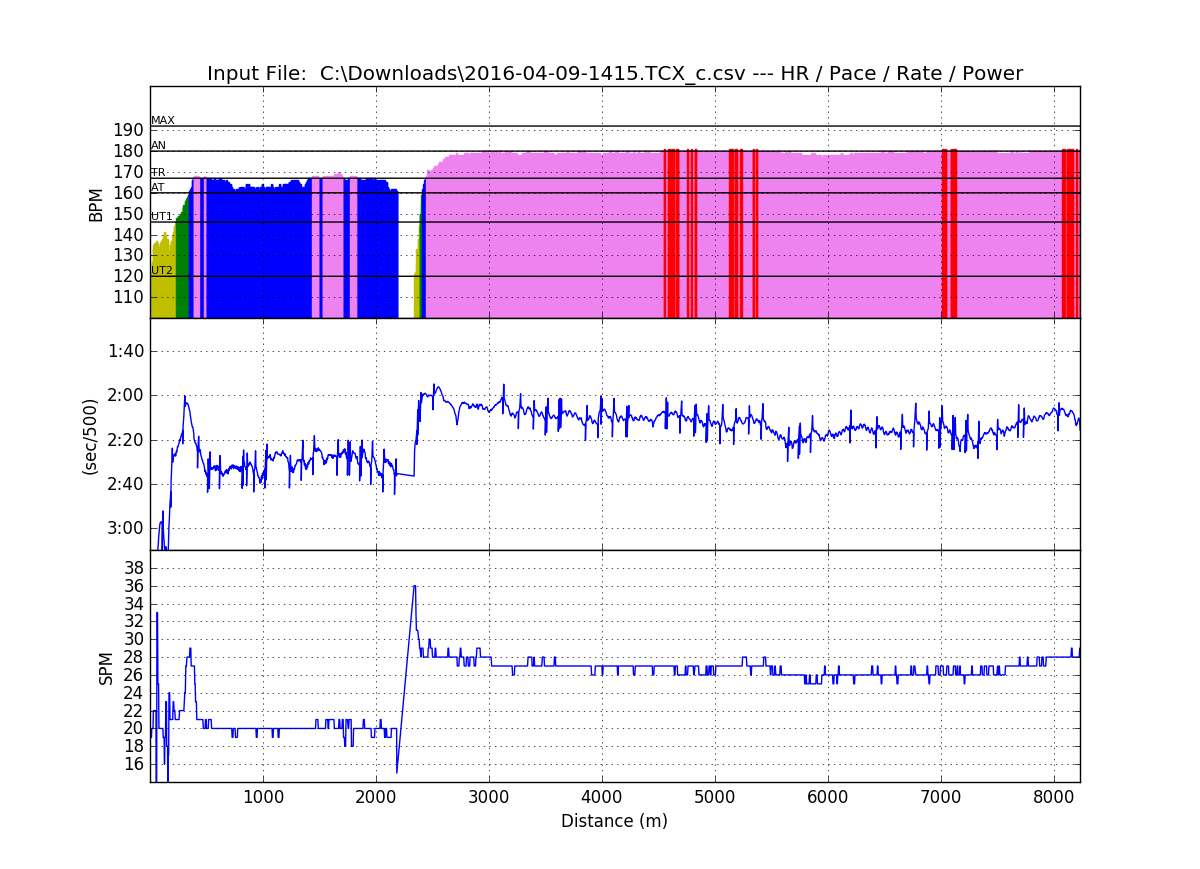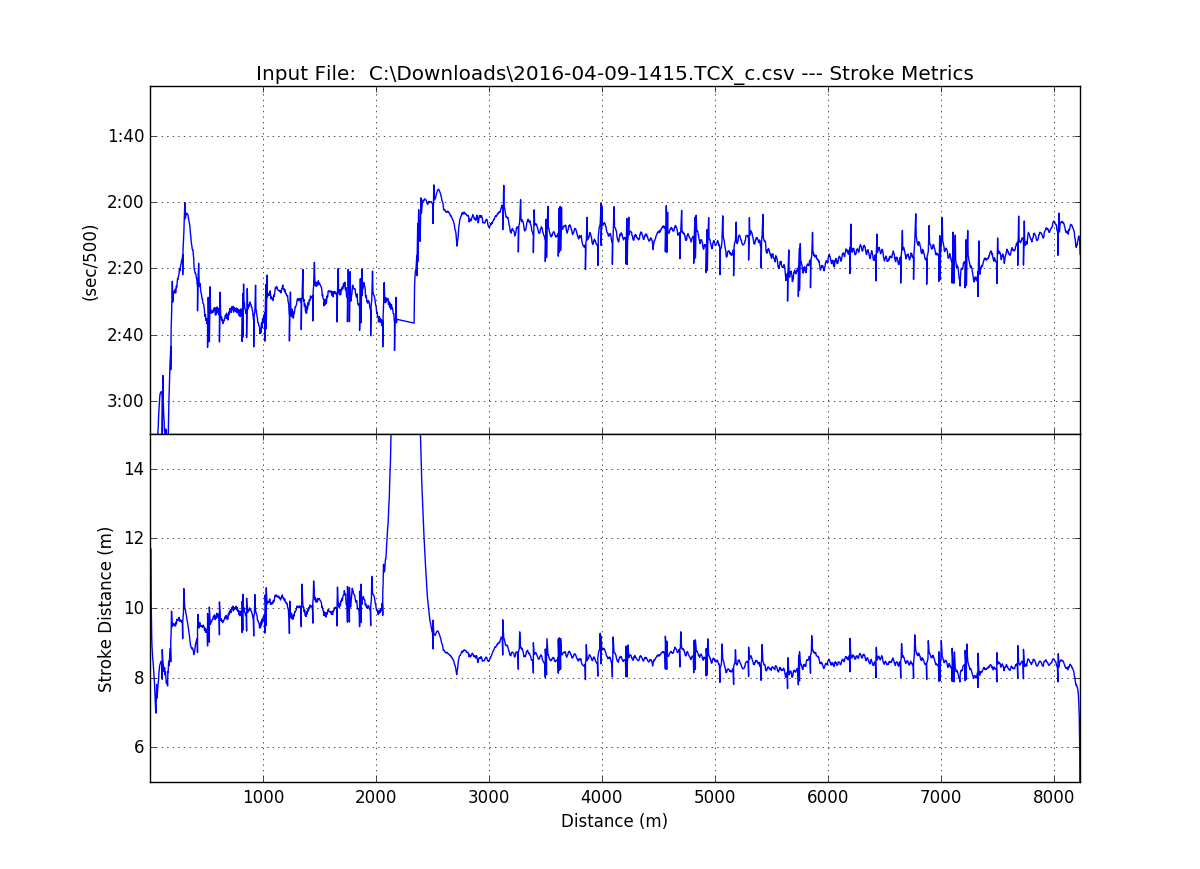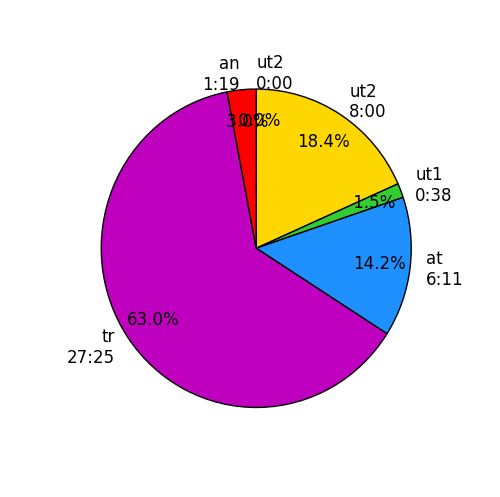 I have to make a remark about the amount of red in the graph. When I first made the pie chart, it had about 25% of red, which was different from the colorful bar chart. But then I discovered a bug in the algorithm. It counted 180 bpm as "red" in the pie chart, but as "purple" in the bar chart, so I had to correct the pie chart. The row surely felt as if there was more red. So here is the graph redone with my threshold lowered to 179bpm.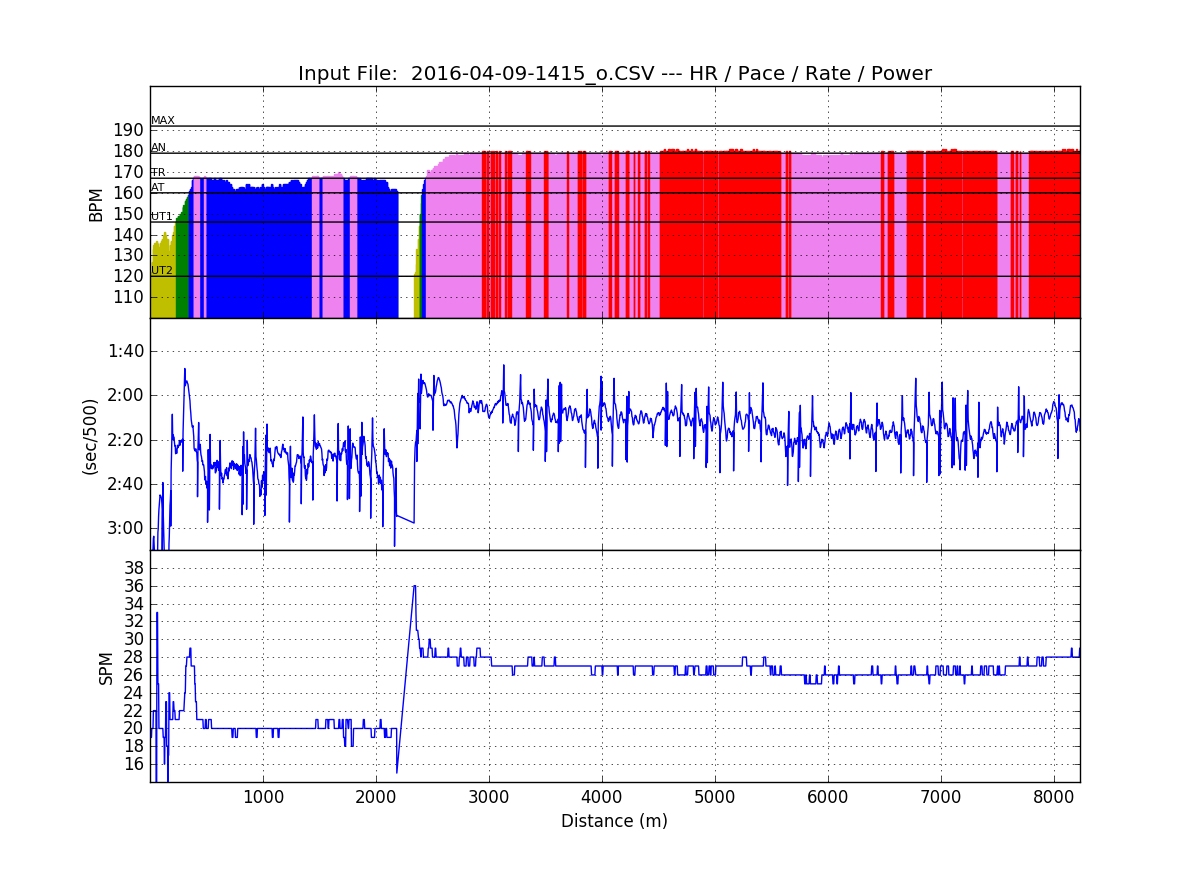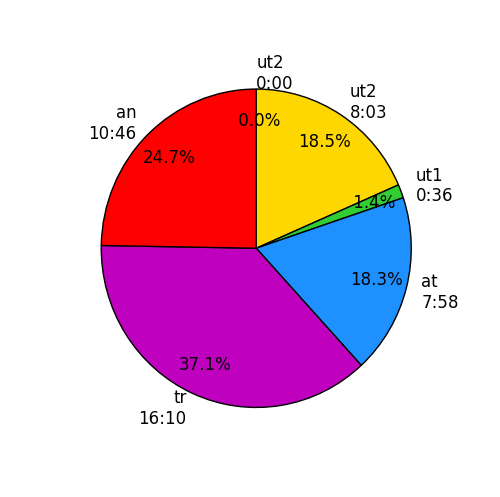 The official end time is this: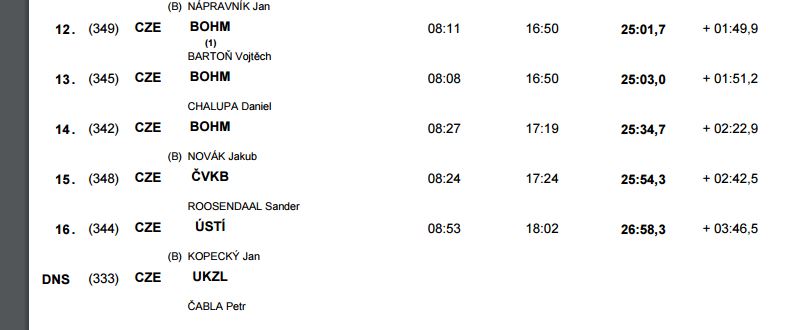 I beat just one guy … But I think the result is about similar to last year's:
2015 – 25:05.7 -, 14 out of 20,  +02:51.7 behind the winner, Ondrej Vetesnik.
2016 – 25:54.3 -, 15 out of 16,  +2:42.5 behind the winner, Jan Vetesnik (Ondrej's twin brother)
The 2015 edition was an exciting race where I happened to take over some people. Apparently more slow people participated last year. In 2015, there was a head wind as well, but it is hard to compare the wind strength. According to the wind data, there was less wind a year ago, but looking at the winning times, I believe it was a nastier wind this year. The Vetesnik brothers are Olympians (London 2012) and are qualifying for this year's Olympics. On the erg they are equally strong.
In my field, our best sculler Milan came second. Lubos, the guy who I brought to the hospital a few weeks ago, finished in ninth place, one minute ahead of me. Milan's result was as expected. Lubos disappointed the head trainer, but I believe his result represents his strength.
There were a couple of other Masters rowers in the heavyweight field. Kazimir Nedoba rowed a 27:04 time, 4:55 minutes behind Ondrej Synek. Martin Prihoda rowed a 27:31. So in comparison with them I did really well. When I met them after the race, they of course told me that they hadn't really trained this year. Hah! Who decides to sign up for a national long distance championships without training for it?
The drive home was long and with a lot of rain. We picked up the boys at my mother-in-law's place, and then we took them to this place, which is along the road:
Yup, it's the Czech Republic's first American style roadhouse. I had a very good ribeye and the rest of the gang had excellent burgers. A very fun place to spend an hour when it's dark and rainy outside. This is also the place where I concluded that I had given my best.
Follow me in social media