Dec 4 2018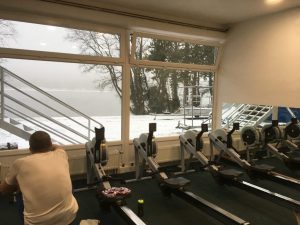 Although I make training plans for others and I have made training plans for myself, I am really happy to train a plan designed by our club's head coach. There is something that makes executing someone else's plan so much more rewarding. There is the feeling that somebody is willing to help you. It creates some extra commitment. And last but not least, you get to do some new sessions.
For the same reason I love our Sunday erg training group. This Sunday we were two men and two women, all Masters rowers. We put up some good music and set out to erg in our "lake view" erg room.
The session was 3km warming up followed by 2x(8x500m/80")/6min. At 26spm. We changed it to 1'50 intervals which was about 500m for me (503 to 505), about 520m for Martin and a little less for the ladies, but at least we could start at the same times.
It was a hard but not impossible session and I managed to empty the tank with one minute to go doing 40spm and 1:35 pace. I need to ask the coach about this session. I guess it is typical threshold work.
On Monday I drove to Salzburg, participated in a workshop in the afternoon and had some social events in the evening.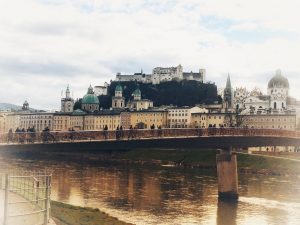 This morning I did the following session:
40 minute running, followed by
5 series of 20 pushups, 40 squats and 30 sit-ups
The run was great. I am staying in a hotel close to the Congress center and right next to the river. So I woke up early and found a great foot/bicycle path with street lighting along the river.
I had some issue with my right calf after 4km, so the run back was a bit slower than the run there. But it was a great run with the view on the castle, the river, and the old town of Salzburg.