Feb 3 2019
My last blog post was from January 16th, which is a long time ago. On Thursday, the 17th, I did an easy hour of swimming, and on the 18th Romana and I drove to Vienna after work. We slept in a hotel at the airport, and continued to London on Saturday morning. We had a great day in London, and on Sunday I presented at the Rowers Conference 2019. It was a great weekend filled with rowing, but there wasn't any exercise.
Monday, 21 Jan
I did a warming up, a full out one minute row (because of an online challenge) and then some cooling down, and that was about all I could manage. We had arrived home very late on Sunday evening, and let's say my working day wasn't easy either. But as this was the last day to complete this challenge, I did at least that.
Tuesday, 22 Jan
An hour of swimming. Nothing special to record here. It was fun.
In the evening, Romana and I went to a ballet performance in the newly reconstructed Janáček theater.
Friday, 25 Jan
Thursday was somehow too busy to get in the weights session.
I wanted to do an hour at power, i.e. a full out hour effort. I stopped rowing after fifteen minutes. The combination of a travel/presentations weekend with a working week with a couple of social/cultural events in the evenings really messed up with my training plan.
In the evening, we went to a party/ball organized by my daughter Lenka and her school class.
Saturday, 26 Jan
I spent the morning packing for the cross country ski training camp. At 10AM we were picked up by the bus. It took about two hours to drive to the mountains. Then we had to put the luggage on the snow scooter and hike the final part to our hut. All was well.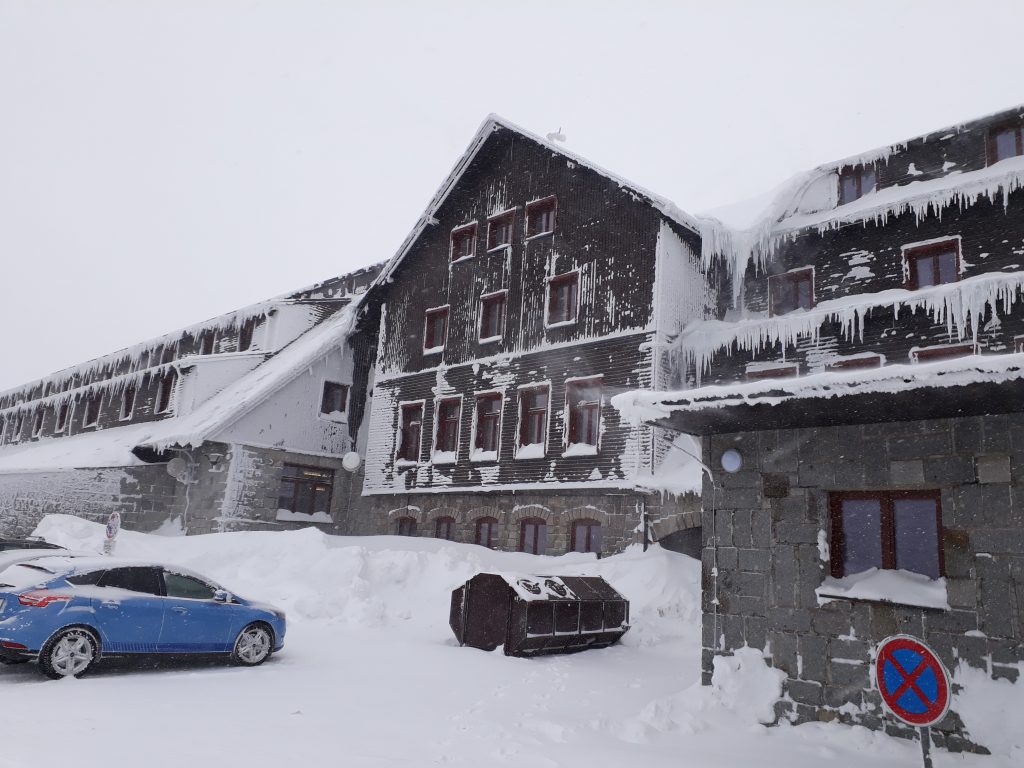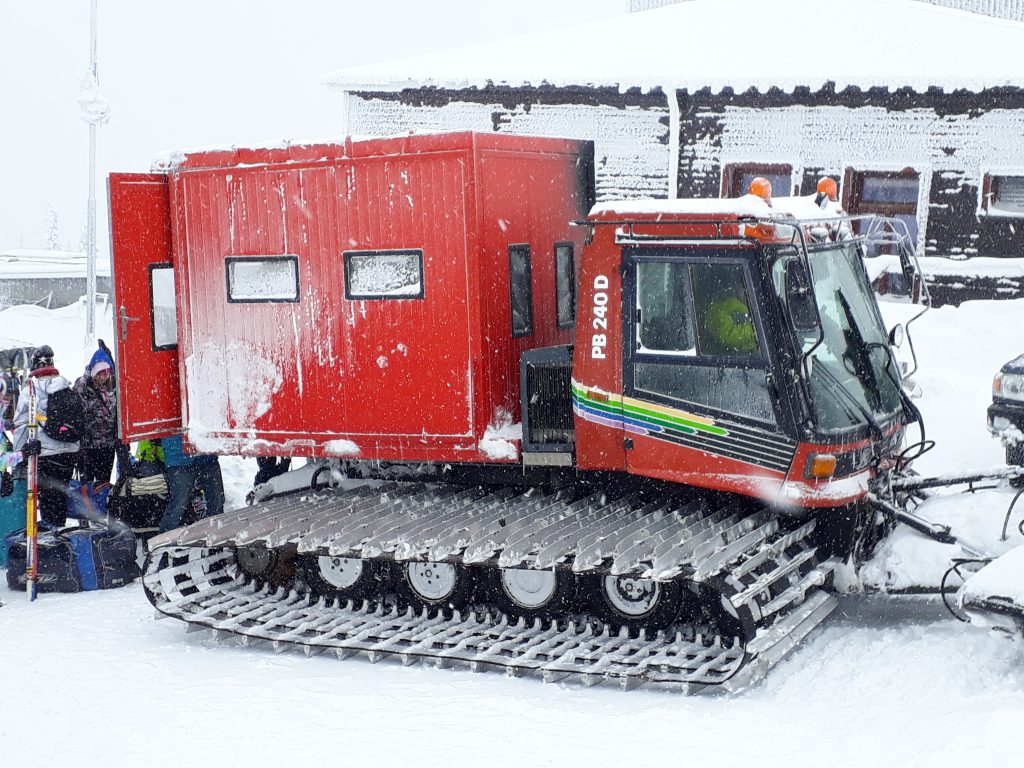 In the afternoon, I did three 5km loops next to the hut:
Average heart rate 157, max 177. I think it was pretty decent.
A few photos from the training, featuring our head trainer Adam:
This slideshow requires JavaScript.
Sunday Morning
The kids went to Švýcárna, a small hut at about 40 minutes of cross country skiing from our hut, to drink hot chocolate. I stayed outside and shuttled between Praděd (the highest mountain in the region) and Švýcárna. Here is a picture of me in front of it. You can see that the visibility was pretty low.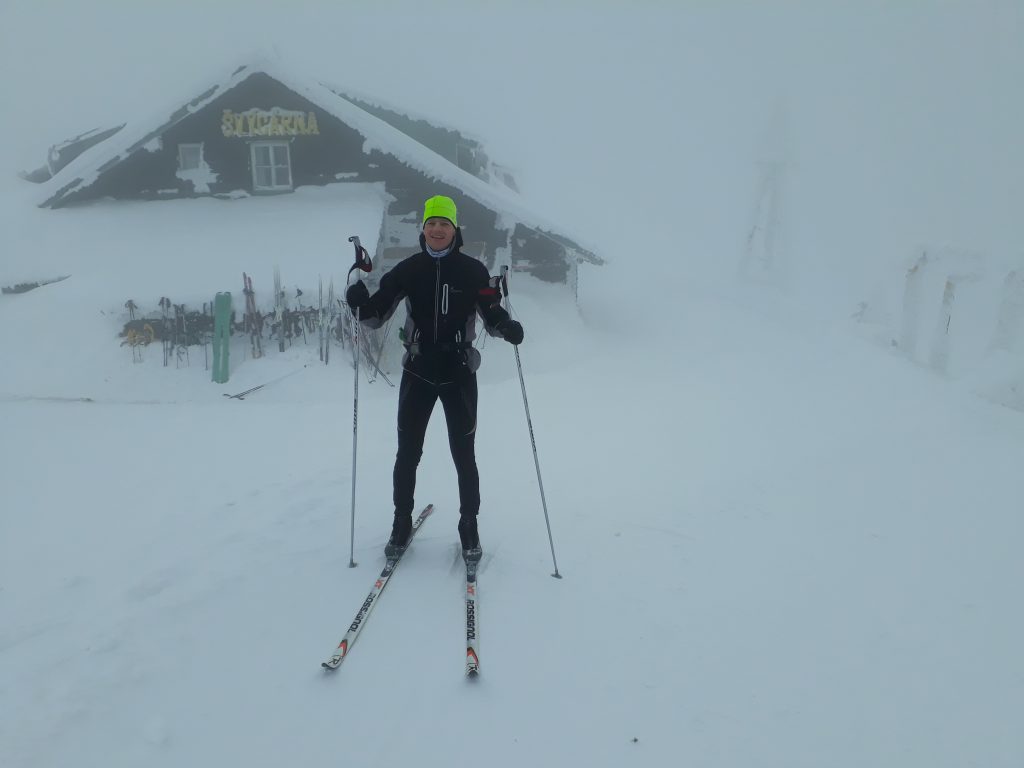 Here is a picture of Romana and the girls when I met them on their way back: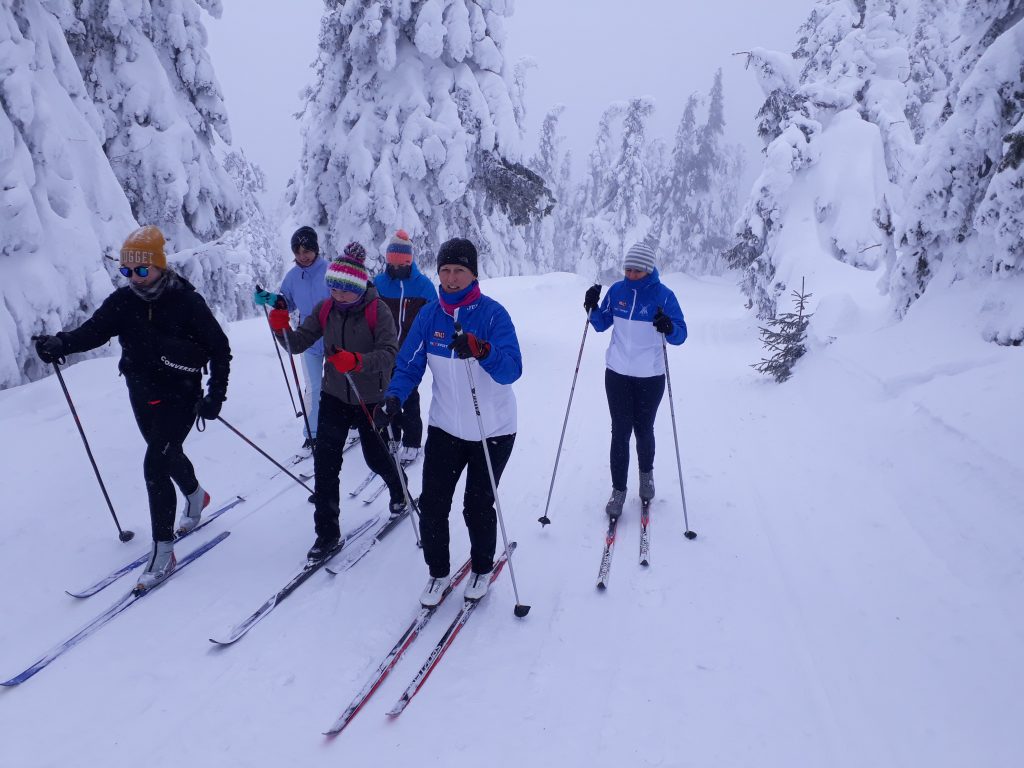 Sunday Afternoon
In the afternoon, my daughter Lenka joined me. We skied to Švýcárna, where we had some tea, and then back to the hotel, and we even did the 3k loop below the hotel. It was great, especially because Lenka was really enjoying it.
Monday
The plan was to ski in the direction of "Červenohorské Sedlo" (Red Mountain Saddle) but turn after one hour to be back in time before lunch. We were with the head trainer Adam, our club president Tomas, and a bunch of Juniors. The first part, I stayed with Lenka, then left her behind at Švýcárna, thinking I was far behind the main group. After about one hour, I met some friends, who told me that the juniors were not far ahead of me. By now I was about 60 minutes on skis, but I decided to go for another 5 minutes. That is where I met our head coach, who reported that they had made it all the way to the Sedlo. I turned with them and started the way back.
There is a very long steady climb that slowed us down by a lot, especially because it had started to snow. The group broke up when some people decided to pause half way on the climb. I proceeded and completed the climb, then paused to drink a bit and eat a cookie. Checking the watch, I realized that I had only 30 minutes to make it to the hut or I would be without lunch. So I continued. Conditions were very poor. Lots of new snow, and very low visibility. I passed Švýcárna, doing skating where I could and falling back to classic cross country skiing when the climbing was too steep or the snow too heavy. There were no trails.
I made it just in time for the lunch. The soup was already on the table. I had to sit down in my wet clothes to eat it, but I can report that at least I managed to secure three extra lunches for the poor juniors who were still on the track. All returned safely. All had lunch.
Monday Afternoon
As I had done more than 80% of my daily training load in the morning, I just skied to the Švýcárna hut to have a tea and check some emails. The hut where we stayed was hosting us and a football club, and those 60 kids completely overloaded the wifi network. Švýcárna proved to have reliable and fast free wifi, so I could upload some pictures to Facebook and read a few emails.
Here are a few pictures inside the hut:
Tuesday Morning – Race day
On Tuesday morning, all camp participants did a 5k race. I skied a bit more doing a proper warming up and cooling down. I started as the sixth skier (with a starting order determined by estimated speed), but I passed two guys during the race and ended as fourth overall.
Tuesday Afternoon
Our last day on skis. We all skied up to the top of Praděd and took pictures. Then I skied to Švýcárna, and then back to the hotel, but with a coffee stop at Ovčárna.
This slideshow requires JavaScript.
The tower and building on the top are actually a hotel and a radio tower. It was built to resemble a starting rocket.
On Wednesday the bus took us back to Brno. It was a great few days with lots of exercise.