Dec 17 2018
Another long bout of silence on this training blog. I was busy with work priorities, as well as finishing the new Indoor Virtual Racing functionality on rowsandall.com. Here's the overview: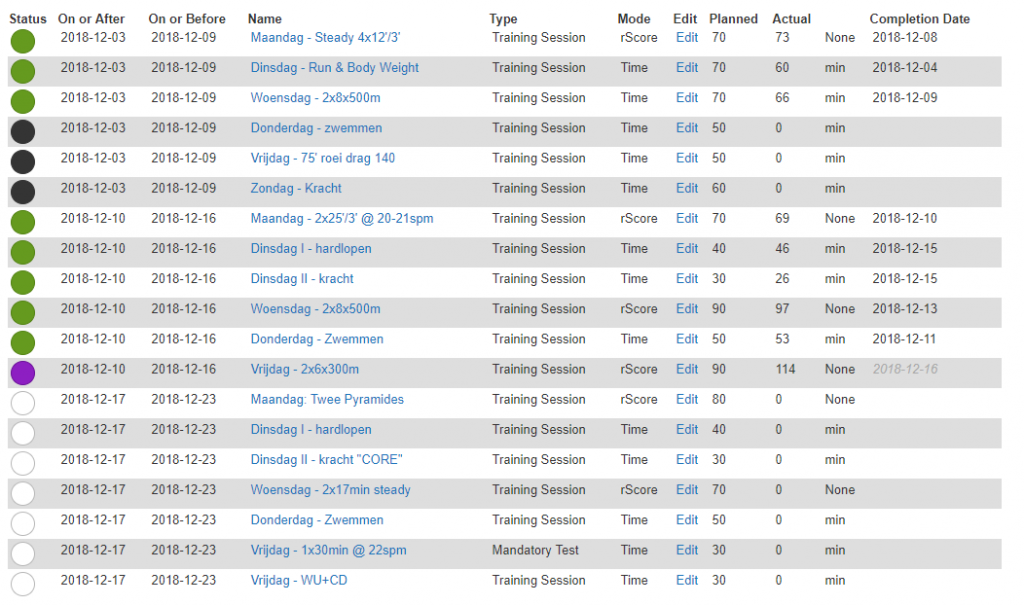 So the rest of the week of December 3 was weak in terms of training. I was at a conference in Salzburg and there was too much going on to get in the training. So the first session I did was a steady state of 4×12'/3′, which I replaced with a solid hour of rowing on the erg.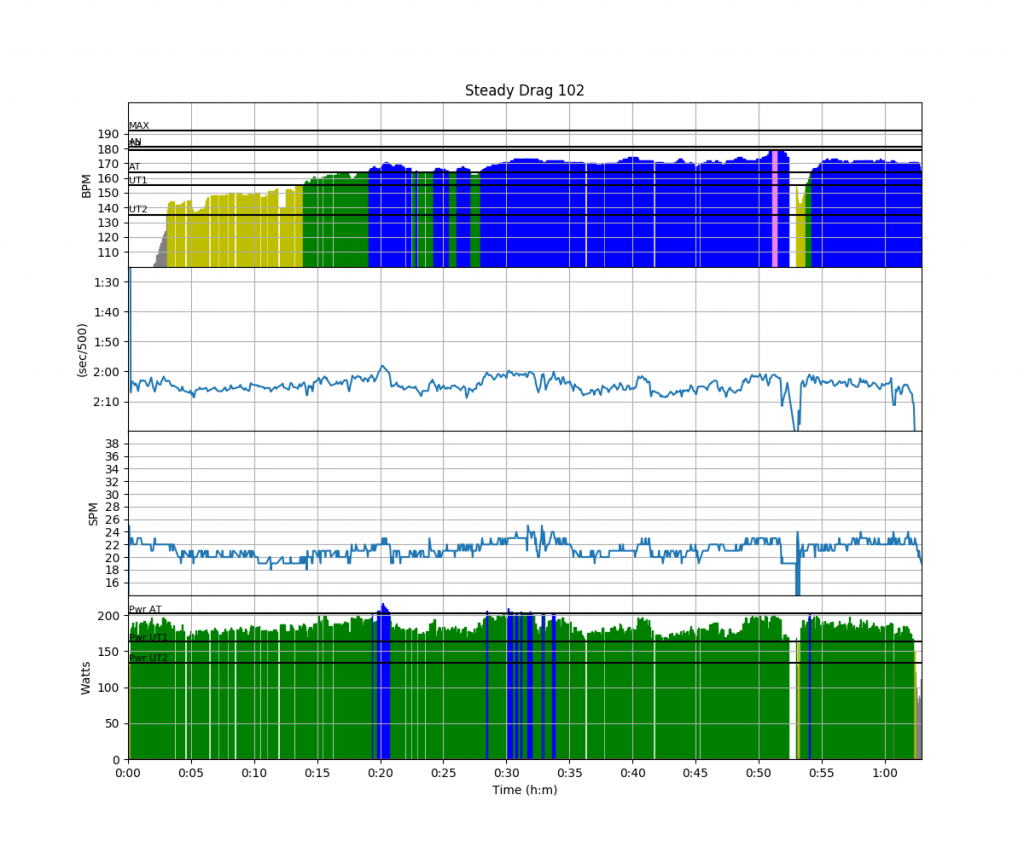 Then, on Sunday, we did another group row at the rowing club. Again 2x(8x500m/70″)/5min. A bit shorter rest intervals. I tried to hold the same split as in the week before, but failed dramatically in the second series. Here are the intervals for that second series: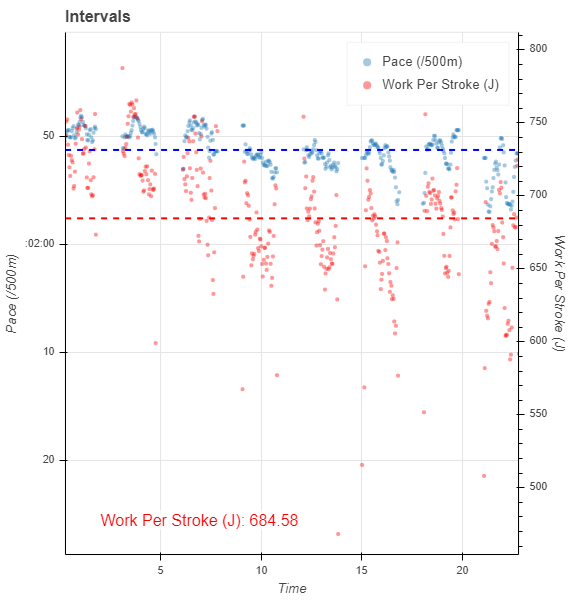 You can see how I crashed both in terms of pace and Work per Stroke. Not nice.
On Monday December 10th, I was supposed to do steady state, prescribed as warming up, 2x25min, cooling down. Because we were testing the indoor virtual regattas, I did 2x6km and a whole lot of shorter rows. Almost 16k of steady state.
On Tuesday, I had a delightful 50 minute swim. I love these workouts.
Then, on Thursday I had the 2x500m revanche.
What a relief to set a good performance on this workout.
On Saturday, I did a running session followed by a body weight strength workout. The run was quite frustrating because there were some issues with the GPS signal in the Polar Beat app. The app talks to me, reporting average heart rate and split every kilometer. But because of the GPS issues it was shouting reports every few seconds. At one point it reported 42 kilometers in 20 minutes!
Otherwise the run was lovely. On fresh snow, along the river.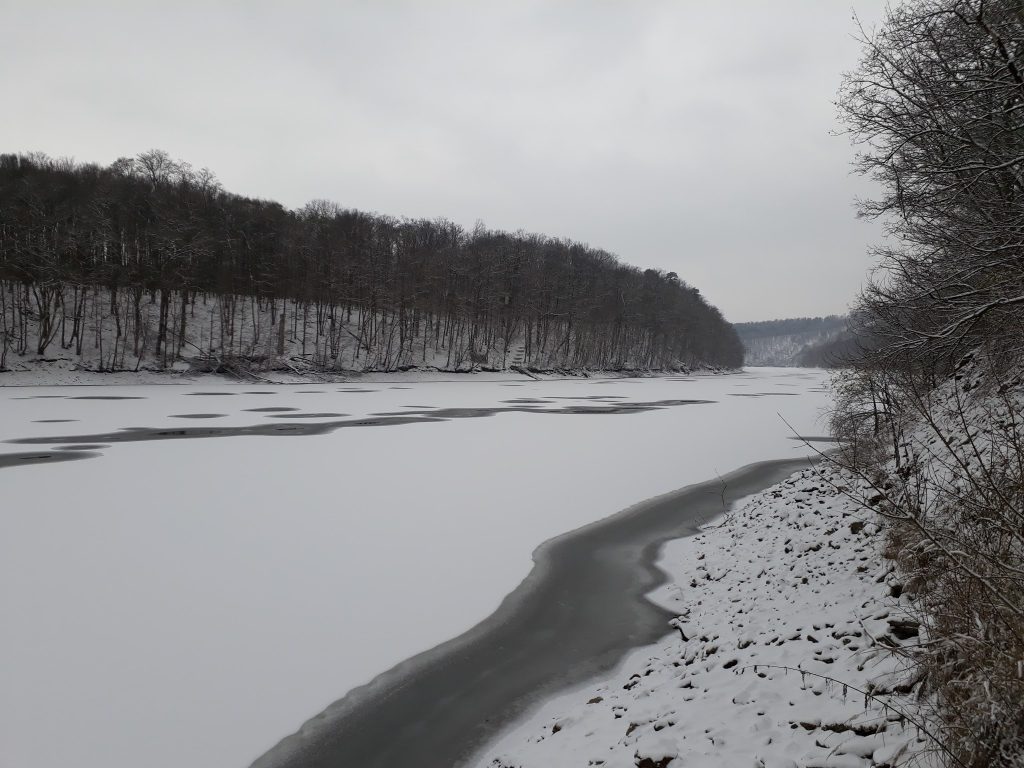 Quite nice, isn't it? Apart from the fact that it is unrowable.
After that, I went to our club's weights room for the second half of the session:
The weight room is small but complete. Here was my workout:
5 series of:
20 push-ups
40 squats
5 pull-ups
30 sit-ups
It was quite intensive, I must say. Took me about 30 minutes.
On Saturday evening, we had a nice Christmas party at the club house, including a 6x300m relay race. (I rowed a time of 54 seconds which brought my team in leading position with two rounds to go. Unfortunately, I was followed by two non-rowing mothers of athletes, so we ended up 2nd place.)
This slideshow requires JavaScript.
On Sunday, I did a full out 500m to participate in a Virtual Online Challenge. After that, I did the regular workout of 2x(6x300m/90sec)/5min. This is a nice sprinterval workout.

Overall not bad.
Follow me in social media