Apr 23 2016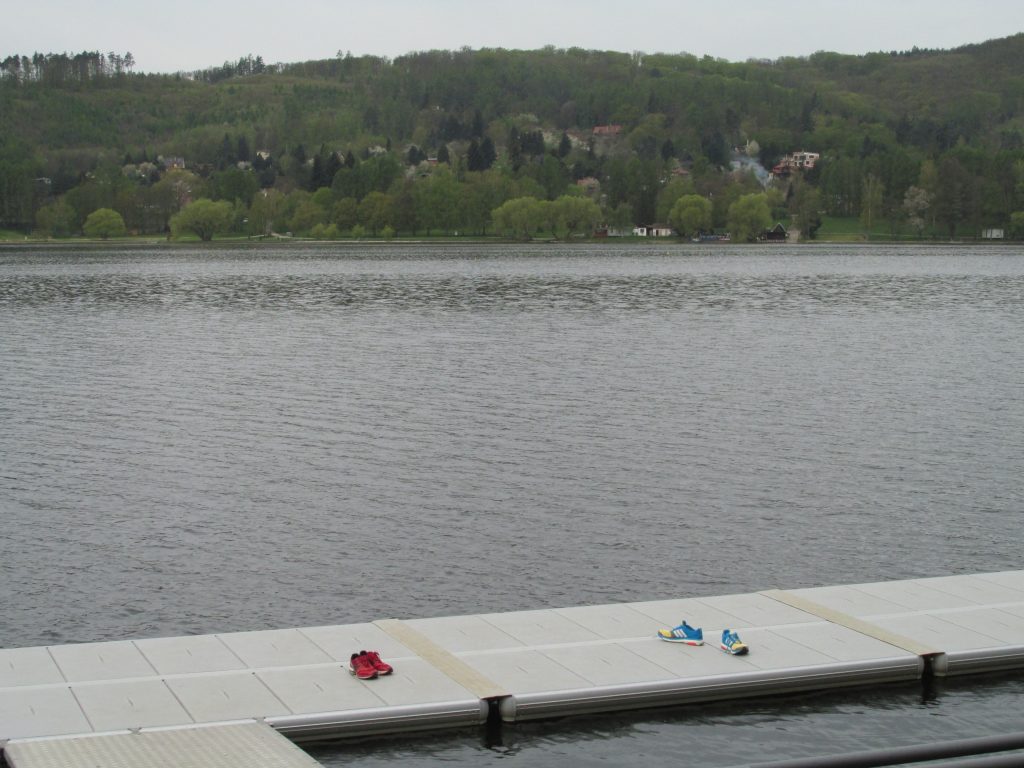 Today there were one-day races in Brno, the so-called "Spring Races". Usually haunted by big wind and heavy chop, today's edition was a very pleasant one with nice temperatures and a light headwind.
I was in the second race of the day, the Men 2x heat. I rowed with a member of my brother-in-law's club, Vojtech. Never trained together. No idea how it would go. We just launched early and did a few race pace pieces and practice starts, then went into it.
Four boats at the start, first three to go to the final. Sounds easy. But which boat will be the slowest fourth one? The foreigners from Slovakia? The young guys from Lodni Sporty, the rival club on the other side of the lake, Tomas and Ondra from our club, a 32 year average age "Masters" double, or we, 36 years average age?
The start was worse than our practice starts but we were in front anyway. The race was very interesting. I stroked a nice, not too high 30 spm and in the first 250m it was four boats on a line. Then the Lodni Sporty guys started to fall behind. That was a surprise. They are both quite fast scullers, and young as well. So be it.
We continued the race, which turned out to be a "watching each other" game. Nobody went full out, except Ondra and Tomas who beat us on the finish line. We came third. The young guys from Lodni Sporty lost in front of their own boat house.
Turns out that Ondra was told that he had to beat me in order to qualify for the final. This was told to him under the assumption that Lodni Sporty and Slovakia would qualify. He just remembered "beat Sander" so with 300m to go he opened the attack. We didn't respond, of course. Happy to row a second race.

Workout Summary - 2016-04-23-0948.CSV
--|Total|-Total-|--Avg--|Avg-|-Avg-|-Max-|-Avg
--|Dist-|-Time--|-Pace--|SPM-|-HR--|-HR--|-DPS
--|09513|46:56.0|02:25.1|22.1|153.3|166.3|09.7
Workout Details
#-|SDist|-Split-|-SPace-|SPM-|AvgHR|MaxHR|DPS-
01|06393| 32:39 |02:33.2|19.3|149.0|172.0|10.1
02|02070| 08:23 |02:01.6|28.2|175.0|182.0|08.7 | Race (7:35)
03|01050| 05:54 |02:48.6|18.8|136.0|145.0|09.5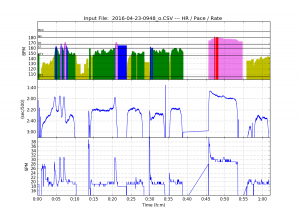 Our official time was 7:35 in a light headwind. The stats are a little slower because I forgot to stop/reset CrewNerd. Vojtech was a much better rower than I expected. Also, we are about the same height. He's 20kg heavier than I and in bow which is not ideal, but stroke length and style turned out to be quite identical. Meanwhile, our boat house started to come alive. Lots of people. Lots of anticipation.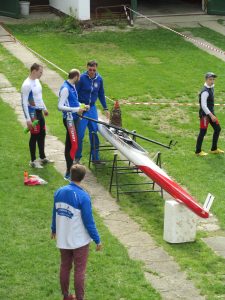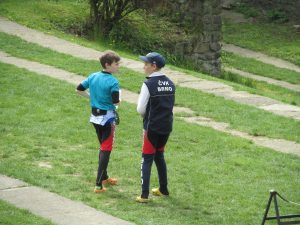 Around noon it was time for Romana's girls to row their first race. After Hořín, they formed a quad with two girls from other clubs who finished in about the same time. Today, they raced against Pieštany from Slovakia. Here they are before the start. Our girls wearing light blue, Lenka with the pink head band: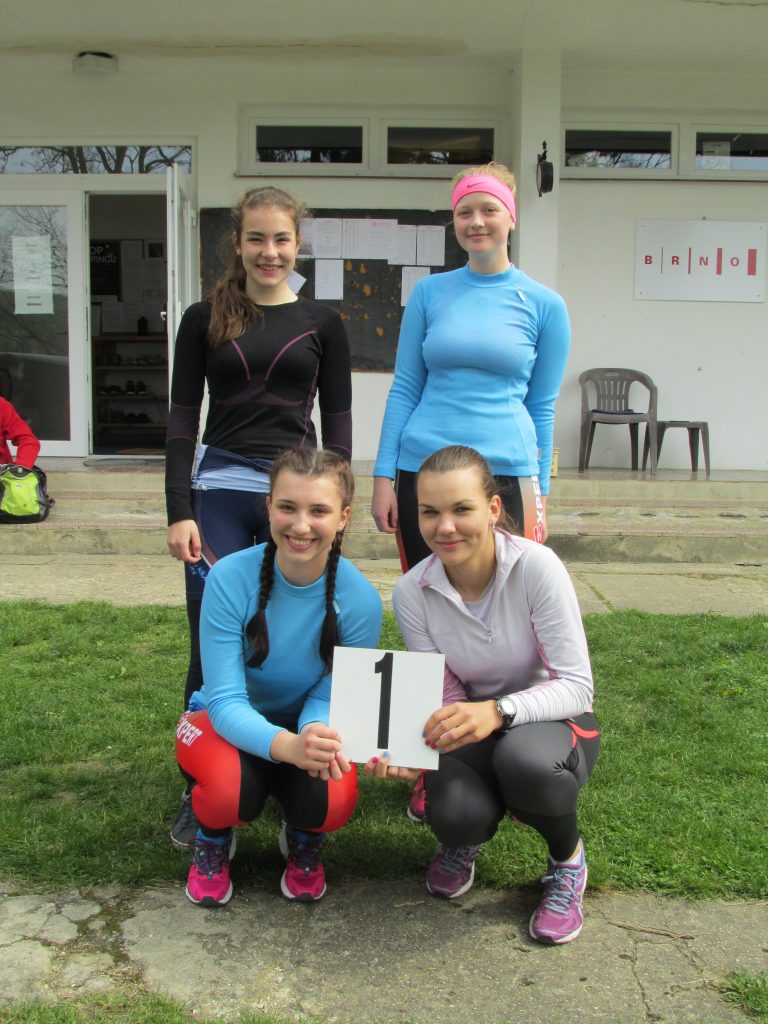 Meanwhile, our young new trainer was preparing for trainer's exam. My son Dominik and his double partner Štěpán were full of confidence and waiting for their race, and a new member, young Víta, was just doing single practice"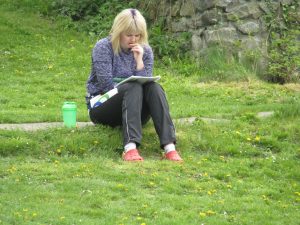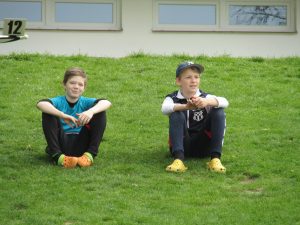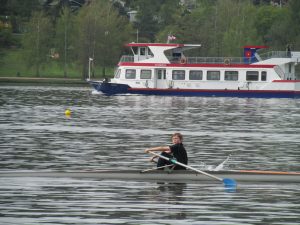 Races continued. A boys pair returned from racing. The boys' trainer was out on the lake on the launch. The girls launched. Young Víta ended his practice.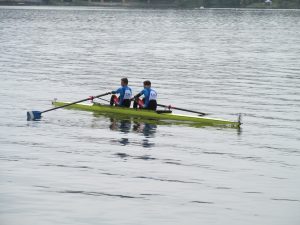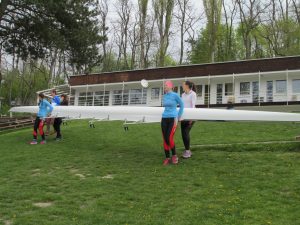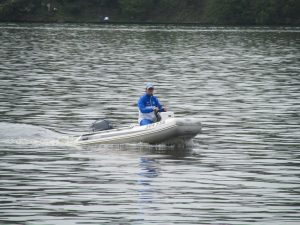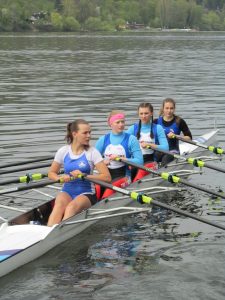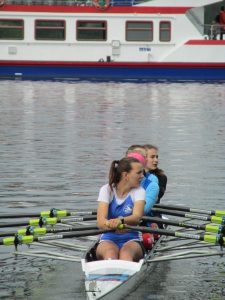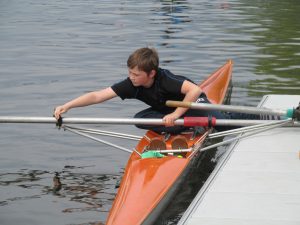 My son Dominik and Štěpán launched their double to race. They are on a practice double called "Trabant". These boats were made before 1989 and they row with Aluminium sculls. Definitely the oldest boat in their race, but who cares. The stroke has cool sunglasses, so everything will be fine. They were confident they would win. They were about the only people in the world who thought they could win this race.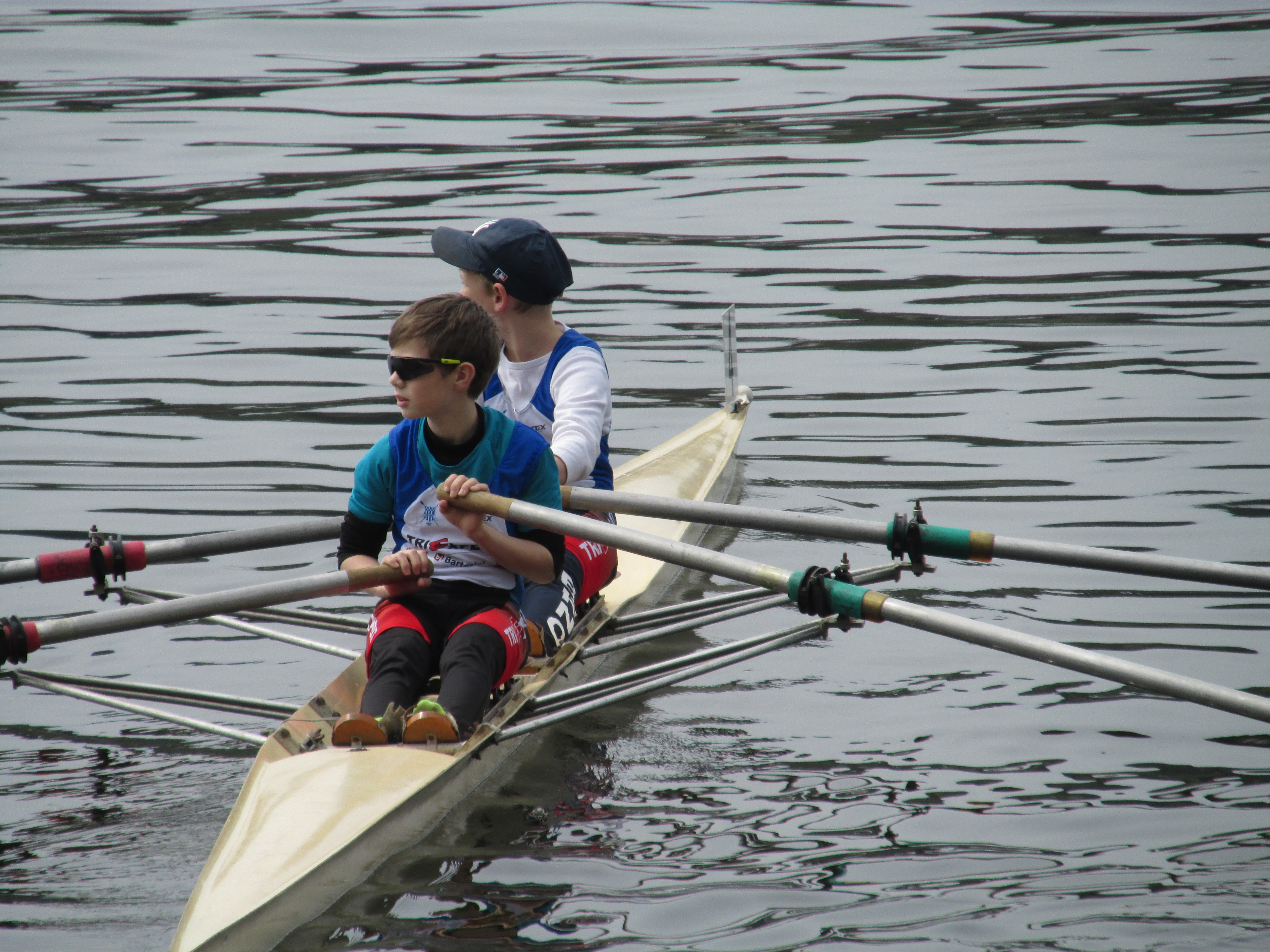 Romana and I went out on the launch. I took a picture of the race buzz on the Lodni Sporty boat house, on the other side of the lake: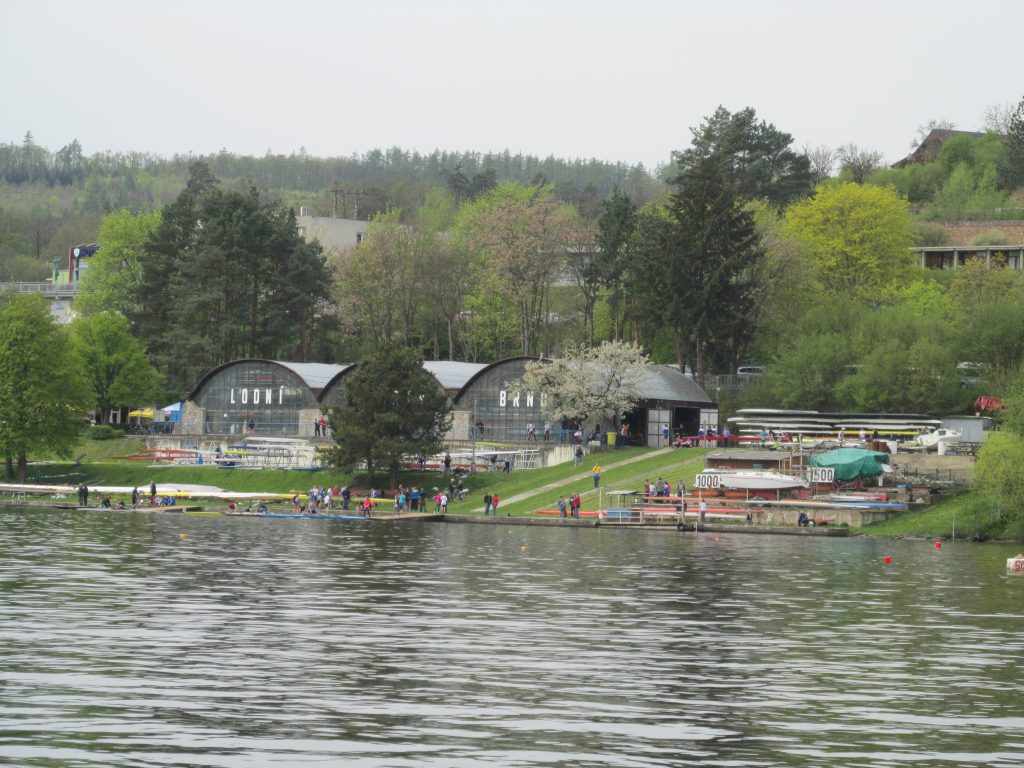 We watched 14 year old Tereza come second in her race (also wearing cool sunglassed), our confident boys were waiting for their race, I took a picture of our club house (we will paint our club's name in big fat letters on that white wall next week) and a picture of the lake, amazingly well-behaved for spring races.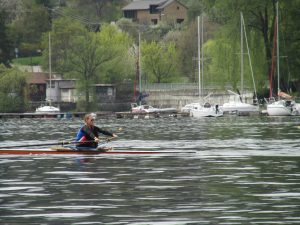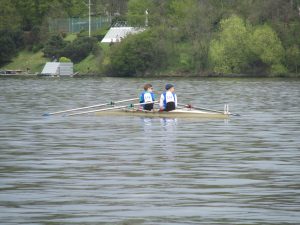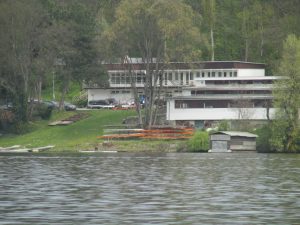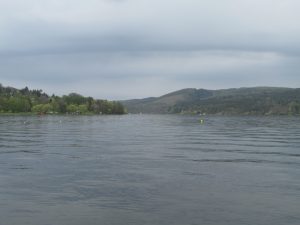 And there was the race of our girls. They were leading and won!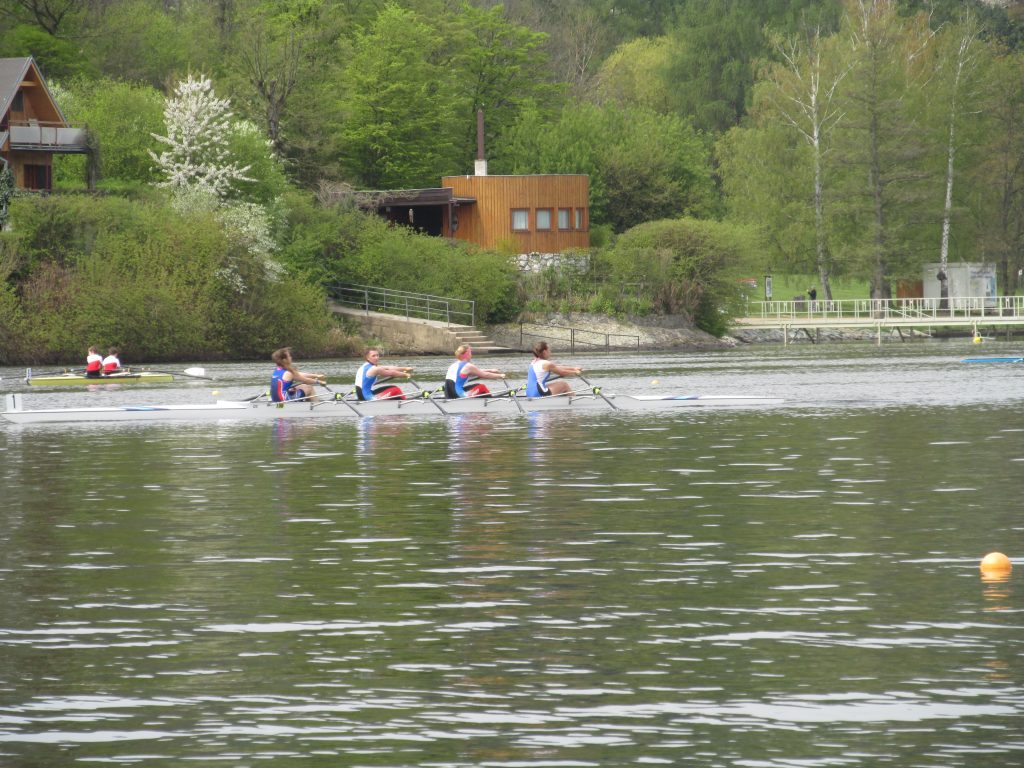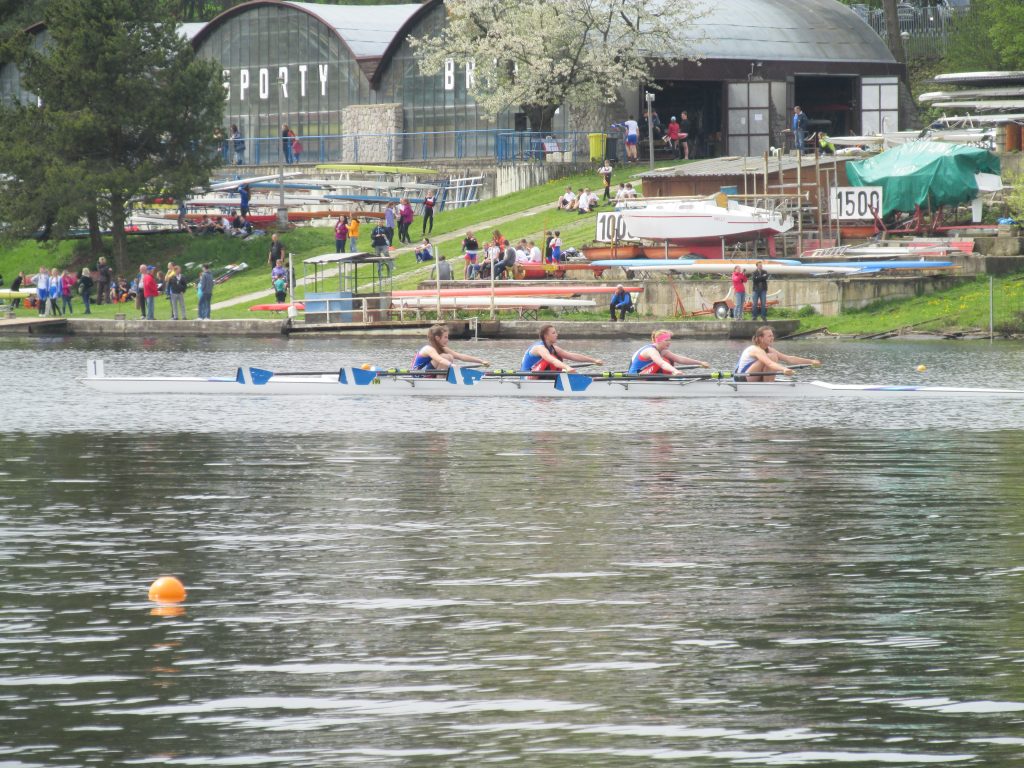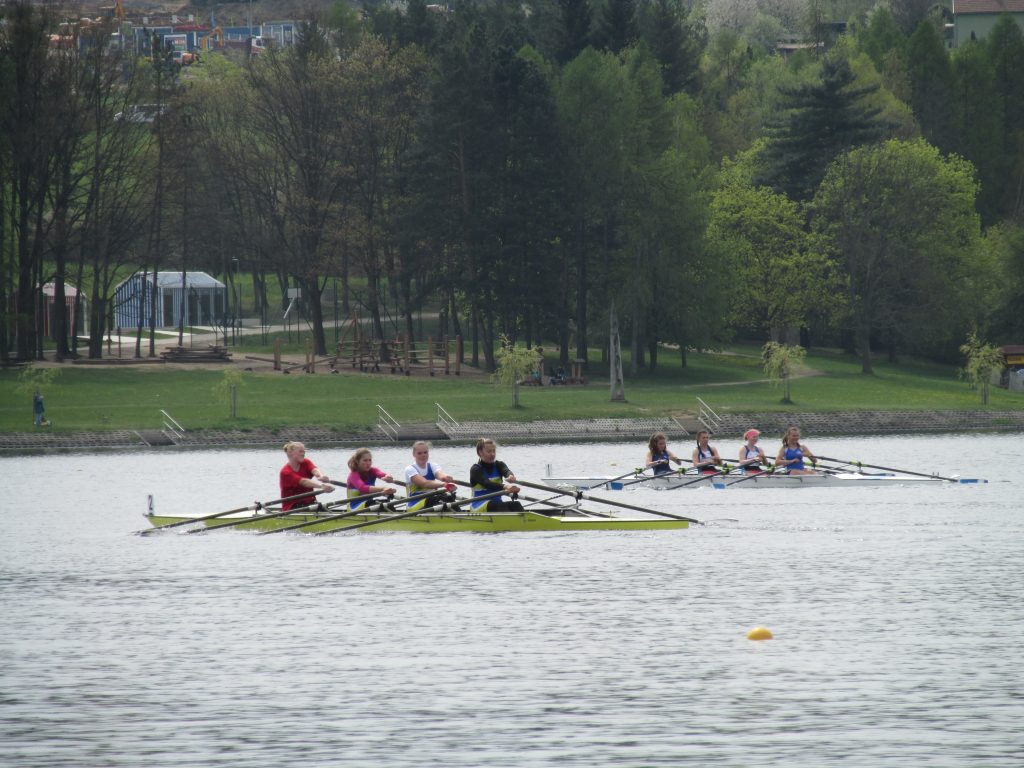 Yay! First medal in the family. Then it was time for our confident boys' double. Five boats in their race.
They were totally unprepared just a second before the start. Then they started out and were leading. Then the stroke caught a very bad crab, they almost collided with the boys from Lodni Sporty Brno. They recovered and continued, rowing in second place. On the finish line they managed to push their bow ball in front and won!
My son's comment: "Masakr". I think you can get the meaning of this Czech word. Here's a photo of them at the starting line in blue. The boys from Lodni Sporty in red with bow number 5.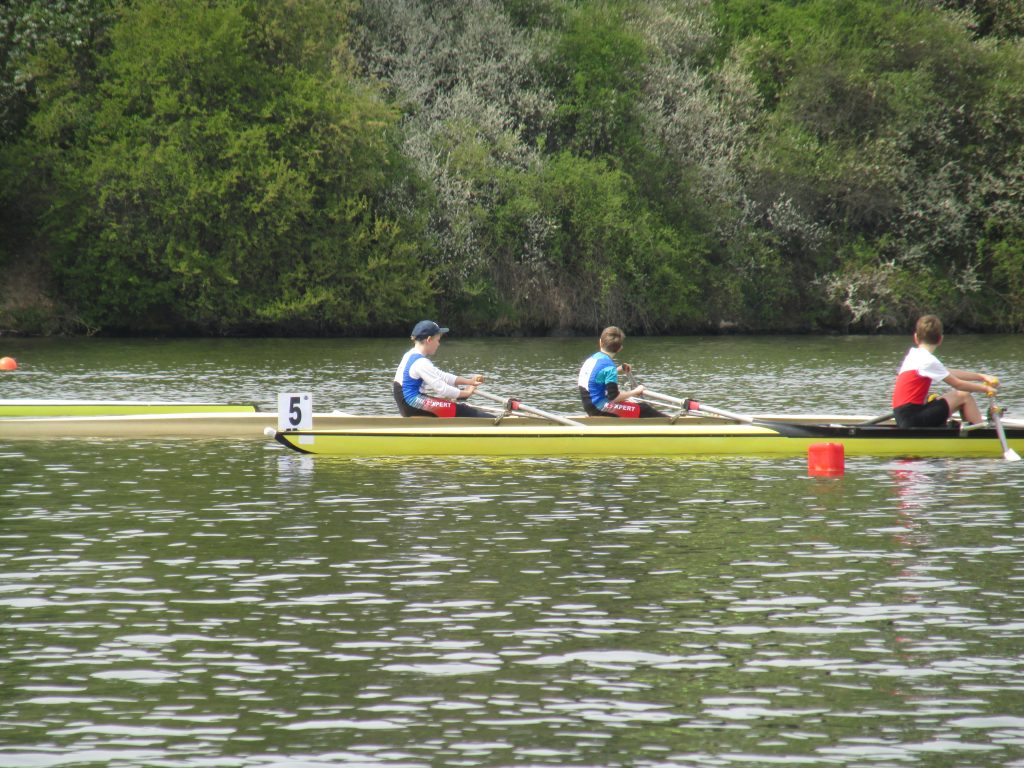 Romana and I were happy. We rushed back to our club and waited for the victorious crews to return to base. First, the girls.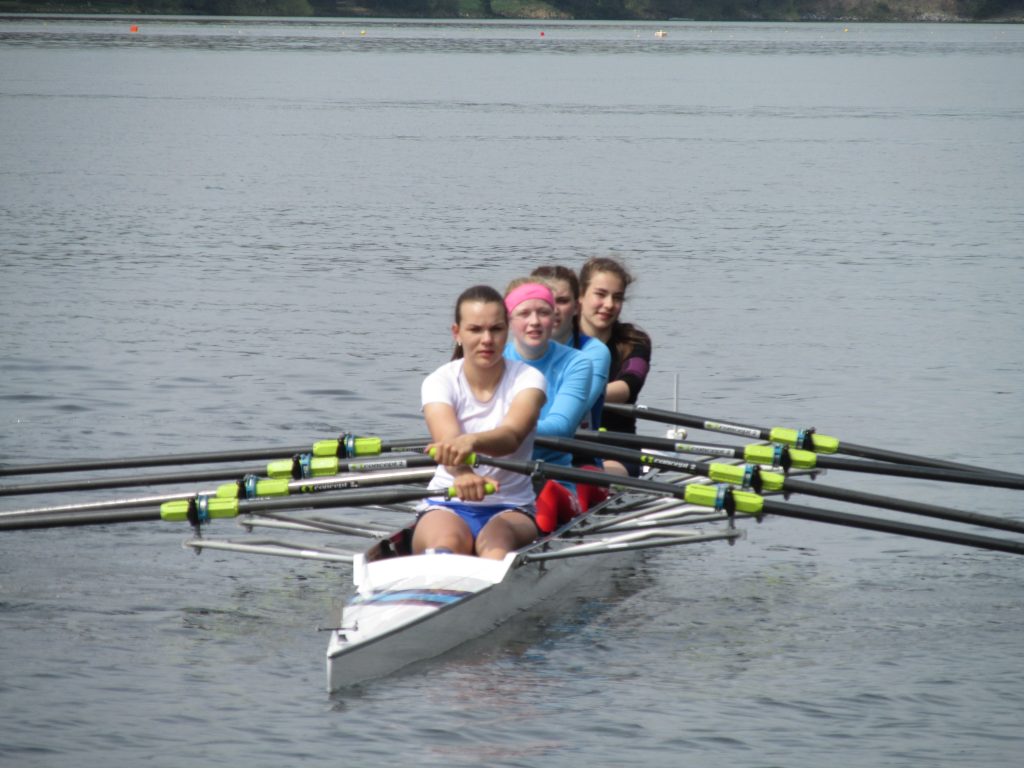 Then, the boys: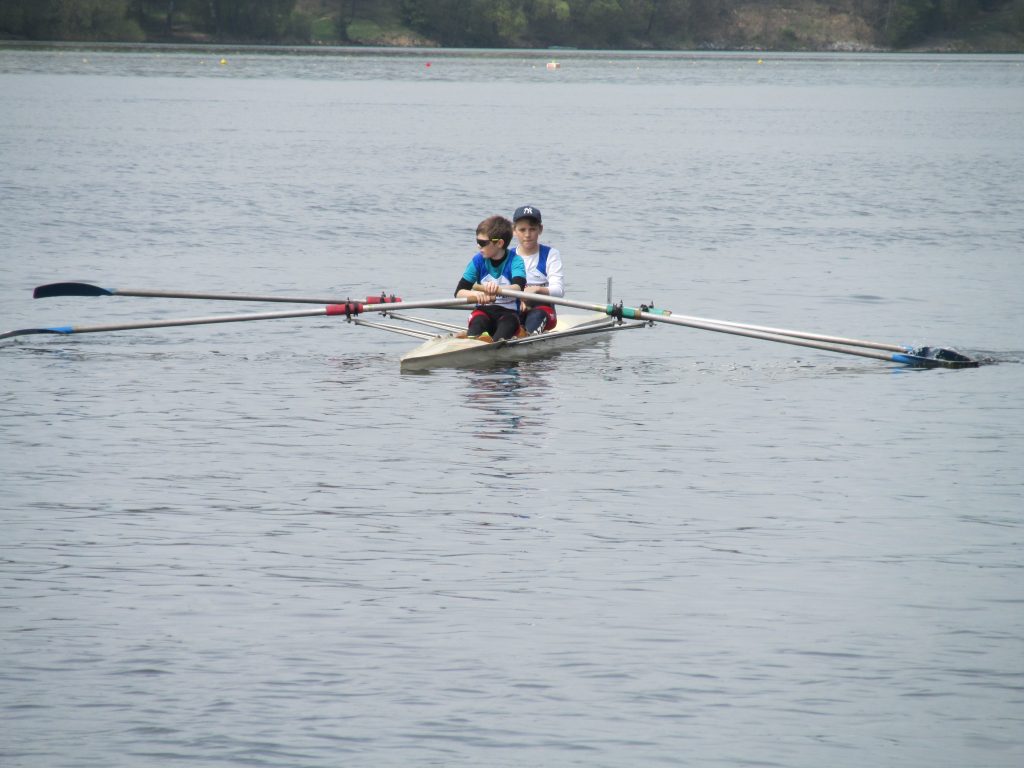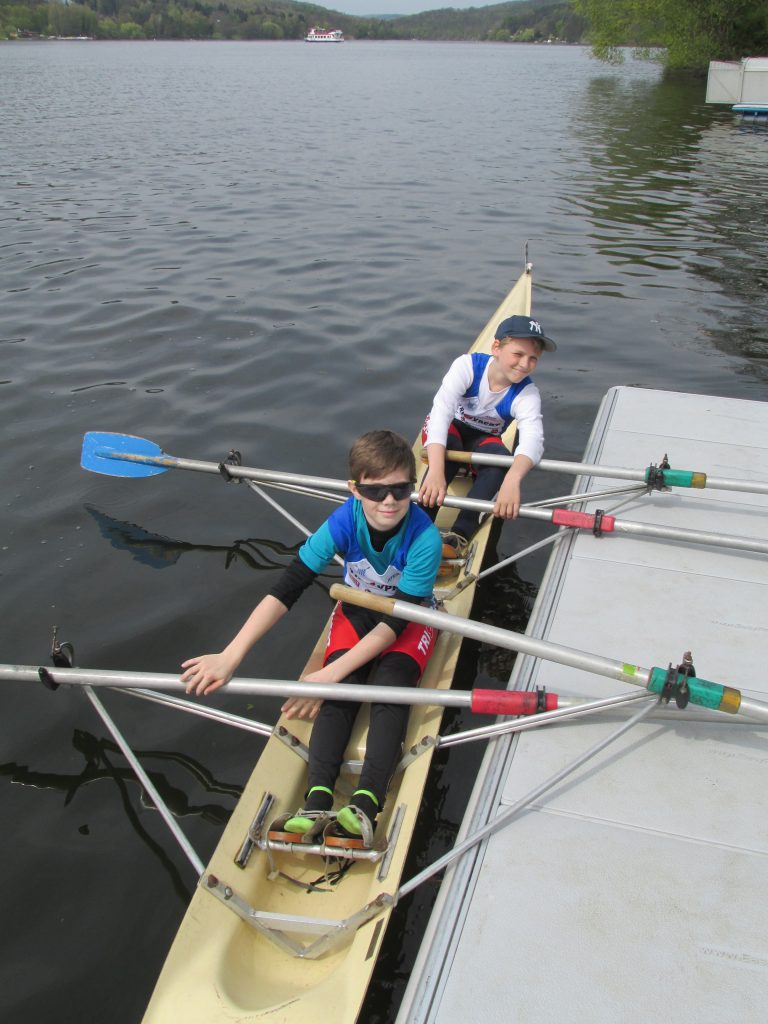 Pictures with the medals: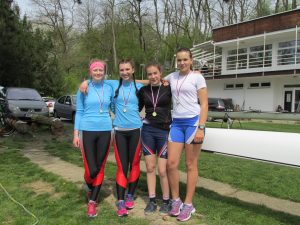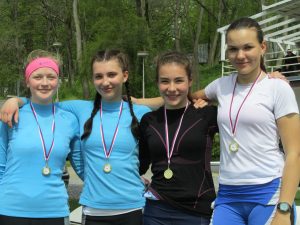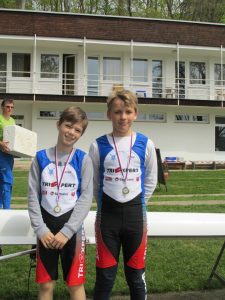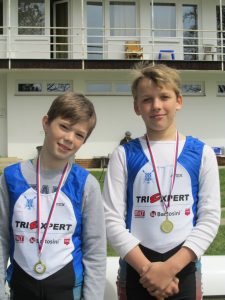 Then a quick lunch in the club house. The TV is tuned to Youtube rowing from the London Olympics.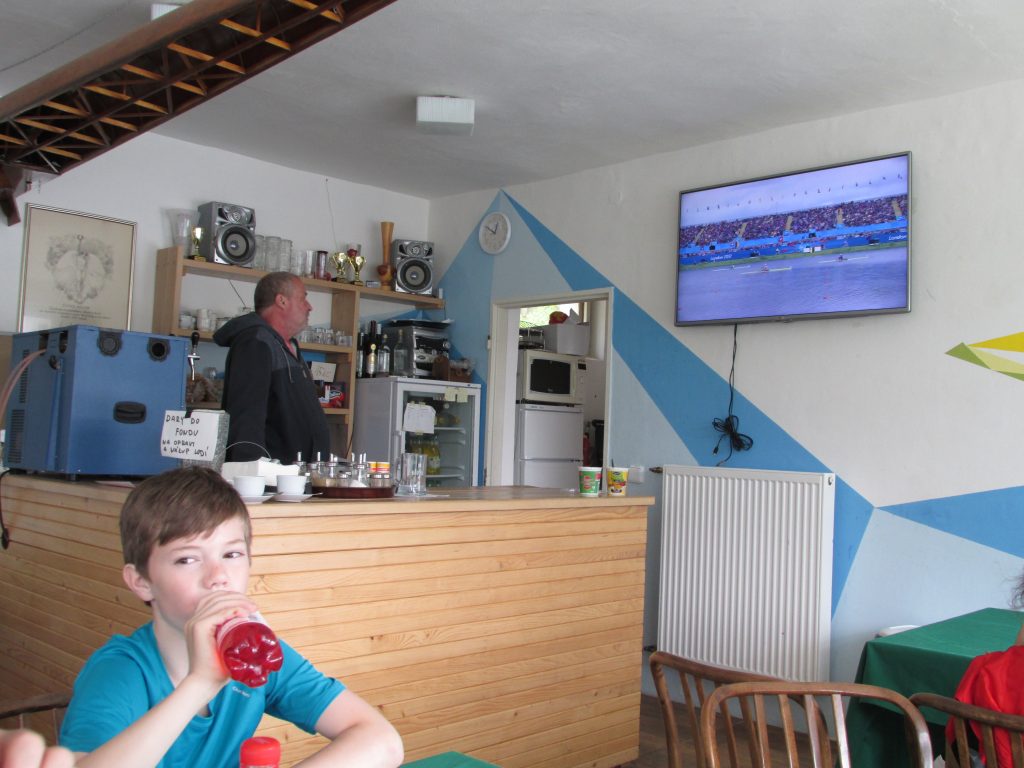 Then some more race watching and some other crews from our club returning from the hard work: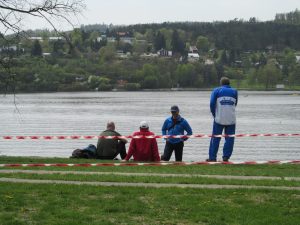 Meanwhile the younger kids were playing happily: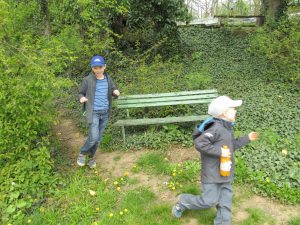 Then it was time for Lenka and Iva to get ready for their doubles race. For this event, they selected a Fluorescent Orange theme. I guess they wanted to "highlight" the importance of the race.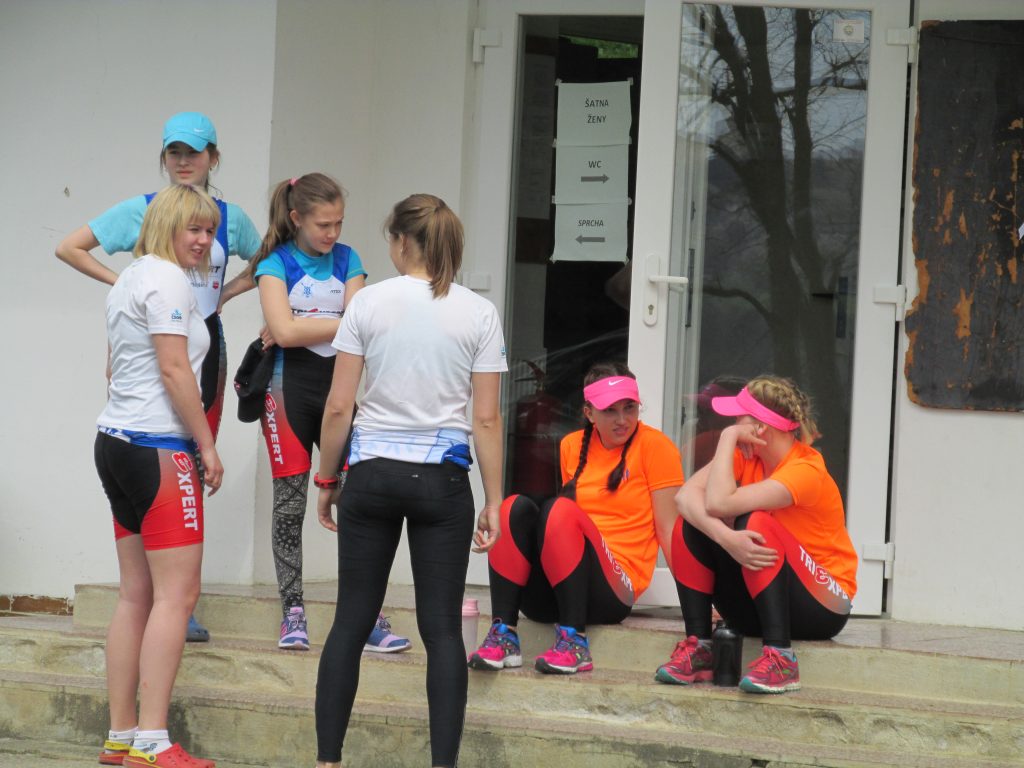 Well, they were in the winning mood and went on to win their doubles race. Hurray! Facebook-tired, some girls didn't want to get photographed. Still a great picture: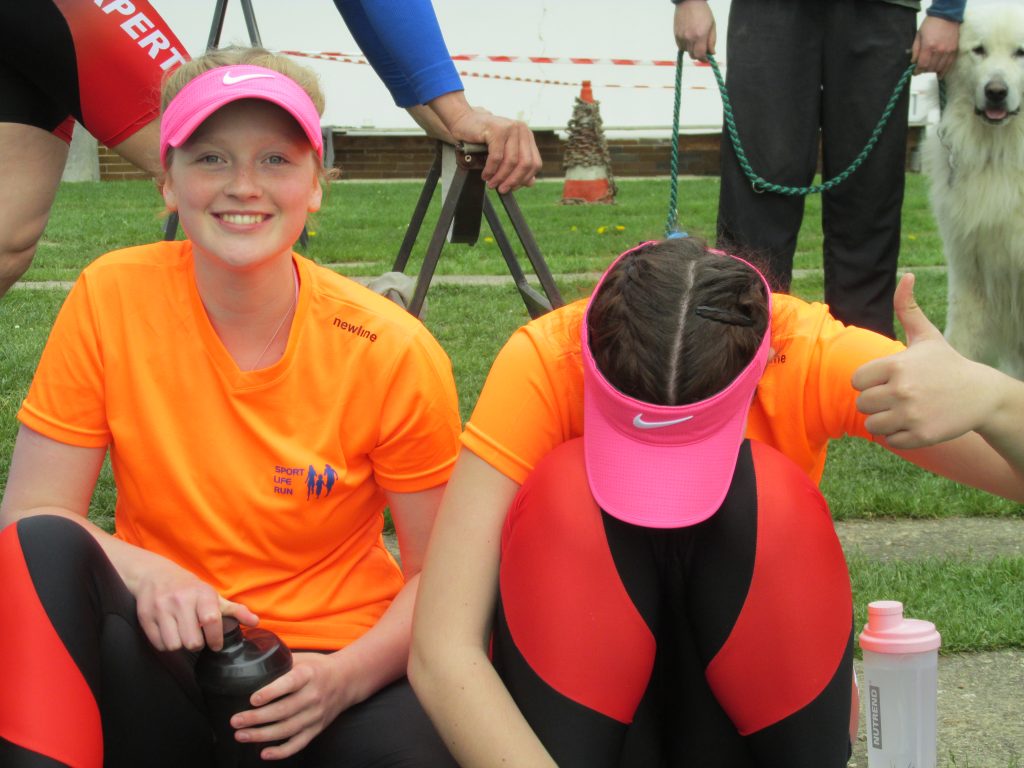 Meanwhile, yours truly showed up for the Men's 2x final. Six boats at the start. A stronger headwind than in the morning. Of course we, the oldest average aged, were in the underdog position. I was OK with that, just had a wish to beat our club president Tomas and his partner Ondra, who had sneaked ahead of us in the heat.
We had a really good start and Vojtech told me later we were leading. I don't know. At the start of a race I make a point of not looking left or right, just concentrating on the rhythm.
Then the young men started to lead by a length and suddenly we were last. About 400m into the race we passed Tomas and Ondra quite easily and we were still not losing contact entirely with the field of young men.
In the end we finished 5th in 8:55, a bit slower than in the morning even though it felt like harder work with the heavier headwind. Funny enough, my heart rate didn't go so high:

Workout Summary - 2016-04-23-1430.CSV
--|Total|-Total-|--Avg--|Avg-|-Avg-|-Max-|-Avg
--|Dist-|-Time--|-Pace--|SPM-|-HR--|-HR--|-DPS
--|05175|26:16.0|02:28.7|23.1|150.0|164.3|08.8
Workout Details
#-|SDist|-Split-|-SPace-|SPM-|AvgHR|MaxHR|DPS-
01|02081| 12:26 |02:59.2|18.5|141.0|169.0|09.0
02|02019| 08:00 |01:59.1|30.3|174.0|179.0|08.3
03|01075| 05:50 |02:41.5|20.4|135.0|145.0|09.1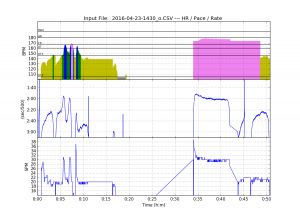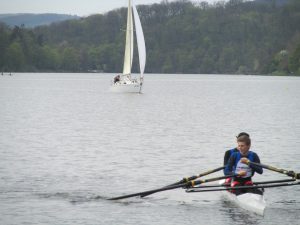 We returned to the rowing club happily. A good race. Then we all went into the club house to have a drink. We went through some old club documents. Here, for example is a document from 1939 honoring the Consul to the Kingdom of the Netherlands for his long time membership of our rowing club: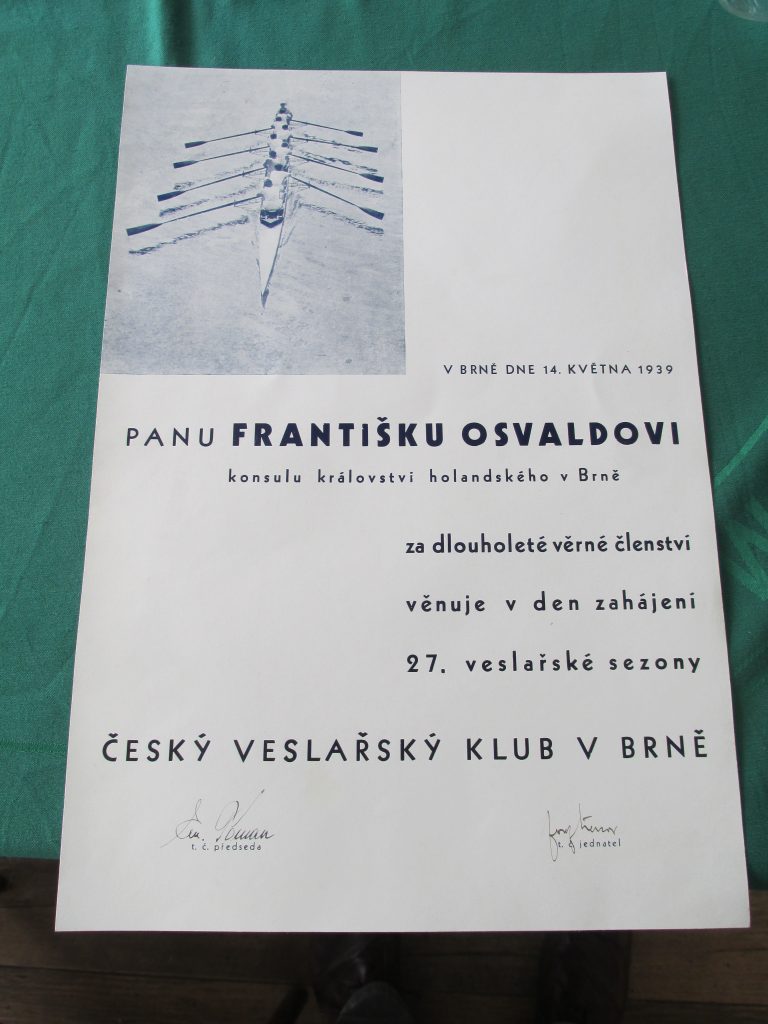 And finally, last but definitely not least, my daughter Lenka (two medals I am so proud) making fun of her picture taking father: