April 15, 2016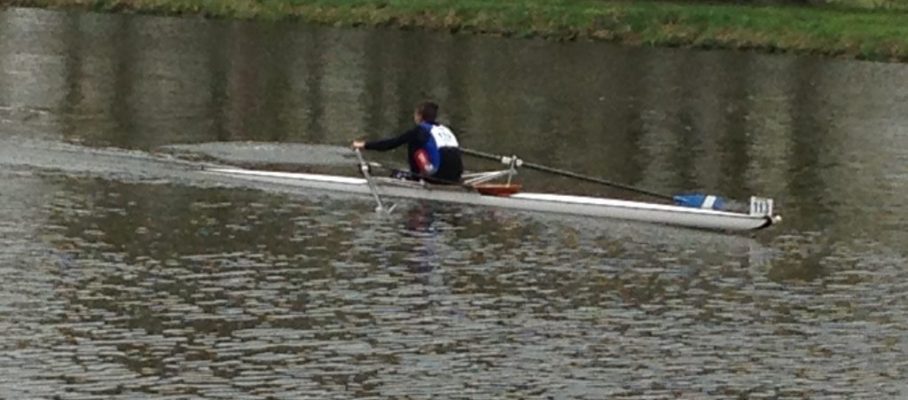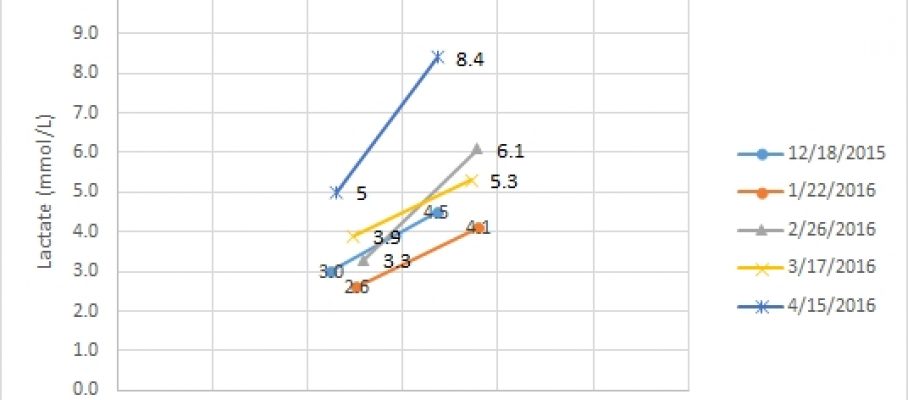 Apr 15 2016
So today I did the 2 speed test again. I did it on March 17 and on February 26. First, a 20 minutes warming up: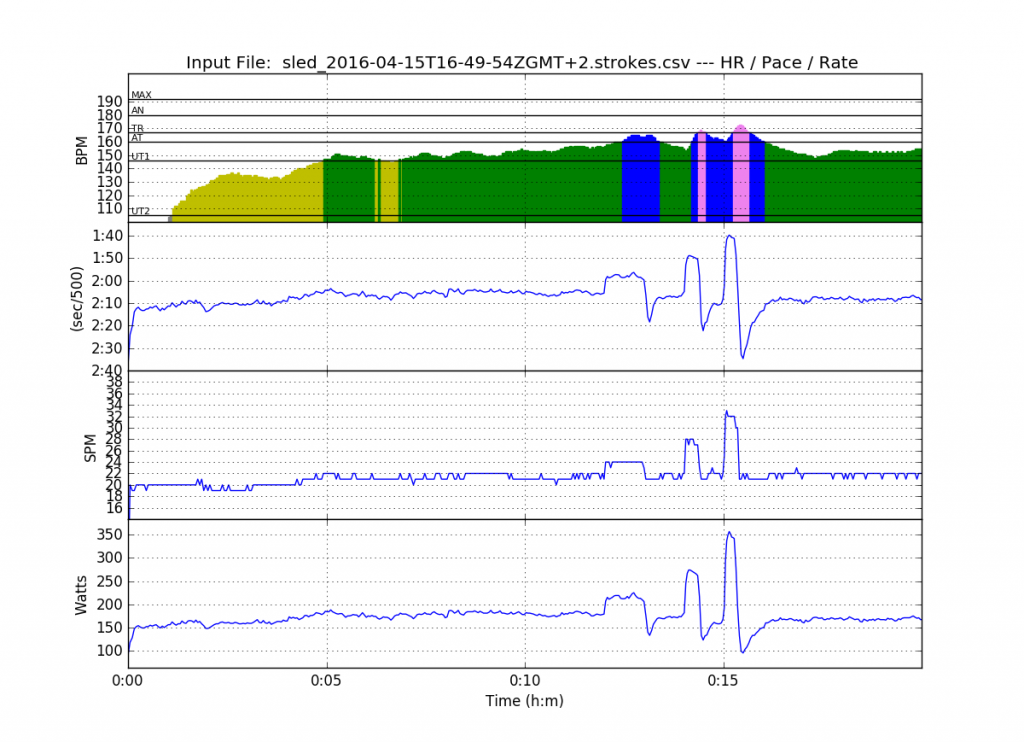 Then the first 1k, at "head race pace":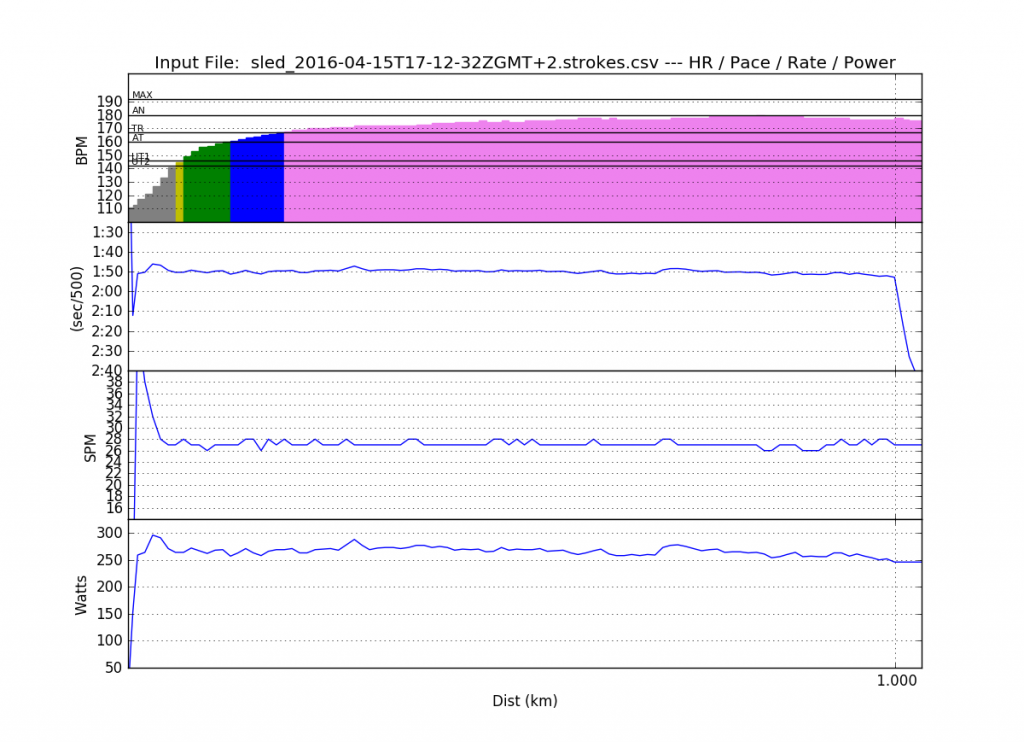 Did that in 265W, 3:39.3. Lactate was 5.0 mmol/L after one minute, 4.6 mmol/L after 3 minutes.
Twelve minutes of gentle rowing at 2:12 pace. Then the "hard" 1k.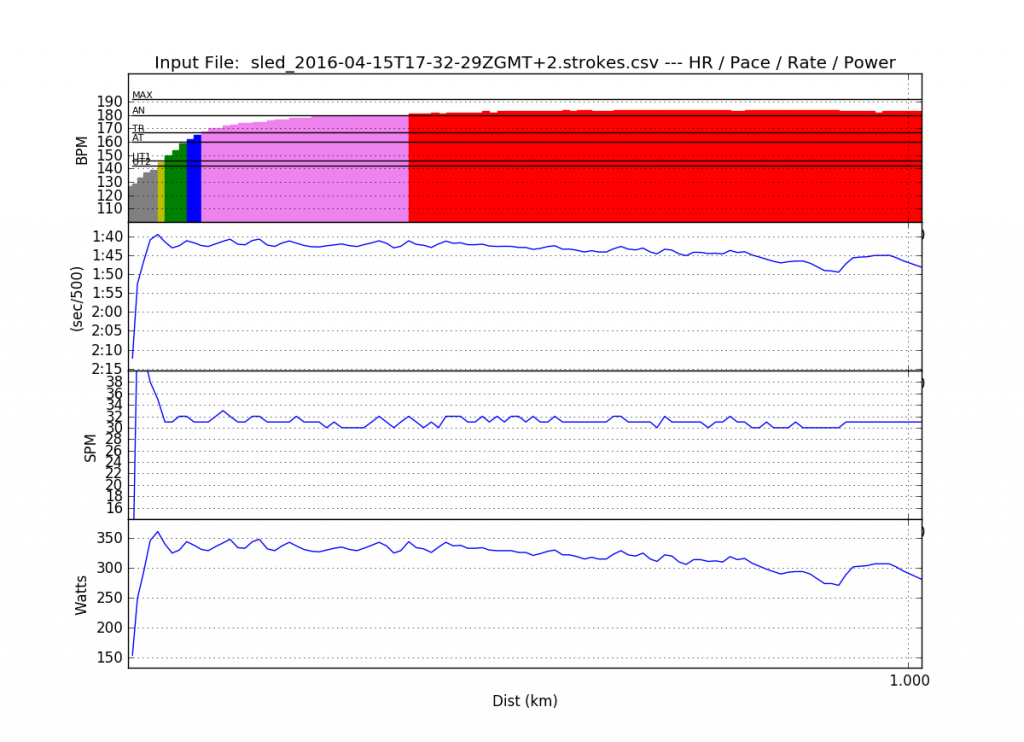 Hard it was. Max heart rate 184, average heart rate 178. My original plan was to hold 1:41 pace. I had difficulties from 600m to go and I even saw a 1:49 at one point. Lactate reading was 8.4 mmol/L, one minute after the row, and 8.6 mmol/L three minutes after the row.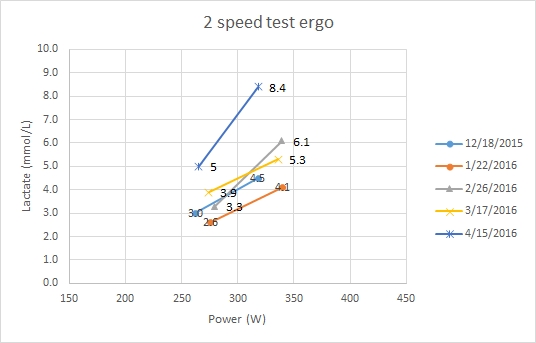 The top blue line are today's results. No wonder I was struggling during the second 1k. I have never seen so high lactates.
I have difficulty interpreting the lactate test results. I guess I will have to reread the lactate guru's bible. One thing I notice is that I am working in the "elbow" of the lactate curve. Any small shift of the elbow to the left or right, or a slight increase in steepness of the right-hand side will have a very noticeable effect on the lactate curve. Here is my 10′ step test from the end of the fall: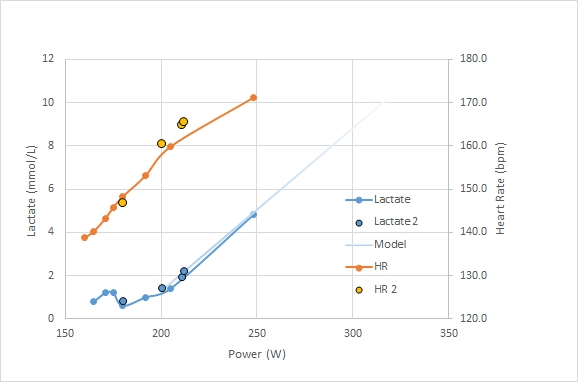 The light blue line is an extension of the >200 W points. For the 318W that I pulled today, that line is at 10 mmol/L.
Next week, I plan to do a 1k OTE erg to get a good score in for the nonathlon, before the erg season ends. I guess I will approach this 1k attempt with fear, after this result. After that 1k, I may have to think hard about the effectiveness of the training that I am doing.
By sanderroosendaal • Uncategorized • 6 • Tags: concept2, erg, lactate, OTE, rowing, test, testing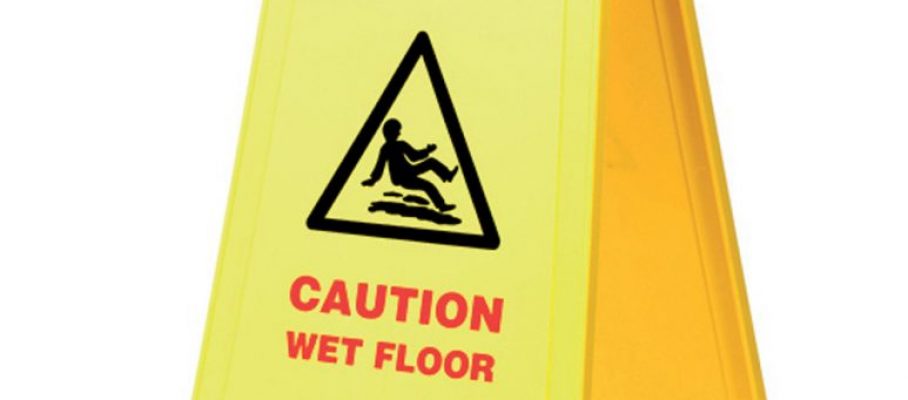 Apr 15 2016
Hi all
A short housekeeping announcement. This morning, I have migrated my blog from rowsandall.wordpress.com to blog.rowsandall.com. Yes, I have my own domain now.
I am now running the blog on wordpress.org. Things are slightly different. I managed to migrate the blog posts. I miss a few comments that were made during the migration, though. So if you feel strongly about your comment, made yesterday or today, please repeat it.
Otherwise, wordpress.com is redirecting you from the old site to the new one. So you should have found me here without problems.
I am still trying to get the site theme right. Things are slightly different here, and I am working my way through it. But I think the site is usable right now.
Followers should have migrated, but the support at wordpress.com sent me this:
It is important to note that once a blog moves off of WordPress.com, its followers will only receive new posts in their WordPress.com Reader; they will no longer receive email notifications. To counter this, you can make a new post on your site to advise your WordPress.com followers to subscribe by email to your site if they wish to continue receiving email notifications. Email-only subscribers will still receive email notifications, as they always have.
So there you go
.
By sanderroosendaal • Uncategorized • 4