Jan 22 2016
On December 18th, 5 weeks ago, I did the two speed lactate test. Read my blog of 18 December about it.
Today, I planned to repeat it. I tried to copy the protocol as much as possible. So first a Fletcher warming up: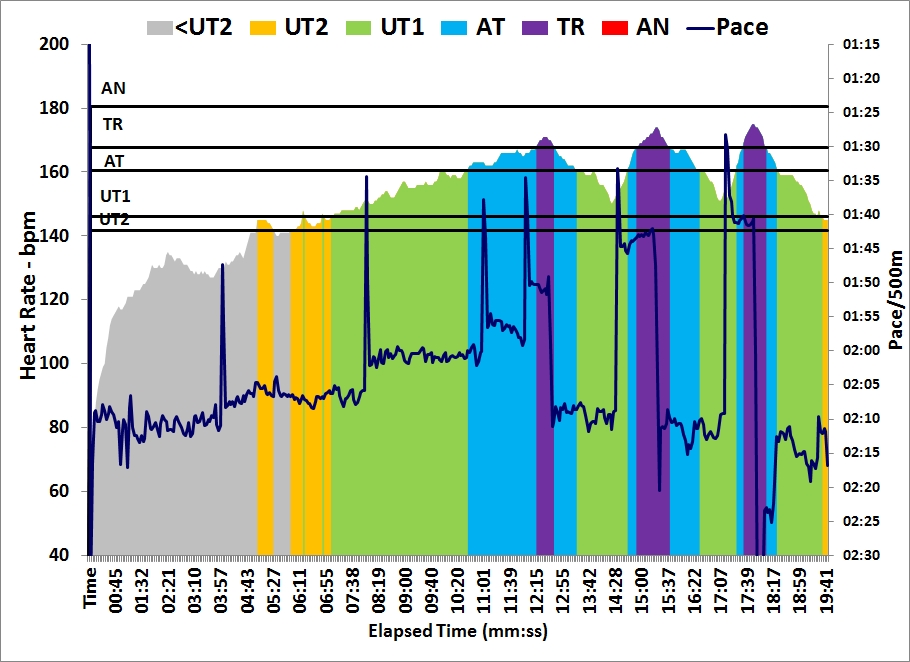 Higher heart rates than 5 weeks ago.
Then the main event, two 1k tests spaced 15 minutes apart. The first one at head race pace. Second one at 2k pace or faster (full out allowed). I looked up my stroke rate of 5 weeks ago. They were 27 spm for the first one and 31 spm for the second one.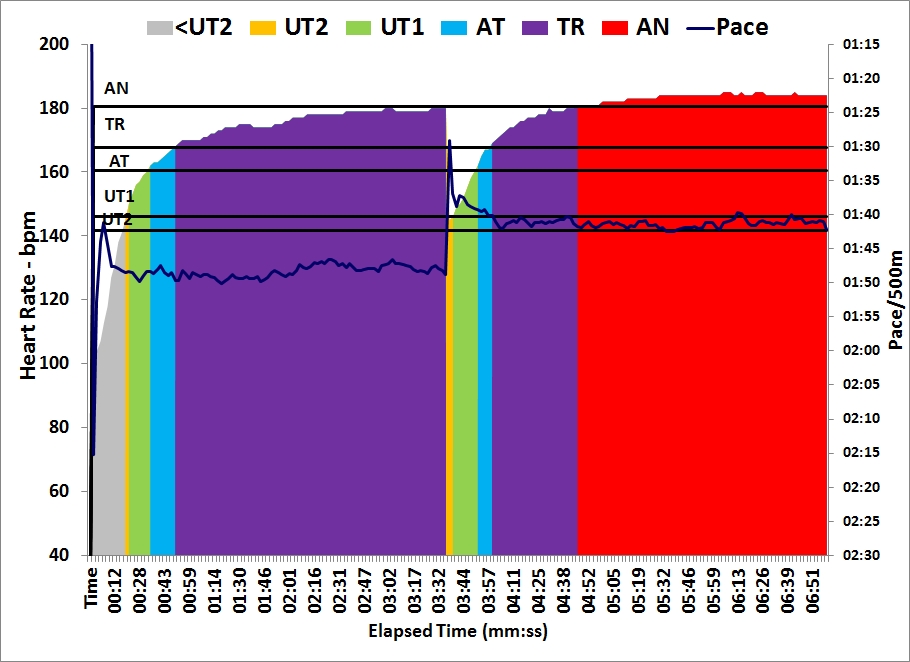 Again, a higher heart rate in the second 1k.

Workout Summary - Jan 22, 2016
--|Total|-Total-|--Avg--|-Avg-|Avg-|-Avg-|-Max-|-Avg
--|Dist-|-Time--|-Pace--|Watts|SPM-|-HR--|-HR--|-DPS
--|02000|06:58.5|01:44.6|305.6|29.5|173.9|185.0|09.7
Workout Details
#-|SDist|-Split-|-SPace-|Watts|SPM-|AvgHR|MaxHR|DPS-|Comments
01|01000|03:36.5|01:48.3|275.8|27.4|168.7|180.0|10.1| 2.6 mmol/L (1.9)
02|01000|03:22.0|01:41.0|339.9|31.8|178.8|185.0|09.3| 4.1 mmol/L (3.2)

So, compared to 5 weeks ago, there are the following differences:
2 seconds faster split on the first 1k (stroke rate 0.4 spm up)
HR 10 bpm higher on the first 1k
Lactate 0.4 mmol/L lower after the first 1k
2.3 seconds faster split on the second 1k (stroke rate 1 spm up)
HR 7 bpm higher on the 2nd 1k
Lactate 0.4 mmol/L lower
So I am faster at lower lactate but higher heart rate. This sounds plausible. For the aerobic energy path way, the heart rate has to go up when delivering higher power.
In a graph, it looks like this: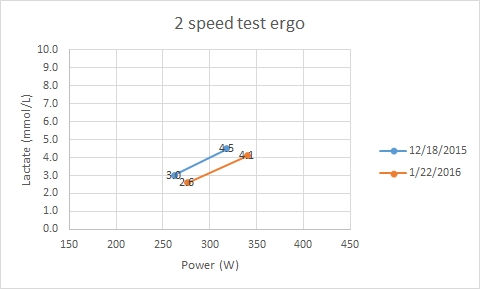 To be honest, I had hoped for a right shifted first point and a steeper curve. You can't say I didn't try. The second 1k is a Season's Best.
I did another lactate test after a 2k cooling down. 2.3 mmol/L
So I guess my aerobic fitness has increased. Next test in 5 weeks.
Follow me in social media