Dec 25 2015
Today was going to be the day. To reduce the pressure, I told myself that I was going to row a good half marathon (as opposed to setting a personal best). I would be happy with a well-executed row. I also decided to hold 1:59 until 6.5km to go, then accelerate slightly.
To increase the pressure, I wore club clothes. The long-legged uni, the club shirt with long sleeves, the club turtle-shell vest during the warming up.
Romana and Lenka were at the rowing club for their training. The boys were in the living room exploring the new family notebook computer.
I set up a few smart pace boats in RowPro, as well as my failed row of a few weeks back. Not sure what happened with the smart pace boats though. They were supposed to reflect my pacing strategy, but one of them held 1:49 for the entire row, and the other did the same at 1:55. Not sure that's what I programmed.
My failed row passed me after a few kilometers but I happily kept rowing 1:59, looking at an average pace on the PM3 of 1:58.9. There would be the incidental 2:00 stroke, and the incidental 1:58 stroke. I counted down the kilometers.
About 30 minutes into the race, my son Robin was shouting something to me from the top of the stairs to the erg basement. I shouted back that I couldn't hear him over the erg noise and the radio and asked him to come down to talk to me. He disappeared for a few minutes, then came back wearing warm shoes and a sweater. He needed the password for his account on the new laptop. I used a random generator to create their passwords so there was no way I would remember it. I told him to play on his brother's account and read email after I completed my row. I think this is the little heart rate bump around 34 minutes.
Last time I was in trouble with 9km to go. This time I was rowing 100m behind my virtual self and within the course of 500m that distance dropped to 50m. I allowed the 1:58 strokes to come more frequently. Then, with 7km to go I passed him. That gave me the energy to start accelerating a bit and I started to row 1:58 strokes, with frequent excursions to 1:57.
With 6.5km to go I started to play a game of 1500s. I would row from 6500 to 5000 and check how far I was behind PB pacing plan. Then from 5000m down to 3500m, and form 3500m to 2km to go. The plan was to accelerate slowly, then do a crazy final 2k, but I decided to push the pace a bit more than the plan and soon the predicted end time was below 1h23. That gave me courage to push harder and get the predicted end time below my PB.
After 2km to go the grunting started and the pace became a bit more erratic, but I knew I could row a personal best by sticking to 1:57 pace.
I took up the pace a bit in the final 500m and finished in 1h22:38.7.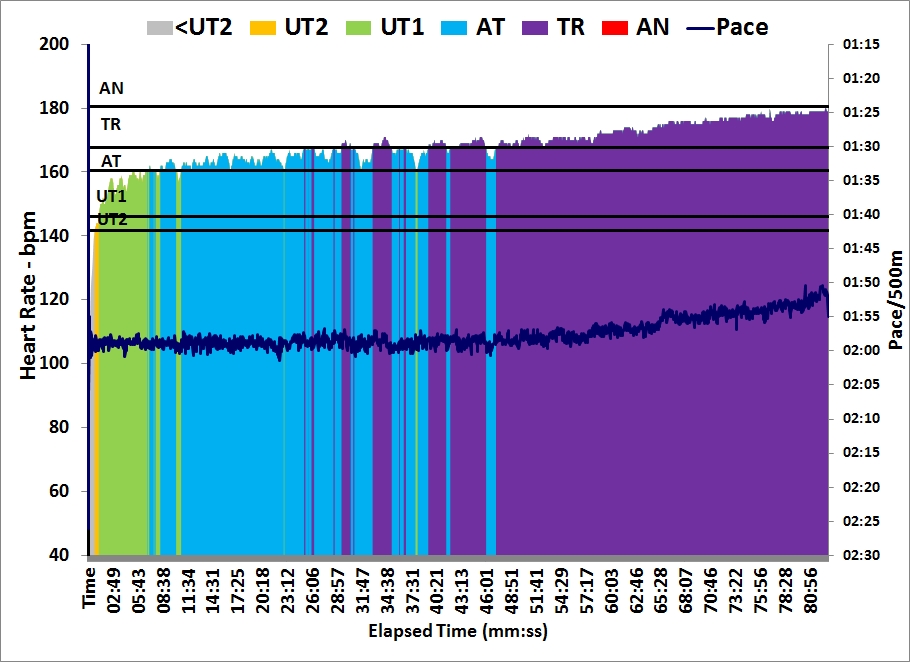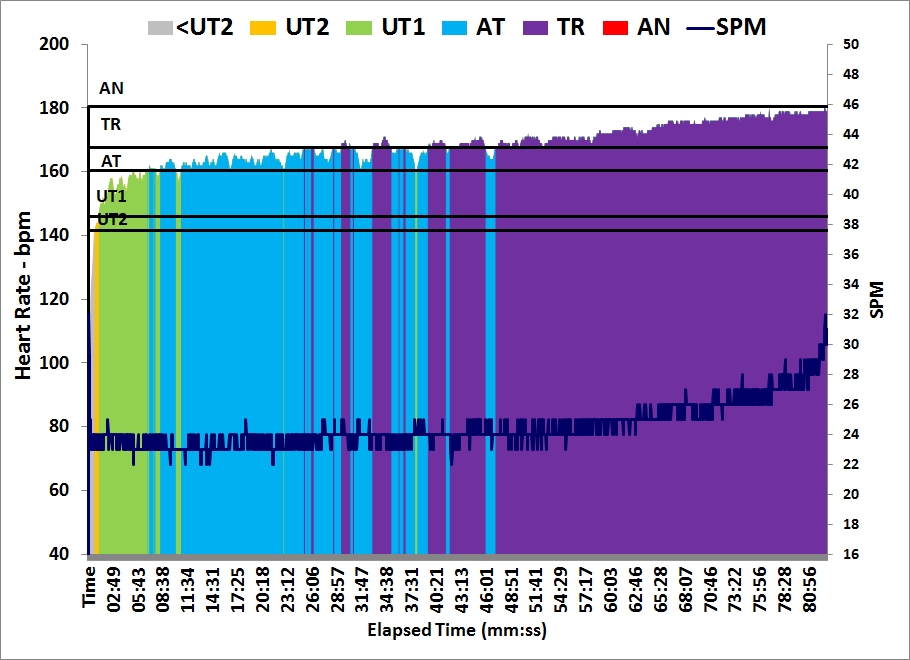 912 nonathlon points so mission accomplished for this erg winter.

Workout Summary - Dec 25, 2015
--|Total|-Total-|--Avg--|-Avg-|Avg-|-Avg-|-Max-|-Avg
--|Dist-|-Time--|-Pace--|Watts|SPM-|-HR--|-HR--|-DPS
--|21097|82:38.7|01:57.5|215.6|24.5|168.2|180.0|10.4
Workout Details
#-|SDist|-Split-|-SPace-|Watts|SPM-|AvgHR|MaxHR|DPS-|Comments
01|01000|03:57.9|01:59.0|207.9|23.7|147.2|159.0|10.6|
02|01000|03:57.7|01:58.8|208.6|23.2|158.9|162.0|10.9|
03|01000|03:57.9|01:58.9|208.0|23.2|161.4|164.0|10.9|
04|01000|03:57.7|01:58.9|208.4|23.2|163.3|166.0|10.9|
05|01000|03:57.7|01:58.9|208.4|23.5|163.9|166.0|10.8|
06|01000|03:58.2|01:59.1|207.1|23.4|164.2|167.0|10.8|
07|01000|03:57.1|01:58.5|210.1|23.8|166.1|168.0|10.6|
08|01000|03:57.3|01:58.7|209.4|23.8|166.6|170.0|10.6|
09|01000|03:57.5|01:58.8|208.9|23.7|166.9|171.0|10.6|
10|01000|03:57.9|01:58.9|208.0|24.0|165.8|169.0|10.5|
11|01000|03:57.3|01:58.6|209.7|23.8|168.5|170.0|10.6|
12|01000|03:57.3|01:58.6|209.6|24.3|168.2|171.0|10.4|
13|01000|03:56.6|01:58.3|211.5|23.8|169.6|172.0|10.6|
14|01000|03:55.9|01:57.9|213.3|24.4|170.2|171.0|10.4|
15|01000|03:55.3|01:57.6|215.0|24.5|170.7|173.0|10.4|
16|01000|03:53.8|01:56.9|219.2|24.9|172.9|174.0|10.3|
17|01000|03:51.7|01:55.9|225.0|25.4|174.1|176.0|10.2|
18|01000|03:50.3|01:55.1|229.3|25.5|175.6|177.0|10.2|
19|01000|03:48.7|01:54.4|234.0|26.2|176.7|178.0|10.0|
20|01000|03:47.9|01:53.9|236.7|26.9|177.8|180.0|09.8|
21|01000|03:45.4|01:52.7|244.5|28.2|178.6|179.0|09.4|
22|00097|00:21.7|01:52.1|248.7|30.4|179.4|180.0|08.8|

Follow me in social media