Jan 31 2016
After yesterday's race I drove to a "vinoteka" to buy some bubbles to celebrate.  I got a Riesling sekt made by a winery about 25km south of Brno, who, in contrast to the big Sekt brands, use the bottle fermentation process. Nice wine to celebrate a PB.
This morning we drove home from Pardubice. I enjoyed the pleasure of updating my nonathlon 2k score (+2 points, yay!), sending a PB notice to the Free Spirits board and entering my score on the concept2 site. Sure I am going to enjoy every minute of a new 2k PB.
During today's 3x20min row I kept bringing back to mind moments from yesterday. Like this nice fight between two guys in one of the Junior's heat. With 500m to go the guy on the right is leading. The one on the left wins, though. I filmed them for 30 seconds, then I stopped and just watched the fight. The guy on the left gets his virtual bow ball in front of the other guy with 3 strokes to go.
Today I did a 3x20min, using Painsled to capture the data. It turned out to be  a "Watts come easy" day and I had no trouble to hold the score above 200W. In fact, I tried to row 5000m exactly for each 20 min interval. I guess positive race experiences also helped, because in the end I measured 2.0 mmol/L lactate after the 3rd interval.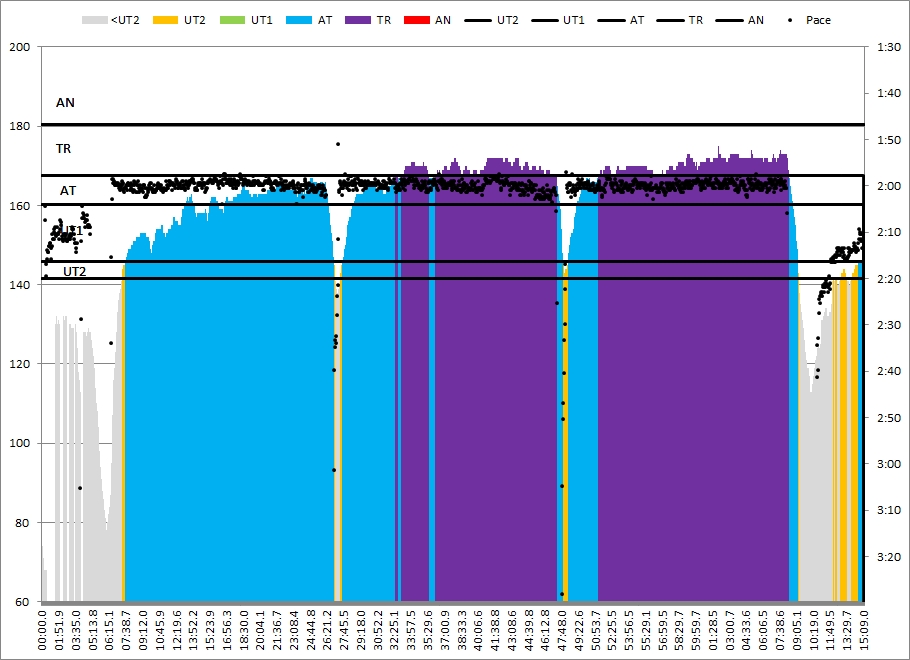 Average heart rate 165 bpm. Stroke rate between 21 and 23 spm. Distance covered 15001m (5000, 5001, 5000).