Jul 20 2015
I am late with my race report on the Czech Masters Open. Apologies for that. I spent the weekend offline, racing, interacting the people there and enjoying the atmosphere. Back in the office, there is a lot going on and I need to prioritize between getting my job done, my family, my training and the blog writing. The online audience just had to wait. But don't worry. There will be a race report. I plan to write it in three parts: Friday, Saturday, and Sunday.
The Czech Masters Open is the Czech National Championship for Masters rowers. It is interesting for our neigbor countries as well because Masters rowing in Czech is big, especially relative to the size of the country. Eight boats in the Masters Women's Eight. Twenty entries in the Men's Masters Quad. It's nothing compared to Masters Worlds or Euromasters, but still big in the region. Also, the race is held on the lovely Albano race course on the lake Svet, which is a 10 minute walk from the very lovely small town Třeboň: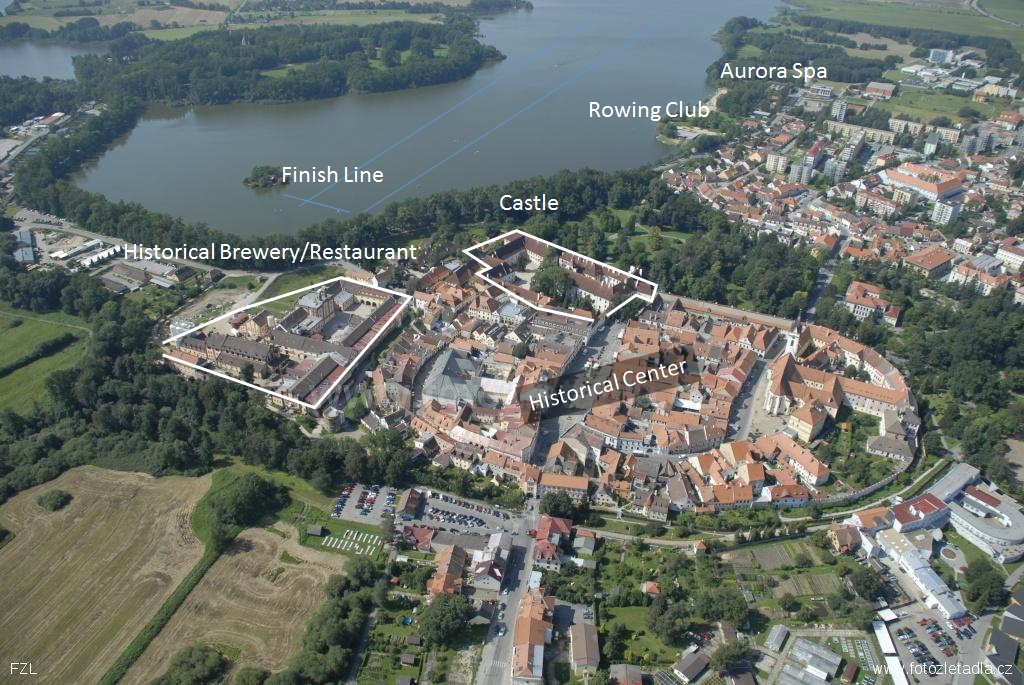 Much more interesting than the sterile 2k course in Račice:
No historical brewery there. A chemical factory and a communist 1970s factory town, yes, but no historical center with a castle or a brewery.
Perhaps more FISA compliant, but Not Good for Masters Rowers. So the atmosphere and the large Masters Rowers community were enough to attract a few foreign participants from Germany, France, Austria, and … Australia!
So on Friday Romana and I did the 2.5 hour drive to Třeboň, checked in to the hotel, waited for the trailer to arrive, and I rigged the single.
Then I did a leisurely 6km row, with a few test starts and 10 stroke intervals at race pace.
Followed a dinner with the ladies that Romana rows with, and then to bed early.
Saturday morning: the Men Masters C 1x Singles!!!!
Some pictures from Friday: