Aug 31 2015
Last day of the month. Just a few hours left to do the CTC.
I arrived at the club very early, spent an hour offloading our boats from the trailer, rigging them and giving them a good wash. Then I had some time left before our quad training at 6pm. So I went to the erg room and rowed the 3×9 min that is this month's CTC. Not doing the CTC that was chosen by my own team, Free Spirits, didn't feel right.
However, with an intensive quad training ahead I couldn't do this at a decent pace. I decided to do it at warming up pace and try to hit 2:15.0 pace exactly, 2000m per interval, 6000m in total. Here is how I managed: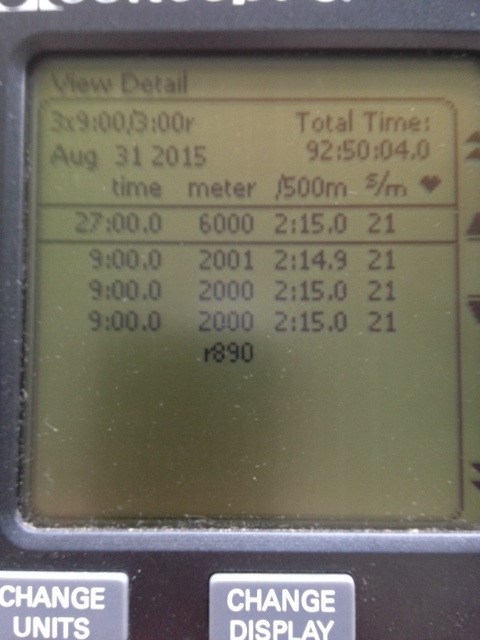 I rowed 1m too much in the first interval, but somehow the numbers still add up to 6000m.
The mixed quad training was excellent. The training plan prescribed:
3x(5×30″)/R8 (1) 30″/30″ @36spm, (2) 30″/45″ @ 38spm, (3) 30″/60″ @40spm
However, I changed it a bit. I decided it would be more interesting to row the 5×30″ as 30″ @ 40spm, 30″ @ 38 spm, 30″ @ 36 spm, 30″ @ 38spm, 30″ @ 40spm.
This being the last day of the school vacation and temperatures hitting 35 degrees again, the lake was full of paddle boarders, swimmers, windsurfers, pedal boats and motor boats. We decided to leave the lake and row the first two intervals in the canyon. The problem was the setting sun and the presence of more paddle boarders there. Somehow, we managed.
The problem with the paddle board paddlers is that they are very inexperienced, are glad they manage to stand up, go very slow, on the wrong side of the river, do not look behind themselves and do not steer well. Also they tend to go in groups so you suddenly have a flock/swarm of paddlers around using the entire width of the river, so you cannot pass them. We had to stop hard a few times during the warming up.
Somehow we managed to do the first two series without problem. Then we rowed back to the lake during the second 8 minute rest period, but by the time we were supposed to start the first 30″ interval, we were in the middle of a swarm of swimmers and paddlers. And, I must mention this, a nude guy on an inflatable raft. The ladies on the paddle boards were not looking at us but at the nude guy, so we had to stop hard before we could pass them.
Here are the stats:
Series 1
30″ / 155m / 1:36.9 /35.9 spm (38 max)
30″ / 152m / 1:39.1 / 37.9 spm (38 max)
30″ / 146m / 1:42.3 / 34.0 spm (38 max)
30″ / 145m / 1:42.7 / 36.0 spm (38 max)
30″ / 150m / 1:40.0 / 37.9 spm (41 max)
Series 2
30″ / 148m / 1:41.8 / 37.9 spm (41 max)
30″ / 147m / 1:42.1 / 36.0 spm (39 max)
30″ / 147m / 1:42.3 / 35.9 spm (37 max)
30″ / 150m / 1:39.8 / 36.0 spm (39 max)
30″ / 134m /1:51.7 / 34.0 spm (39 max) – stopped early to avoid collision with paddlers
Series 3
30″ / 91m / 2:45.4 / 21.9 spm(23 max) – couldn't row because surrounded by paddling ladies and nude guy on inflatable raft
30″ / 156m / 1:36.5 / 35.9 spm (38 max) – wake
30″ / 151m / 1:39.1 / 35.9 spm (37 max)
30″ / 154m / 1:37.6 / 37.9 spm (39 max)
30″ / 160m / 1:33.6 / 38.0 spm (41 max)
Very happy with today's training. The boat was super stable, even though Romana on bow seat had to turn her head every second stroke to spot swimmers/paddlers. We managed to row through a wake without problem, and we had less and less difficulty hitting the high stroke rates.
The goal of today's session is really to get comfortable rowing 35-36spm and I think we achieved that.
No HR data today  because I left the belt at home.