Jun 19 2018
Sunday. It was going to be a busy day. Here was the program:
9:35 Masters C 4x
10:17 Masters D 2x
12:28 Masters C 1x
I had been drafted to fill a seat in two Donaubund boats. Their regular rower had a bicycle accident and was unable to row. Of course I was happy to fill in, knowing that Andreas Kral and Marko Milodanovic are excellent rowers. I was hoping I wouldn't disappoint them.
We met at 8am and rigged the boat, a nice Filippi quad. We were up against two boats, who had both entered as C. However, at the start line we would find out that the crew from Salzburg was actually a E crew.
The third crew were my friends from Bohemians Prague. Today, I wouldn't underestimate them.
It was a pretty heavy headwind. Rowing to the start we did a few practice starts and that was the prep. I had never rowed with this crew, but I think I blended in quite nicely, seated on 2.
Despite being an E boat, the crew from Salzburg was a very serious competitor on the first 500m. That could also be said about the Bohemians crew. For the Bohemians, this classification could actually be extended to the second 500m.
But by solid rowing we were able to push our boat out in front, centimeter by centimeter, pushing against the headwind which made it feel like we were rowing in concrete.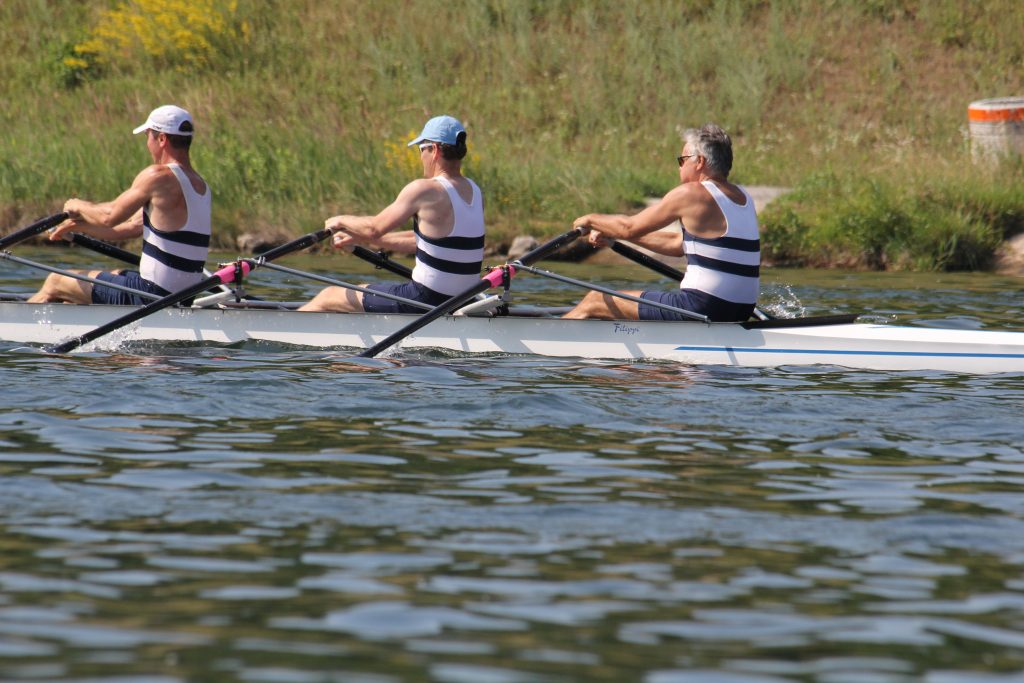 Looking at the picture, with me seated on two, Andreas on bow, Marko on 3, and Alex, invisible on stroke seat, I think I blend in quite well. Phew.
We managed to push our bow ball across the finish line a few seconds before Bohemians. This had been a long and painfully intensive 1000m.
To our surprise, the winning time went to the E crew from Salzburg, because they got a bonus of 11 seconds according to the Austrian handicap system. Well, we still got a silver medal, and we did win the race on uncorrected time.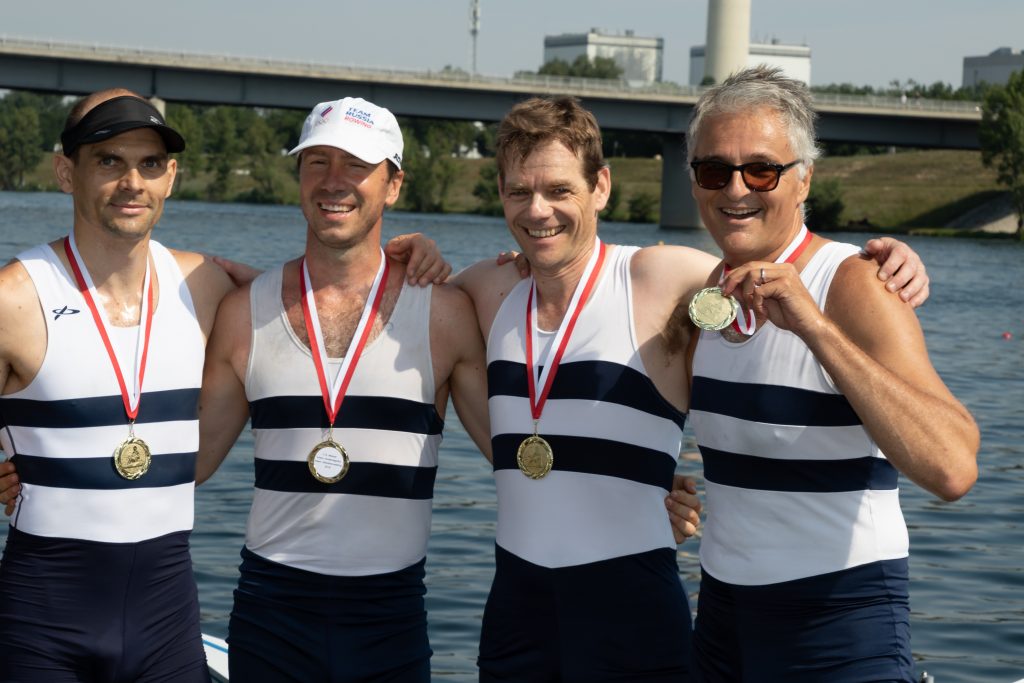 I didn't bother taking my SpeedCoach in the boat, so here is just a crude pace chart as measured by my Garmin watch:

Double
Andreas and I could just move our sculls from the landing dock to the launching dock and get our double. We rowed in a nice Filippi belonging to Andreas and Marko, and we pushed off with 9 minutes left to get to the start. Not a lot of time to get together as a double. To make things worse, I had forgotten to drink from my water bottle, which I had left on the dock when we pushed off with the quad.
At the start line, with us in lane 1, I was surprised to see a pair lining up next to me. We were four double and a pair.
The headwind had become even stronger and there now was serious chop. I didn't know any of the competitors but Andreas told me that it "was doable", so after the "GO" of the quick start I set off as furious as my body, still tired from the quad race, would allow me. We were all boats in one line but in the second 250m, Andreas and I managed to pull away by about a boat length.
A bit before the 500m mark I asked for a power 20, and we did rate up and tried to pull away further. We were quite unsuccessful in that. I think that the difference with the pair even got smaller.
A pair, in serious chop and headwind, able to pull us in? Well, it turns out that is possible when the rowers are Laszlo Kokas and Attila Strochmayer. The race turned out spectacularly for the fans on the shore, but it was extremely painful to our tired bodies. In the end, we managed to cross the finish line 0.43 seconds before the pair, but to me the true winners are the guys in the pair. Normally, a pair should be a few seconds slower when racing a double. Respect!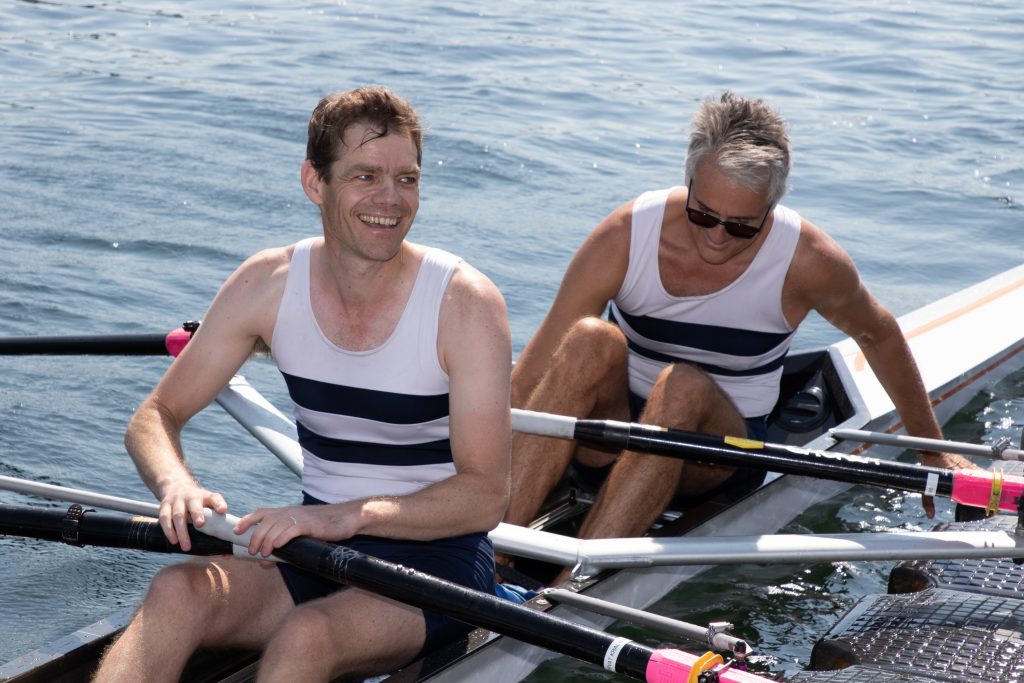 Of course, we did happily collect our medals. I am quite happy with this result. We proved to be not slow, even with only 1100m of training together. Again, just a crude pace plot from the Garmin Forerunner.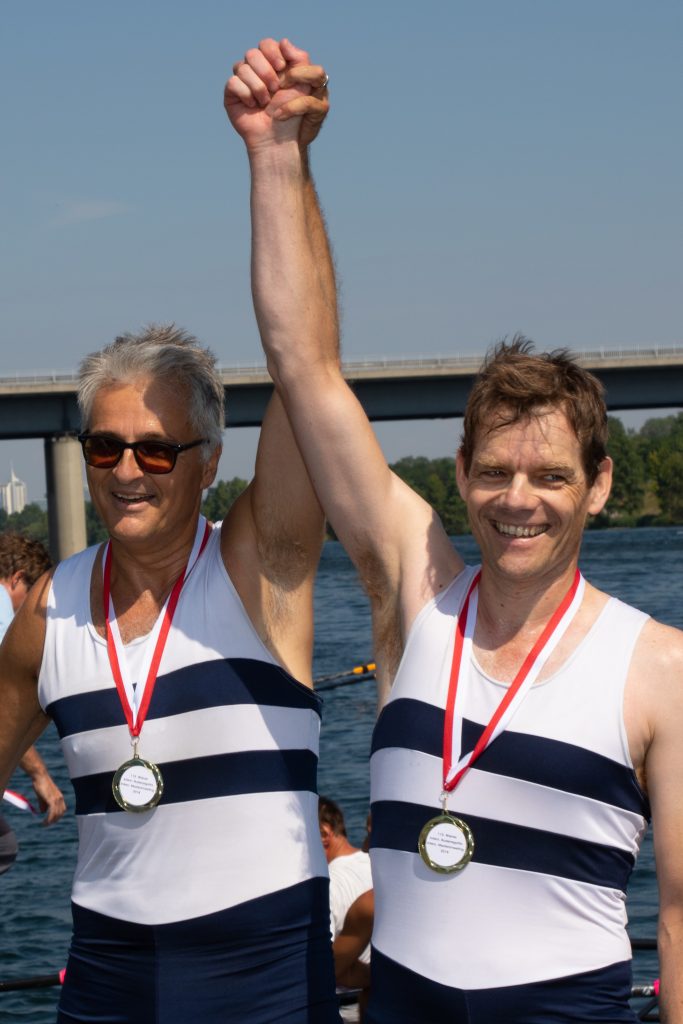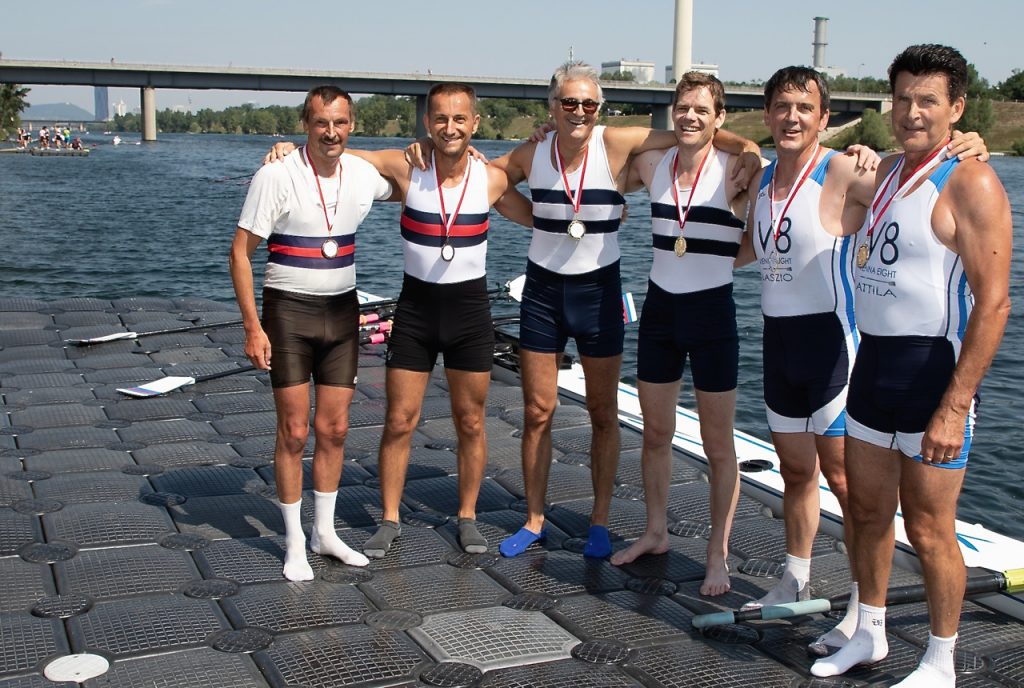 Water & Single
Meanwhile, Romana had raced her double race with Veronika, where they unfortunately finished last, and she was now on the water in a quad.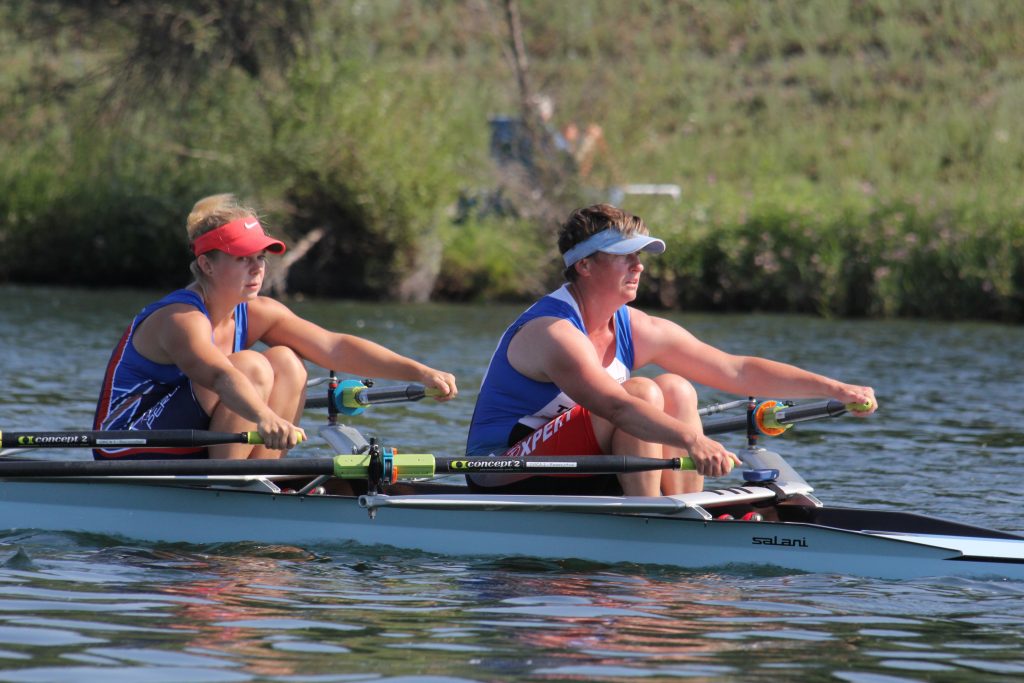 I had an hour and a bit to recover before my singles race, and the plan was to rehydrate and eat a healthy bar to get some nuts and sugar in my stomach. The rehydration plan went well. After two races without a sip of water, my mouth was really dry, but I did get my water bottle and drink. The eating a bit part was a disaster, though. Romana had hidden the car keys on a secret place, but I couldn't find them. So I was walking around the race venue in my Donaubund uni with only a bit of water to drink. I watched Romana race her quad (third place) and then asked her where the keys were. Turns out they were on the exact place where I had looked, but I hadn't looked well enough.
I ate half of the bar and changed to my Brno uni, and then I launched with only 10 minutes to the official start time. I was lucky that the racing was a bit behind schedule. When I pushed off the dock, I realized that I didn't have my SpeedCoach with me. This would be an unplugged row.
Six boats had registered for the MM1x C event, but only 5 were at the start. By now I did know the competitors a bit. I was up against Jiri Rysavy from Bohemians Prague (who had beat me in the double and made my life miserable in the quad), Michael Helbig from Graz (beat me in the double on Saturday, DNF because of his partner in the Mix 2x), and two guys from two Vienna based rowing clubs.
Because of the short time after two exhausting races and because of the excitement and less than ideal recovery between the double and the single race (entirely my own fault) I didn't feel super strong for the singles race. I was actually expecting to finish last, probably with some distance between me and the other competitors. I decided to make the best of it and take this as a training row, focusing on boat run.
It took ages for us to line up at the start in the headwind. The first attempt was good enough for me, but then the guy next to me started to realign his single because he had been blown into the buoys. The second attempt was successful and my race start wasn't bad.
After less than 10 strokes, I settled down at a stroke rate that felt right. I don't know the exact stroke rate, but I think I was just below 30spm, perhaps even dropping to 28. I certainly wasn't pushing it hard.
So, I was rowing in last place, but the surprise was that the others weren't pulling away from me like crazy. There were two guys in front, about a boat length and a half ahead of me, then there were two boats that were about a length ahead of me, and then me, pushing along at a leisurely 28spm.
The nice thing about rowing in such a tired state is that the dreaded lactate shock after 500m doesn't happen. You just keep pushing along. By this time I was about a length and a half behind the others and I was focusing on boat run and trying to keep the Distance per Stroke (as estimated) as high as possible.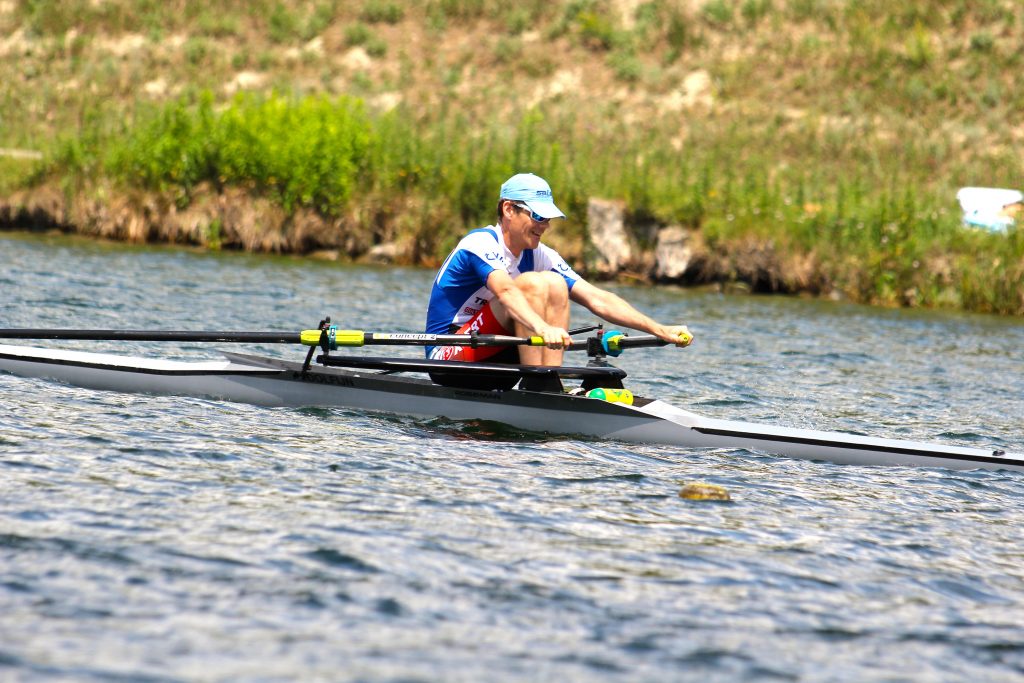 Passing the 500m mark, I think I was rowing technically pretty well, because I was slowly pulling back into the field. Now, I was only half a length behind Jiri and Michael. I just kept going until I saw the pub in my peripheral vision to my left, which gives you about 150m to row, and then I thought, why not try and pass these two fellows. I rated up and we created a fierce fight for third place.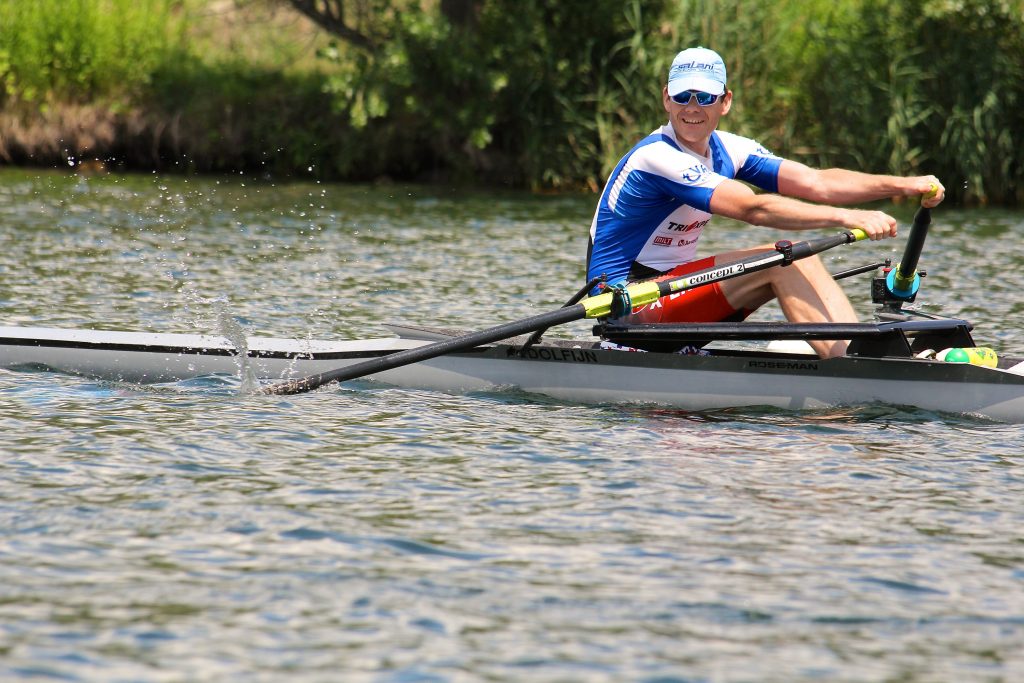 Beep – beep – beep.
We were all within one second, but unfortunately that last beep was mine. After a long 4 minutes and 15 seconds.
You know what? Even though I came last, this race in the single really made me happy. I think I showed some solid rowing there, and I found out that at 80% I am able to stay with the field. Now I will start with more training sessions dedicated to 1000m sprint racing, and I should be able to work up my base speed by end of July (Euromasters).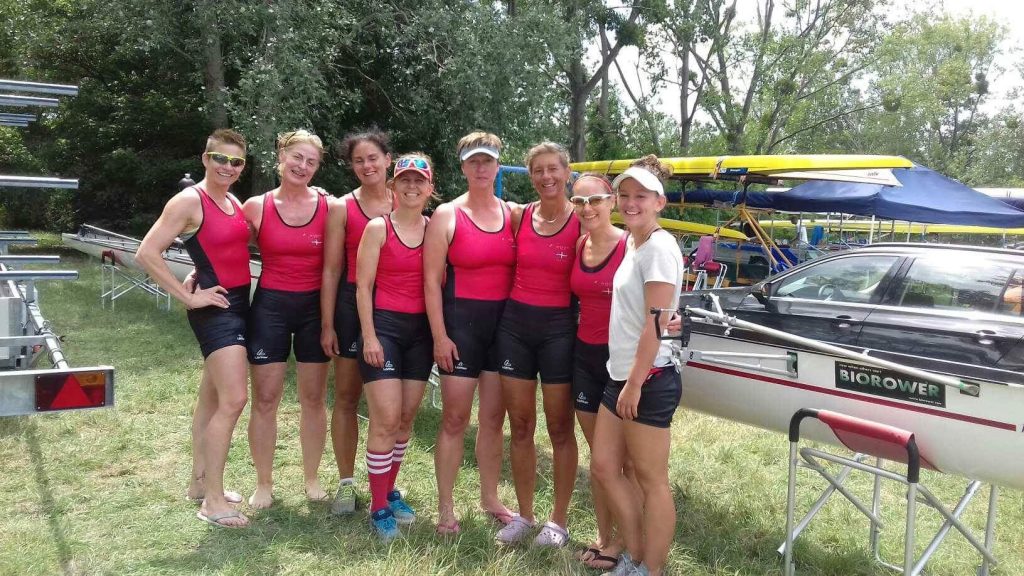 Romana got to row in place of Mrs Helbig (from the DNF mixed 2x with Michael Helbig) and won a medal in the eight:
Then we had a hamburger and watched some racing, put our boats on the trailer, and waited for our Slovak friends from Piestany to race their Mixed 4x (which they won).
The drive home was fast and without incidents (luckily) and after parking the trailer at the club we were home by 7pm.
Our first attempt to infiltrate the Austrian Masters scene has been really successful and I should thank the race organizers and volunteers for a perfect regatta. The only thing that should be improved is the wind direction. Also, big thanks for Natascha Kral (Andreas' wife) for shooting the great pictures that I used in this blog. You may have noticed that half the pictures in this post (and in the previous one) look professional and the other half look slightly amateurish. The professional looking ones were done by Natascha. Click here to see more great pictures by her from this weekend.
Follow me in social media