Dec 7 2017
Monday
A light hour of steady state on the erg, right after breakfast. Still hurting a lot from the Saturday and Sunday sessions, so I took it a lot easier than I would normally do on these steady state sessions.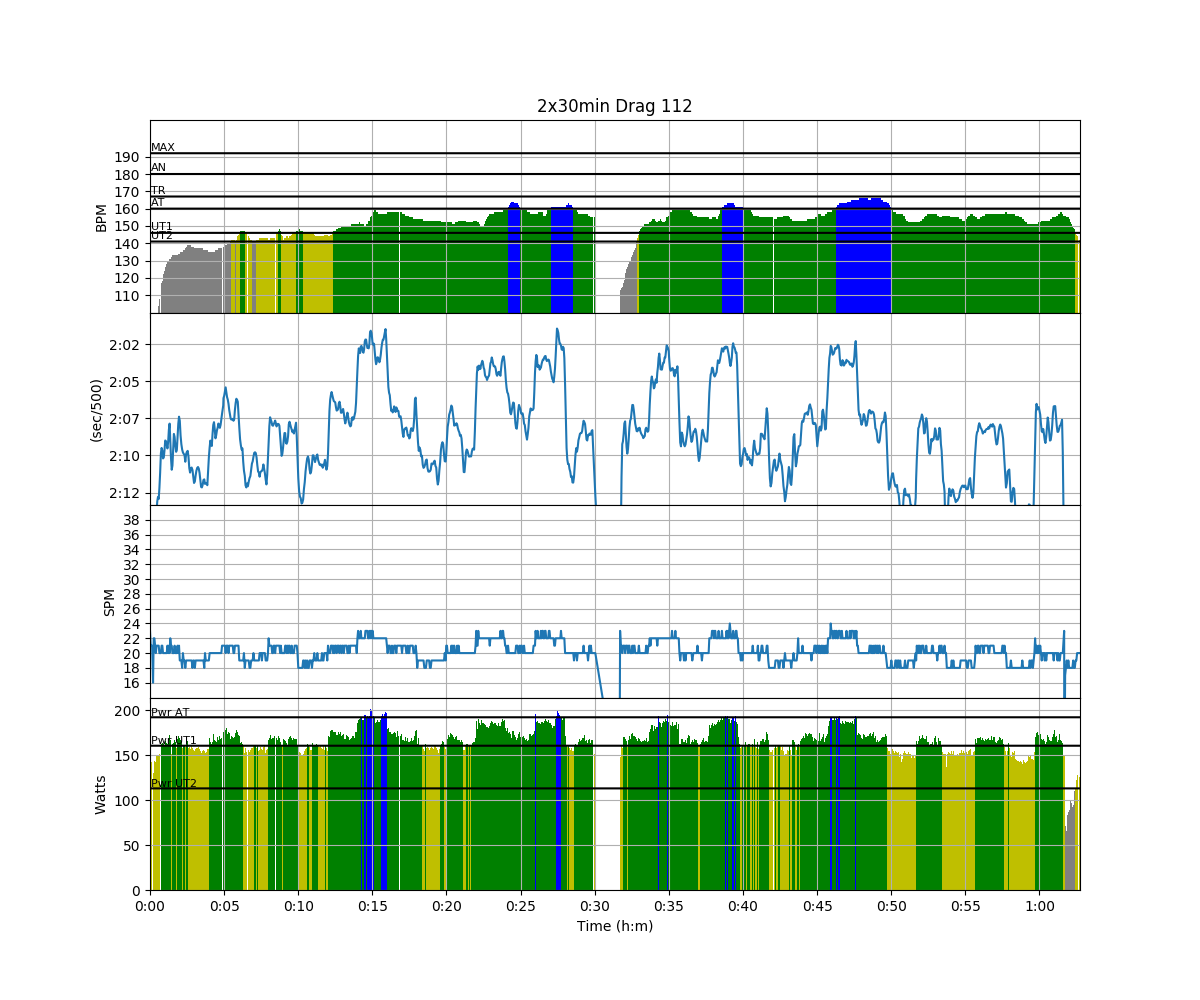 Then I headed to the railway station, took the 11:38 train to Hamburg via Prague, Dresden, Berlin. I usually travel by plane, and this train trip was a very nice variation. I love that you have enough leg space, power, USB plugs, and can go to the restaurant wagon whenever you like. I spent most of the time making notes for my speech, then writing out my speech, then condensing it to notes again. It's how I have learned to prepare and memorize. If I do it well, I can throw away the notes, but I usually like to have them around.
On the train, I also looked at my erging data for the past few sessions.
The Saturday session sticks out. I didn't split up this session in rest and work strokes, so the averages are pretty skewed, but the top values in the box chart are definitely different than those for a normal session. I was expecting that for "work per stroke" and average and maximum force, but apparently also the stroke length was distorted. Interesting …
Arrived at Hamburg pretty late, took the S-Bahn to my hotel, called my wife, crashed in bed.
Tuesday
Slept too long to do any exercise, and spent the little time I had to have a good breakfast and go through my speech one more time, delivering it to my hotel room. The hotel room didn't say much, so I guess it was OK. It was a bit short, about 10 minutes shorter than the 40 minutes that I was expected to speak. I guessed that the audience being more interactive than the bed and empty chairs in my hotel room, and leaving a couple of minutes for questions and answers, I would be fine.
Joined the conference, listened to a couple of interesting talks, had lunch, and then it was time for me to deliver my part.
I had just asked a critical question to the previous speaker, and the chairman made a lengthy introduction. To break the ice, I expressed the fear that the chairman (and myself, with my question) had raised the expectation a little too high, and then I started with my intro.
Getting some nods and comments, and expanding a bit on a couple of points that were already raised by previous speakers, I filled the 40 minutes easily. A guy form Alitalia had a few interesting questions and comments, and that was it. Job done. I like to talk about the work that my guys do, but I have to have the time to prepare well.
In the evening, we were invited to drinks and dinner, and I had a good time. The drinks were served inside the airport, on one of the upper levels. This was approximately the view from where we were having our drinks: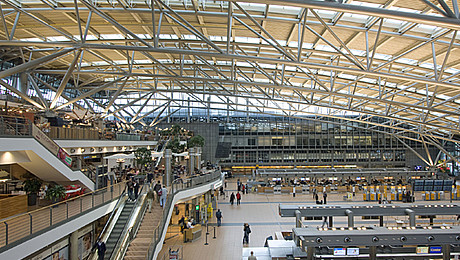 Because I had been a speaker, people would come and talk to me, and comment on my talk, which was nice. Met a few of our suppliers. Sneaked out of the party around 10pm, walked back to the hotel through the rainy and windy Hamburg weather, and went to bed.
Wednesday
Set alarm clock for 6am so I could get in some exercise before breakfast. For such an expensive hotel, the Radisson Blu Hamburg Airport, the gym wasn't much. A few elliptical and a few stationary bikes. Spent 15 minutes on each, then went back to my hotel room and completed the session with 20 minutes of body weights exercises.
I have started to use an app called HRV4Training, which supposedly measures Heart Rate Variability (HRV). You use it each morning. It measures your pulse through the smartphone camera and derives HRV, and something called "Recovery Points", which I can sync to SportTracks. It also asks questions about travel and alcohol consumption.
For three days I have used it, and my scores have been constantly improving, while I traveled to Germany, trained and slept irregularly, and there was alcohol consumption. Still, my resting heart rate and my "recovery points" keep improving.
Will continue to use it a bit longer to see if it discovers any trends.
I spent the rest of the day at the conference, including an evening workshop.
Thursday
Up at 5 to catch the S-Bahn to the railway station. I had noticed that there was an entrance to the S-Bahn right in front of the hotel, but when I wanted to take it, I noticed the sign that this entrance was closed. Had to walk a long distance to another entrance to the same station, and missed my train. Luckily, I had built in quite some reserve, so even with the next train, twenty minutes later, I had plenty of time at the Hamburg station to take a coffee and some pastry.
Now, I am in the train, between Berlin and Dresden. I hope to arrive to Brno around 5pm, and I hope to get in a steady state erg session. Probably not one with impressive splits, though.
Follow me in social media