Sep 25 2015
Training plan musings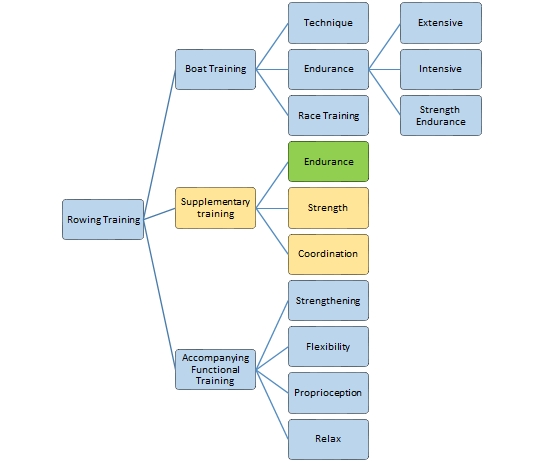 Supplementary Training. Here are my notes from reading the book:
Endurance Training

Ideally 5-7x per week, more than 30 minutes per session, throughout the year
Recommended sports: Bike, mountain bike, cross country skiing, running and swimming
Well, that's interesting. I am thinking of I would work that into my training program. During winter, I frequently run. I have lovely hilly forests starting just behind my home, so trail running is always a pleasure. Also, running is my go-to cross-training when on travel. Running gear doesn't add much weight to my travel luggage.
With my recently purchased second-hand mountain bike, the mountain biking is nice as well, although I must say I am not really a downhill MTB hero. Too scared to fall. I have also been experimenting with replacing some of my car or public transport commutes with the bike. It is great, although it does come with breathing car exhaust, microparticles, etc. At least under the new city council it has become slightly safer (a few more bike lanes). With showers and a locker at work, the infrastructure seems in place. Just wondering how this plan is going to hold when ice and snow make it difficult.
I love cross country skiing and plan to do this in weekends in the winter. It's perfect cross-training. I also plan to have at least one week of vacation/training camp in the mountains.
All in all I think I can get in 2.5 hours of cross training per week.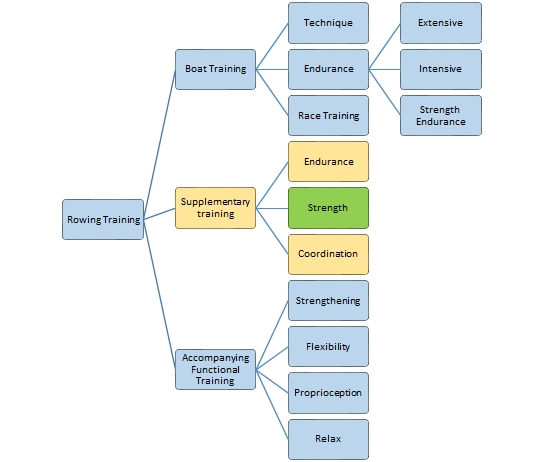 For strength training, Das Buch has the following remarks.
Strength training is very important for Masters rowers to limit muscle decline with age
Different types of strength training have different effects. For Masters rowers, the most important type is the one that improves energy flow to the muscle. This can be achieved by:

Boat/erg training
Circuit training – 1 set at each exercise, go to next exercise, repeat
"Station Training" – several sets of each exercise, then go to next exercise

Das Buch recommends 2-3 times per week, 2-3 sets of 10-12 repetitions, 4 exercises for the upper body, 4 exercises for the lower body
At another page, Das Buch talks about 2 times per week, 40 minutes each, emphasize core and shoulder
Introduce variation. Not always the same exercise per muscle group.
Do not do strength training after an exhausting endurance training
Here is my summary of the strength trainings that I found in the book: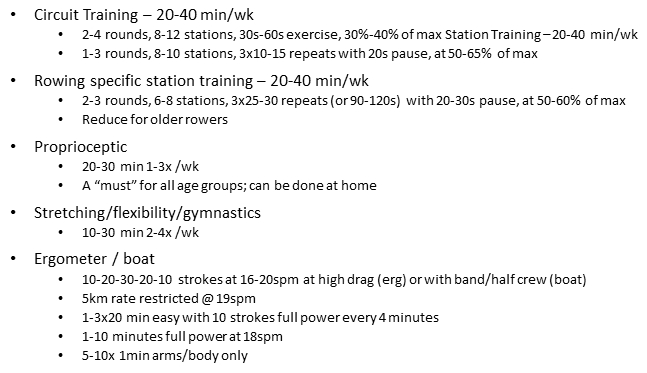 I also learned a few German acronyms that were unexplained in the book, so I had to Google them. I copy them here for fun:
KA = Kraft Ausdauer
SK = Schnellkraft
IK = Intramuskulaere Koordination
MK = Maximalkraft
Romana does a circuit training on Friday afternoons with her training group of 15-18 year old girls. I could try to join them. Perhaps the weights will be a bit on the light side, but I could do more repeats. More than half of the exercises on Romana's circuit training use own body weight anyway.
For the "station training" I could try to visit a fitness club in the neighborhood.
Alternatively, I could buy the basic stuff and do circuit and weights at home.
Not decided yet.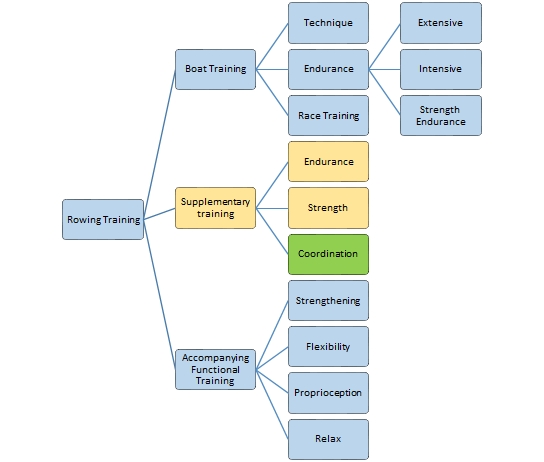 Finally, Das Buch describes how to improve coordination. The book recommends to work on this 2-3 times per week, 4-10 exercises, and suggests playing games, dancing, other sports and "proprioceptic training". They also comment that OTW rowing falls under coordination exercise, but needs complementary training.
Well, I have a fitness ball at home, so I could do situps and pushups using the fitness ball. Is that enough coordination training? I don't know.
Today's training
I had steady state on the training program. Next weekend, I will row a sprint race in the double with my daughter Lenka. So we took out our double and did 12km of steady state, including technique drills and start drills.
Nice steady state training. Tomorrow: A 6km head race simulation in the single.
After the training I helped bring a launch from our Lake Center to the River Club House, using my trailer. Coming Wednesday, there will be the first Brno Academic Rowing Races. Two eights will row a race on the river Svratka in Jundrov. One eight filled with students from the Technical University, the other one with students from the Masaryk University. The 2.5km race course is quite narrow and has many turns.
The idea is to make it a tradition and stimulate student rowing in Brno. I am slightly skeptical, but if it succeeds it will be great.
Follow me in social media