Sep 24 2015
Training plan considerations
What does Das Buch say? Here's a quick summary.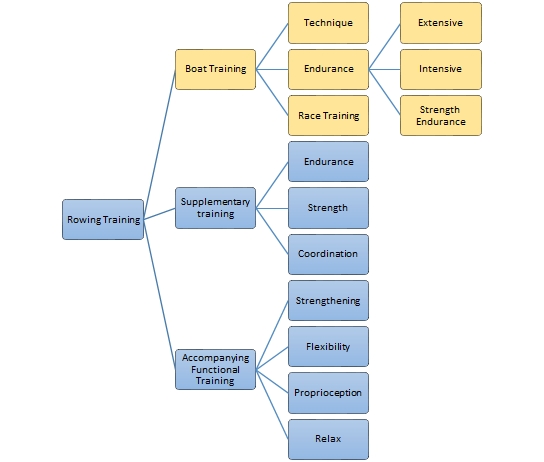 First of all, for a Masters C rower, Das Buch advised that roughly 25% of boat kilometers are Compensation, 50% Extensive Endurance, 10% Intensive Endurance and 5% race specific. Race specific is not going to happen during the preparation period (October – April) that I am planning right now.
Another good remark is that most Masters rowers chose a too high training intensity. I guess we know the syndrome. Let's do those fun interval sessions. It feels hard so the training effect must be high!
A couple of training examples given in the book:
Compensation/Technique training examples

30 – 70 min continuous 18-21spm
Intervals 4-10x

1min @ 20spm / 4 min @ 18spm
500m @ 23spm / 250m @ 19spm
5min @ 22spm / 5min @ 18spm

Fartlek
Extensive Endurance

Continuous (100% extensive) @ 18-23spm
Fartlek (95% extensive with intensive bursts) 18-26spm
Interval training

2-8 min with 1-4 min rest
Examples

4-10x1min @ 24spm / 4min @20spm
4x2km @ 21-23spm / rest 2-6 min
(3-5)x4/3/2/1 min @ 20/22/24/26spm, 3 min rest

Intensive Endurance

Red lining

10km @ head race pace
2x5km, rest 10min
Fartlek 18-30spm varying

Interval training

10sec – 3 min with 2-5 min rest
4x2km @ 24-28spm, 4 min rest
(2-5)x4/3/2/1min @ 22/24/26/28min , 3 min rest
5/2.5/1km @ 24-28spm, 4 min rest
1-3x7min / 4 min rest
(2-4)x1000m / 4 min rest
10x500m / 4 min rest
2/1/0.5km @ 26-3spm, 4 min rest

Strength endurance

On ergometer with high drag
Threshold training

5km max intensity
(2-4)x2000m @ 16-18spm, max power, 2 min rest
(2-5)x3/2/1min @ 26/30/34spm, 3 min rest
2/1/0.5km @ 28-34spm, 4 min rest
1-3x5min @ 28-32spm, 4 min rest
(2-4)x1000m @ 28-32spm, 4 min rest
2/1/0.5km @ 26/29/32spm, 4 min rest
"red lining" 1 min @32spm / 1 min @28spm for 10-30 min
So Extensive Endurance looks quite like what the Wolverine plan calls L4, while Intensive Endurance seems to be a mix between L3 (hard distance), L2 and L1.
Here are my own thoughts:
I want to extend the quidance (in terms of time spent, not km) to erg and crosstraining. I am currently thinking of 25% compensation (mainly crosstraining), 50% extensive (rowing, erg, and crosstraining), 10% intensive (erg and rowing) and 10% strength training (circuits, weights). I am open to discuss this.
When on a business trip, I will have to substitute rowing with running, hotel fitness triathlon, or do a weights training. I have mapped my regular destinations, so I know the hotel in Toulouse with the Concept2, the Crossfit boxes in the US, etc. Should be doable.
Strength endurance. I have had good results from rowing with a bungee so I am definitely going to do that. I prefer to avoid the erg with high drag factor. I don't like to take risks with my back.
For the extensive sessions I will vary "just row" steady state, steady state with bursts and "L4" rate ladders. Seems to be in line with Das Buch.
For the intensive session I will focus on Pete Plan L2 sessions and hard distance. Will do Pete Plan L1 (short intervals) occasionally, and during sprint season. I also like the red lining idea. You basically go at a pace that you cannot sustain for the entire duration, hold it for a few minutes, then go below, than above. Think of it as hard distance but instead of constant pace you oscillate above and below what you can sustain.
I will try to list the sessions per week, but each week I will need to smartly adapt the order to my work and travel schedule.
I don't understand the example trainings under "threshold training". They all seem like valuable training sessions but I am not sure they fall in one category. The rate restricted 4x2km seems to aim at a completely different training goal than the high rate stuff. Anyway, I will pick a session from that list now and then, to spice up training, but it has to be in the 10% intensive category.
The training plan is not ready. In subsequent blogs I will share more of what I learned in Das Buch and how I try to implement (some of) that in my draft plan.
Today's Training
As I just said, my new training plan is still not complete, so I am repeating what I did a year ago. Looking in my training log, I did a 4x1km on this day a year ago. So without thinking I scheduled a 4x1km on the erg. However, as a race preparation for the head race on October 17, I decided to row it "at head race pace".
But first, a little experimenting with compensation cross-training. At the end of the working day I grabbed my bike from the underground parking and rode home.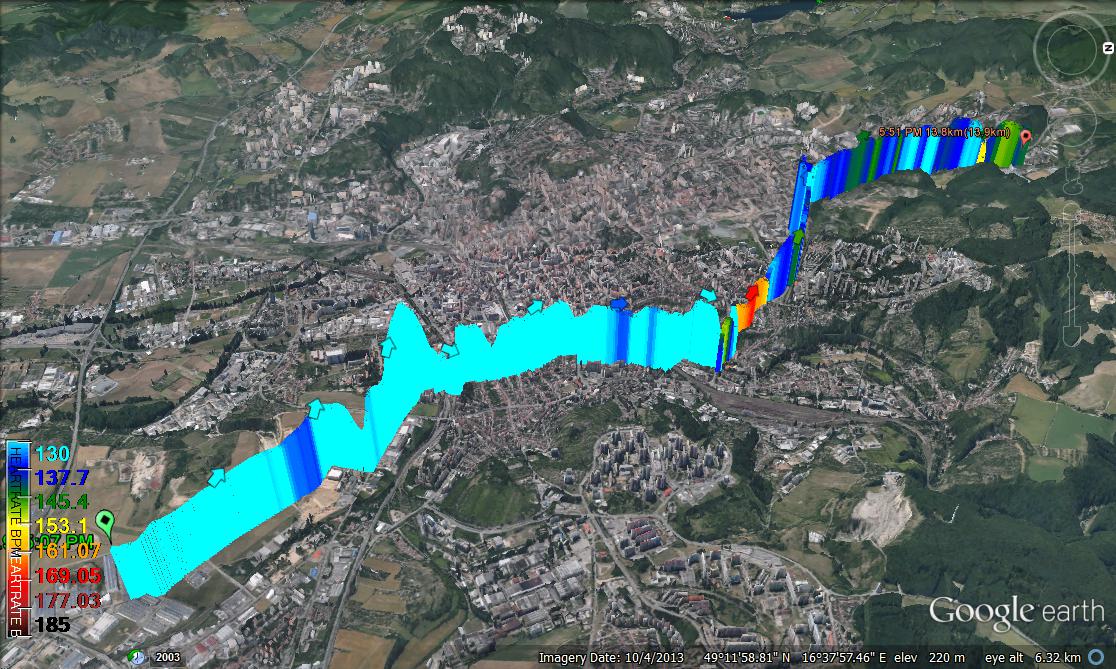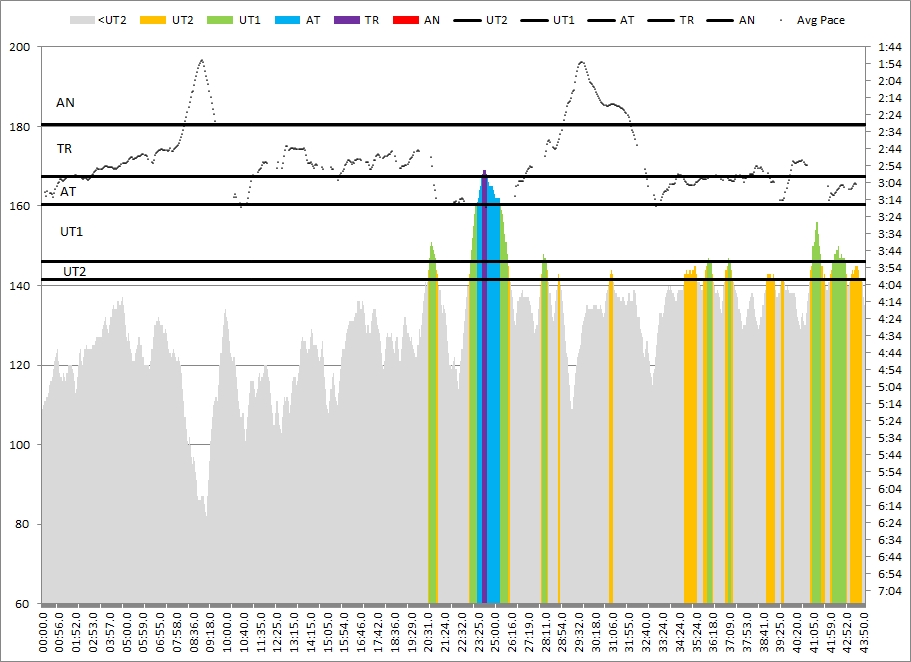 Think it qualifies as compensation training. At home I had a quick dinner, then a coffee, and then I descended into my erg basement.
Between the warming up and the main set, I looked up last year's results in my training log. I discovered I had rowed this on the water, and the splits were:

|Dist_|Time_|_Pace__|avg HR|max HR|Remarks
|00993|03:34|01:47.8| 179 | 185 |1km - headwind
|01015|03:41|01:48.9| 181 | 186 |1km - headwind
|01006|03:31|01:44.9| 170 | 182 |1km - tailwind
|01001|03:26|01:42.9| 177 | 184 |1km tailwind

Interesting … in a single? Then it dawned on me that this must have been a double or a quad. I checked now, while writing this blog, and yes, I rowed this in a quad.
Today I really tried to keep this to head race pace, so I lowered the drag factor, rowed with closed eyes and tried to get into the 28-30spm rhythm. Every twenty strokes I quickly opened my eyes to check the stroke rate.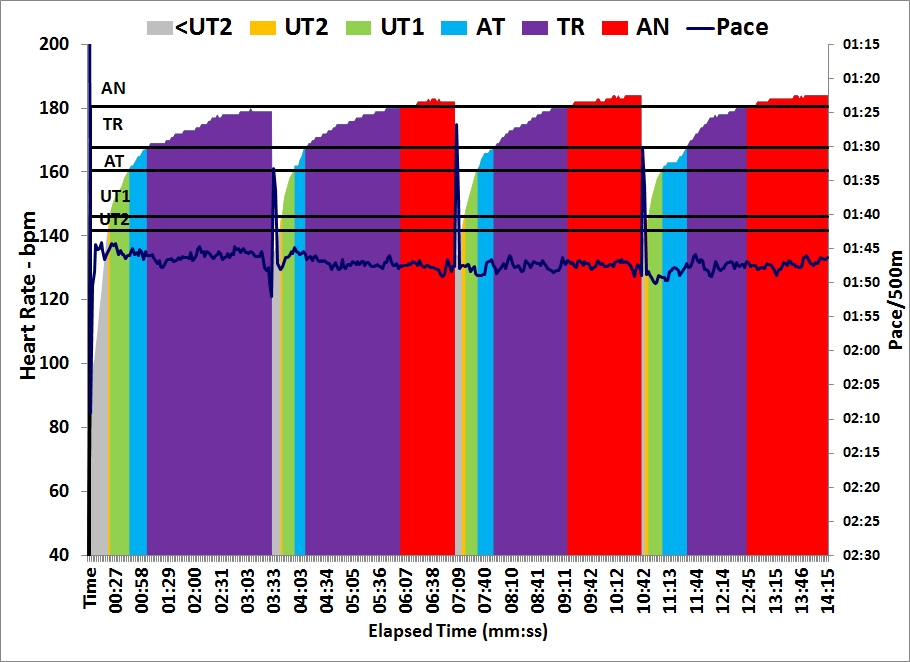 Workout Summary - Sep 24, 2015
--|Total|-Total-|--Avg--|-Avg-|Avg-|-Avg-|-Max-|-Avg|-Avg
--|Dist-|-Time--|-Pace--|Watts|SPM-|-HR--|-HR--|-DPS|-SPI
--|04000|14:16.1|01:47.0|285.6|29.4|172.1|184.0|09.5|09.7
Workout Details
#-|SDist|-Split-|-SPace-|Watts|SPM-|AvgHR|MaxHR|DPS-|-SPI|Comments
01|01000|03:32.3|01:46.1|292.7|29.1|165.6|180.0|09.7|10.1|
02|01000|03:34.0|01:47.0|285.7|29.2|173.6|183.0|09.6|09.8|
03|01000|03:34.8|01:47.4|282.5|29.6|174.4|184.0|09.4|09.5|
04|01000|03:35.0|01:47.5|281.7|29.6|174.9|184.0|09.4|09.5|

Perhaps not the smartest training, given all the good advice in the first part of this blog, but definitely fun.