September 26, 2015
Sep 26 2015
I was tired and the water was a bit choppy.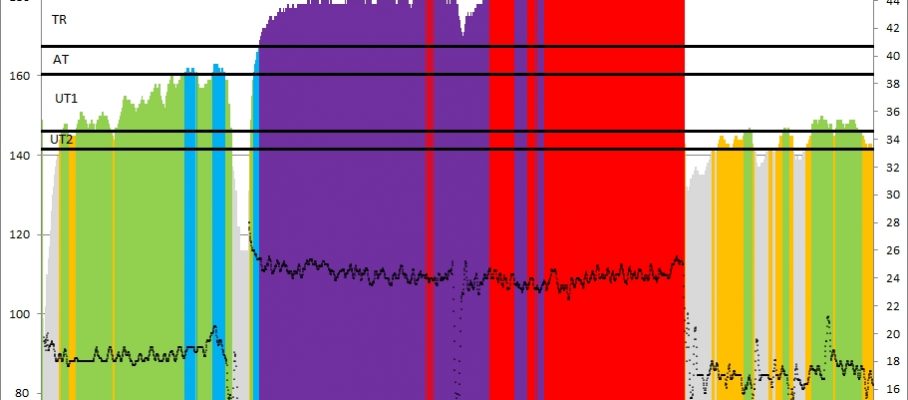 Sep 26 2015
Kraft
Thank you Boris for the links to the video in your comments to yesterday's blogs. Here are a few examples of the circuit training that Fritsch/Nolte suggest. Apologies for those who don't speak German. I suggest you throw the text in Google Translate.
Beispiel fuer ein allgemeines Kraeftigungsprogramm
45s Pause zwischen den Sets – Gesamtdauer ca. 45 min
Kniebeuge Langhantel – 4 sets 15-12-10-8 Wh
Ruecken – 3 Sets 15-12-10 Wh
Latziehen – 4 Sets 15-12-10-10 Wh
Einbeinige Kniebeuge mit KH – 3 Sets 15-12-10-10 Wh
Armdruecken auf Pezziball – 3 sets 15-12-10 Wh
Oberer Ruecken – 3 Sets 12-10-10 Wh
Rudern mit LH in Vorhalte – 3 Sets 12-10-10 Wh
Brust – 3 Sets 12-10-10 Wh
Crunch Pezziball – 1 Set bis zur Ermuedung
Reverse Crunch Pezzi – 1 Set bis zur Ermuedung
Romana's circuit training, all stations 12 repeats (they will do 15 later)
Hanging on ribstole – legs
Lying pullup  bar
squats on bosu ball
Back
Bench press 25kg
Bench pull 25kg
Leg press 70kg
Sit ups
Rowing motion
Jumping over a bench
My inventory of what I have at home
Jumping rope (used now for quick hotel room workout)
dumbbells 2kg
Pezzi ball
A pull up bar to put in a door opening. It doesn't work because our 1920s doors are too wide
Perhaps the addition of a sandbag, and maybe a simple fitness bench will be enough to create a simple improvised circuit training for when I don't have time to go to the gym/rowing club. The idea would be to do a 30-40 minute circuit training, then erg. All critique/suggestions/comments welcome!!!!
Today's rowing
Nice weather: 15 degrees C, windy and medium to medium/big chop. Overcast.
I did my weekly 6km hard distance row, but the lake was really choppy at the Sirka end. My time was over 28 minutes … 🙁
The stats are as follows:

|Dist_|Time_|Pace__|_SPM__|avg HR|max HR|DPS|Remarks
|02298|13:55|03:01.7| 18.3 | 148 | 163 |09.0|warming up
|00999|04:12|02:06.1| 25.0 | 173 | 179 |09.5|km 1
|01000|04:16|02:08.0| 24.5 | 179 | 180 |09.6|km 2
|01001|04:22|02:10.9| 24.1 | 179 | 181 |09.5|km 3
|00998|05:27|02:43.8| 23.2 | 179 | 182 |07.9|turn & km 4
|00998|05:00|02:30.3| 23.8 | 182 | 185 |08.4|km 5
|00999|04:52|02:26.2| 24.4 | 183 | 184 |08.4|km 6
|02267|14:31|03:12.1| 17.2 | 143 | 184 |09.1|cooling down


dist_____|time_____|_pace___|_HR__|_SPM__|_DPS|comment
2298_____|_13:55____|_3:01.7|148|18.3|9.0|warmup
5995_____|_28:09____|_2:20.9|179|24.1|8.8|Main set
2267_____|_14:31____|_3:12.1|143|17.2|9.1|Cool down
10560____|_56:35____|_2:40.8|163|20.9|8.9|_Total

Slow, sloppy and choppy … not a good day. Tailwind didn't speed me up and the headwind slowed me down by a lot.
My Garmin Forerunner 220 froze after 33 minutes of rowing. I had to reset it after the training. Luckily, that worked. Even though, I was already fantasizing that I had a good reason to buy a new GPS watch … 😉
I am glad I build in the redundancy with the CrewNerd / Garmin combo.
I am using tapiriik now so I have all data on Garmin Connect, SportTracks and Strava. Used the Strava segments for the first time to look at my historic data on the 6km. I have defined a 5.8km segment in Strava that should capture my 6km efforts without having to line up on exactly the same starting location every time. Here are the historic data that I captured:

I took a GoPro video of the effort. Will upload it once done processing.
By sanderroosendaal • Uncategorized • 5 • Tags: 6km, L3, lake, OTW, rowing, single, training plan