Sep 27 2015
Today's session
The training plan had rate ladders OTW, but I felt more like a recovery run, after yesterday's hard 6km. Also, the weather was very nice. It has been dry and sunny for quite a while, so I fancied a trail run.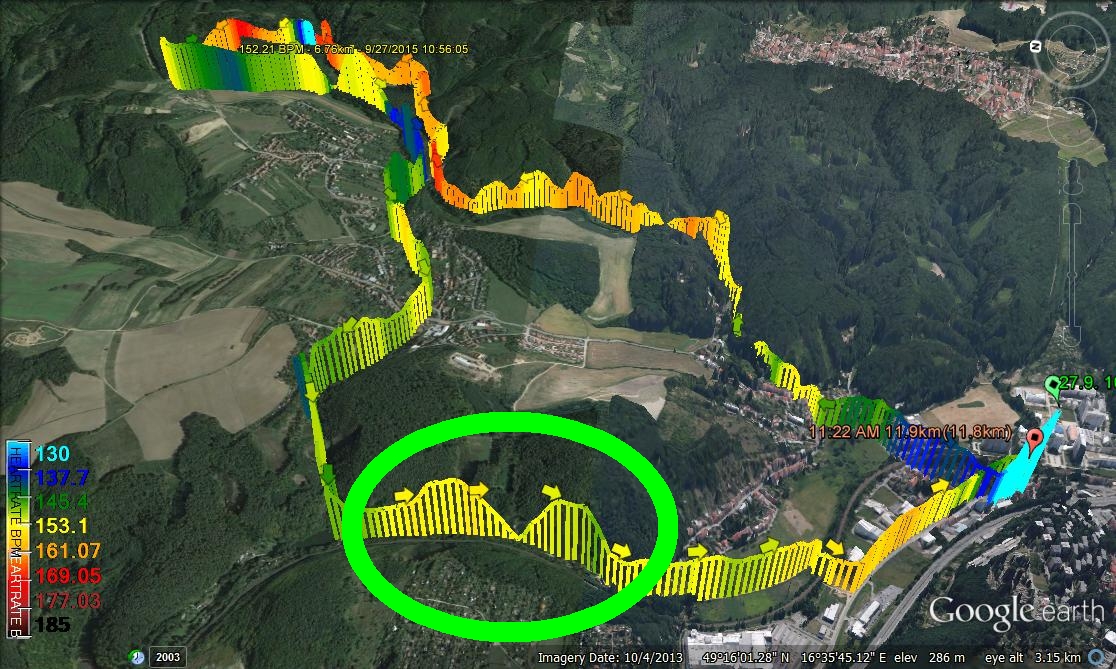 I really tried to ease off on the pace. Half way the long hill I took a break to drink clear water from a spring"
I even took time to read the info panel about the water quality. I just remember that the water temperature is +7C year round and that the water fulfills all norms for drinking water, and has some good minerals.
It's a great pit stop.
On the top picture, I have put a green oval around a piece with suspicious pace. Looking carefully, I the average pace is correct. Apparently in that valley I had bad satellite coverage or something, because this is a flat part of the run and I really ran a constant pace.
Meant as a recovery run, SportTracks classifies it as a Black Hole because of more than 10 minutes spent in the AN HR region. The red parts in the following figure: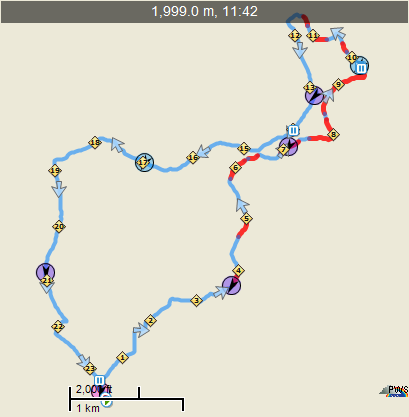 Yes, those are the parts where I have been climbing a bit. It's also a great illustration of how real life workouts are never only endurance or only strength. The uphill running is part strength. And the narrow path between lap 13 and 15 is a downhill section on a narrow path with many tree branches: clearly proprioceptic training. 🙂
Good stretching after the run. In the afternoon I spent two hours at the wellness. Sauna's, hot tubs, steam … and relaxing in the autumn sun.
Training Plan
I have been thinking about how to combine all the ideas about a training plan into an ideal training week. Here is my thought process:
I listed all different kinds of sessions I would like/need to do

Run or ski run (like today's session)
Extensive Steady State rowing
Intensive Steady State rowing
Strength endurance rowing
Bicycle commute
Circuit training
Strength training (stations)

Then I rated each session in terms of estimated time in each category (compensation, extensive, intensive, strength)
Created a spreadsheet where I could divide the different sessions over the week. The spreadsheet automatically calculates the weekly percentages. For example, the following schedule:
| | |
| --- | --- |
| Mon | Intensive SS |
| Tue | Fitness+Row 30 min |
| Wed | Cycle -> Work + Extensive SS |
| Thu | Circuit + Row 30 Min |
| Fri | Cycle -> Home/CVK + Extensive SS |
| Sat | Row |
| Sun | Run/Crosstraining/OTW |
This schedule amounts to 25% compensation, 49% extensive endurance, 13% intensive endurance and 13% strength.
A nice task for tomorrow at the airport is to make the spreadsheet in such a way that I can select from a pulldown menu the session per weekday, then let the spreadsheet calculate the percentages automatically. I could then use the spreadsheet to plan my weeks flexibly. For example, coming week will look roughly as follows:
Monday: Alarm clock at 3:30 to catch the 7AM Vienna – Brussels flight. Meetings all day. Catch the 9PM Brussels – Toulouse flight. Arrive in Pullman hotel around midnight.
Tuesday morning: 4x2km on Pullman hotel Concept 2 erg. Meetings at big airplane OEM. Catch 6pm Toulouse – Munich, Munich – Vienna, taxi home arriving around 1AM
Wednesday morning: cycle to work. Afternoon: watch academic rowing race. Evening: Steady State with speed bursts OTE
Thursday afternoon: Cycle home and weights
Friday: Extensive rowing. Prepare boats for transport
Saturday: Drive trailer to Otrokovice. Sprint Races (2x450m). Drive home with trailer.
Sunday: Hard 6km OTW (single)
At least that's the plan for now. Let's see how it works out.