Mar 24 2018
Monday
This was supposed to be a steady state day, but I bailed out. It was a long working day, and then in the evening I got stuck working on integrating the rowsandall.com site with Amazon Web Services. We're now using AWS Simple Email Services for sending out mail from the site. This helps to prevent notifications ending up in people's Spam boxes. As often, I was a bit more ambitious than I should and tried to revamp the email messages in one go. I had everything working on my local notebook, but when I tried it out on the development test server, the damn thing didn't load well. I managed to fix it but that took the entire evening.
Tuesday
Travel to Brussels. This was a planned rest/travel day and I respected it. There is some summit going on in Brussels, so all the hotels have crazy room prices. I ended up in a hotel near the Jubelpark where I had never stayed. Turns out the hotel doesn't have a gym.
Wednesday
Hotel room workout. I lacked the motivation but still got out of bed. However, in this old building the wooden floors were quite loud, and I didn't want to wake the guest in the room beneath me, so I just did one series of what was supposed to be a much longer session.
After a long meeting I headed to the airport and flew back to Vienna, then took a company car to Brno. Arrived at 22:30.
Thursday
First day of a two day visit of our China and India labs, so spent the entire day in meetings and doing a lab tour. I had already anticipated and planned for something a bit stingy but not too long. I also allowed myself to be slow on this 4x1km session: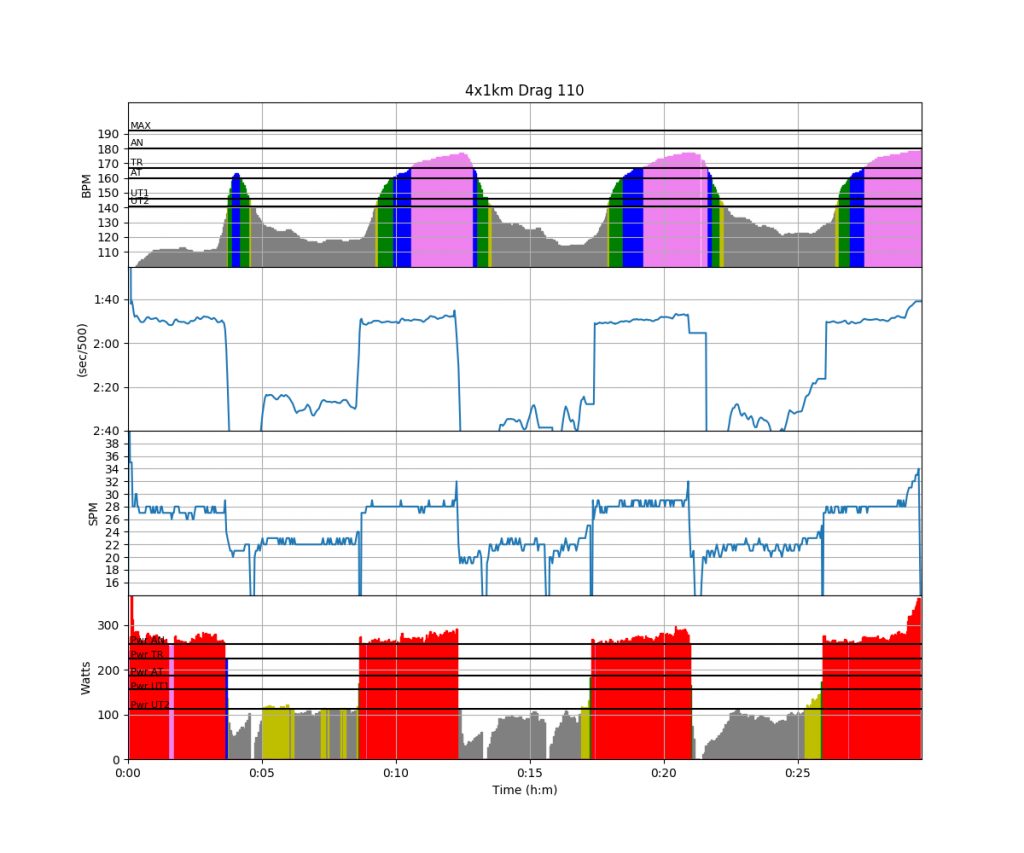 My heart rate belt behaved strange in the first interval. I think it is a bit sensitive when you're not fully sweating yet, and I hadn't noticed during the warming up. Only during the first 1k, I noticed that my heart rate stayed at 110 bpm. Between strokes, I moved the sensor by 1mm, and that did the trick.
Not very impressive intensities. On the water, I was pushing towards 300W last season. On the erg, I did a 4x1km on January 6 but that was a full out 1k, followed by 3 sub par 1k intervals.

Workout Summary - media/20180322-1931080o.csv
--|Total|-Total-|--Avg--|-Avg-|Avg-|-Avg-|-Max-|-Avg
--|Dist-|-Time--|-Pace--|-Pwr-|SPM-|-HR--|-HR--|-DPS
--|06769|34:30.0|02:33.0|152.9|20.8|146.0|179.0|09.4
W-|04000|14:29.0|01:48.7|273.4|28.1|149.0|178.0|09.8
R-|02771|20:02.0|03:36.9|065.7|15.6|143.9|178.0|00.0
Workout Details
#-|SDist|-Split-|-SPace-|-Pwr-|SPM-|AvgHR|MaxHR|DPS-
00|01000|03:36.6|01:48.3|272.2|27.8|110.3|129.0|10.0
01|01000|03:39.2|01:49.6|271.3|27.8|160.4|176.0|09.8
02|01000|03:37.2|01:48.6|271.7|28.4|160.9|177.0|09.7
03|01000|03:36.3|01:48.1|278.5|28.4|164.3|178.0|09.8

End of the (travel) week effect.
Friday
Second day of visitors, but they were heading towards the airport around 2pm, and I planned to leave for the rowing club around 3pm. This would be the first OTW row of the year!
Things worked out differently. We had a situation to attend to at home, so at 3pm I went home to take care of it, allowing Romana to go rowing. By 11pm everything was relatively under control again, but I skipped training of course.