Jun 16 2017
Thursday was a long working day with lots of long and difficult meetings. Having been in the US for 10 days, a couple of local things piled up, and I had to take care of them. I arrived at the rowing club at 6:45pm. Just as on Wednesday, it was another nice, sunny, windless day.
The workout I wanted to do, despite being very tired, still jetlagged, etc, was a 3x2k with 5 minutes rest, OTW.
Leaving the changing room, I remembered I wanted to replace the battery in my oarlock. But I didn't want to return to my locker, open it, go through my bag to find the spare batteries, and I decided to risk it without replacing the battery.
It was also getting pretty late, and my son would be waiting for me to drive home after the training. He has (his age group) National Champs a week from now, and this week they are doing two trainings per afternoon/evening.
I decided to compromise on the warming up, doing only 1k. Then I aligned at the start of our 2k course and set off.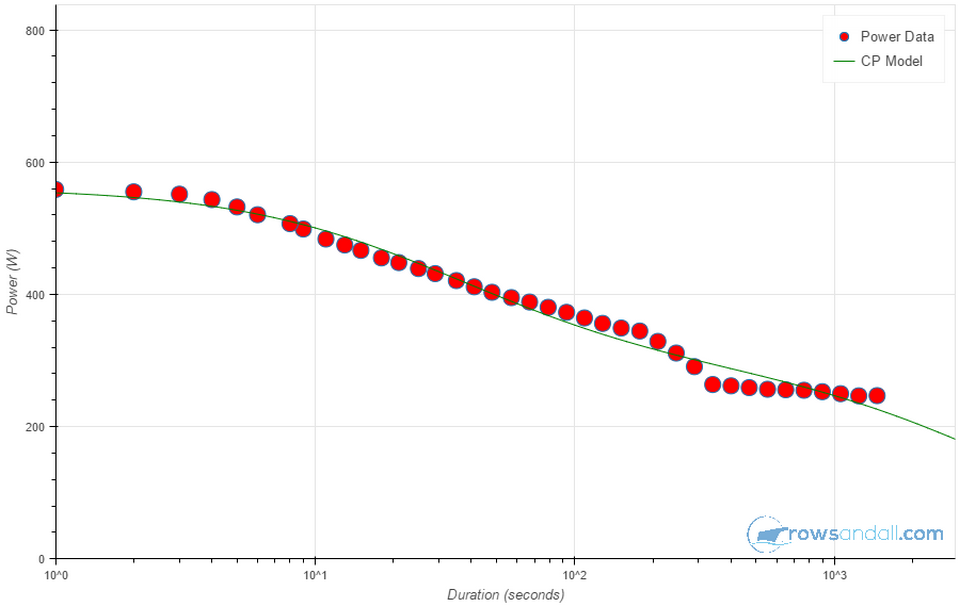 According to my CP plot on rowsandall.com, my 100% 2k power is 270-280W, assuming a duration of 8 to 9 minutes (or 500 to 550 seconds). I decided that rowing the 3x2k at 85-90% of that (230-250W) would be a good target. I was still suffering from business travel tiredness, and I have experience that the risk of handing down in such a situation is real.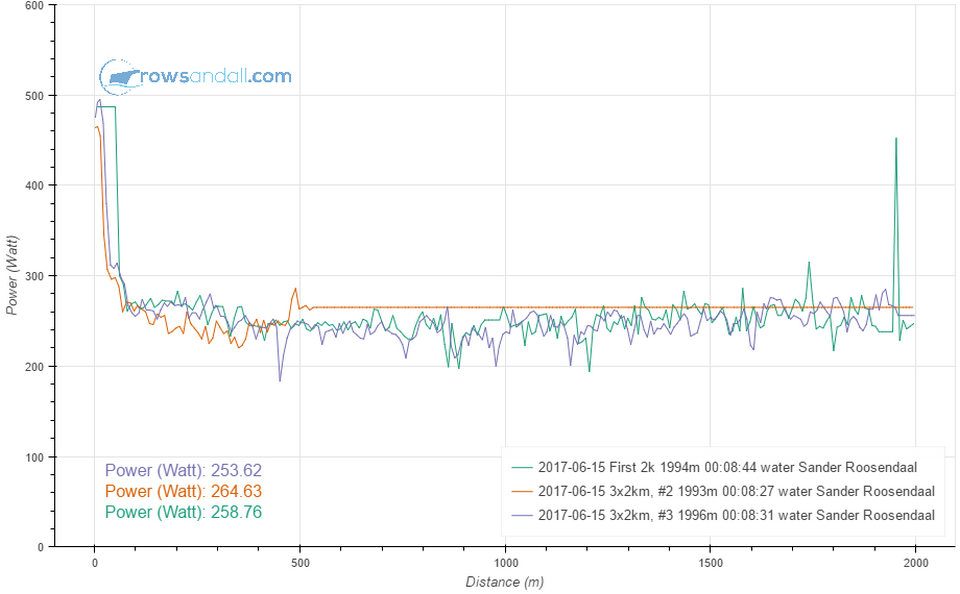 The empower oarlock kept losing connection and reconnecting. Only during the second interval, I lost connection about 500m in and it didn't reconnect, as the red graph above shows. In terms of stroke rate and pace, the rows looked as follows: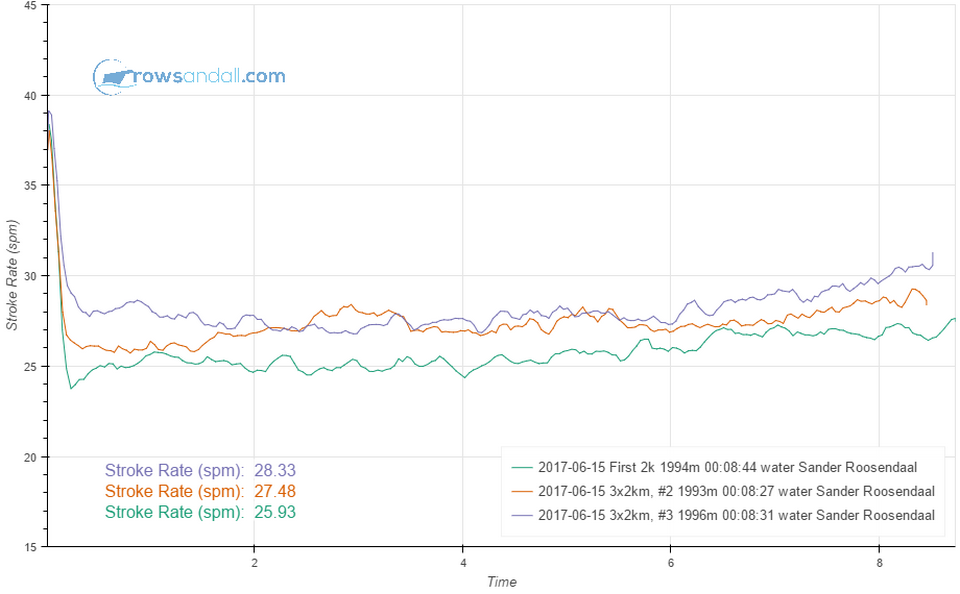 I was scared to look at the Heart rate data, because I feared high values. Indeed: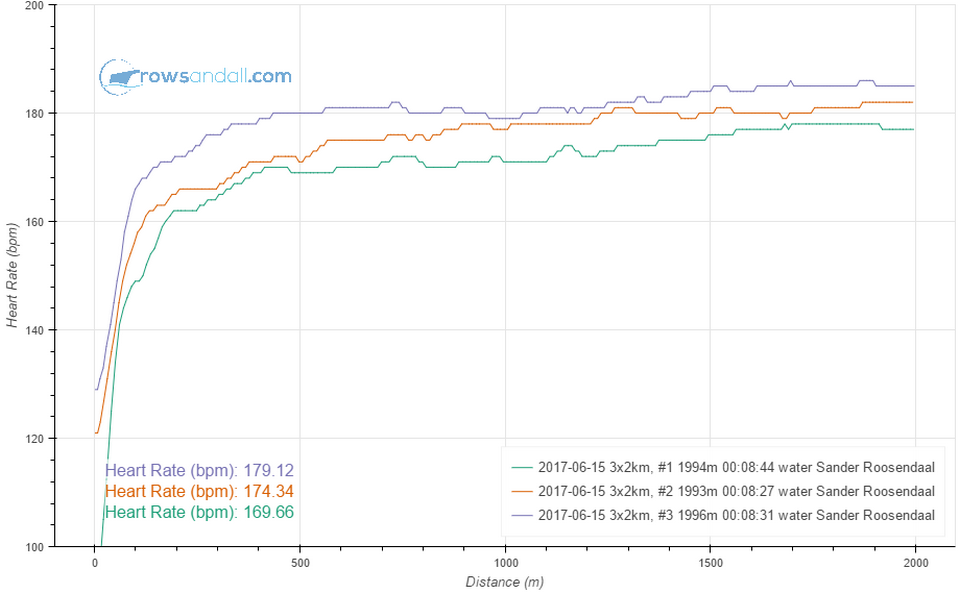 Still, I think it was a good workout. Despite rating higher in every interval, my effective length stayed pretty constant, even getting longer as the training progressed.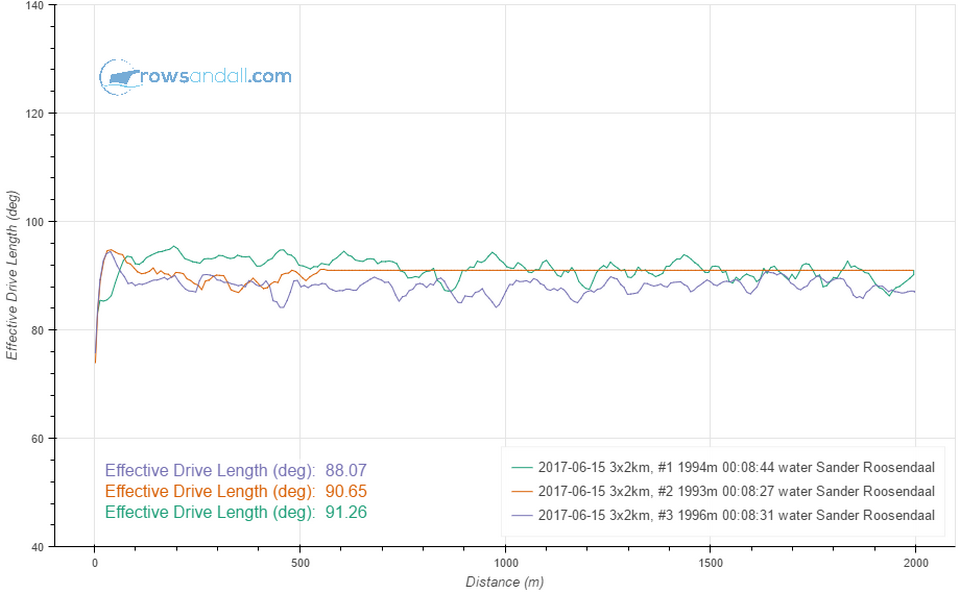 Also, the average power was around 250W (roughly 90% of max over 2k) and I didn't have problems finishing the workout.