Jun 11 2017
Another day where I had to get up at 4am. I didn't take the I-17 because it was closed over the weekend, but took the 51 instead.
On Friday I was a little concerned as my debit card got declined at two stores in Phoenix, so I spent the evening checking my bank account (healthy as it should be). I know a few stories where colleagues' card details were stolen and big withdraws made before they noticed.
So I tried to withdraw money from an ATM at Phoenix airport and that worked fine. I guess I will call my bank on monday morning to check what was going on. I just hate it when these things happen, and it always gives me flashbacks from my student years when I was on a vety tight budget and still had to learn to manage a budget. Eating budget pasta without sauce, while training every day …
Anyway, the 7:00 flight from PHX took me to Atlanta in about three hours, also shifting forward time by three hours. So suddenly it was 2pm. Made a quick call home to find out how things had been going on the Morava regatta. Heard stories of wind and extreme chop. My son made it to the final in the single scull and when he beats one guy in that final, he qualifies for The National Championships. Since his win in Hodonin his ego has had a huge boost, so we'll see how he fares.
First time in Atlanta, not counting connecting at the airport. I was surprised by traffic jams on Saturday afternoon! My hotel is in Midtown. Right across the Fox theatre and quite a nice area.
Arriving there around 3pm I thought about getting in some exercise. Of course, I could hit the hotel gym, but why not find a nice place to run and run outdoors.
It was hot, but the sky was overcast and 30C is not really hot after being exposed to 45C in Phoenix. Strava suggested a place called Cochran Shoals, a run along the Chattahoochee river. According to Google maps that was a 20 minute drive so the choice was easy.
Dialling up Cochran in the rental car's GPS gave me a 40 minute drive, so I navigated using my 3 lines of noted on the hotel notepad based on Google maps.
About 15 minutes inti the drive my notes proved to be not sufficiently detailed, so I was getting worried. But then I crossed a bridge and saw a shallow river and people on rafts. I knew I was close. Not long after that I found the Cochran Shoals parking.
I wanted to run for at least 10 kilometers. I set off on the hiking trail along the river. After about 15 minutes I reached the other end of the park. I hesitated between returning and potentially doing two loops, and continuing. I continued. First a street with never ending condos, then an area with really big and really nice houses. Thirty minutes into my run, I started to think about returning. I saw a turn to the right ahead, which might bring me back closer to the river, and I had hope of finding a hiking path along the river, instead of running on hard pavement. I turned right, and explored a path along the river, for sbout 1000m, but then found it ended at a gate to a private property, so I had to backtrack. Too bad, but not really a problem. The advantage of being fit is that these setbacks don't really matter. You know you will finish the run. It will just be a bit longer. And it sure was way better than running on a hotel gym threadmill.
I returned and to make things more interesting, I tried to guess how many of the big residences I would pass before the condos would start. I guessed 20, and I was way off. There were 30 of them, spaced about 100m apart.
After the condos, I entered the Cochran Shoals park again and I took a slightly different route back to the car.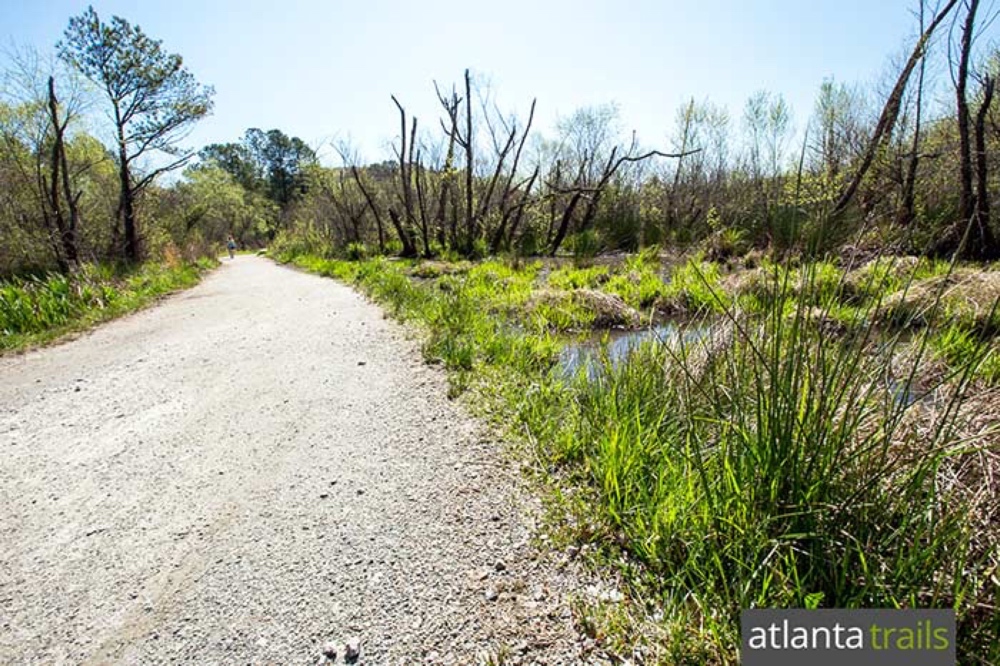 Edited with BlogPad Pro
Follow me in social media