Nov 16 2016
Painsled iOS published a new beta version of their Concept2 data capture app. It's really a very promising application and it has now gotten even better. Of all the ways to capture erg data, Painsled is the most complete. Now they have added stroke force profile feedback to their app, so besides safely capturing all your strokes for post workout analysis, there is also a useful screen to see how consistent you are from stroke to stroke, while you are doing the workout.
This being a beta, it comes with very little explanation, but the graph looks like a standard stroke force profile, but it is overlaid on the past few strokes. Also, during the recovery, there is a bar which moves across the screen to a second bar. I think that when you take the catch exactly when the two white bars match, you are exactly copying your previous stroke (or perhaps the average over the past few strokes). I need to ask the developer what it does exactly, but I think it is very powerful, especially for steady state, where working on technique and stroke consistency is a big sub-goal of each workout.
Having data captured in painsled, I send them by email to workouts @ rowsandall.com, where they automatically end up in my account.  Here are the stats of the workout as they arrived.

Workout Summary - media/mailbox_attachments/2016/11/16/aa5e11a267c142448e0aaedb6cd95eea.csv
--|Total|-Total-|--Avg--|-Avg-|Avg-|-Avg-|-Max-|-Avg
--|Dist-|-Time--|-Pace--|-Pwr-|SPM-|-HR--|-HR--|-DPS
--|14999|63:31.0|02:07.0|176.6|20.2|158.9|174.0|11.7
W-|15005|63:31.0|02:07.0|176.4|20.2|158.9|174.0|11.7
R-|00000|00:00.0|00:00.0|000.0|00.0|000.0|174.0|00.0
Workout Details
#-|SDist|-Split-|-SPace-|-Pwr-|SPM-|AvgHR|MaxHR|DPS-
01|01179|04:57.9|02:06.4|170.4|20.1|130.1|150.0|11.8
02|01196|05:00.4|02:05.6|176.8|19.5|149.4|154.0|12.3
03|01204|04:54.7|02:02.4|191.6|20.4|158.1|165.0|12.0
04|01212|05:01.8|02:04.5|182.0|19.9|160.8|163.0|12.1
05|01196|05:00.6|02:05.6|177.9|20.0|160.4|167.0|11.9
06|01214|05:02.4|02:04.6|182.3|20.5|164.2|168.0|11.8
07|01124|05:09.0|02:17.4|160.1|19.8|155.4|168.0|11.0
08|01216|04:59.8|02:03.3|188.0|20.8|165.4|170.0|11.7
09|01192|04:59.1|02:05.5|177.6|20.0|166.6|170.0|12.0
10|01202|05:01.0|02:05.2|180.1|20.3|167.5|171.0|11.8
11|01203|05:00.2|02:04.8|182.3|20.5|169.3|174.0|11.7
12|01139|05:10.6|02:16.4|167.3|20.5|164.1|174.0|10.7
13|00726|03:13.9|02:13.5|147.3|19.9|152.0|159.0|11.3

That's basically an hour of "Just Row" at steady state. But wait, to break the boredom I had some structure in the workout. After the business travel and another long day at work (and a "Monthly Operations Review", a 4 hour marathon meeting) I arrived home empty, tired, and not motivated to work out. I had dragged myself to the erg and after 2k of warming up I came up with a mind game that might motivate me to row a full hour.
I decided to row 8x1500m, with each 1500m divided as 750m at 18spm, 500m at 20spm, and 250m at 22spm. Somehow, distance based rowing always makes the time go by faster to me, compared to time based intervals.
I paddled the final 250m of the fourth interval and drank some water. Finally I completed the workout without problems. On rowsandall.com, I can add this interval information after the fact. The workout summary then becomes:

Workout Summary - media/20161116-20100719o.csv
--|Total|-Total-|--Avg--|-Avg-|Avg-|-Avg-|-Max-|-Avg
--|Dist-|-Time--|-Pace--|-Pwr-|SPM-|-HR--|-HR--|-DPS
--|15004|63:30.0|02:07.0|176.6|20.2|158.9|174.0|11.7
W-|14755|61:59.0|02:06.1|177.9|20.2|159.2|174.0|11.8
R-|00250|01:31.0|03:03.3|094.0|18.8|142.7|174.0|00.0
Workout Details
#-|SDist|-Split-|-SPace-|-Pwr-|SPM-|AvgHR|MaxHR|DPS-
01|02000|08:23.5|02:05.9|173.6|20.0|137.6|151.0|11.9 - Warming up
02|01500|06:09.9|02:03.3|187.5|20.0|156.0|165.0|12.2
03|01500|06:11.0|02:03.7|185.9|20.2|161.6|167.0|12.0
04|01500|06:15.1|02:05.0|180.3|20.4|161.0|168.0|11.8
05|01250|05:13.0|02:05.2|179.3|20.1|164.3|168.0|11.9
06|01500|06:12.0|02:04.0|184.5|20.4|162.4|170.0|11.8
07|01500|06:12.8|02:04.3|183.6|20.5|167.4|171.0|11.8
08|01500|06:13.9|02:04.6|182.7|20.5|168.1|173.0|11.7
09|01500|06:15.3|02:05.1|180.2|20.5|168.2|174.0|11.7
10|01005|04:53.6|02:26.1|134.1|19.3|152.2|172.0|10.7 - Cooling Down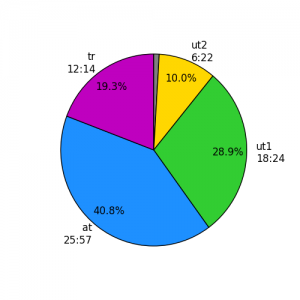 And here are the plots: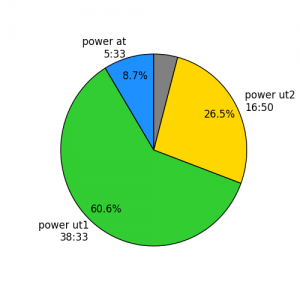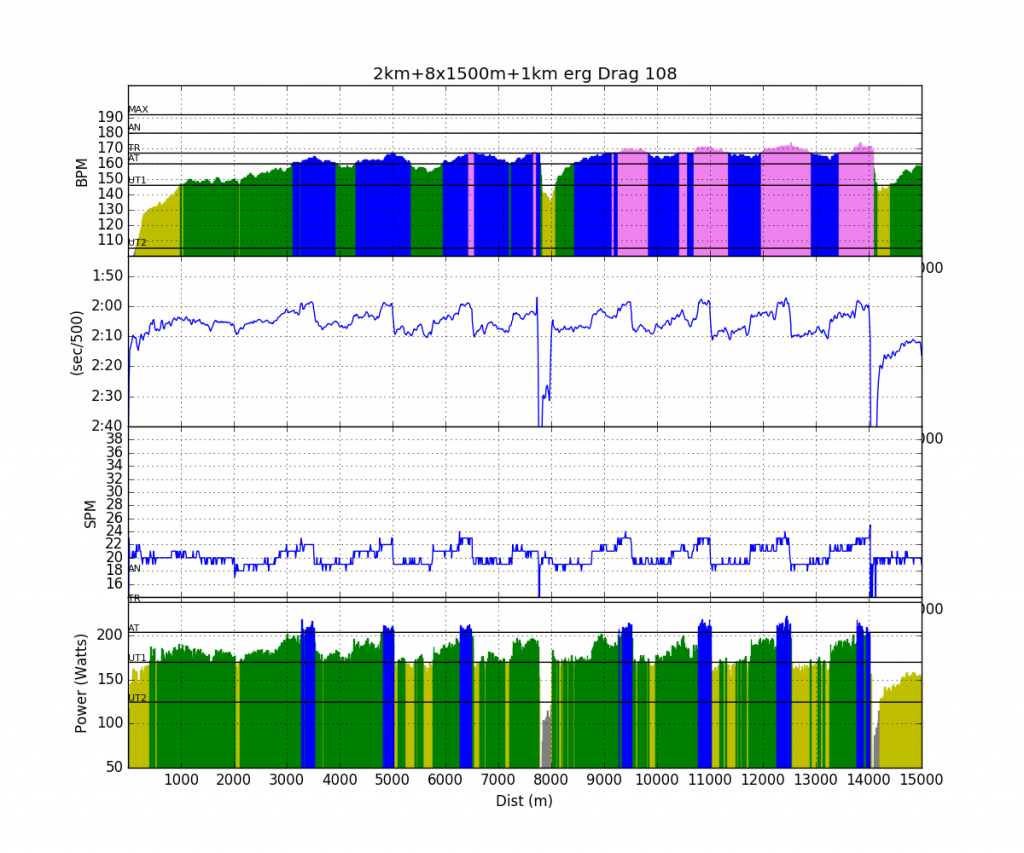 The Work per stroke for all strokes (except the 250m of paddling in the middle):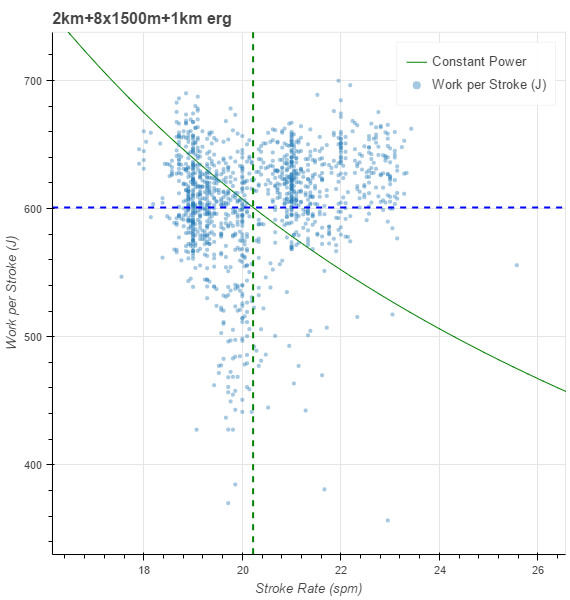 Same plot, but only for the 8x1500m (excluding the 250m of paddling):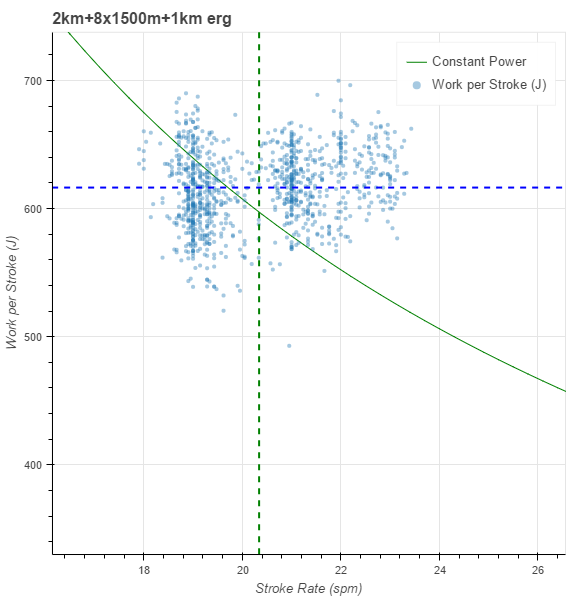 Ah, so the "structured mind game" helped to make the strokes more consistent! Just for fun, peak and average force for the same stroke selection: