Nov 11 2016
My wife Romana told my I was crazy to plan a 6k full out attempt for a Friday. I agree that being tired at the end of the working week is not the ideal preparation. On the other hand, Friday is the only day where I have a chance of getting home early enough to do the 6k before dinner.
The (ambitious) plan was to try and row a 1:51.5 average pace.
First, I did a thorough warming up: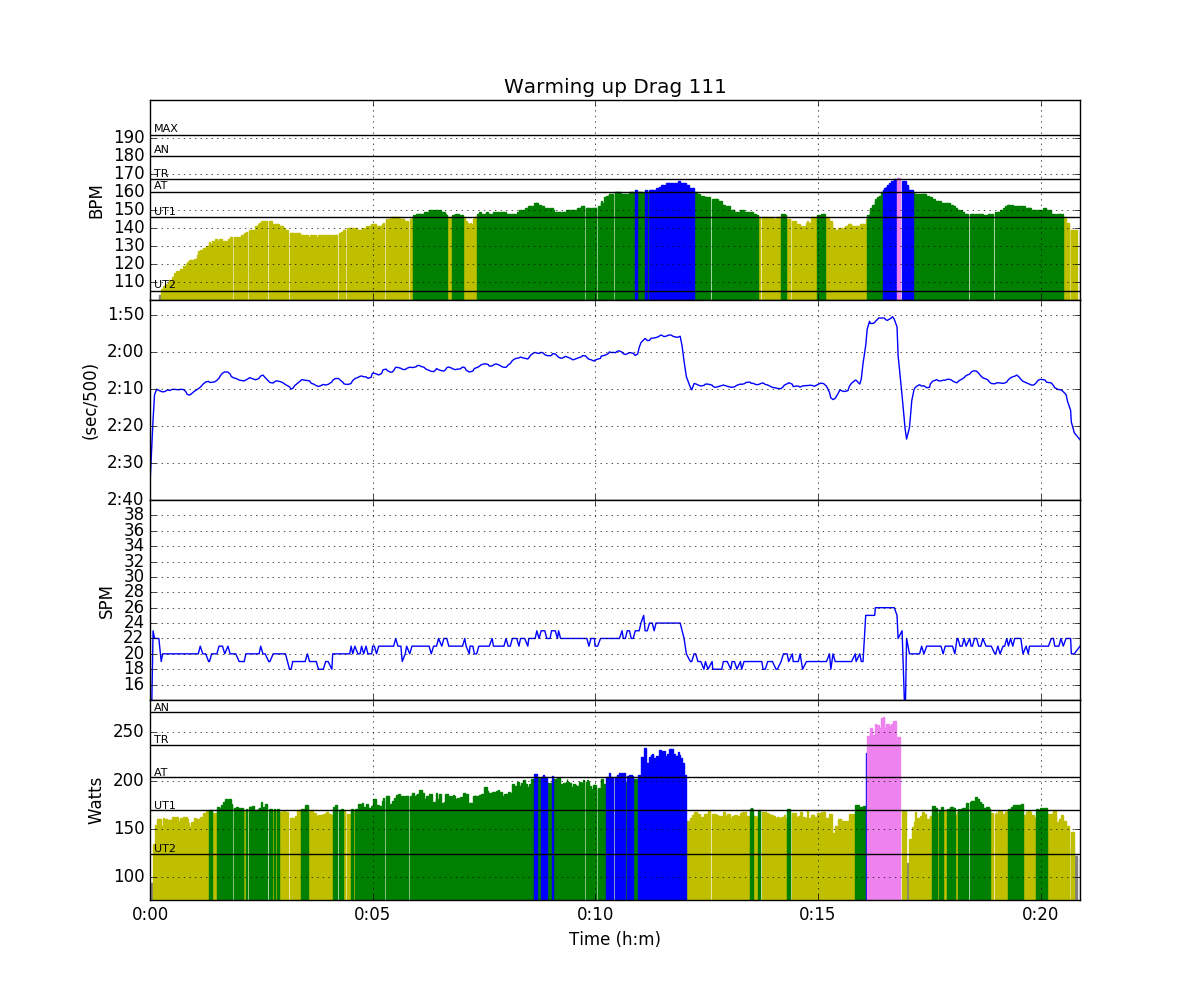 Then on to the main event. The plan was to start conservatively and hold the average pace at 1:52 until I reached 1800m to go.
Of course, trying to hold 1:52, I pulled 1:51 and even 1:50 more frequently than 1:53, and so I reached the half way point with an average pace of 1:51.5. Still, it seemed to take ages to reach 4500m to go. I went by 300m intervals. They go by fast enough to see progress, and there's "just" twenty of them.
I tried to remind myself to remain conservative, but a few times in the 4500m to 1500m interval I got carried away and started pulling 1:50 strokes.
In the end, I paid for that. With 900m to go I started counting sets of 12 strokes. With 600m to go I was convinced I wouldn't make the end without going above 2:00 pace. In the end I limped home with 1:54 pace.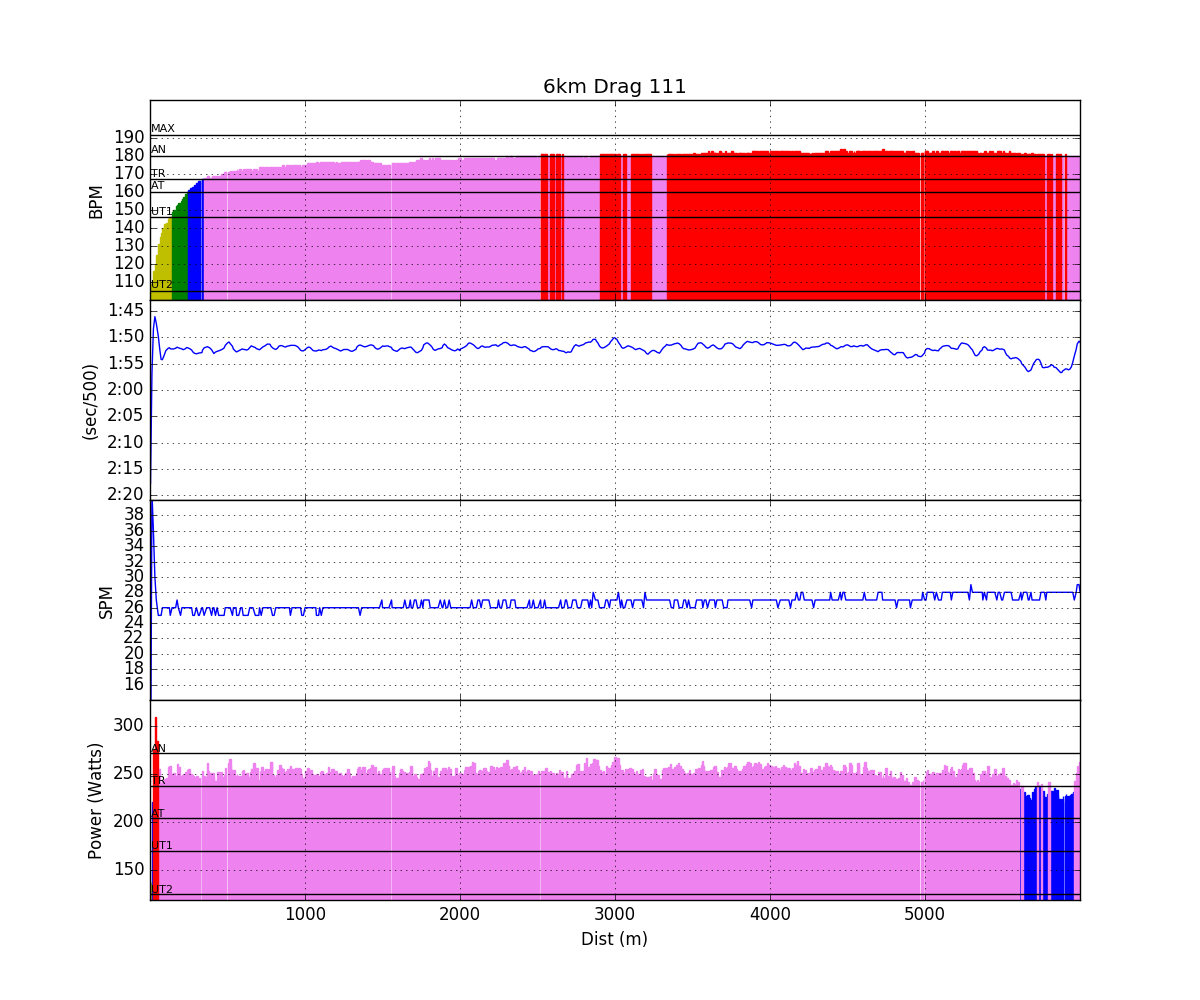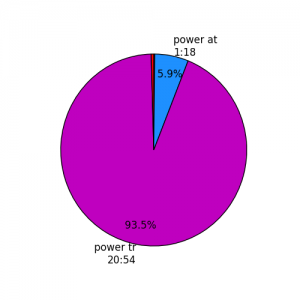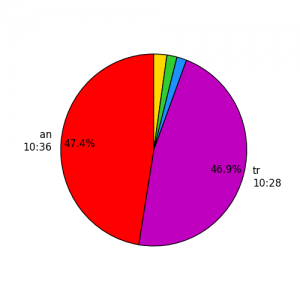 Summary:

Workout Summary - media/20161111-17100719o.csv
--|Total|-Total-|--Avg--|Avg-|-Avg-|-Max-|-Avg
--|Dist-|-Time--|-Pace--|SPM-|-HR--|-HR--|-DPS
--|06000|22:20.5|01:51.7|26.7|177.9|184.0|10.1
W-|06000|22:20.5|01:51.7|26.6|177.8|184.0|10.1
R-|00000|00:00.0|00:00.0|00.0|000.0|184.0|00.0
Workout Details
#-|SDist|-Split-|-SPace-|SPM-|AvgHR|MaxHR|DPS-
01|00500|01:51.8|01:51.8|25.8|154.6|171.0|10.4
02|00500|01:51.5|01:51.5|25.7|173.6|175.0|10.5
03|00500|01:51.6|01:51.6|25.9|176.8|178.0|10.4
04|00500|01:51.6|01:51.6|26.3|177.3|179.0|10.2
05|00500|01:51.2|01:51.2|26.3|179.2|180.0|10.3
06|00500|01:51.2|01:51.2|26.5|180.4|181.0|10.2
07|00500|01:51.5|01:51.5|26.8|180.6|181.0|10.0
08|00500|01:50.9|01:50.9|26.8|182.2|183.0|10.1
09|00500|01:51.1|01:51.1|27.1|182.7|184.0|10.0
10|00500|01:52.2|01:52.2|27.1|182.8|184.0|09.9
11|00500|01:51.6|01:51.6|27.8|182.6|183.0|09.7
12|00500|01:54.3|01:54.3|27.7|180.9|183.0|09.5

I did this "beginning of the winter" 6k exactly a year ago, on November 11, 2015.
Then, I did a 22:28 time with an average heart rate of 177 bpm. Today it was 22:20, with an average heart rate of 178bpm. A year ago, I used a spreadsheet to analyze the row. Today, I can use the power of rowsandall.com and have additional interesting graphs: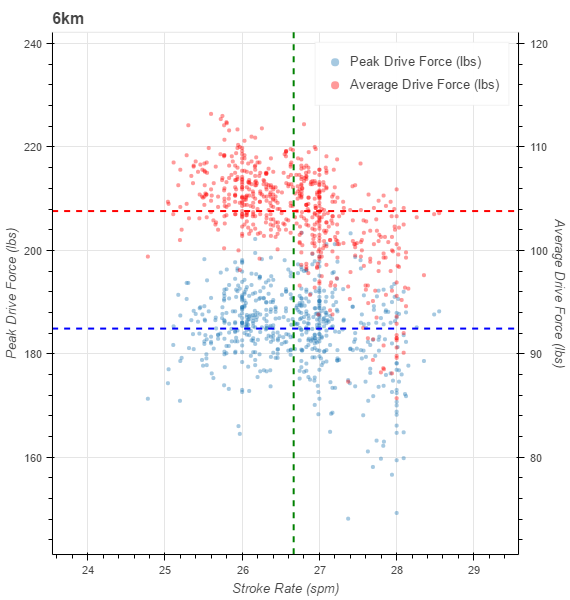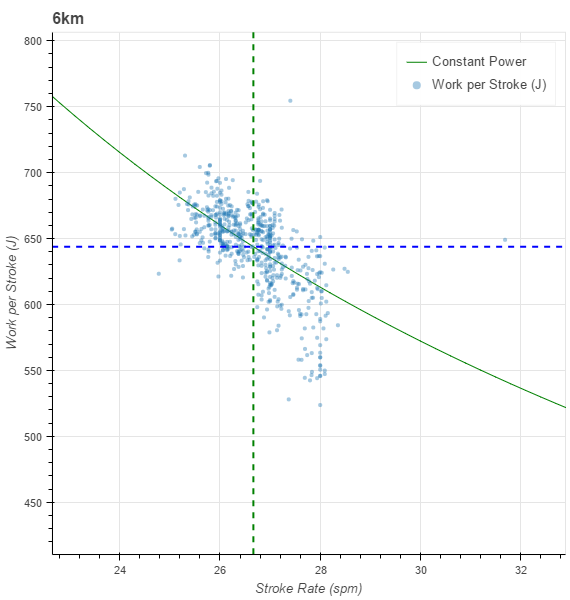 In the Work Per Stroke plot, you can see how I used a range of stroke rates to try and remain at the same average pae (the green line). On the site, I can actually select the first half of the row and compare it with the second half: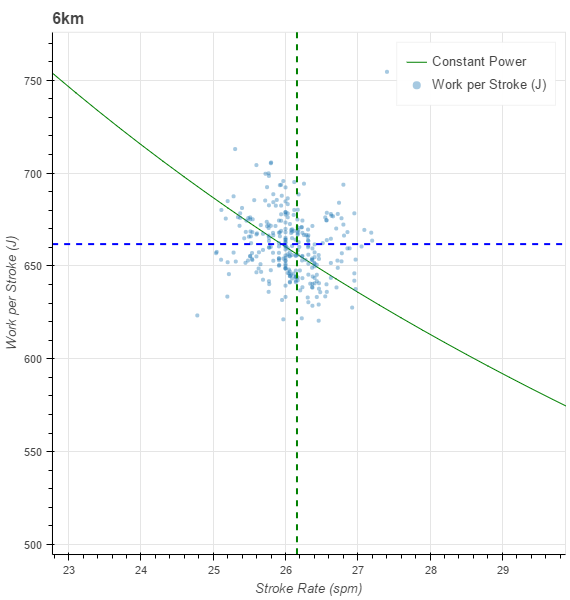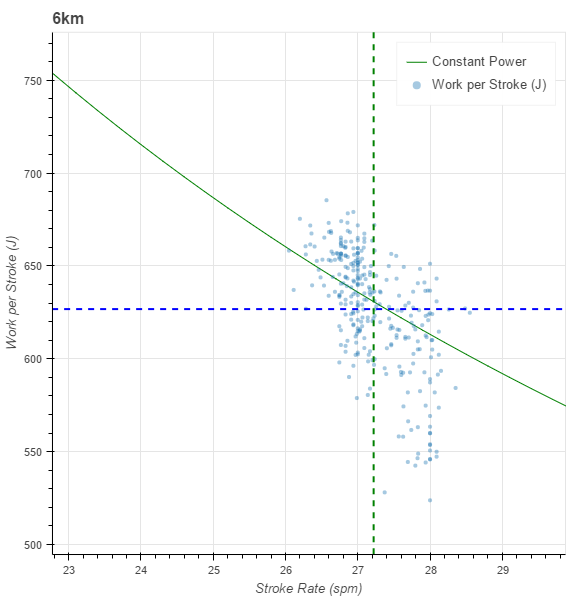 And here is that dramatic last 1000m: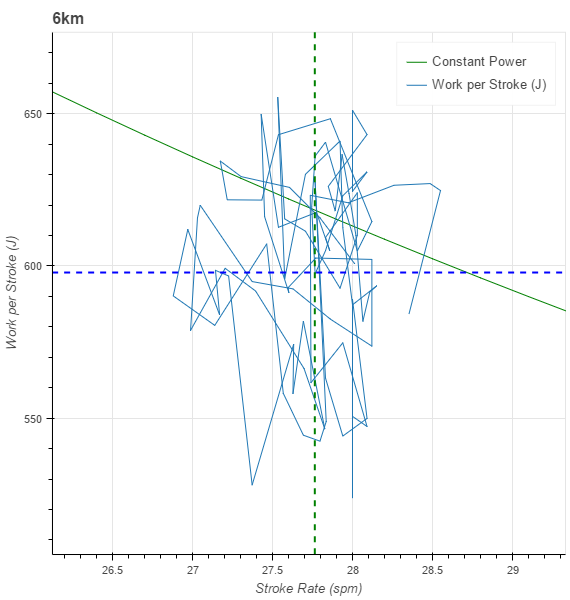 First, you see me rate down and increase the work per stroke. Then I fall down to a lower force per stroke. In the final strokes I rate up a bit but the work per stroke goes down even more.
After the row, I sat on the erg holding the bar. I was afraid to faint.
I didn't faint. After five minutes of just sitting there, I had enough energy to do a 10 minute cooling down.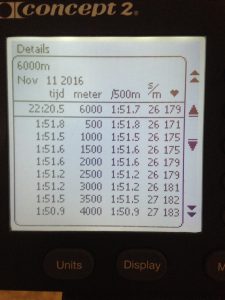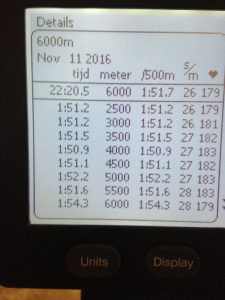 Follow me in social media