May 29 2016
Friday
Left work early and picked up the trailer, Romana and Robin at the rowing club. Our older children Lenka and Dominik would travel with the club bus.
Hodonín is a one hour drive south-east of Brno (70km). We arrived around 5pm and unloaded the trailer. Romana and I went out on the double. A short, 8km row on the river Morava.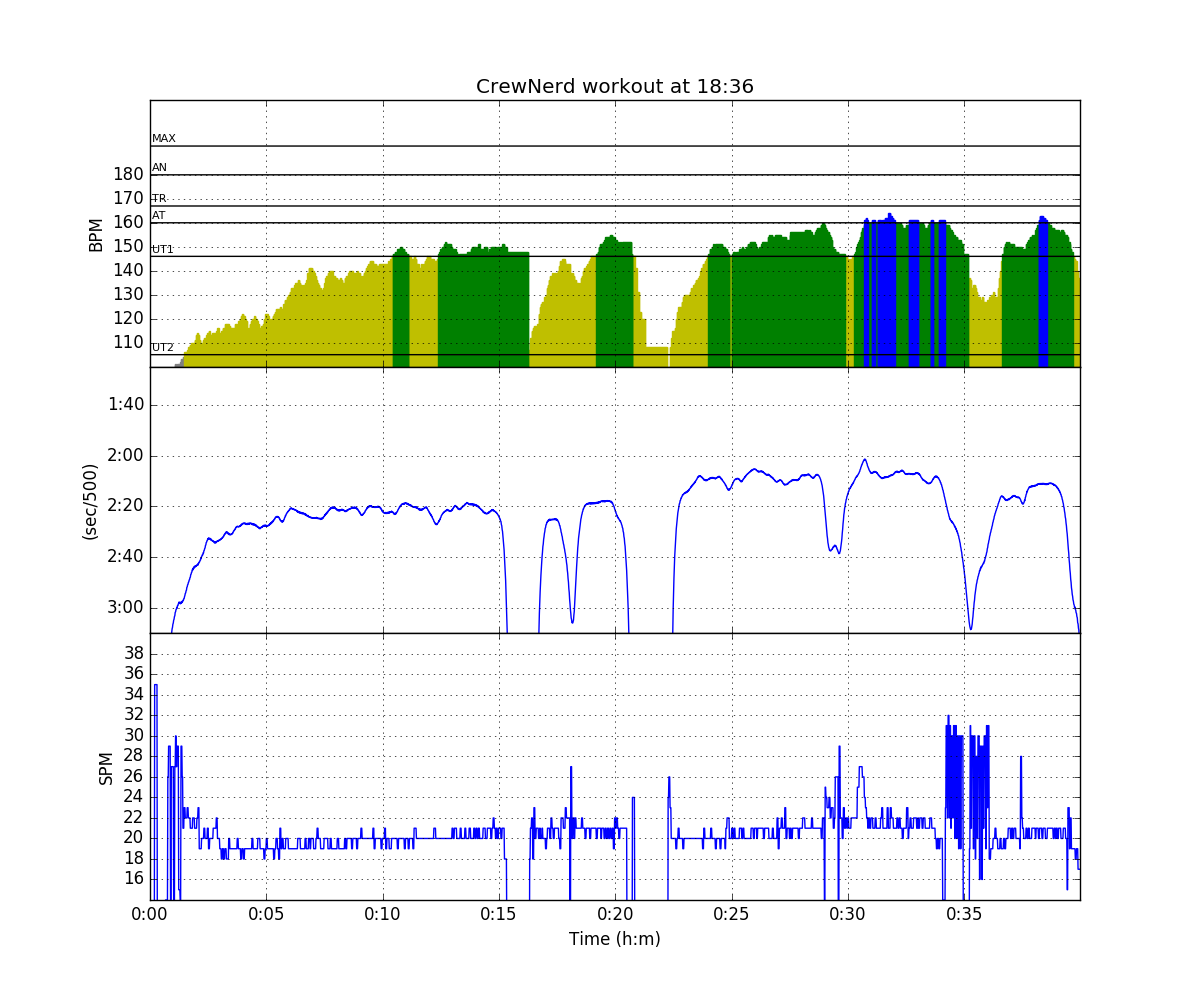 Even though the river flow was minimal, there was a distinct pace difference between the upstream and downstream parts. The stroke rate variations around 0:35 are actually technique exercises.
Saturday
No races for me on Saturday, so I went out for a nice row on the single. The river is actually the border river between the Czech Republic and Slovakia. As an internal border in the EU Schengen area, that doesn't mean much, but still it fascinates me to row on "international waters". The left bank being Slovak and the right bank Czech, I wondered which country's rescue forces would come rescue me in case I needed to be rescued. Here's a quick picture I took at the turn-around point. The left-hand side is Slovakia. The right-hand side the Czech Republic.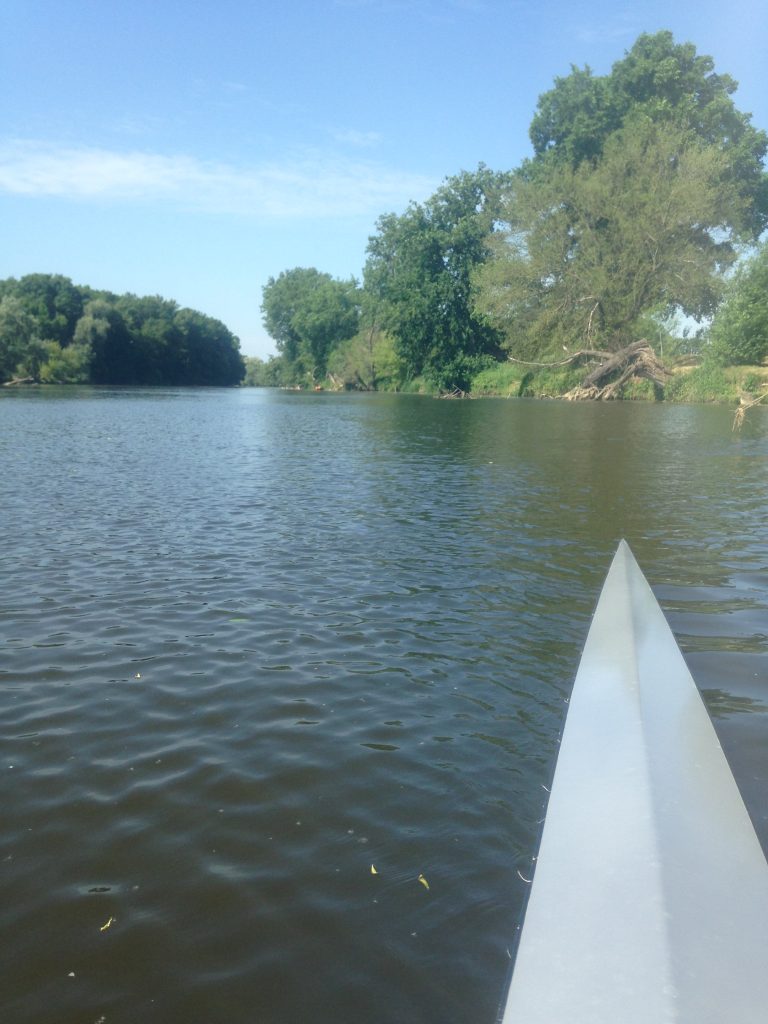 It was also nice to row on a river. A very welcome change of menu. The dead trees along the river are quite dangerous, though. Quite easy to run unto them …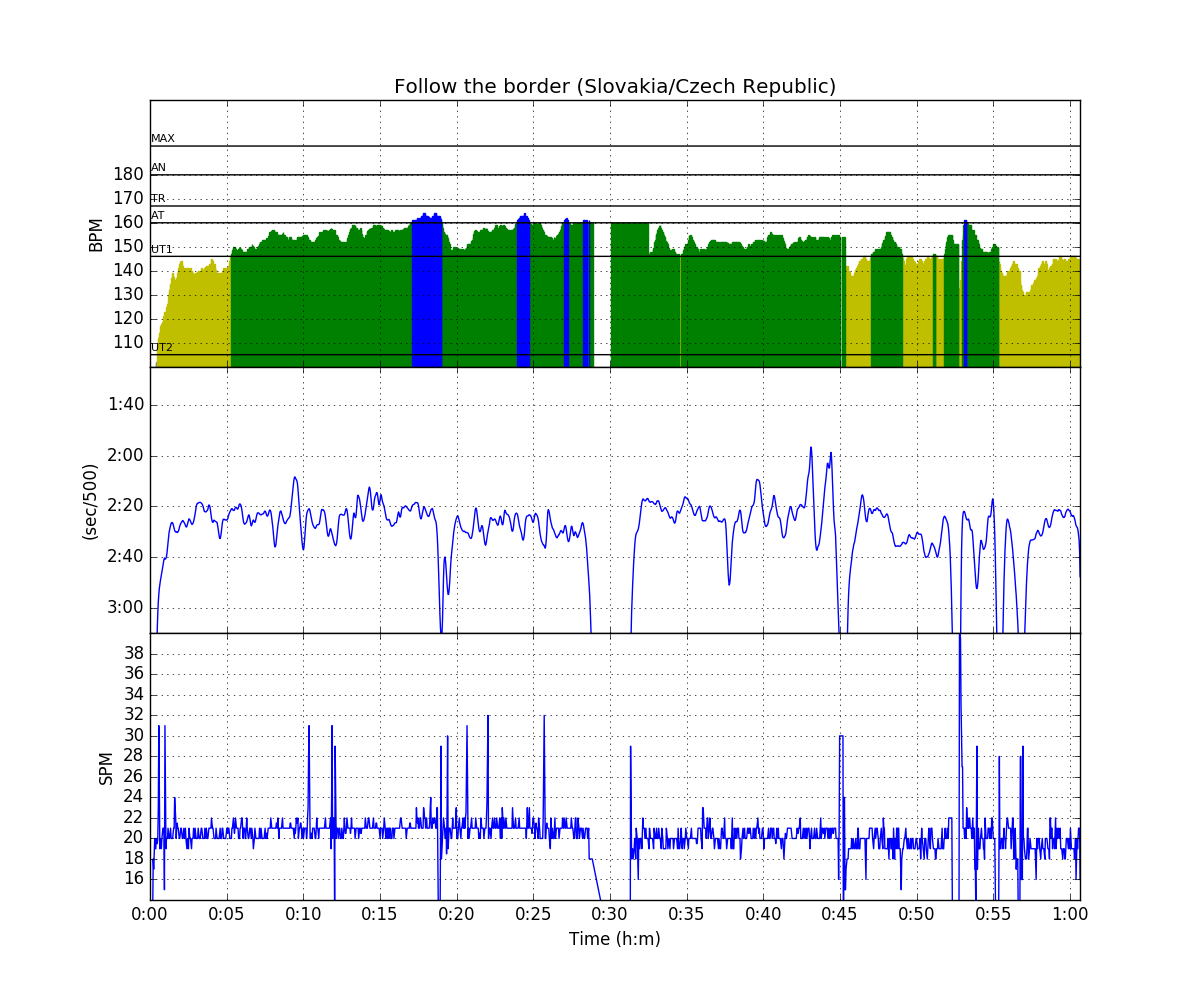 On the way back I met my daughter Lenka in her girl's quad. I did a few starts next to them.
Spent the rest of the day hanging out on the Hodonín rowing club, helping out various crews and watching the races.
I think I fell in love with the Hodonín rowing club house. Here are a few pictures.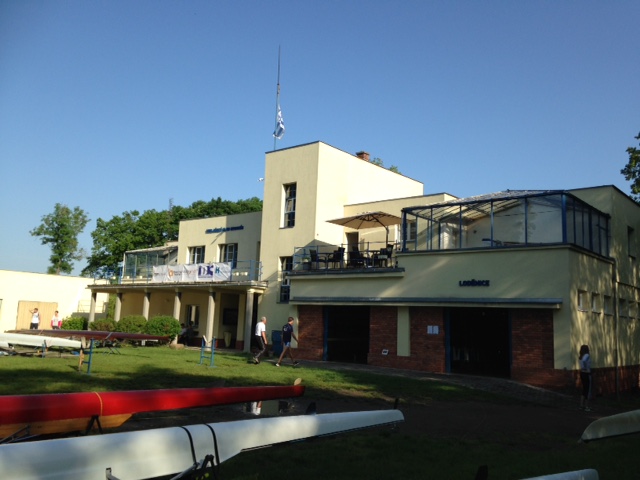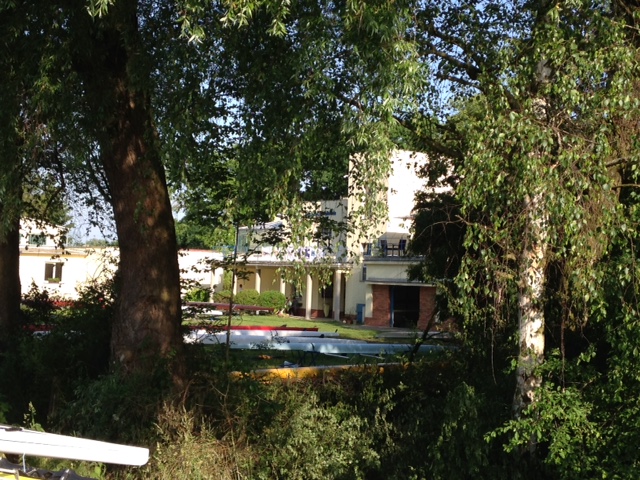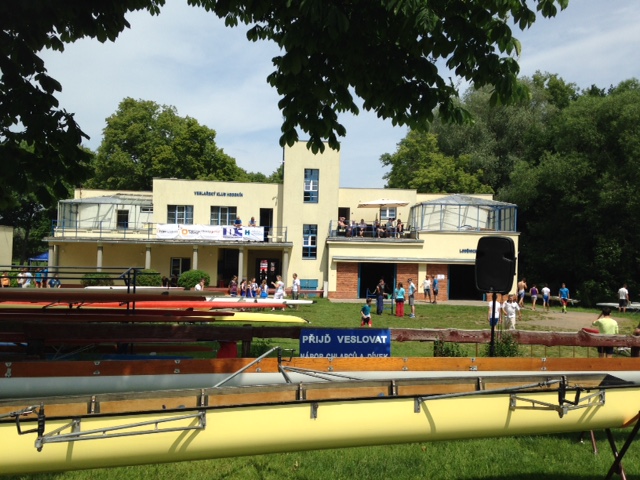 It's a lovely functionalist building from the pre-war era, when rowing was still an elite sport. Many interior details survived. The area behind the balcony has recently been renovated into a nice restaurant.
At the end of the day I coxed Romana's Masters Ladies eight. That was a nice experience. The girls didn't have a cox, so I volunteered, mentioning that I have successfully passed both coxing exams of my native club R&ZV Naarden.
I didn't mention that the last time I coxed an eight was in 1986 or 1987.
It was great to cox. The races are on a river bend, and there are lanes marked by buoys in the turns. You have to pass on the right side of your lane's buoy or risk being disqualified. So it was quite challenging to cox an eight at full (Masters ladies) speed. Still I managed to cheer for them, and after the row I got compliments from the bow four that they could hear me loud and clear (without using a cox box). We finished 3rd of 3, unfortunately. Around the 500m mark the rowing started to fall apart. A clear case of lack of winter training.
In the evening there was a nice party with local wine and traditional music from the region. We left around 11pm when Robin was falling asleep on the porch of the lovely club house, but some of the participants stayed up until 3am.
Sunday
Race day.
9:30 mM 1x
First race was the Masters 1x. A year ago I won here, so I was the title defender. This time there were many more masters scullers, so there were three races of four lanes. I was in the first race with two masters B rowers and one other masters C rower, my friend Kazimir from Hodonín. I was nervous. Kazi used to beat me and on a good day he can still beat me. He was not rowing his own boat, though, because two weeks ago he rowed into a dead tree trunk at full speed. Another serious contender was Mr Polasek from Olomouc. Mr Polasek is 42 years old, former national team member, and a very athletic looking guy. He has about 15kg more than I and these 15kg come in the form of length and muscle.
On top of all I was rowing in lane 4, the outer bend. Granted, they give you a few meters benefit at the start, but you have to round the buoys on the right side, which means that I would be rowing on the Slovak bank, while Kazi and Mr Polasek would be in the middle of the river, the place of maximum current.
The usual banter at the start. Then we aligned and got started. I started well and was leading. Kazi and the guy in lane 4 fell behind quickly, but Mr Polasek in lane 2 stayed too close. In the big turn he rowed past me and in the end he beat me by 10 seconds.
On the positive side, Mr Polasek was breathing heavily and had to work hard to win. On the negative side, I was not pleased that I let the stroke rate drop to 29spm in the second 500m of this row. My time was (a downstream) 3:37.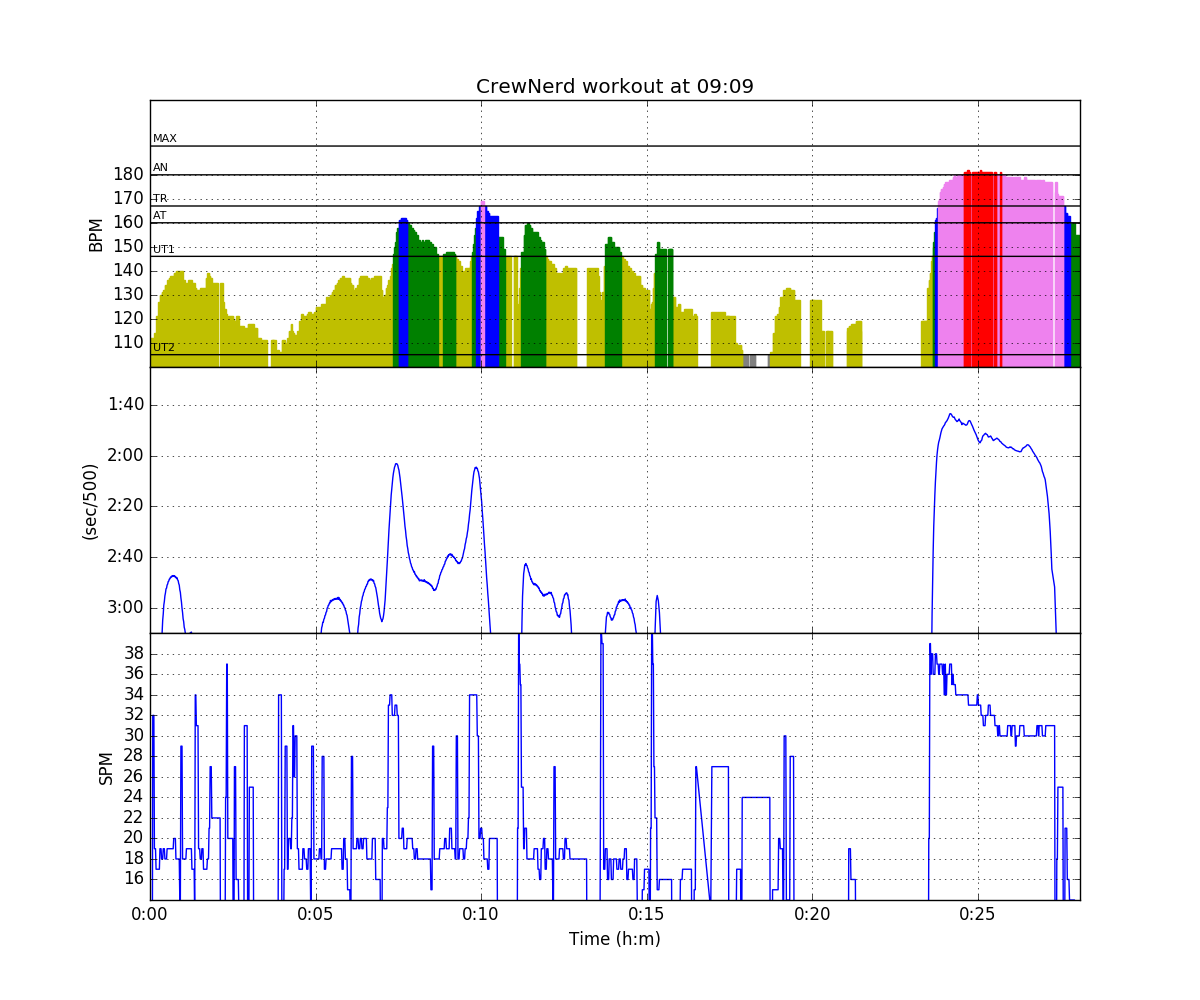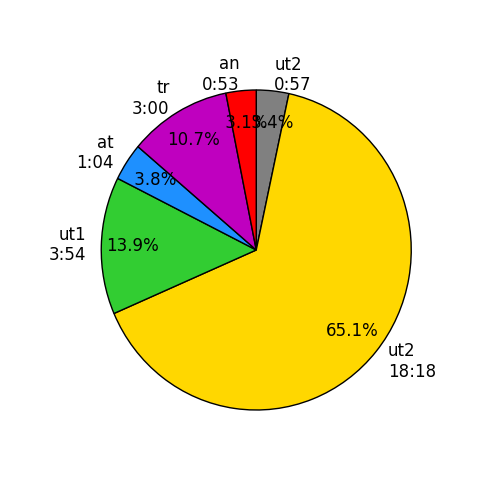 12:04 mM 2x
The next discipline was the Masters double. There were nine boats registered and it was quite difficult to create three good races with those nine crews. I know what I am talking about because while I was having a coffee on the balcony of that (lovely) club house, one of the referees came to me and we divided the line-up in three races together. We created a race of three of the weaker boats and two races where at least two boats were of equal strength, on paper. We slightly ignored the age categories, but I think this was allowed in this case. These are informal races and the idea is really to have interesting races for every participant.
My double was up against a strong boat from Ostrava. These gents are 10 years older than I but they are both training hard and they are hard to beat.
We noticed that.
Rowing in lane 2 we started off well but fell behind and didn't manage to pass our competitors in lane 3 in the big turn. We rowed into a referee's motor boat wake and didn't handle it well. Combined with some minor steering mistakes and my rowing partner who was struggling to push hard in the second half. We finished three seconds behind the winner in second place. Our time was 3:14. Good for a second place in the other "fast" race.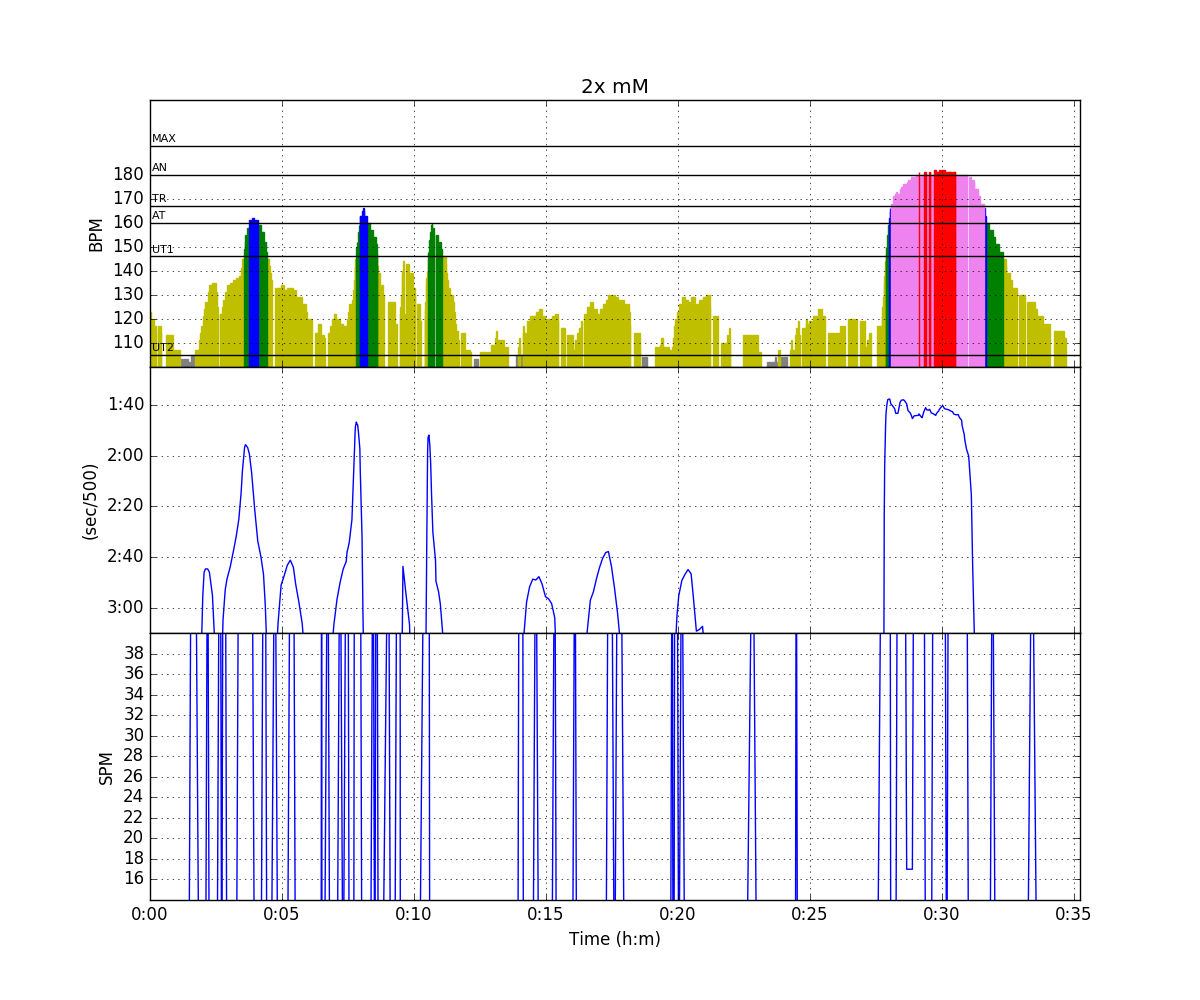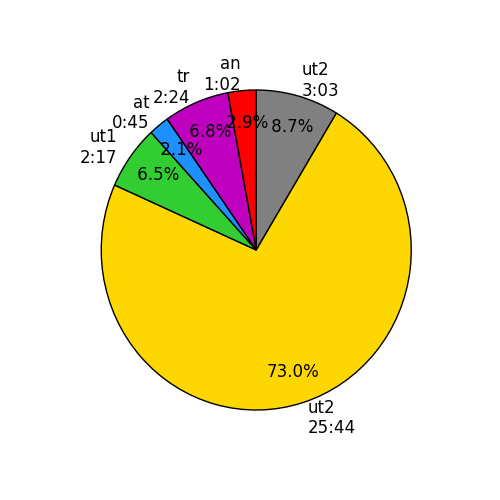 I recorded this row on the Garmin Forerunner only, so now stroke rate data.
14:40 Mix 8+
After that I spent some time getting the double and my single ready for transport. During that, Romana and I got asked for the Masters Mix 8+. The local club trains in this discipline once per week, and they challenged the other participants to form a Mix 8+ to race against them.
Our Mix 8+ consisted of the double who beat us, a few guys from some of the other doubles, and 4 trainers (including Romana) from four rowing clubs.
We rowed our old eight, a wooden Karlisch. Don't move the footstretchers on this boat, because you may be able to untighten a screw that you will never be able to tighten again. This boat also has a nice feature that the wood absorbs the strength of your stroke by the deformations of it's hull. It is heavy to get up to speed, but being such a heavy boat it is unstoppable once up to speed.
So our improvised eight had 1km of training together when we lined up against the locals. Our start was the worse than any of the two practice starts but we somehow got up to speed. Our stroke was stroking a low stroke rate on request of the ladies, and in the first 200m we had difficulty fending off the attacks of the local mixed eight. After that our old Karlisch was going it's cruising speed and we were rowing safely in front of the other eight. We won by about 10 seconds.
Perhaps this was the last year they put out this challenge.
Overall a good racing weekend. Not as many wins as last year, but to be honest the performance was as realistically expected, given the strength of our opponents.
Other significant races
Lenka and Iva won their heat and came second in the final in the double.
They also made it to the finals in the quad and came second after a very strong boat. Romana is trying to keep this quad together, but of course the trainers of that "strong" boat are looking at "our" strongest girls to make an even better quad for the National Championships. There were some interesting behind-the-scenes moves and the fact that all these 15/16 year old girls are "friends" on Facebook didn't help. We'll see how it pans out in the coming week.
Dominik and his partner Stepan rowed a very good race in the boys 11 year old double. They were second with a bow ball difference from the first boat. The nice thing was they were able to almost win after being quite far behind 200m before the finish line. (This  age category races over 500m.)
Follow me in social media