May 17 2016
Monday
Busy days. Self-inflicted busy of course. Still, so busy that I had difficulty arriving at out Masters Eight practice on time, on Monday evening. We will race the Masters 8+ in the first weekend of June, and our result of last weekend shows that there is a lot of work to do, so I really had no excuse. It's just that my solo rowing makes me very flexible, and I now have to get used again to fixed starting times for team sessions.
We have won that particular race three times in a row, but this year will be difficult. We have a couple of Masters who did less than the ideal amount of training work during the winter. To put it mildly. There's also rumor of a couple of good Masters putting together a composite eight with all the Masters. I was indirectly approached but I refused immediately and I don't know the details. One of the requirements seems to be that you have to be on Facebook, because that is where all the team formation happens. Anyway, even though we have some challenges, I prefer to row in a club eight.
The observant viewer could have spotted two of our eights on the lake simultaneously, because the Men's eight have started practicing as well. And there were some observant viewers, because a couple of members of "the other club" on our lake were busy putting out the Albano lanes for coming weekend's international Youth regatta. Actually, when we were turning the boat on the finish line, they couldn't resist to comment us.
And we deserved that. We arrived at the finish line, and immediately eight Masters started to talk about what was wrong and how – in their opinion – we need to row to go faster. We are an eight without a leader. And without a coach. And with a very quiet cox. We need to change a few things.
The fact that the Men's eight was on the water also meant that we had to row in our old, wooden eight. This boat is not good. While the upper four rowers complain that it falls on bow side, the lower four rowers complain that it falls on stroke side.
Personally, sitting in 2 seat, I had no difficulty. We did a couple of technique drills and then a lot of steady state in 22 and 24 spm. On Thursday evening, when we will do 30 seconds on / 30 seconds off, this will be a different thing. That's the workout that can potentially ruin your back. Luckily, we will be able to take the new eight.
I have rambled for six paragraphs without a picture. That is because I rowed with the Garmin Forerunner instead of with CrewNerd and didn't notice that the HR belt hadn't paired with the Forerunner. So no HR data. 🙁
So here's a picture of our boat hangar, freshly painted: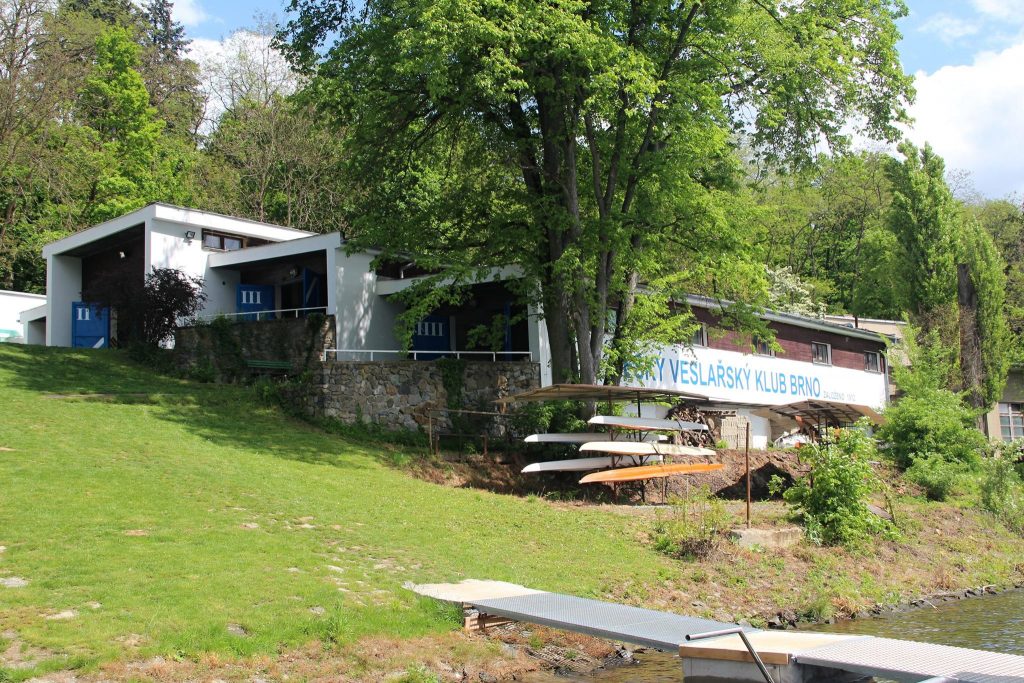 The blue text says "Czech Rowing Club Brno – established 1912" and the best thing is that it is clearly visible from the other side of the lake: From the club house of "Lodni Sporty Brno". The hangar doors used to be green. Now they are in blue club colors. Unfortunately some of my fellow club members spoiled the Latin numbering for the hangars and put "IIII" instead of "IV" which will probably make us the laugh of the local rowing world for a long time. We also re-numbered, so what used to be "hangar 3" (my single is there) is now "hangar IIII" (IV), because our boat workshop has been added to the numbering.
Enough complaining. I love the text and I hope it brings many new rowers to the club. I am also proud of our nice new dock (in the foreground in the picture) and in general of all the improvements we have been made in the club in the past 4 years.
Tuesday
Today I had to go out in the morning, because of my work schedule. That's normally not a big deal but when it's just one day after returning from Arizone (-9 hours), it's quite tough. The session was a 4x1km with 3 minutes rest, and I thought I could row that at 29spm and a decent pace.
In April 2015, I had rowed this session in 2:01 average pace and 29.4 spm.
I had to compromise or abandon the session. It was very hard to keep the pace up. I had no energy and no motivation. I don't know what's better, to stop and just row, or to at least finish the workout. I opted for the latter.

Workout Summary - 2016-05-17-0754.CSV
--|Total|-Total-|--Avg--|Avg-|-Avg-|-Max-|-Avg
--|Dist-|-Time--|-Pace--|SPM-|-HR--|-HR--|-DPS
--|06113|38:21.0|02:20.8|62.4|158.0|165.3|07.1
Workout Details
#-|SDist|-Split-|-SPace-|SPM-|AvgHR|MaxHR|DPS-
01|00130| 10:43 |03:07.6|247.7|140.0|153.0|00.6 - warming up
02|01000| 04:11 |02:05.4|28.2|168.0|175.0|08.5 - tailwind
03|01000| 04:04 |02:02.1|27.7|168.0|173.0|08.8 - tailwind
04|01000| 04:34 |02:17.4|26.0|167.0|174.0|08.4 - headwind
05|01000| 04:29 |02:14.5|26.5|168.0|173.0|08.4 - headwind
06|01983| 10:20 |02:36.3|18.5|137.0|144.0|10.4 - cooling down

Somehow the GPS didn't kick in until the end of the warming up, so the numbers are weird and so is the SPM value. In the graphs you can really see (from the stroke rate) how I gave up and settled for a lower pace. Heart rates were pretty high for the paces I was rowing. It must be the jetlag. At least I've got something to blame. 🙂
Still I want to point to the start of the fourth interval where I think I was rowing technically quite well. You can see the pace shoot up compared to the previous interval, at relatively low rates. Length. It's key for me.