Sep 7 2015
No training today. A very long day at work, followed by preparing the double for transport. It started to rain when we were doing that, so I decided to leave the single for tomorrow. Hopefully I will be able to leave work earlier than today.
In the afternoon, I received a phone call from my son (10). It was in the middle of a meeting, so I said to my colleague: "Sorry, my son is calling. I have to answer this. It may be something important."
Here's is the conversation:
– "Hi, what's up?"
– "Dad."
– (Slightly concerned) "Yes, Dominik, what's up?"
– "I am at home. Just wanted to tell you that a parcel was delivered for you. The guy wanted a signature, so I signed."
– "Oh. Great. Thanks."
– "Yeah, I am just informing you, right."
– "Yes. Thanks."
– "I am bringing this to your attention. I signed."
I laughed. He just wasn't entirely sure that he had done the right thing so he just wanted to be sure.
The parcel contained this: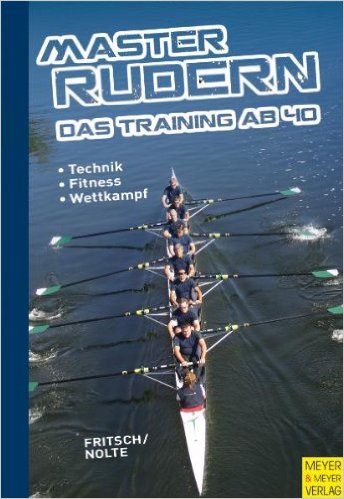 It's the book "Masterrudern, das Training ab 40" by Volker Nolte and Wolfgang Fritsch. So far I have just been browsing and looking at illustrations. My impression? I think it is a nice and complete book (272 pages) summarizing all the stuff a Master Rower needs to know. The book is written as an entry level text, so I sort of expect to already know most of the stuff by figuring it out (trial-and-error style) and discussions on erg training schedules here and on the various erg and rowing dedicated fora and blogs. Also, much of the stuff on training theory and training plans is quite sport independent. But that's OK. I am looking forward very much to reading the book from front to back and find the stuff I didn't know yet. Also, it's interesting to see these authors' take on Masters Rowing.
Here's a quick summary of the contents, and some remarks on what I hope to find in those chapters:
Part I
1 – Masters Rowing
General discussion about age groups and target groups.
2- Aging successfully as a Masters Rower
Discussion of how performance changes with age. A good summary of available literature.
Part II
3 – Learning to row
Not so relevant for me, but good to read. I know how to teach kids to row, but not how to teach adults, who learn slower.
4 – Can technique still be improved?
General chapter about Rowing Technique, including drills. I don't think this is specific for older rowers.
5 – Rigging for Masters Rowers
This will be interesting. I guess most of us just copy what the elite is doing, but perhaps we should power for a less strong and less flexible body. Personally I look at how elite women are rigging, but as age progresses this may be more and more wrong.
Part III
6 – Training for Master Rowers
6.1 General Remarks
General remarks about how training works. Training effect. Recovery between trainings for older rowers.
6.2 Rowing Trainings
Steady state training. Fartlek. Red Lining. Intervals. Training for specific races (focuses on sprint racing). Training programs.
6.3 Other Trainings
Actually, this is the chapter I want to study in most detail. It covers strength training, erg training, general fitness training and "coordination training".
7 – Racing for Masters Rowers
Year planning, training planning, training camp and preparing to race. All very useful stuff.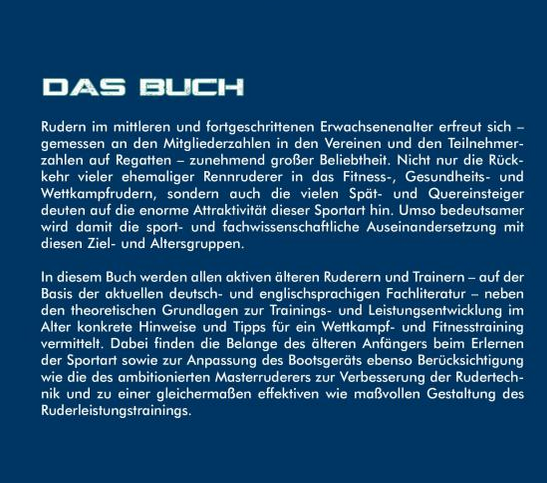 I will write more about the book when I finish reading it.
As a last remark, I find it quite interesting that the book was first published in German. It's logical, given that German is the authors' mother tongue, but I think there is a bigger audience for the book in the USA and Canada. As the authors themselves remark in the first chapter, in Europe the percentage of former Elite rowers among Masters is much higher than in Europe. Also, the typical European Masters Rower has started rowing during his youth, whereas the typical North American Masters Rower has started as a young adult, or very often as a Master. Content-wise I think the book is more suitable for the latter.
Follow me in social media