Jul 16 2017
Friday
We left Brno around 11am and arrived at 2pm, including a one hour lunch in the nice village of Horni Cerekev. I decided to relax and not row. Romana and I just claimed a few bost stands for our club boats, I prepared my single, and then we went for a short bike tour.
Saturday
1x
I launched at 8am for a quick row. I had left the SpeedCoach holder at the hotel so I rowed 'unplugged'. I rowed to the 2k start, then did 2x 30 strokes at race pace, with a 500m paddle between. Then, at the 500m line, I did a 35 stroke interval consisting of 25 race pace strokes and 10 harder ones. The theory behind this is that doing this a few hours before e race will make the transition to lactate burning easier during the race. Usually, the first race of the day hurts a lot agout 300m in, and because I had only two races on Saturday, I thought it would be good to do this. And I think it didn't hurt.
My first race was a tough one. The Masters C single. I was up against Petr Mitas, a guy who always beats me, and a few other guys who shouldn't be underestimated. Kazi Nedoba from Hodonin, Tomas Zeman from Prague. Six boats in total. I was super concentrated for this race. My plan was to be in front out of the start, then settle for a race pace around 325W, and start attacking whoever would be in front front of me with 500m to go.
I think I was second out of the start, but I am not sure. I try not to look. There also was a strong cross/head wind which required a lot of attention in the beginning of the race.
By the time I settled down to 34spm, I was in second position, a one third boat length ahead of the 'pack' and one boat length behind Petr. Petr battled on at high rate, so I rated back to 35.5 spm. That took me out of the pack but Petr had about 2 lengths on me.
With 600m to go the pack was three lengths behind me and Petr was two oengths ahead of me. When I passed the 500m mark I launched my desperate attack. Stroke rate went up to 36spm and I managed to reduce the gap with Petr to a length and a half. At this point in the race I passed to members of my club who were rowing a cooling down from their Masters A 1x. It was great to have them their cheering for me.
Unfortunately, my engine stopped producing Watts with about 250m to go. In the cross/head wind I had difficulty keeping the rate and power up. All my muscles were burning and screaming. I tried to hold the power, even ousted two or three screams. But to be honest I basically collapsed. I finished in second place, 8 seconds behind Petr and 9 seconds before the rest of the pack, where a dramatic fight for third place ended unfavorably for my friend Kazi, who came in fourth.
3:56 in head wind. Not bad. It took me along time to start breathing normally, then turn the boat. I collected my silver medal in the medal ceremony under the finish tower and started a long cooling down.
Mission failed but I guess it was mission impossible and miracles don't exist.
4x-
In the afternoon it was time for the quad. We hadn't rowed the quad since July 2016, at the same race exactly a year ago. This was a full field, six boats of Masters B quads. We knew Neratovice are good. They beat us two times in a row, and they have raced quad smaller races in Bohemia, winning everything.
We didn't know the other boats.
The weather, which had been quite diverse, changing every ten minutes throughout the entire day, showed an ugly face. During the warming up we got a really strong tailwind, throwing big waves. Our practice start was a disaster.
The real start was even worse. The strong cross tailwind blew us into the next lane, the starter wouldn't let us correct that so the only thing we could do was turn the boat at an angle that would bring us back into our lane. Sitting in stroke seat, I had to foot steer strongly to get us straight into our lane.
By the time we were done steering and ready for a tactical move, we found ourselves rowing in second position, a lengh behind. The favorites and a little over a length ahead of the rest of the field.
We didn't really try to catch up with Neratovice. Instead, we tried to tap down clean in the very heavy chop and row long strokes. I reduced the stroke rate to a safe 33/34 spm, and we just monitored the remaining four boats behind us. My friend Kazi stroked the Hodonin quad. They managed to manoeuver themselves in third place and subsequently caught a crab with 100m to go, and they ended in fifth place. We were second in 3:17. Not a fast time but with the cross wind and the chop there wasn't much we could do to go faster.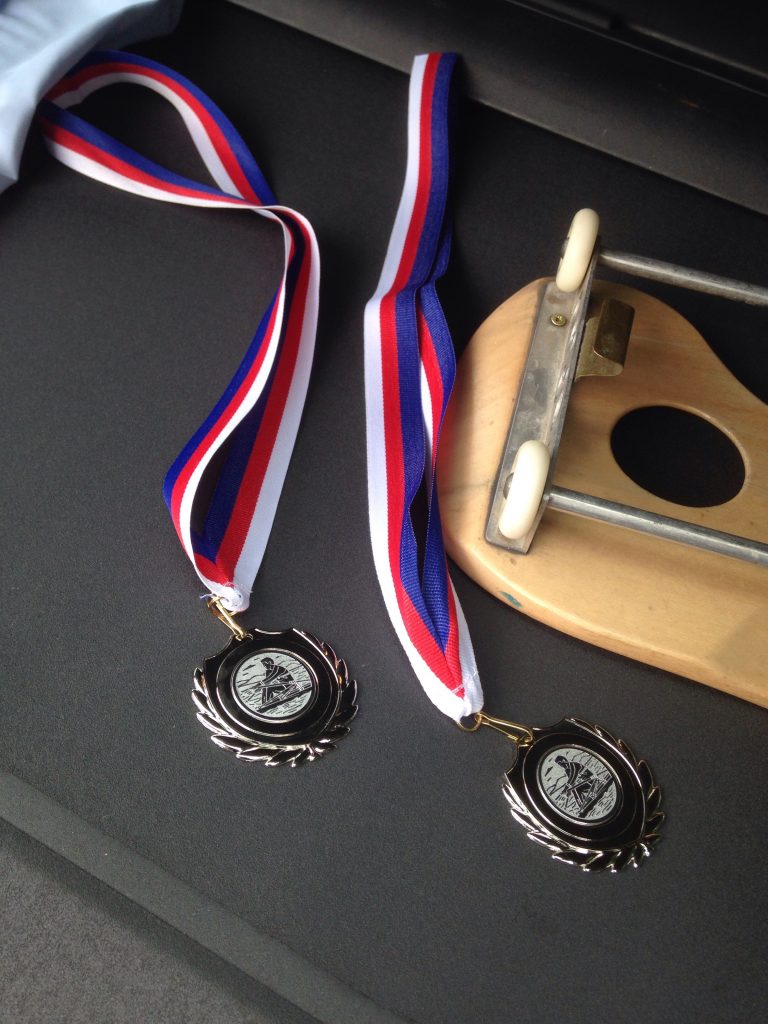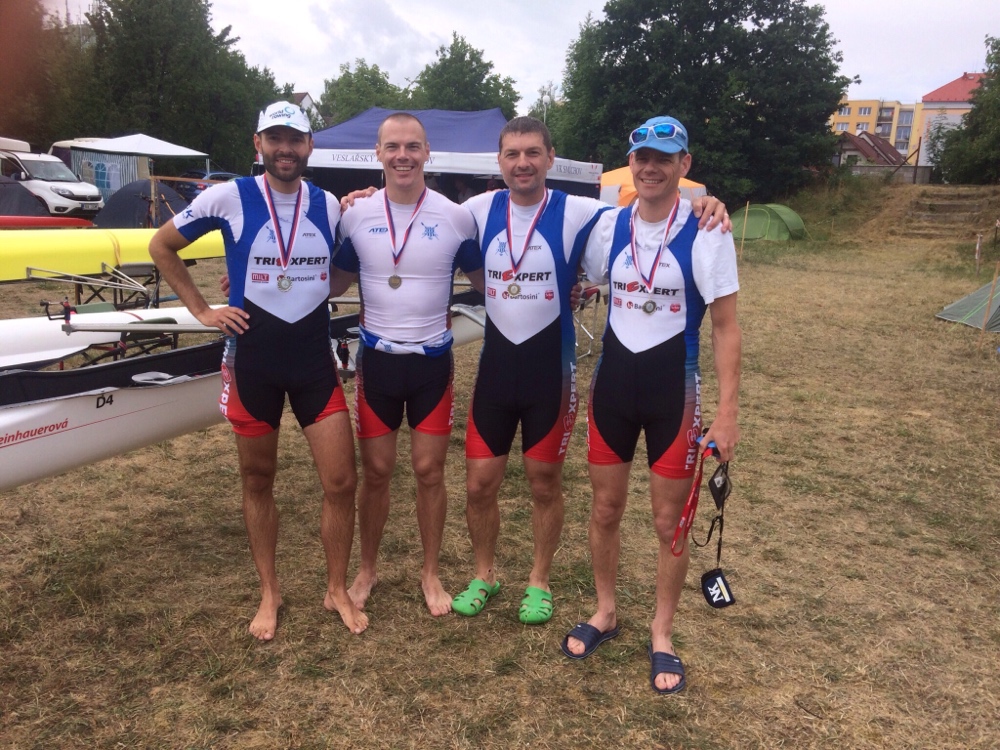 Edited with BlogPad Pro
Follow me in social media