Jul 2 2017
The ladies are still at the Open/J18/J16 Czech National Championships, so my sons and I are enjoying a men's weekend.
Today, we hit the road at 8am, to arrive in Ostrava at 10AM. From Wikipedia:
Ostrava grew to prominence thanks to its position at the heart of a major coalfield, becoming an important industrial centre. It used to be nicknamed the country's "steel heart" thanks to its status as a coal-mining and metallurgical centre, but since the Velvet Revolution (the fall of communism in 1989) it has undergone radical and far-reaching changes to its economic base. Industries have been thoroughly restructured, and the last coal was mined in the city in 1994. However, the city's industrial past lives on in the Lower Vítkovice area, a former coal-mining, coke production and ironworks complex in the city centre boasting a unique collection of historic industrial architecture. Lower Vítkovice has applied for inclusion in the UNESCO World Heritage List.
When we arrived in Ostrava, the boys and I started to call it Mordor. It's a strange place. Lots of abandoned 19th and early 20th century industry sites. Lots of buildings falling apart. On the horizon beautiful mountain ranges. It has a funny atmosphere.
But the reason to visit this interesting place was rowing.
As I am rowing the Masters Nationals with Vojta Cernak from VK Perun Ostrava, I was up for a training on his Filippi 2x, on the river Odra. We installed my sons Dominik (12) and Robin (10) in the club house, where they were watching the Tour de France, playing games on their smartphones and other fun stuff, Vojta and I took the double out for a long row.
For this training, I had two aims. First, to do some technical drills to get us rowing together and set up a stable base on the double. In the past two sessions, we rowed on my boat on the Brno lake, but with all the traffic, Vojta wasn't comfortable, and was turning around to watch traffic every few strokes, which negatively impacted boat feel. Now, on his home river, where he knows every turn, this should be better. So technical drills first, then some race pace segments.
We did a lot of square blade rowing in the first 2.5km against the stream. Then we used the downstream part to do rowing with stops, working on being together especially in the final part of the recovery.
Then we turned around for another loop, during which we did a 500m and a 30 stroke interval. Finally, we agreed on a usable format. Our "500m" at race pace would be 60 strokes at 34spm, followed by 10 strokes full out. That was fun to do. We did the 34spm strokes at 90%, focussing on technique and being together and I think we did quite well.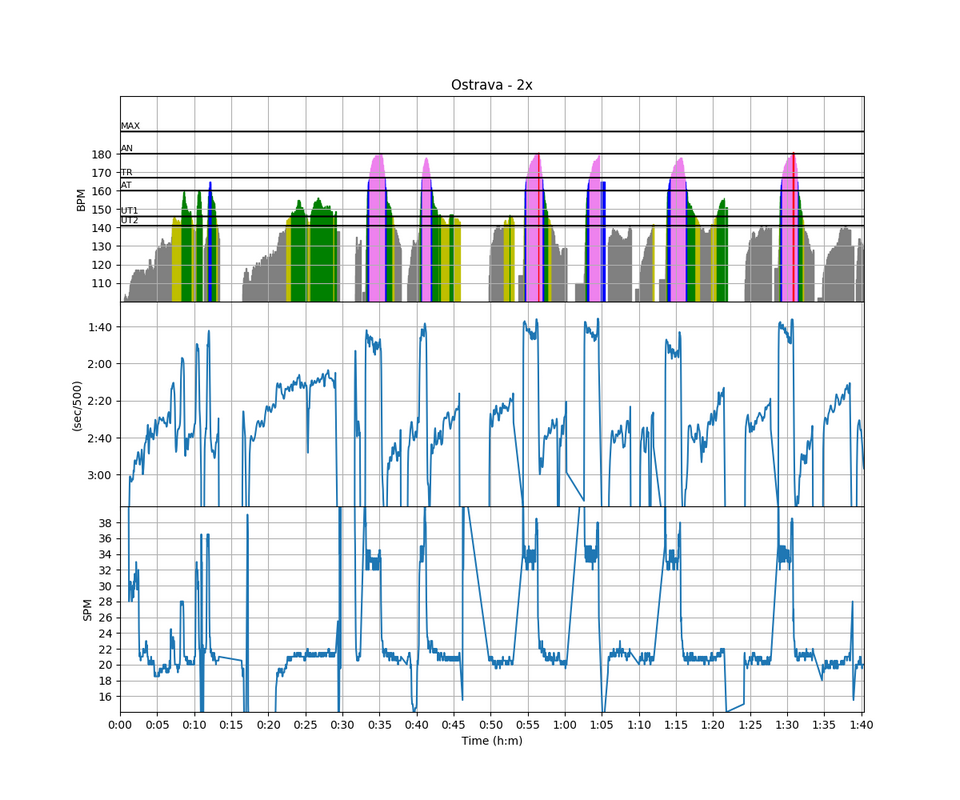 All intervals were done from a standing start in order to practice that as well. The Odra river is a slow "S" turn, and it was beautifully flat. In the low intensity strokes between the intervals, we were dowing 2:20 pace downstream/tailwind and 2:35 pace upstream/headwind.
It was a very nice experience. I think we finally nailed these 70 stroke intervals and we now feel very comfortable at 35spm. Also, we know that we are capable of doing a 40spm sprint while keeping technically together, so that is a good thing, because we may need it in the race.
After that, we had lunch together, and then I drove to the Lower Vitkovice area with the boys. This is an amazing place. A coal mine, coke production and ironworks complex in the middle of the city turned into an urban park, with a great technical museum. We spent more than three hours there, and we left only because I didn't want to be at home late. It's a two hour drive of 170km, so it was me who was getting tired. Given a choice, my sons would still be there, trying to operate a steam loc, playing in the automobile simulator, or learning about how an ironworks plant works.
To quote an online reviewer, agreeing with everything he says:
It was a brilliant idea to make something of Ostrava's brutal industrial heritage. The ruins of a coal mine and a steel smelting plant have been converted into an area of clubs, concert halls, cafes, and attractions, including the splendid Bolt Tower that you reach by lift. The whole area is work in progress so it will only become more interesting in years to come.