Jul 16 2017
Saturday night
On Friday night I was the serious, boring guy. Focused on my singles race, I started drinking water after two glasses of wine. Om Saturday night they made fun of me and I eased up on my limits. Romana and I had a nice dinner together, and then we joined the others at the beer brewery terrace: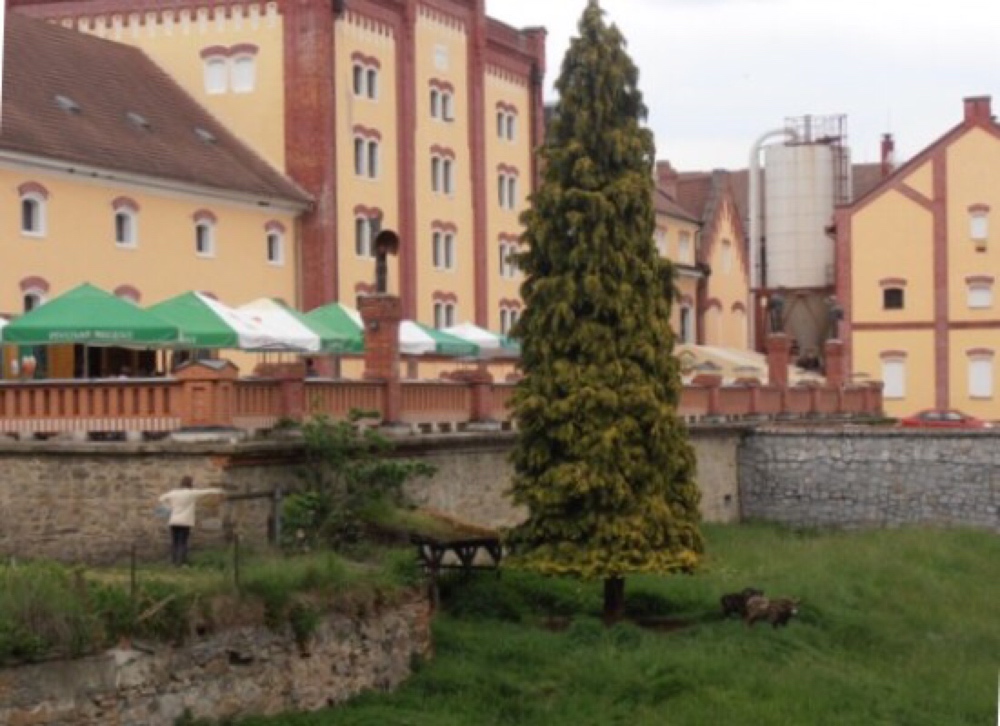 It was a fun night. We saw the fireworks at 11, and then we walked to our hotel and went to bed.
Saturday
2x
First race at 11am. Masters C 2x. I rowed with Vojta Cernak from Perun Ostrava. We rowed four trainings together, two in Brno and two in Ostrava (Mordor). The favorites of the races were Petr Mitas and Martin Polasek. And then there were a few other dangerous doubles.
Tailwind. We did a few fantastic practice starts, but our race start was not so good and we were in last position. Of course we quickly corrected that, but Polasek/Mitas were ahead of us. We raced in lane 6. Petr and Martin raced in lane 1. That made it difficult to judge their advantage. I stroked and didn't watch them. After about 200m we were clear of the redt of the pack, and with 600m to go we were a couple of lengths ahead of the pack and one length behind Petr and Martin.
At that point I called "go". We were behind and needed to do something, and we were leading the rest of the field by enough to risk.
We didn't catch them, finishing a few seconds behind them, and with a huge gap behind us and the rest of the field. We had rowed well and finished according the expectations.
A third silver medal to my collection of this weekend.
8+
The last race for me and also the very final race of the weekend was, at 3:30pm, the Masters Men's eight. Four boats only. We hadn't trained together since our win in Prague. Our opponents were a team of the best rowers from Prague, a combination of the best rowers from Moravia, among others Petr Mitas, Martin Polasek, my double partner Vojta Cernak, and my brother in law Tomas. We are a pure club eight from Brno. The fourth boat was a pure club team from Prague.
So we were underdogs. The rest of this blog will be a picture blog: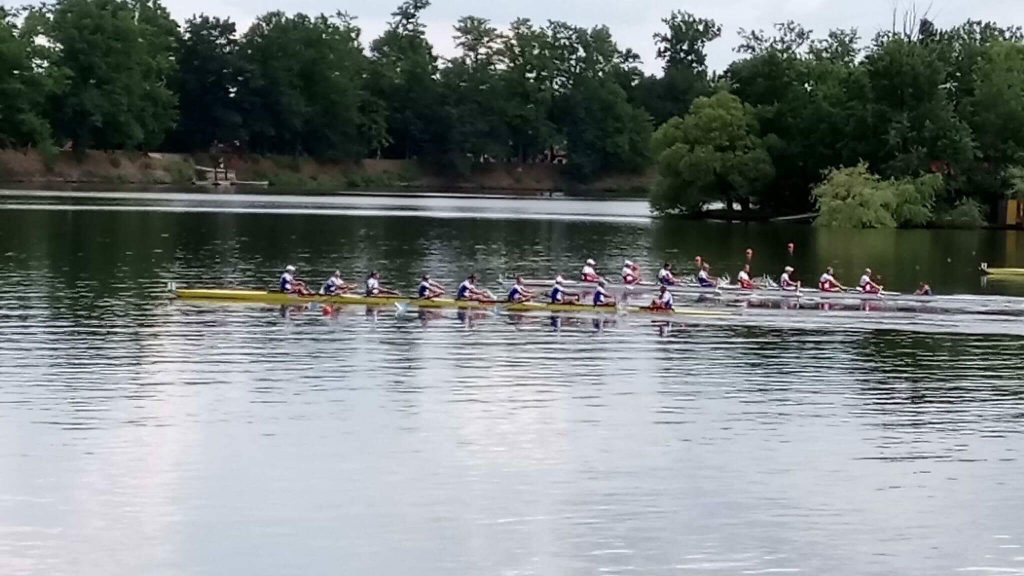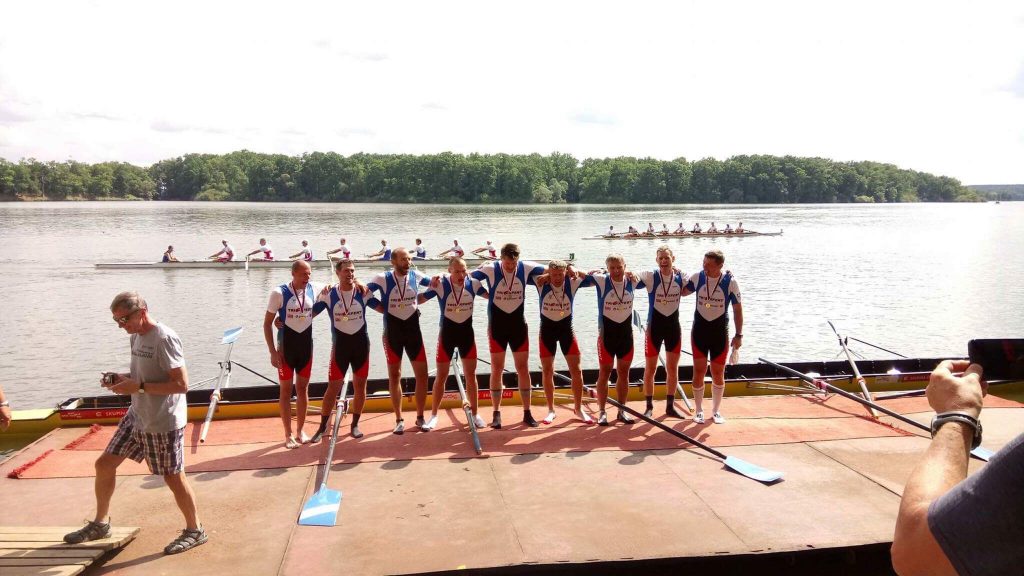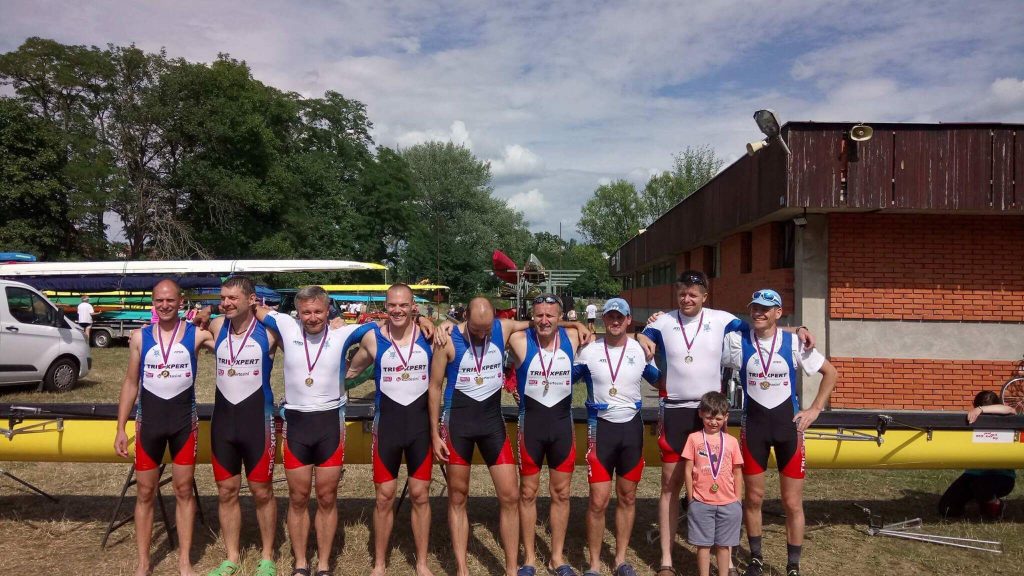 The race was a thriller. We were lucky that we racted to the starting signal promptly and got a meter or so on Prague. Then we built that out to half a length. We rowed in lane 1, with Prague right next to us in lane 2. Their cox ess a 15 year old girl and every time she called a power ten, we heard her child's voice announcing that we were going to be in trouble. To make matters worse, our cox led us into the buoys, so on every stroke our port side, including me, was praying not to hit a buoy, or worse, cstch a crab.
The two other boats, including the Moravian selection, were falling behind.
We won by half a length in front of a finish area full of Brno fans, so the cheers were great.
Edited with BlogPad Pro