Apr 14 2017
Thursday
Too windy to row OTW. The training plan had a strength circuit, so I did the Tickr X 7 minute workout three times. That was enough. Some of the exercises do wear me out. The original plan was to do five of them, but I was grilled after three.
Friday
A bank holiday in the Czech Republic. We headed to the lake for our row at 9:30. This was an exciting day for our junior girls. Last weekend's race, the 6km in Horin, is quite decisive. It determines who gets to go to the trials (next weekend in Prague) and who doesn't. Those who don't get to the trials start to combine and form double and quads. Those who get to the trials are preparing for it.
Our daughter Lenka didn't row in Horin because of illness, so she had invited a girl from Hodonin to come and try forming a double. Romana's fastest girl, Iva, did make it to the trials, but we only found out two days ago. She didn't make it according to her ranking in the girls 15/16 field, missing it by 7 seconds. However, based on her erg scores, and the fact that she actually stopped for a stroke to ask a capsized girl if she was ok, she got a wild card. In the mean time, however, she had invited a girl from Ostrava to come and train the double.
This gave us a bit of a dilemma this morning, because the girls wanted to go out in doubles, but Iva should also prepare rowing in the single, for next week's trials.
In the end the lake decided. The wind became stronger and waves started to form. The girls went out in doubles.
I took my single and started my warming up. This was going to be another technique row focussing on Wash.
Arriving at Rokle and turning a bit later than the doubles, I was behind Romana in her launch. However, they did some technique drills and were slower. So I took a slightly different course and expected to pass them. What happened next was unexpected. The doubles somehow accelerated and changed course, and suddenly they were in front of me. Romana had forgotten all about me, concentrated as she was on her coaching, and pulled her launch between me and the doubles, and then increased the throttle. The result was that her wake, amplified by the already quite high waves, completely drowned me.
Within 2 seconds, my entire single was full of water.
My socks were wet. My water bottle washed out of the boat. The only thing I could do was row back to the dock, empty the cockpit, and resume my row.
The Empower Oarlock stopped in the mean time. I restarted it when I resumed.
The only thing I cared about today was a low "wash" number, because I see how it is correlated with good posture at the catch and a good, boat moving back swing. The numbers are a bit skewed because the south end of the lake wasn't very rowable because of the waves, but I spent a lot of time at Wash numbers below 12 degrees.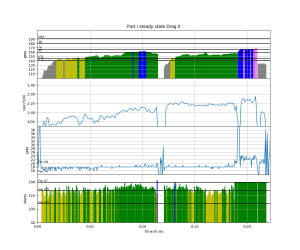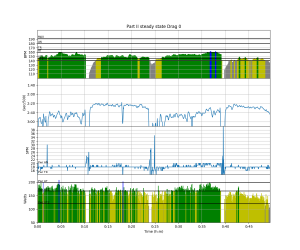 Here are a few metrics charts from the second part:
After the row, we went on a cat mission. Our kids have persuaded us to have a cat. I personally don't have a problem with having a cat at home, but Romana, grown up on the country side, wasn't used to having an indoors cat. In Czech villages, cats are outdoors creatures, and having a domestic cat is a new concept. However, the kids have used all their persuasive power, and since this afternoon we have a new family member. His name is Emil. He is a boy and is 1.5 years old and was castrated a few months ago when he came to the animals shelter, after spending some time trying to survive on a parking lot.
Given his background and the fact the we, "some people", came, fetched him and put him in a new environment, he is extremely at ease.
Follow me in social media