Apr 18 2017
The plan was to row a 5x1500m on the water, first thing in the morning.
This plan didn't survive the time I needed to scrape the ice off my car windows. The North Pole has decided to send its weather our way. Temperatures are around 0, windy, with icy rain, hail, and other nice stuff. Snow is expected for tomorrow.
The official training plan for the Masters in our club has a light week, but I have decided that training properly is more important than performing on coming weekend's races. So plan B was to do the session indoors and compare with a similar workout of a few weeks ago.
First, I needed to reinstall Painsled. My "beta tester" version had expired, so I had to download the "ordinary" version. This involved going upstairs to tell my son to stop downloading videos.
After a 2k warming up I started the main session. I set it up as a "ReRow", with my previous session as a pace boat.
I managed to follow the pace boat for the first three intervals. At the start of the fourth interval I saw that my pace boat was getting faster. I was now chasing a 1:50 average.
After 1000m, the wheels came off.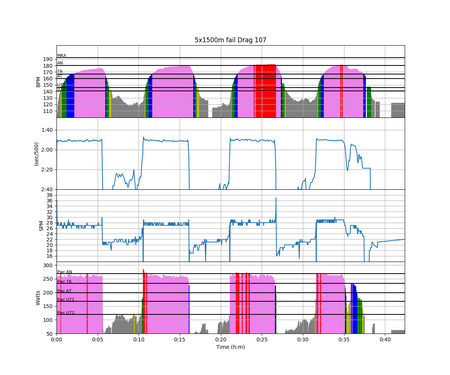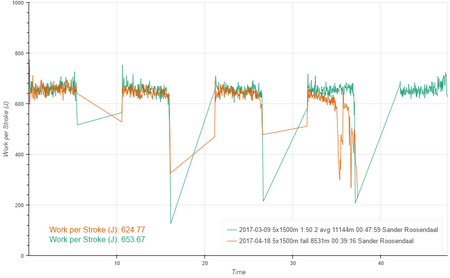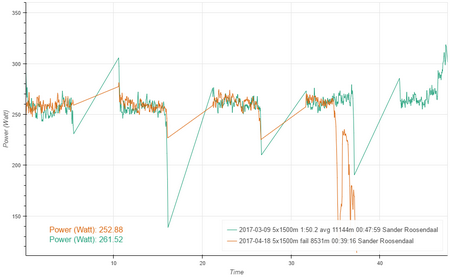 The only nice thing about it is that I have the workout compare functionality on rowsandall.com to see this happening in real life. Unfortunately, the last time I rowed this with my defect Wahoo Tickr, and the heart rate values were not reliable.
I bet they were lower than today, though. I think the first graph tells the story all too well. Too much red in the third interval …
[amazon_link asins='B00O5Y4FXA,B00NH9WEUA,B00NH9WEXM,B01LW7P9S0′ template='ProductCarousel' store='rowingdata-20′ marketplace='US' link_id='285eb874-2471-11e7-81be-6965b21be8b1′]