Apr 9 2017
I traveled with the other rowers in the minivan that towed the boat trailer. We left Brno at 1pm in rainy weather. It rained a lot during the 4 hour drive.
Arrived at Vranany, the village that is closest to the start of the race, and where the boats are stored on a muddy field where the canal splits off from the Vltava (Moldau) river. It was about 6 degrees, but it was dry.
I rigged my single and launched for a quick row to check the conditions. A strong tailwind in the race direction. I did 15 strokes at race pace on the start of the 3rd, 4th, 5th, 6th, 7th, 8th and 9th kilometer.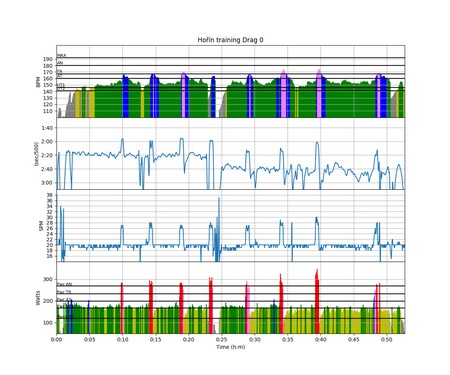 You can see from the difference in pace that the wind was quite strong.
When I was ready with my row, the second wave of our rowers launched (some of us share boats). I instructed Iva to do 10 to 15 stroke intervals in the tailwind direction. She has more technique problems in tailwind conditions.
I waited in the minivan for the second wave of rowers to return. Then we had to drive to the finish area in Hořín and park the trailer among the other trailers, which involved some manual trailer manipulation in heavy rain.
It was 8pm when we arrived in the hotel. Luckily, I had anticipated this and prepared some sandwiches, so I didn't have to go to the restaurant for a 9pm dinner. Instead, I had one beer and then I went to bed.
I weighed 71.8kg when going to sleep. I usually weigh in after my morning bathroom visit around 200-300g lighter than before going to bed, so all was fine, given the 72.5kg weigh-in limit.
Follow me in social media