Apr 9 2017
Woke up at 7, well rested. First trip to the bathroom, then to the scale.
71.8kg
Why am I rowing this race when I have to row in the Men's (age unrestricted) lightweight category? I have no chance of winning this event. But I guess it is because I enjoy head racing. I think the 6k is one of the most difficult distances. There is a lot of room for errors like going out too fast. There is a technique aspect, and I guess I am closer to the elite on longer distances than on the 2k.
Above all I love doing it. Almost 25 minutes of high quality race rowing. Where can you get that?
Yes, on a canal near a muddy field north of Prague. Among others.
So breakfast was limited to coffee and one bun with jam.
And the amount of water I could drink was capped to 500 ml until the weigh-in. Not fun.
The weather was slightly better than on Friday. It was dry, and there was even some sun now and then. Here is a picture I took of the preparation area. The muddy field with all the boats is to the left. The start is 2km away from this place.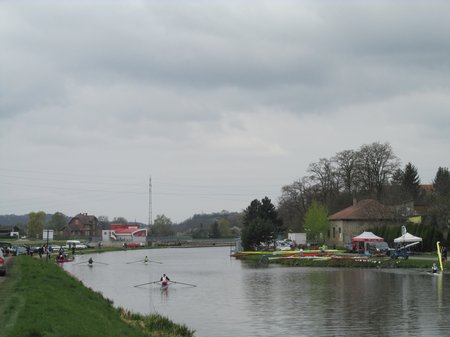 I arrived at this place at 9:30, with the club's minivan. My starting time was at 2:18pm.
At twelve o'clock I went to the weigh-in area to join a small crowd of lightweights. The young guys seem to have accepted my place in this crowd, after 3 years of participating, and a few of them started chatting with me, the crazy Masters rower who rows this race for fun, and not to achieve a qualifying time to be considered for the national team.
I weighed in at 71.8kg, exactly 2 hours before the race start time. So now I had a small window to get some food in (a bun, a banana, and some energy bars and nuts) and drink some water.
Romana was busy with Iva, who had to place 18th to be invited to the "control" races in a couple of weeks. She came in 21st, 7 seconds behind 18th place. In a head wind, she would have made the limit easily. Iva told me afterwards that she had stopped at one point, because a girl flipped. She stopped rowing to ask the girl if she was all right and instruct her dad (who was cycling on the bank) to help the girl. I didn't know what to say when she told me that. I guess she is right and "qualification" is not so important as making sure that nobody gets hurt.
Then it was time for me to launch. In contrast to Iva, I was looking forward to rowing in a tail wind. Of course, now it was my race time, the wind had stopped. Oh well.
I had my "digital rowing" plan thought out quite well. No heart rate strap (to avoid the risk of the dreaded SpeedCoach hangup), new battery in the Empower Oarlock, the Garmin watch to monitor my start time, and a second stroke meter to monitor the distance, because I had set the SpeedCoach to show SPM, Power, Work per Stroke and Effective Length. However, one of our elite rowers was short of a stroke meter, so I gave him that device for his race. No problem, I could manage. I do want to see the elapsed distance, because even though there are markers on the bank for every 1k and I sort of know the course, it is easy to miss the marker and it is even easier to get confused when heavily fatigued.
So, one minute before my start, I switched the Garmin from showing time to recording and showing distance, and set the SpeedCoach to "ready".
There were 24 lightweight men competing, and I started as the 23rd of them, with only Mr Hrstka from Brno behind me. Jan Hrstka is a sympathetic young guy who rows at Lodni Sporty, the club on the other side of my "home" lake, and we see each other regularly when training. Before the start I chatted a bit with him, commenting that we had traveled 250km to look at each other again.
Last sip of water to empty the bottle. Set SpeedCoach to record. Switch Garmin Forerunner to show elapsed distance, watch the two other scullers before me get started, paddle to the starting position.
5-4-3-2-1-GO
I was off. A race start and ten hard strokes and then try to settle for the 240W that I thought was a good power target for this race. This is very hard. On fresh legs, settling for a certain power value is much harder on the water than on the erg. The numbers I saw were above 300W, and I had to consciously lighten up and reduce the stroke rate to get to the 250-270W range.
Exactly 30 seconds after me, Jan Hrstka started. I looked at him. I was doing 28spm and it looked like he was doing 35spm. He quickly closed in on me.
After about 1km, he was just a few lengths behind me.
I stuck to my script and rowed at 230-250W, 500-600J per stroke, and keeping the effective stroke length above 90 degrees. I was curious to see what would happen.
It turns out we continued to row like this for most of the race.
At the half-way point, he had closed in to one length behind, but it had taken him 2km to do that. At that point, Romana and Adam, our head coach, were cheering. I put on a little more pressure.
At 2km to go, Mr Hrstka seemed to make a move. We were closing in on a bridge where the canal is a bit narrower, so I shouted at him that he should finally pass me, which he finally did. When he passed me, I noticed he looked quite worn out.
These 4th and 5th km were quite hard. I saw the power drop, occasionally to 210W, and had difficulty keeping the effective length high. Also, now I had to row in Mr Hrstka's puddles. I was wondering if I should have tried to increase the power and stay ahead of him.
The last bridge, 1.5km before the finish, and the start of a long and slow turn in the canal.
When I saw 5km on the Garmin, I started counting strokes. With 500m to go I tried to squeeze out everything and empty the tank, which I think I succeeded in doing.
In the end result, I came in 19th place out of 24 rowers, in a time of 24:48.8 minutes, beating 5 guys (among them 3 U23 rowers). If I had started with the heavies, I also would have beaten quite a few rowers. Jan Hrstka came in 13th place. Our club's second best lightweight (the best guy had a race in Italy) beat me by a minute. Complete results here.
So, I am pretty happy with that result. A minute faster than a year ago, but then it was in headwind, while today there was a very very light tailwind (when I rowed). A year ago I came 15th out of 16 (and Jan Hrstka was 90 seconds faster than I). In 2015, I was 14th out of 17 in a time of 25:05. My gap with the winner is constant around 2 minutes and 40 seconds. Quite a gap!

Workout Summary - media/20170409-073849-Sanders SpeedCoach 20170408 0217pmo.csv
--|Total|-Total-|--Avg--|-Avg-|Avg-|-Avg-|-Max-|-Avg
--|Dist-|-Time--|-Pace--|-Pwr-|SPM-|-HR--|-HR--|-DPS
--|05918|25:09.0|02:07.6|243.6|27.8|0.0|000.0|08.4
W-|05918|25:10.0|02:07.6|243.6|27.8|000.0|000.0|08.5
R-|00000|00:00.0|00:00.0|000.0|00.0|000.0|000.0|00.0
Workout Details
#-|SDist|-Split-|-SPace-|-Pwr-|SPM-|AvgHR|MaxHR|DPS-
00|00150|00:51.8|02:52.7|237.9|27.6|000.0|0.0|06.3
01|00500|02:05.9|02:05.9|266.1|27.8|000.0|0.0|08.6
02|00500|02:04.4|02:04.4|251.3|27.1|000.0|0.0|08.9
03|00500|02:06.1|02:06.1|249.9|27.4|000.0|0.0|08.7
04|00500|02:08.0|02:08.0|242.6|27.6|000.0|0.0|08.5
05|00500|02:05.9|02:05.9|249.5|27.7|000.0|0.0|08.6
06|00500|02:05.5|02:05.5|250.2|28.3|000.0|0.0|08.5
07|00500|02:04.8|02:04.8|238.8|28.1|000.0|0.0|08.6
08|00500|02:06.9|02:06.9|232.9|27.6|000.0|0.0|08.6
09|00500|02:08.2|02:08.2|229.4|27.2|000.0|0.0|08.6
10|00500|02:07.3|02:07.3|232.1|27.7|000.0|0.0|08.5
11|00500|02:08.2|02:08.2|246.5|28.4|000.0|0.0|08.3
12|00268|01:07.8|02:06.3|230.5|30.0|000.0|0.0|07.9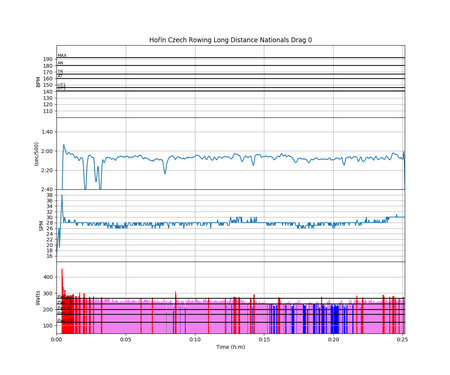 After the finish, there was only a few minutes on the water to relax. After that there was a lot of work to do. Carrying the boat to the trailer (which is extremely hard after such a 6k race). Preparing the boat for transport. Walking to the car to get dry clothes.
Here are a few pictures from the official race photographer.
Then it was time to drive home. I didn't have to travel with the trailer, because Romana had arrived with our car. We caught up with the trailer at one gas station, so I took a quick picture.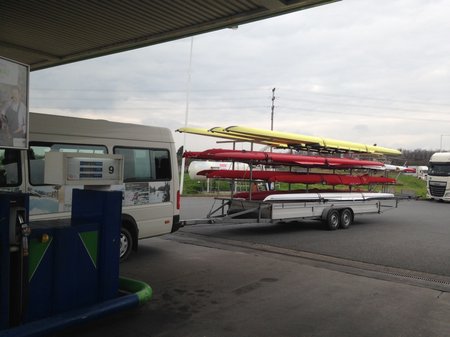 Race Data Analytics
Here are the detailed graphs of my race, for the data junkies (including myself)
And here is the key graph from the entire row.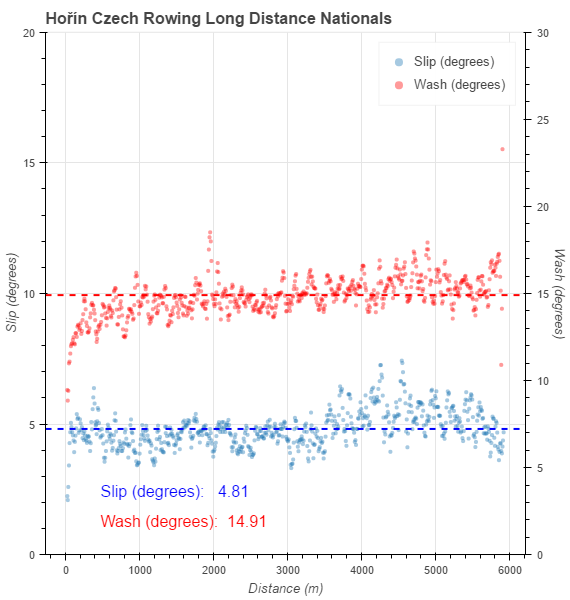 Both slip and wash became gradually worse as I got fatigued, and especially seemed to suffer from rowing in the puddles of Jan Hrstka.
Follow me in social media