Nov 27 2016
This has been a terrible week for training. My boss and my former boss are in town.
I had a business dinner on Wednesday. On Thursday, I had a collision of a jazz concert that Romana and I planned to go to (my birthday present to her) and a surprise party where I was one of the peoples to be surprised, because we are celebrating the closure of a 8 year $60 Million project that I helped win back in 2008, and managed until recently. Then a big "Town Hall" meeting on Friday morning, where we said good bye to my former boss who is retiring, and presented our organization's strategy for the coming few years.
At least I rode to work on the bike on Wednesday.
On Thursday, I did nothing. I went to the start of the surprise party. I had a little thank you speech there, grabbed something to eat, admired the photos from various team building activities, talked to many (too few) people, and then I left for the concert. The concert was great, it was the Slovak-American trumpetist Laco Deczi and his Jazz Celula New York. We arrived home very late.
I also heard that the surprise party was great and didn't finish until the early hours on Friday. It was probably wise that I didn't go back to that party after the jazz concert. :-/
On Friday, I didn't manage to do much more than a bike ride home from work.
On Saturday, there was a big day of works at the rowing club. We cleaned up the launches, drove my trailer into the hangar, and removed the summer dock. The original plan was that the dock would stay there and rest on special supports that we had built. (Because the water level of the lake is lowered drastically in winter, we had to build supports to carry the dock.) However, it turns out that people walking along the lake banks think it is fun to climb on our dock and jump up and down on it. The problem is that with the low water level, people can walk onto our premises without passing a gate. The supports do carry the dock itself, but of course the jumping could damage it, so we were forced to remove the pontoons for the winter. Anyway, better safe than sorry.
I also was part of a group who had to clean the banks of the Svratka river just below the Brno Dam.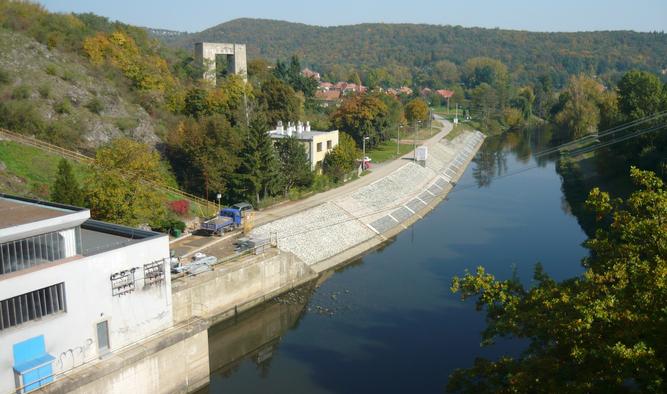 On the picture, taken from the dam, you can see the stone banks on the left side, which are clean, and the same ones on the right side, where plants are growing between the stones. The work was quite hard, because you are balancing on a >30 degree slope close to a freezing cold river and trying to tear plants. Together with sprinting up and down the stairs to the top of the dam, that was quite a hard workout on the hamstrings, so I decided to leave it at that.
Sunday
So this morning I had to start doing something again. I decided to do an hour of power. Did a 2km warming up, then dialed up a 1:00:00 workout on the PM5 and started rowing. The idea was to do my usual 1000/750/500/250m sets but at 24/25/26/27spm and see where the ship would strand. If I would manage to complete the full hour, I would have a good chance at setting a PB.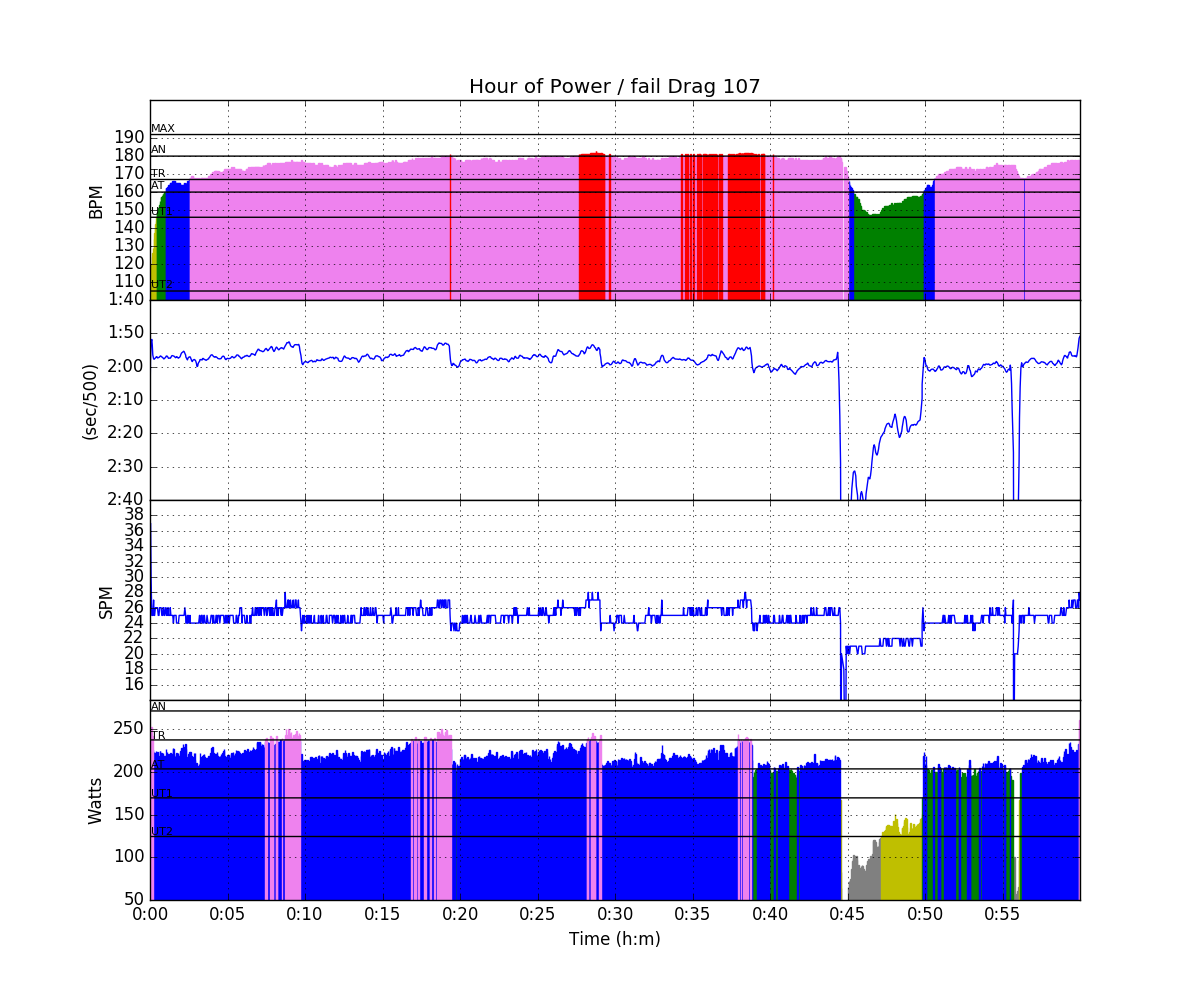 I almost made it. Going into the second 30 minutes I had good hopes that I would be tough enough to finish at the planned paces, but with 40 minutes to go, switching back to 24spm, I had difficulty holding a pace below 2:00 per 500m. And somewhere in that 5th interval I just stopped rowing.
I paddled until 12.5km was done, then wanted to do a final interval at the planned paces, but even that one didn't go entirely to plan.

Workout Summary - media/20161127-104306-sled_2016-11-27T10-07-13ZGMT+1.strokes.csv
--|Total|-Total-|--Avg--|-Avg-|Avg-|-Avg-|-Max-|-Avg
--|Dist-|-Time--|-Pace--|-Pwr-|SPM-|-HR--|-HR--|-DPS
--|15036|59:58.0|01:59.7|209.2|24.7|174.2|183.0|10.2
W-|15036|59:59.0|01:59.7|208.4|24.6|174.1|183.0|10.2
R-|00000|00:00.0|00:00.0|000.0|00.0|000.0|183.0|00.0
Workout Details
#-|SDist|-Split-|-SPace-|-Pwr-|SPM-|AvgHR|MaxHR|DPS-
01|02500|09:38.1|01:55.6|225.3|25.1|168.7|178.0|10.3
02|02500|09:40.2|01:56.0|224.3|25.0|176.7|180.0|10.3
03|02500|09:42.8|01:56.6|221.4|25.2|179.0|183.0|10.2
04|02500|09:46.6|01:57.3|217.2|25.2|179.9|182.0|10.2
05|02500|11:00.2|02:12.0|165.5|23.0|168.5|182.0|09.9
06|02500|10:03.3|02:00.7|202.1|24.6|172.5|178.0|10.1
07|00036|00:08.0|01:51.3|256.6|27.0|178.0|178.0|10.0

I guess I was too close to PB and I am not in shape to do a PB. You could also say that I sacrificed this week's training to work and party hard. Sometimes that is necessary as well. It doesn't make you faster, but in a job like mine you just can't optimize only for the rowing.
A few stats plots:
Follow me in social media