Oct 28 2016
Enough ladies turned up to fill the eight, so I was thrown out, unfortunately. I was looking forward to rowing in the eight.
So it was an outing in the single. The lake was mirror flat, but we were all rowing in our little armada of four pairs, three singles and one eight, so I got my share of rowing in other boats' puddles. Still it was a perfect day to work on technique.
I did few drills, but tried to row at 18spm with attention to making the boat run.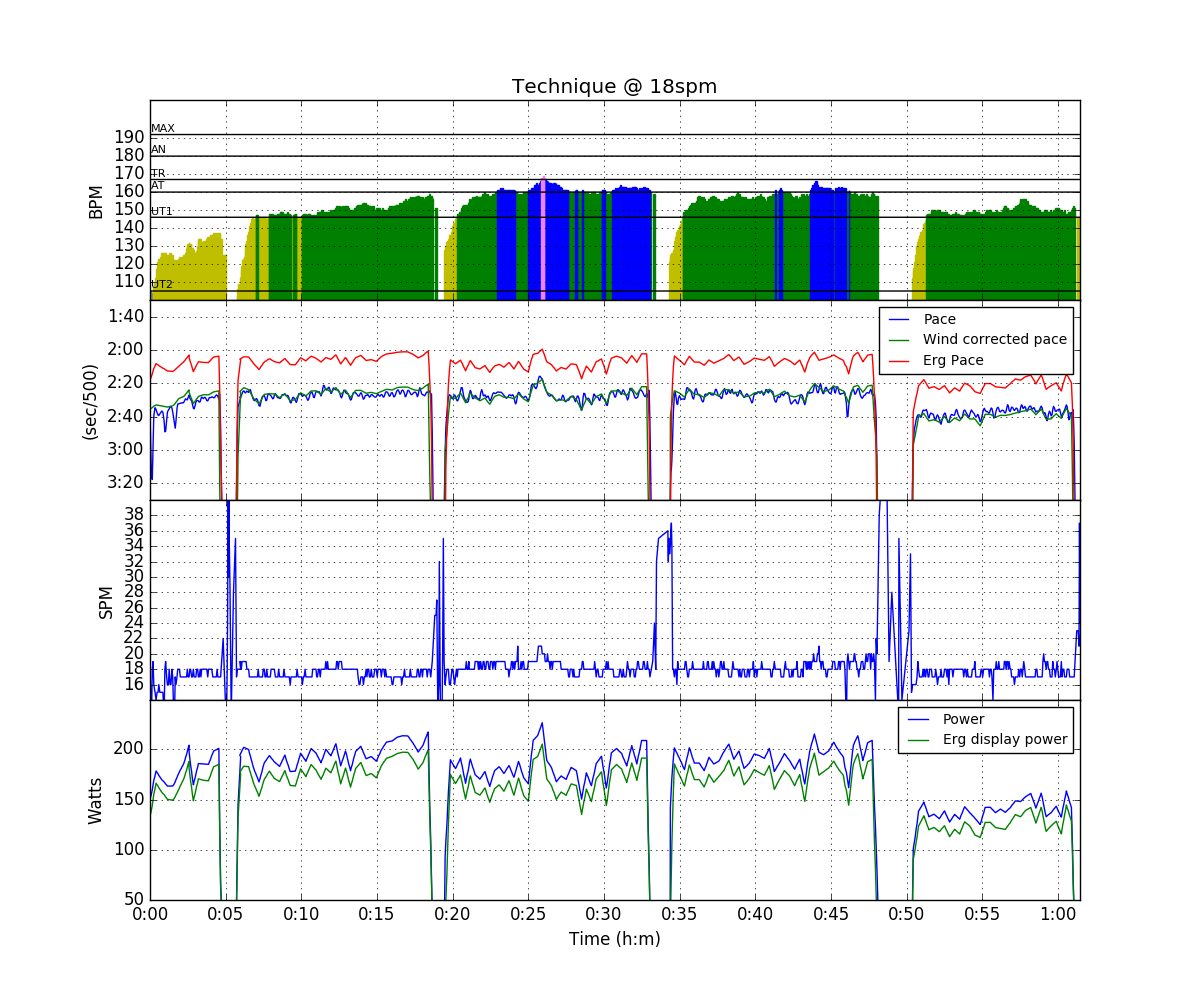 The high SPM stuff was drills at the turning points.

Workout Summary - media/20161028-110433-Sanders SpeedCoach 20161028 1005amo.csv
--|Total|-Total-|--Avg--|Avg-|-Avg-|-Max-|-Avg
--|Dist-|-Time--|-Pace--|SPM-|-HR--|-HR--|-DPS
--|11404|61:26.0|02:41.6|18.3|150.3|169.0|10.1
W-|10819|53:45.0|02:29.1|17.9|152.0|169.0|11.3
R-|00590|07:41.0|06:30.9|09.5|055.5|169.0|00.0
Workout Details
#-|SDist|-Split-|-SPace-|SPM-|AvgHR|MaxHR|DPS-
01|00918|04:33.0|02:28.7|16.9|127.2|137.0|12.0
02|02572|12:26.8|02:25.2|17.5|149.1|159.0|11.8
03|02686|13:07.4|02:26.6|18.3|159.8|169.0|11.2
04|02704|13:12.8|02:26.6|18.2|157.5|166.0|11.3
05|01939|10:25.8|02:41.4|17.8|149.5|156.0|10.4

This slideshow requires JavaScript.