Oct 6 2016
Arrived at the club at 4pm just to see my daughter taking the single. A little miscommunication. Romana had told me in the morning that Lenka had school late and wouldn't make it to practice. However, being nervous for the race in two days, Lenka had swapped a class and managed to be in time. Everybody wants to get OTW kilometers in to do some final technique fixes.
So I did 4km of unrecorded erg rowing on one of the rowing club ergs, and then I could get on the water. I wanted to do just a quick 6km round and then load the boat to the trailer.
The two kilometers from the dock to Rokle were uneventful. I did 20 strokes at head race pace into the headwind. At 2:04 pace, so probably a bit too hard. Then I turned around.
In front of the nude beach, I wanted to do another 20 strokes at head race pace. I was interested in the pace in the tailwind. After two strokes, I heard a loud cracking sound.
My wing rigger had cracked. This is not the first time it happened to me. This wing is already a replacement, after the original wing cracked a year and a half ago.
I guess the pictures are not very clear. Here you can see it happen in the session graph. The pace dip at 11 minutes is me turning around. The dip at 15:30 is when the rigger cracked.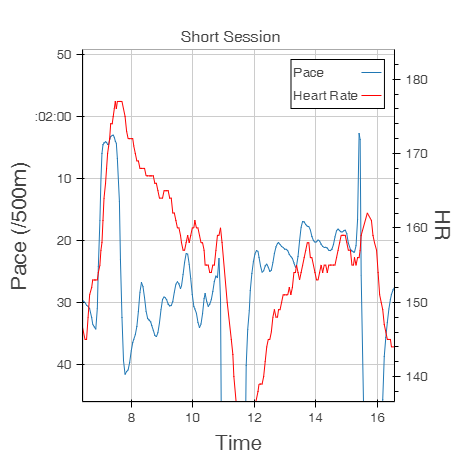 So the only thing I could do was row back slowly to the dock, which was quite different because the oar angle had changed and my blades were disappearing under water. Then I called the manufacturer, a local boat builder.
He will bring a spare rigger this evening.
I loaded the boat on the trailer, took a shower and drove home, broken wing in the back of the car. It's on the kitchen table now. I have measured all the rigging parameters and when the new rigger arrives in an hour or so, I will be able to set it up identically, such that Lenka will be able to do her practice row in Hradiste tomorrow morning.