Aug 22 2016
This Friday was to be the first row after a longer break. Almost three weeks of doing nothing. After the Euromasters regatta in Munich, I had to spend a few very long days at work to finish everything that needed to be finished before my vacation, and then the Roosendaal family drove down to the Istrian peninsula in Croatia for a week at the coast:
This slideshow requires JavaScript.
I did one 5km run with the Garmin, to gather evidence that our AirBnB accomodation was not 500m from the sea (as advertised), and not 1km from the sea (as told to us by the owner upon arrival). It was 2.5km from the beach. Front door to sea water distance. So I guess I can add a few 5km hikes to the exercise list as well. Otherwise, it was a perfect week. Nice weather. Lots of very picturesque places to visit, good food and wine and interesting Roman historical sites. It always amazes me how you can hop in a car, drive a few hours (across the Alps) and go from Middle Europe to the Mediterranean, including the different light, different food, different architecture, different landscape …
But Middle Europe is not a bad place for a vacation either. We returned from Croatia, relaxed a few days at home in Brno (including washing up and watching Olympic rowing finals), and then we loaded the trailer with two boats and four bicycles and headed for Třeboň in South Bohemia.
This slideshow requires JavaScript.
We were in Trebon to combine a few things. One, our daughter Lenka and her rowing partner Iva joined a rowing camp with the Hodonin Rowing club, and we had to bring the boats there for them to train on. Two, after a week of resting on the beach we were ready for a more active type of vacation.
We didn't row, but enjoyed cycling. The region around Trebon is relatively flat. Because this area was close to the Iron Curtain, it is very sparsely populated and has a lot of pristine nature, covered with a web of narrow paved roads (used for Communist era border patrol vehicles, now transformed to bicycle paths). We would either ride direct from the camping site or take the train to a place 40-50 km away and then cycle back.
In the weekend, the local rowing club organized it's annual regatta, so I decided that Friday was a good day to pick up the rowing again. First, I did a quick row in the double with my son Dominik (11 years) on the stroke seat, as a preparation for Saturday's special 500m race in the "Masters+Boy/Girl (11-14)" category. I just wanted to get the footstretcher settings and gate heights right, and give Dominik peace of mind that he was actually able to stroke a double (and his dad to follow him). Mission accomplished.
After that I rigged and launched in the single. Rowed a 2km warming up, then a 3x250m/500m rest session, followed by a 1.5km cooling down. That was enough for the day.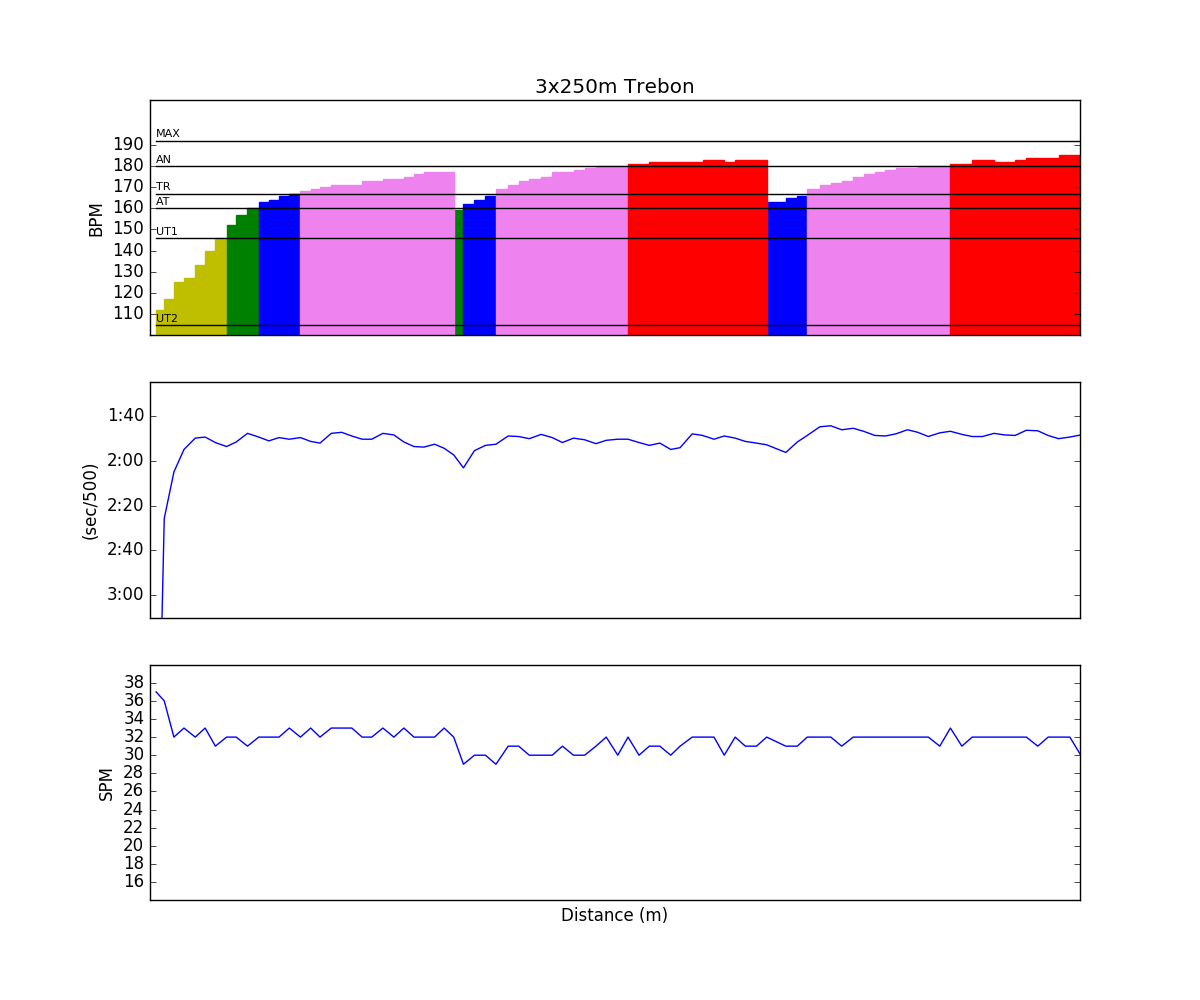 Stats:

Work Details
#-|SDist|-Split-|-SPace-|SPM-|AvgHR|MaxHR|DPS-
01|00250| 056.5 | 1:53.0|31.9| 157 | 177 | 8.3
02|00250| 055.9 | 1:51.7|31.1| 177 | 183 | 8.6
03|00250| 054.4 | 1:48.8|30.9| 177 | 185 | 8.9
Workout Summary
--|00750| 2:46.8| 1:51.2|31.3| 170 | 185 | 8.6

Follow me in social media