Aug 1 2016
Masters B (37 years and older) single
My race was at 10:41 so almost copy-paste from Friday in terms of race preparation. The only difference was that this was going to be a very hot day. I sweated a lot during the warming up run and I drank a lot of Isostar to remain well hydrated.
The procedure would be the same. Each heat winner would get a medal and be able to call himself "Winner at Euromasters 2016" and the heat winners would automatically qualify for the "Munich Trophy" races on Sunday. In case of less than 6 heats, the open lanes would be filled with the fastest non-winners from the heat, in order of finish time. In case a rower qualifies in more than one age category, he would have to row in his own age category, and his open place would be filled with the next fastest rower, etc. I like the concept, but there is a caveat. More about that later.
The heats were organized by age, so I ended up in one of the earlier heats with a mix of C and true B single scullers. I didn't know any of the other participants. I would find out at the start.
I decided to launch late because of the heat, so the warming up was relatively short. I rowed to the start, then continued for another 750m, turned around, did a practice start, and then paddled to the pre-start. Two Croatian rowers were missing from the race scheduled before me, so they decided to let my heat start before that one. So suddenly I was in the starting pontoon. Which was good, actually, because backing up into the starting pontoon is when my nerves usually start to calm down.
To my right was an Italian guy who looked beatable. To my left was a German guy who I noticed had some difficulty backing up into the starting pontoon. Then in lane four a broad-shouldered, big German guy. And in lane 5 an Italian guy.
Romana was on the bike path on her bike. With a few German guys who were supporting Lane 4 (Sebastian Gobel). Romana later told me that they apparently were confident their guy would win and they were making fun of the skinny Czech/Dutch guy in lane 2 (me). I believe her. You don't have to believe her, but it's a good story.
This time I was prepared for the starting routine, so when they started to call out the lanes, I mentally put the volume of the starter's words lower and increased the signal in the visual channel: I watched him grab his flag, raise it, and I shot out of the starting pontoon. Practicing starts really helps.
Start strokes. Then 10 power strokes. Then check position in field.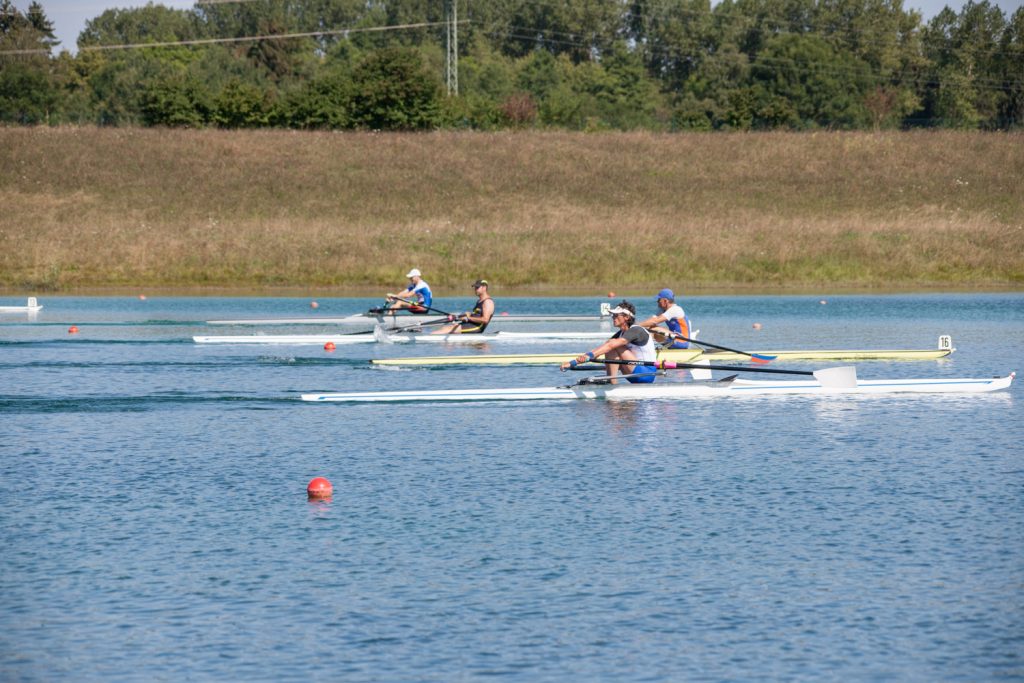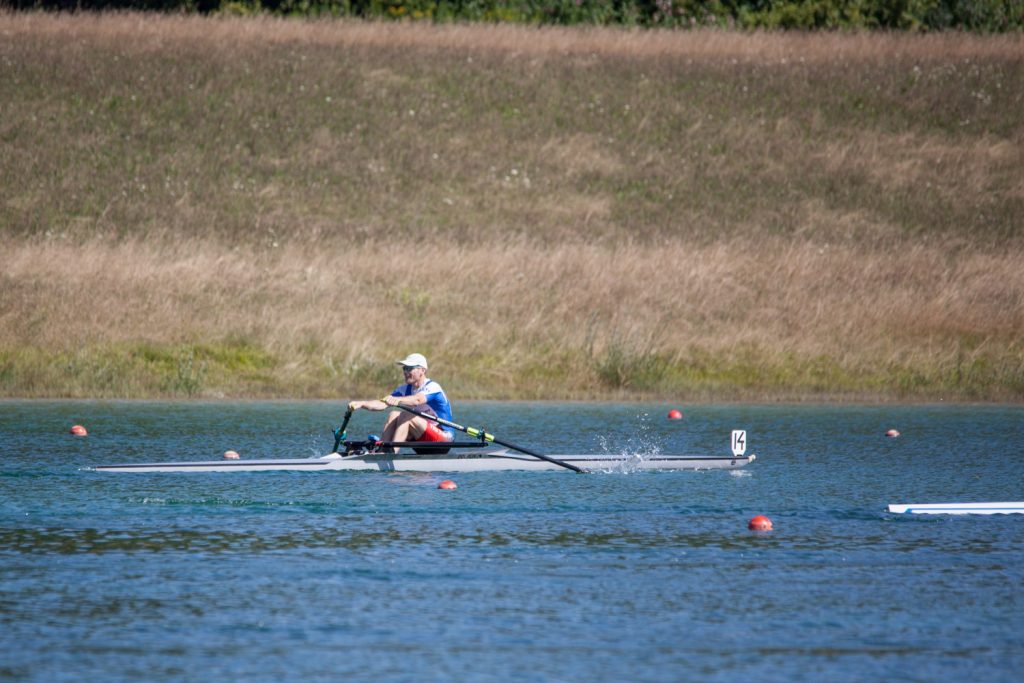 I was out in front. On my own. There was light between me and Lane 4.
That, I thought, is quite a good position to win.
With 900m to go, I thought, that is a lot of strokes left to spoil a perfect opportunity. Not sure whether to go to race pace directly or to continue at a slightly higher pace and build out the lead. I decided to do something in between. Focus on technique. Ten strokes on length. Ten strokes on a good tap down. Ten strokes on rhythm. That brought me to the 500m mark and I was in a comfortable lead. There was more than enough light between me and Lane 4, and the rest of the field was not a threat any more.
Romana shouted to watch out for lane 4. I knew that. He was pushing.
Instead of my usual push I let the stroke rate drop to 30spm to save energy, see what the Lane 4's push would do to our relative positions and then respond.
Our relative positions didn't change.
In a 1000m race, the third 250m is always the hardest one. But this time I was in a comfortable position that I could stay calm, push away at 30spm and survive the lactate rush relatively easy.
250m to go. The shadow of the grand stand. I took up the rate a bit, mainly for my fans, and also hoping to increase the gap a bit.
I wanted the race to be over. And at the same time I wanted the moment to last forever.
I saw the finish tower in my peripheral vision.
A few strokes. I heard the speaker say my name.
Beep. Finished. WIN!!!!!!

WIN!!!!
Very happy. German guy in lane 4 came second, 10 seconds behind me.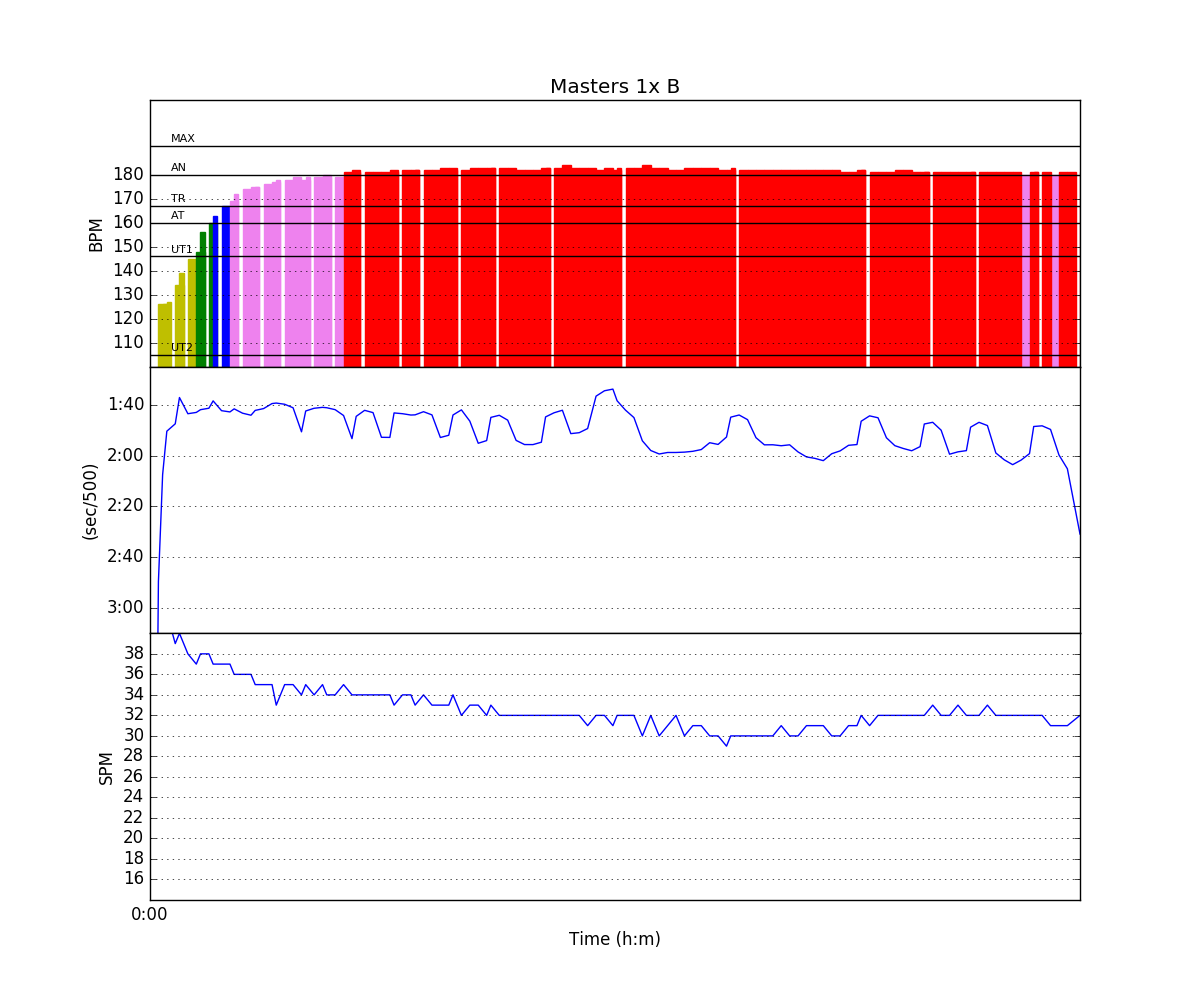 We both waited for the rest of the field to finish.
I paddled to the finish tower, got my medal, and enjoyed a 1000m cooling down. Lots of pictures were taken (which I will publish later when I get them by email), and congratulations received.
Also, I had qualified for the Munich Trophy, to be rowed at 9:20 AM on Sunday. Checking the times, I would be among the three slower boats in that race, and I wondered if it was worth rowing this race, knowing that I wanted to row well in the mix double a few hours later on Sunday.
Later that Saturday afternoon I went to the finish tower and officially withdrew from the race. I had prioritized the mixed row with Romana.
Men Masters A (27 years and older) quad
Only two hours after the singles race, I stroked an ad hoc quad with two other Czech Rowers (the guys in below picture) and a Slovak guy from Piest'any. I guess we were a true Czechoslovak team. Even though our age was C (43 and older), due to our late registration we had to compete in the A category. We also had some difficulty complying with the "uniform clothing rule". We decided for black shorts and white shirts. I wore my club shirt inside out (sort of white) over my black/red training uni.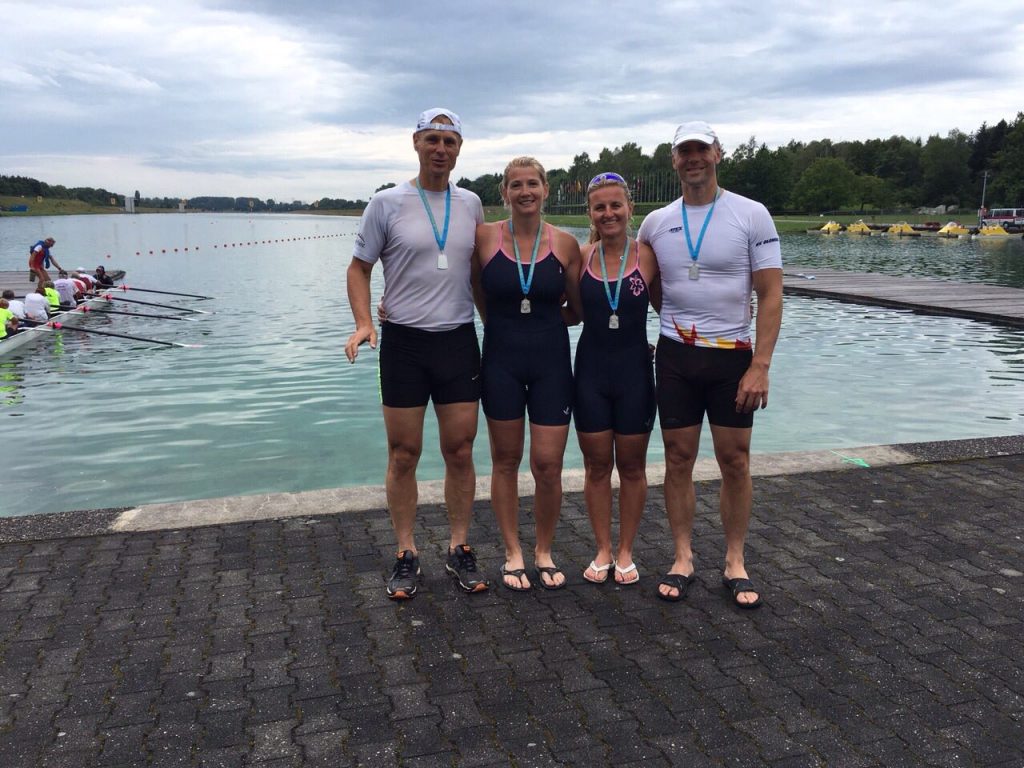 The Italian crew next to us got an official warning for not being uniformly clothed, and I kind of expected to get a warning as well, but we passed.
We rowed well, but two German boats were much too fast for us. We had some nice racing for the third place with the Italian crew.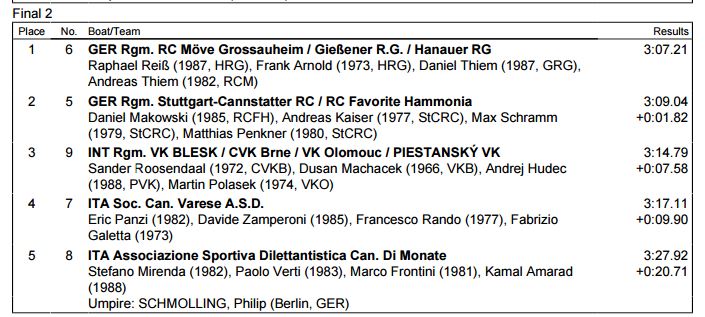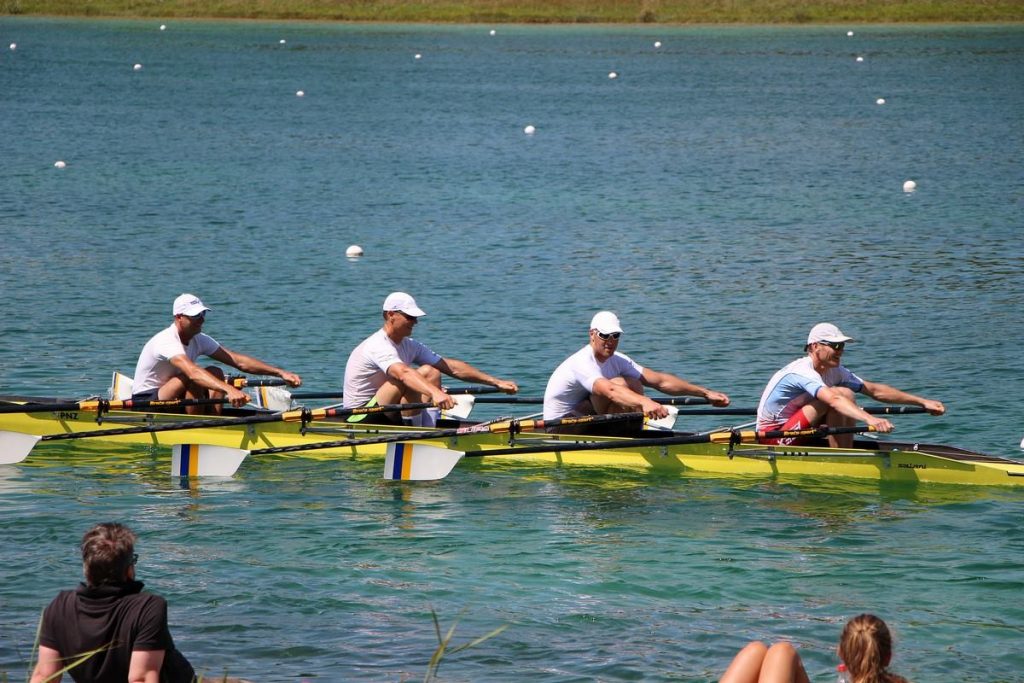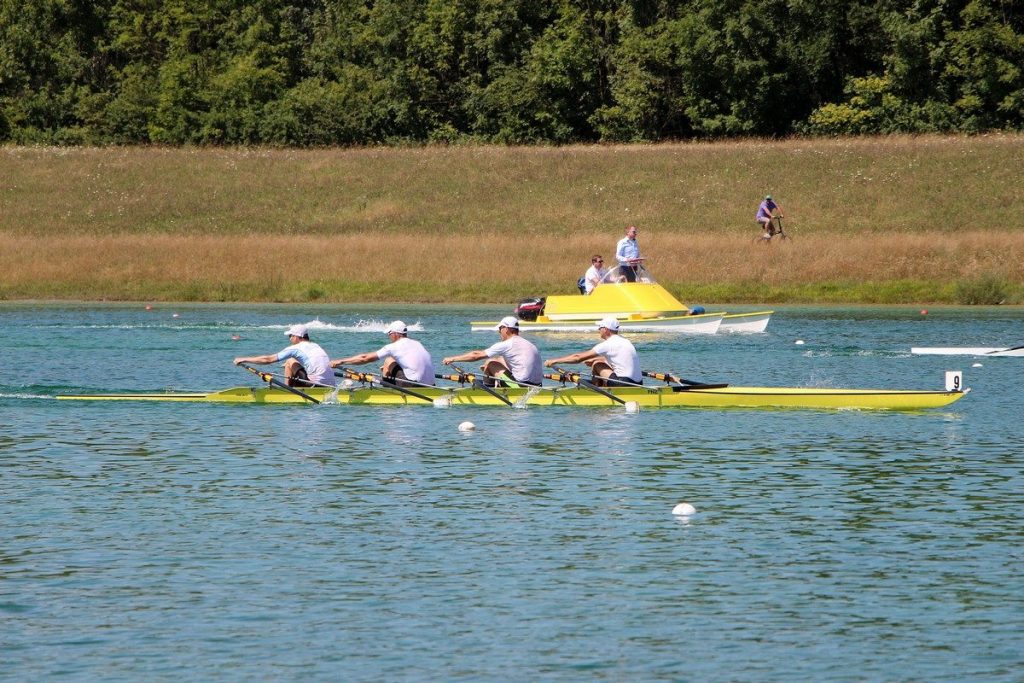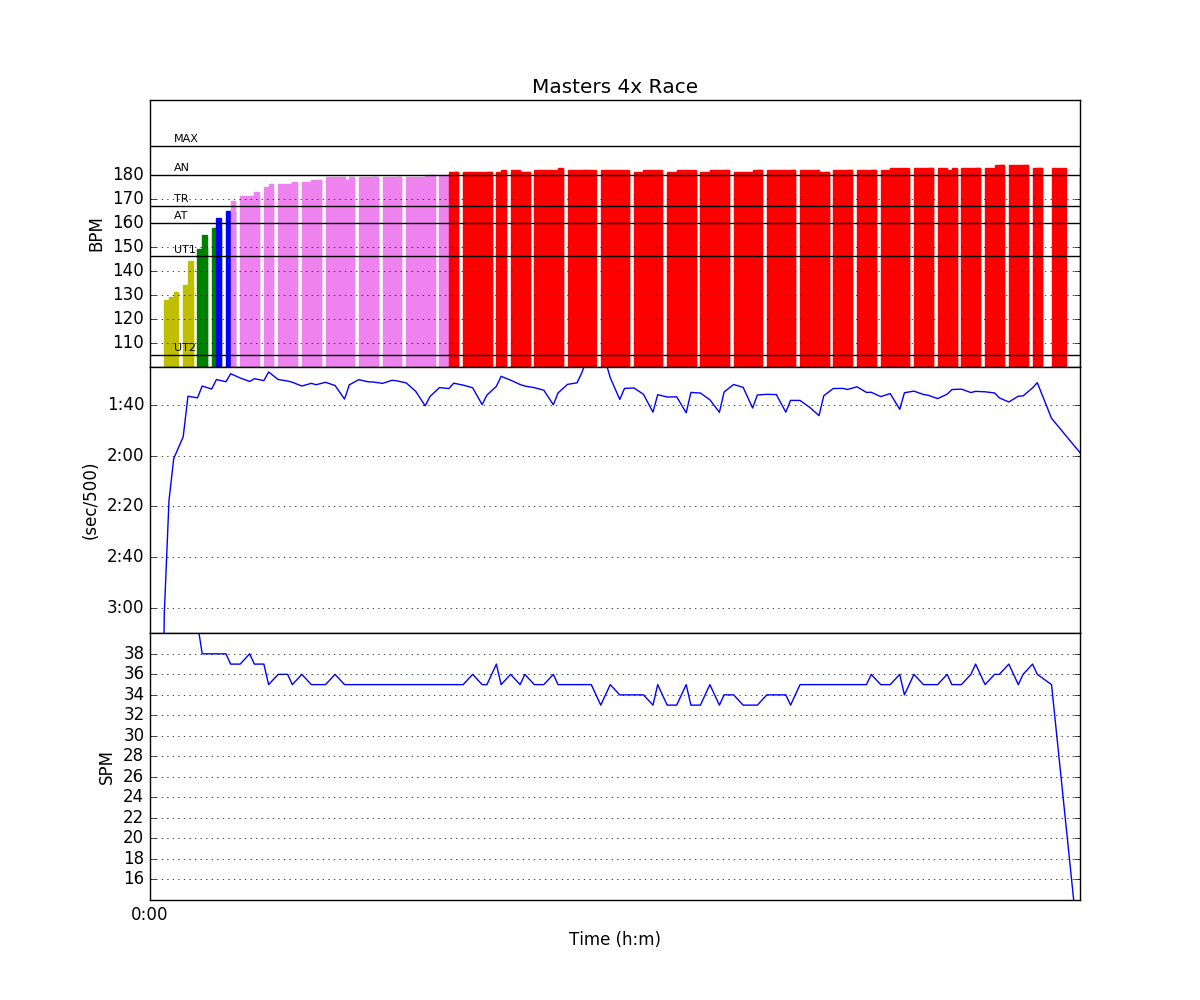 Supporting – WIN!!!
Romana and her eight won the D category in a three boat race that turned out to be a thriller.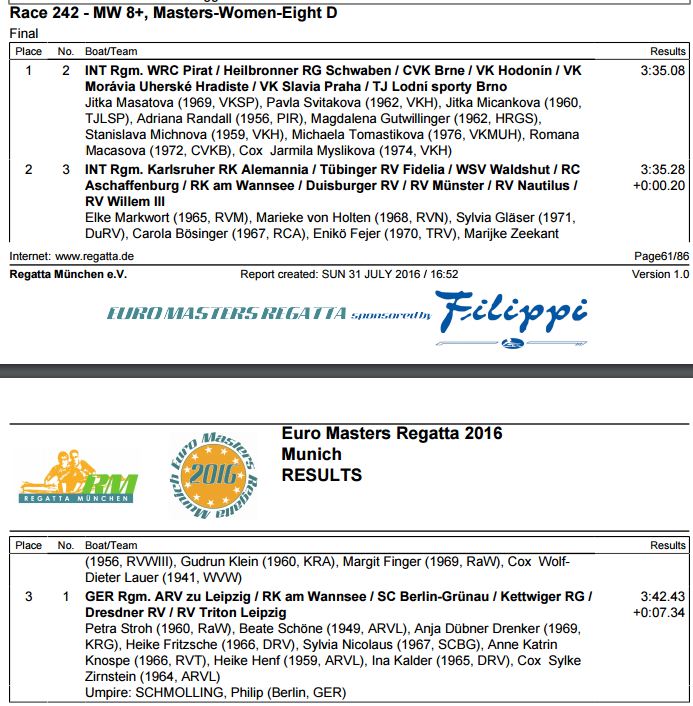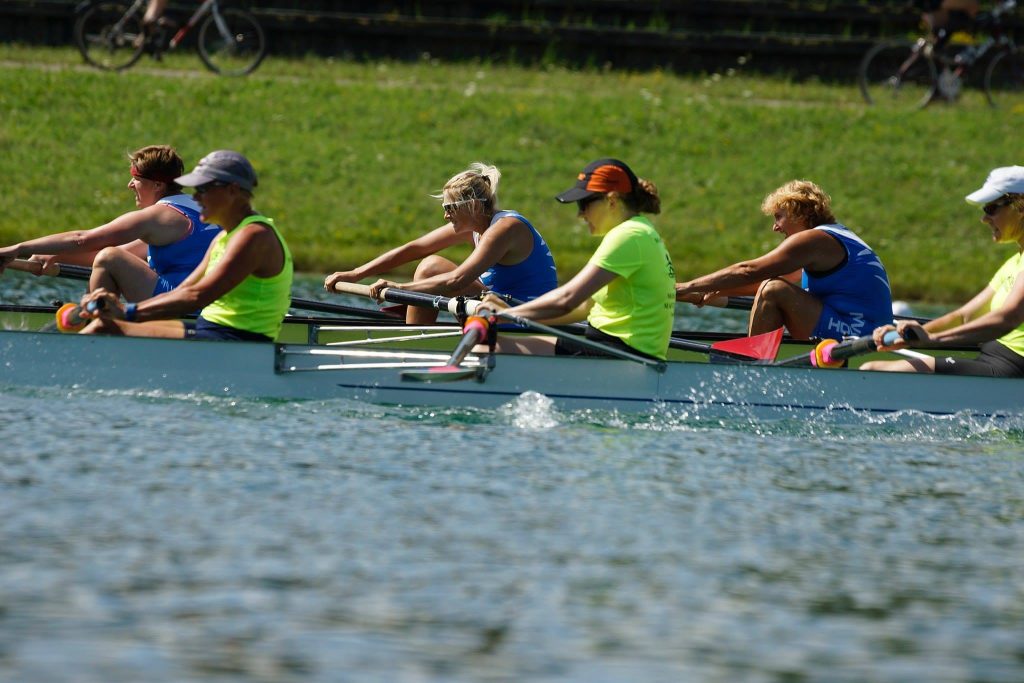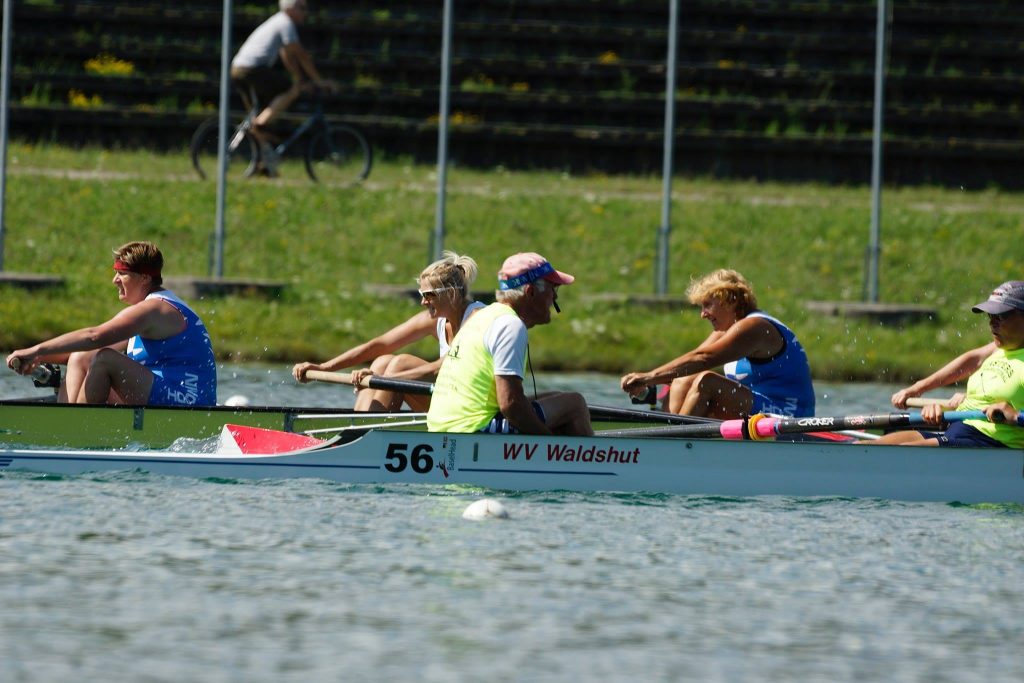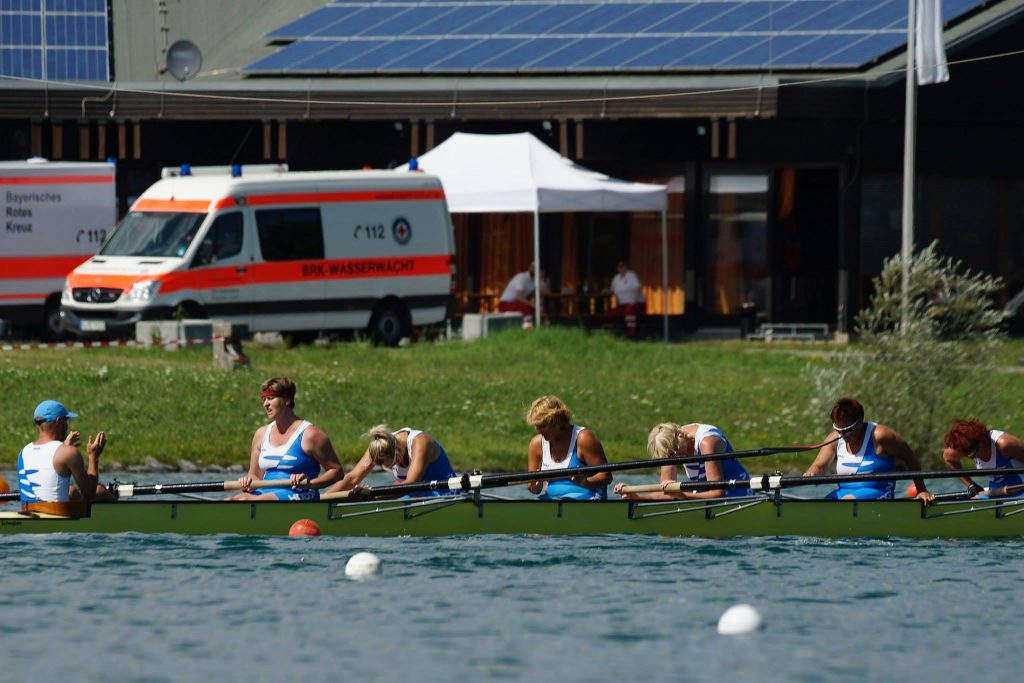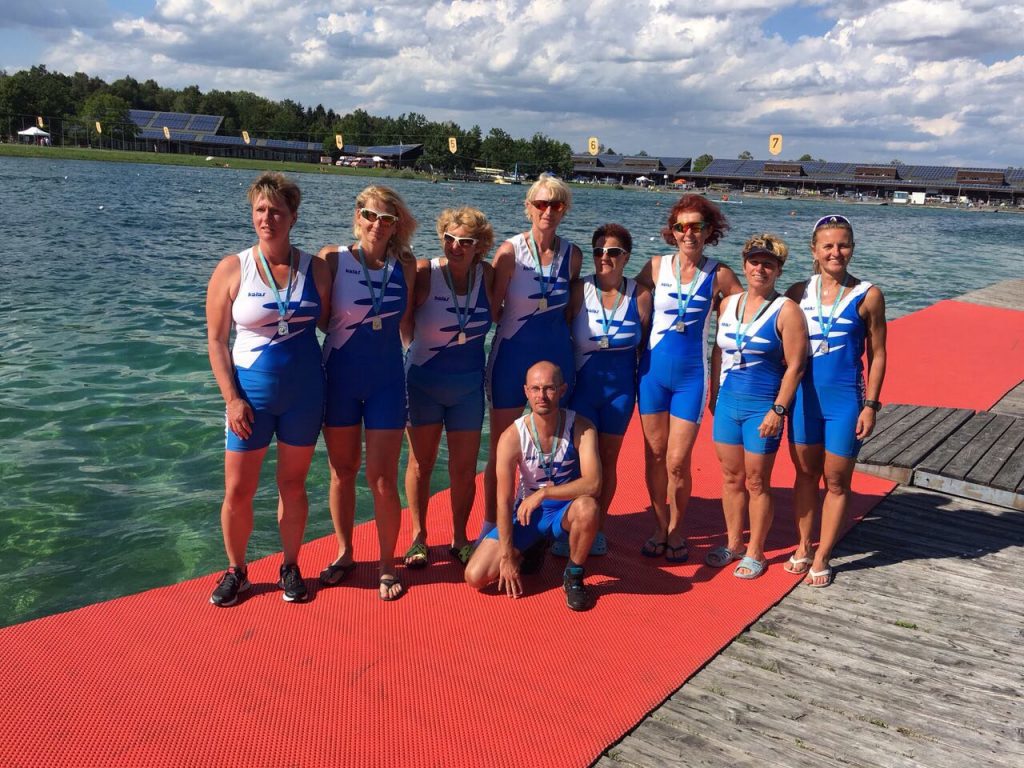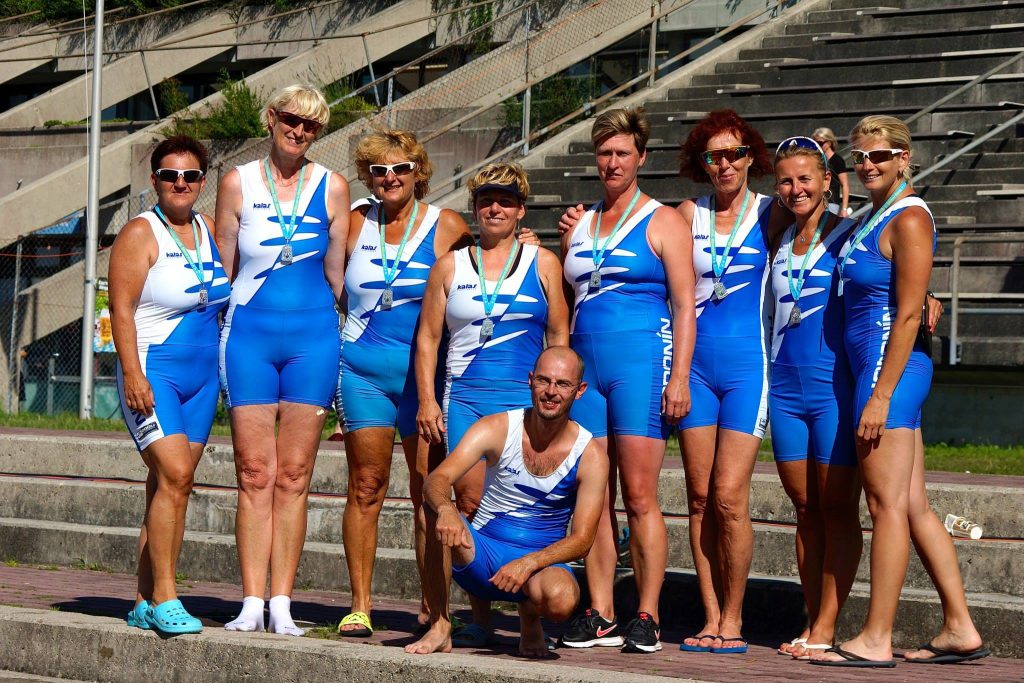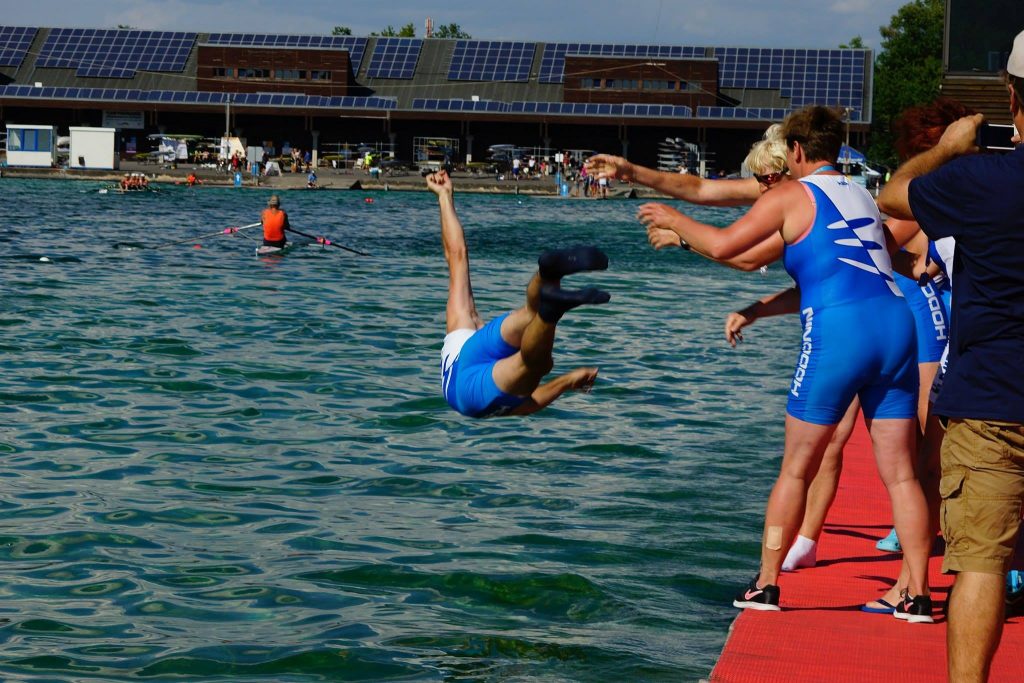 In the evening, Romana and I took the double for a quick row. Just 4km to check the boat. Then we took a shower and dressed up for the Masters Party. Dancing to a Bavarian live band and mediocre food, and beer, what could you wish more! Good food perhaps. The beer was excellent though.
Thunderstorms in the distance while we cycled home.