Jun 5 2016
Primátorky races. Eights and singles in the heart of Prague, on the Moldau river. The culmination of the season for many Czech Masters teams.
As you have been able to read here, also the Masters men of CVK Brno put in a few trainings on the eight, to defend their series of 4 subsequent wins on this race. Last year I didn't take part because of back issues, but this year I would be rowing on 2 seat.
We left Brno on Saturday morning. A comfortable 2.5 hour train ride brought us to Prague. The race would only be at 7pm, so time enough for a nice lunch with Romana and some race watching.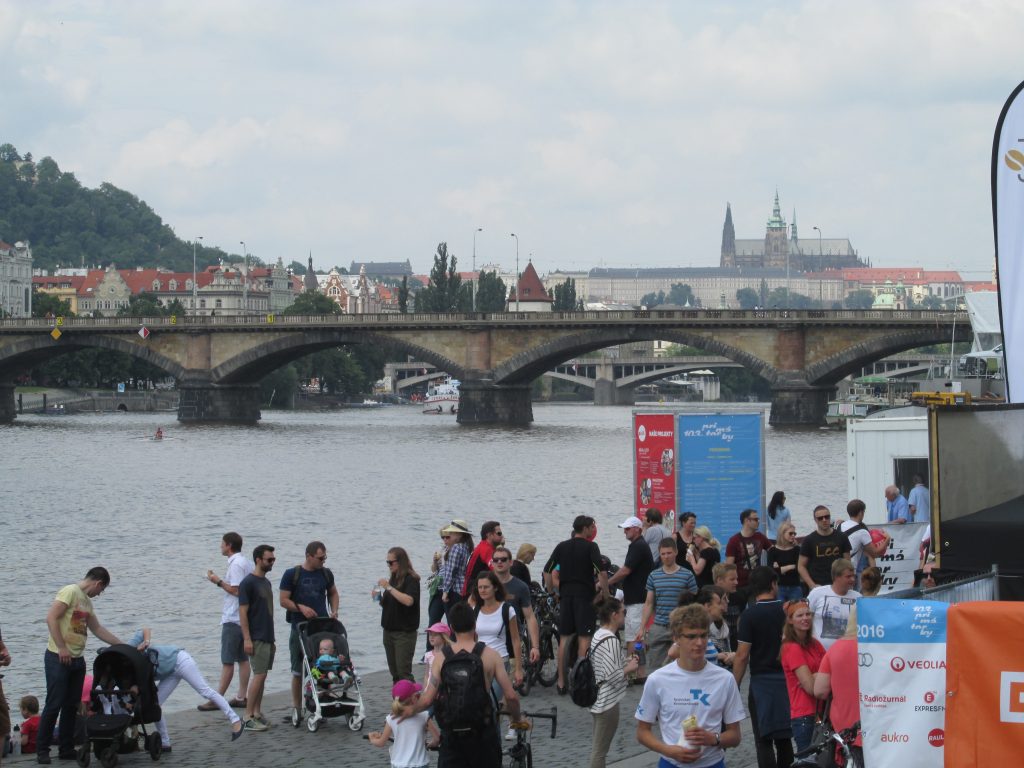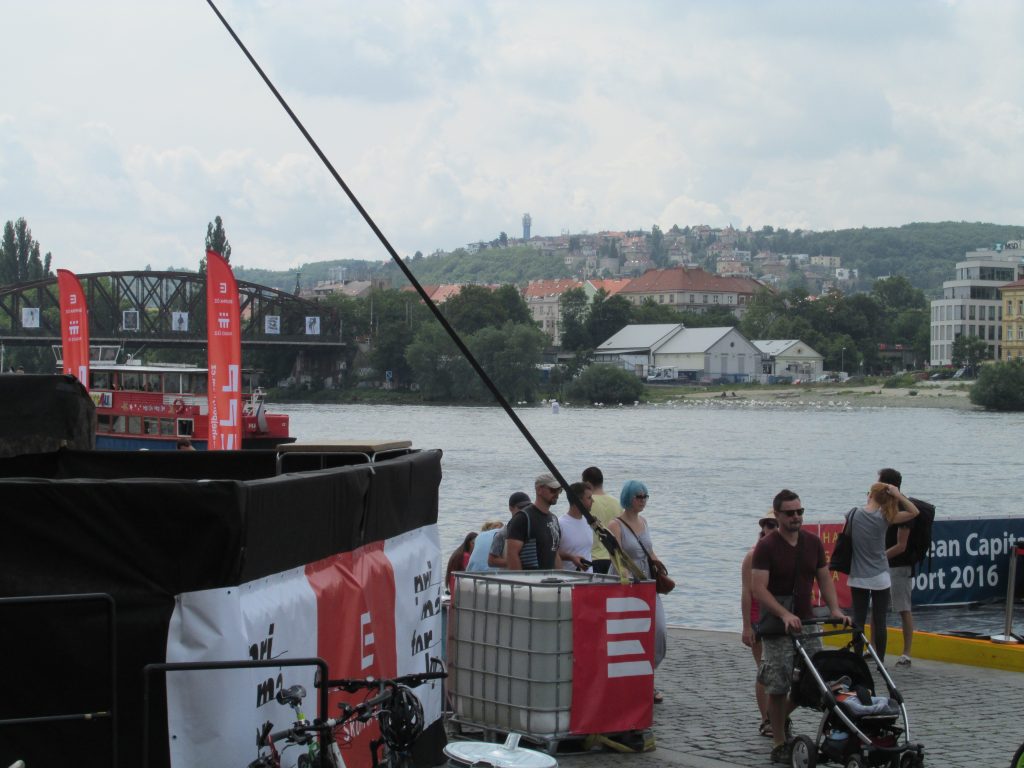 After watching a few races from the grandstand, I moved to the Railway Bridge to take pictures of our Men's Eight (the young men) in their heat.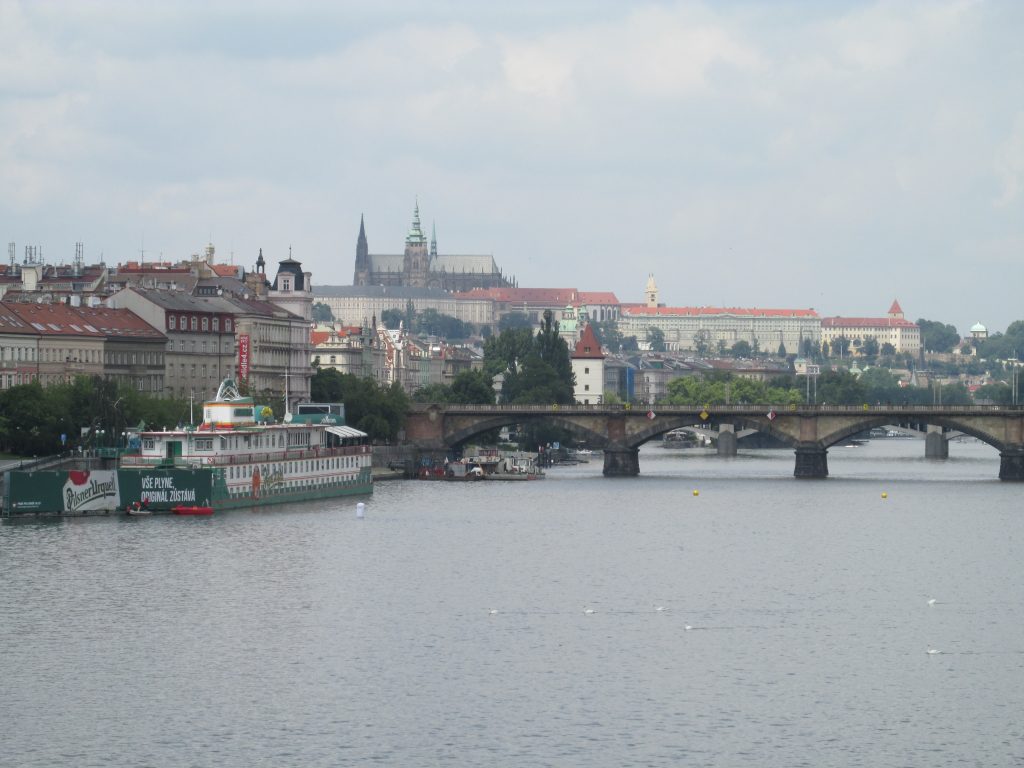 Prague is a great place to race. Here is the first men's eight heat approaching the railway bridge.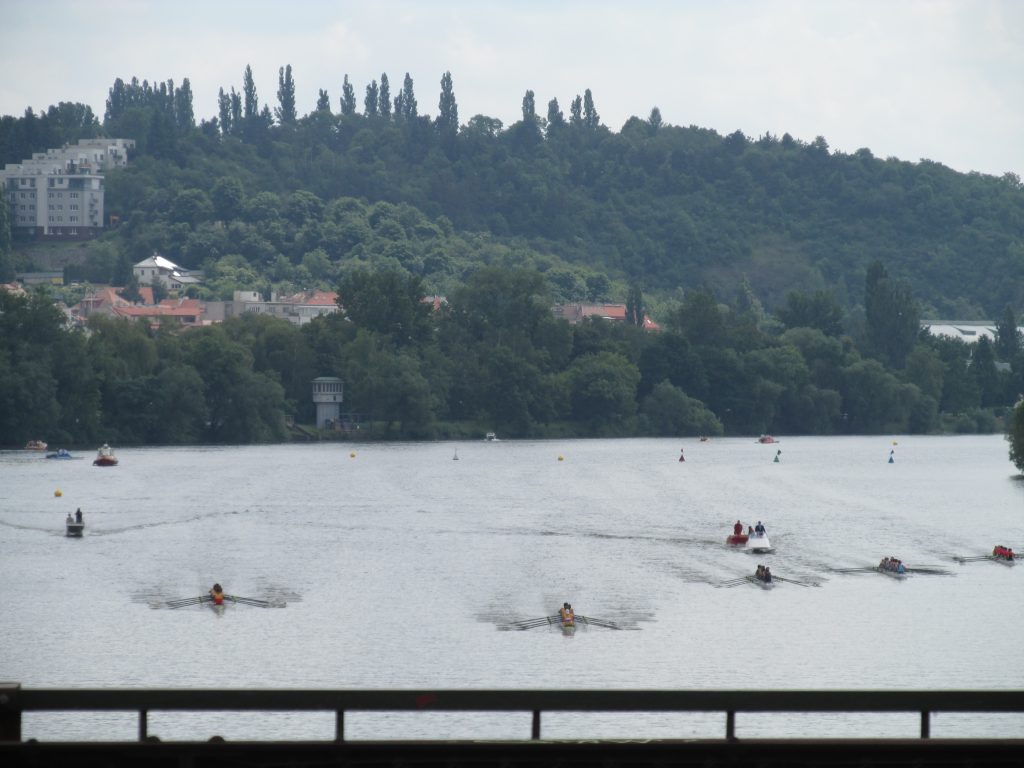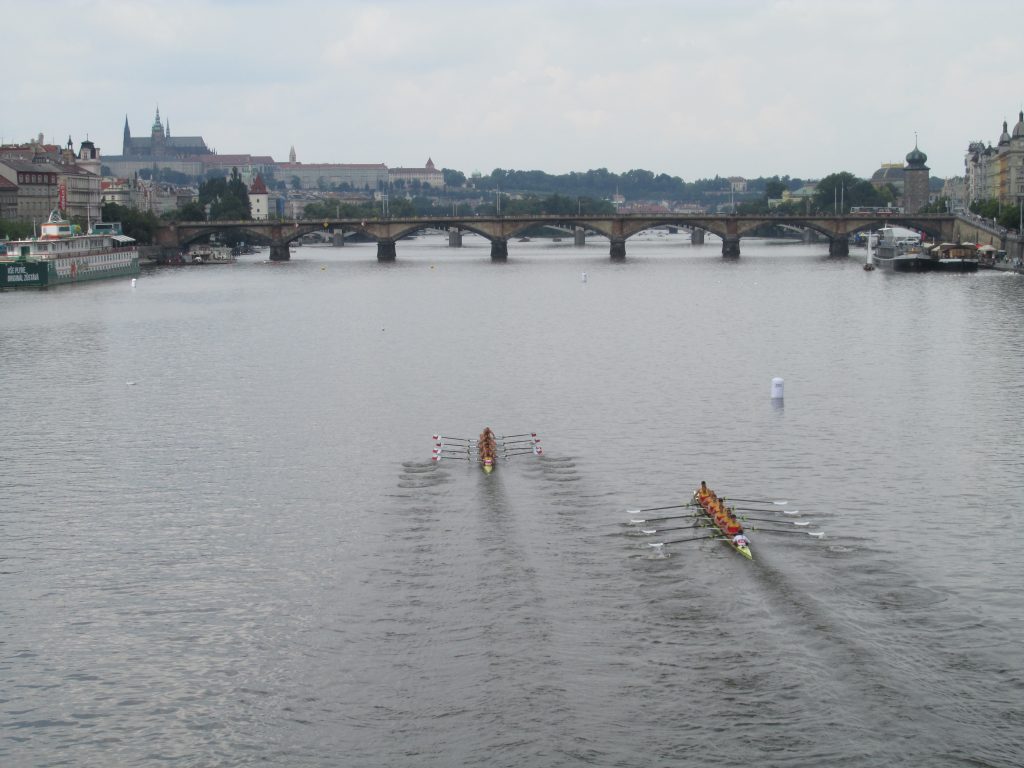 The Brno Men: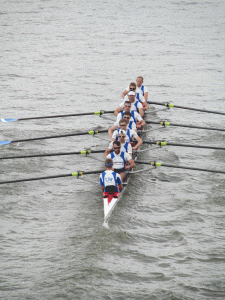 After the men rowed their heats and the repechage, the Wintech eight was ours for our Men's Masters B final. We had time enough to launch early and used that time to sharpen our skills. After all, we hadn't had so many trainings together. We rowed a good 7 km with 10 stroke pieces at different stroke rates and a few practice starts.
We were ready to roll and it was time for our start. Four boats started to align at the 1000m mark.
Lane 1: Brno (that's us)
Lane 2: Piestany (they came all the way from Slovakia)
Lane 3: Neratovice
Lane 4: Blesk
A year ago our boat beat blesk by a tiny margin.
While we were aligning for the start, this guy came steaming up the river from the finish:
Right next to us, at the start line, it started to turn.
It turned. Then its engines roared as it started to make speed to return to the finish. Right next to us. The bowman and I were trying to keep our boat in the right direction.
Suddenly I noticed that the other boats had started. We did a panicky improvised start and started chasing them, right through the wake of that big river boat. The water seemed to have reached the boiling point. Whirls everywhere, waves, and the roaring sound of a fifty year old diesel engine.
After about 10 strokes our cox had to pull sharply to the left to avoid bumping into the giant. A few strokes later we started clashing blades with Piestany, but we quickly rowed through them. Adrenalin fountains were spouting from our ears. Stunned tourists on the deck of the river steamer saw us steam past them. Our stroke rate was 39 spm.
Two hundred meters into the race Blesk's lead had shrunk from a boat and a half to a boat length. Our cox was shouting orders and we were reducing the gap by every stroke. They rowed over on the other side of the river and I was just focusing being in sync with our stroke, who was doing a fiery 37spm.
In that part of the race I was confident. We were rowing into Blesk so fast that I estimated we would be next to them by the time we rowed under the railway bridge, and then would be able to pass them in the final 300m.
By the railway bridge I had them in my peripheral vision. Thirty strokes to go. We were over 40spm by now and we were still moving but not as fast as I liked. That was clearly the feeling in our entire crew because everybody started to pull harder and harder. The problem was that everybody was pulling for himself and as we hit an area with very bad water because of the concrete banks, we started to lose balance and hit a few bad strokes, which cost us the win.
Immediately after the finish our stroke and our cox raised their arms and summoned the marshalls to listen to our complaint. At first he thought we were complaining about the clashing blades, but when we explained him the situation at the start, he started to understand. He acknowledged that conditions at the start had been far from ideal and even proceeded to say that the should have stopped the race after a few strokes.
His launch disappeared to the bank to discuss with the finish line officials. The Blesk boat and us were waiting impatiently.
After about 20 minutes of waiting, they finally seemed to have a verdict. The marshall's boat came to the Blesk boat and started talking to them. We couldn't hear what they were saying but it was clear that Blesk wasn't pleased. Then the Marshall communicated the verdict to the speaker, who announced:
"The Masters B is declared undecided because of unfair conditions for Brno at the start. The two first boats will re-row the race at 19:40 to decide the winner. If one of the boats, or both, do not show at 19:40, they will be automatically put in last place in the results."
After this announcement, Blesk rowed away proclaiming that they wouldn't re-row. Our boat needed another five minutes to calm down. At that moment, I was ready to row to the start and race again, but some of us were fiercely against it.
All was decided when our stroke got cramp in his legs. We returned to the Blesk rowing club, only 7 rowers rowing, stroke seat bent over his oar and holding his leg.
At Blesk we went to see the Blesk crew to explain our point of view. Apparently they had calmed down as well, because they invited us with a big smile, exclaiming: "What did you think complaining against a crew from the organizing club?"
We explained that they rowed well and were not to blame, but that the conditions at our start were clearly unfair. Anyway, there wouldn't be a re-row. One 1000m row was clearly more than enough for some of us (and some of them as well).
Our times of 2:54 and 2:54.4 were the two fastest of all the Masters races by more than five seconds.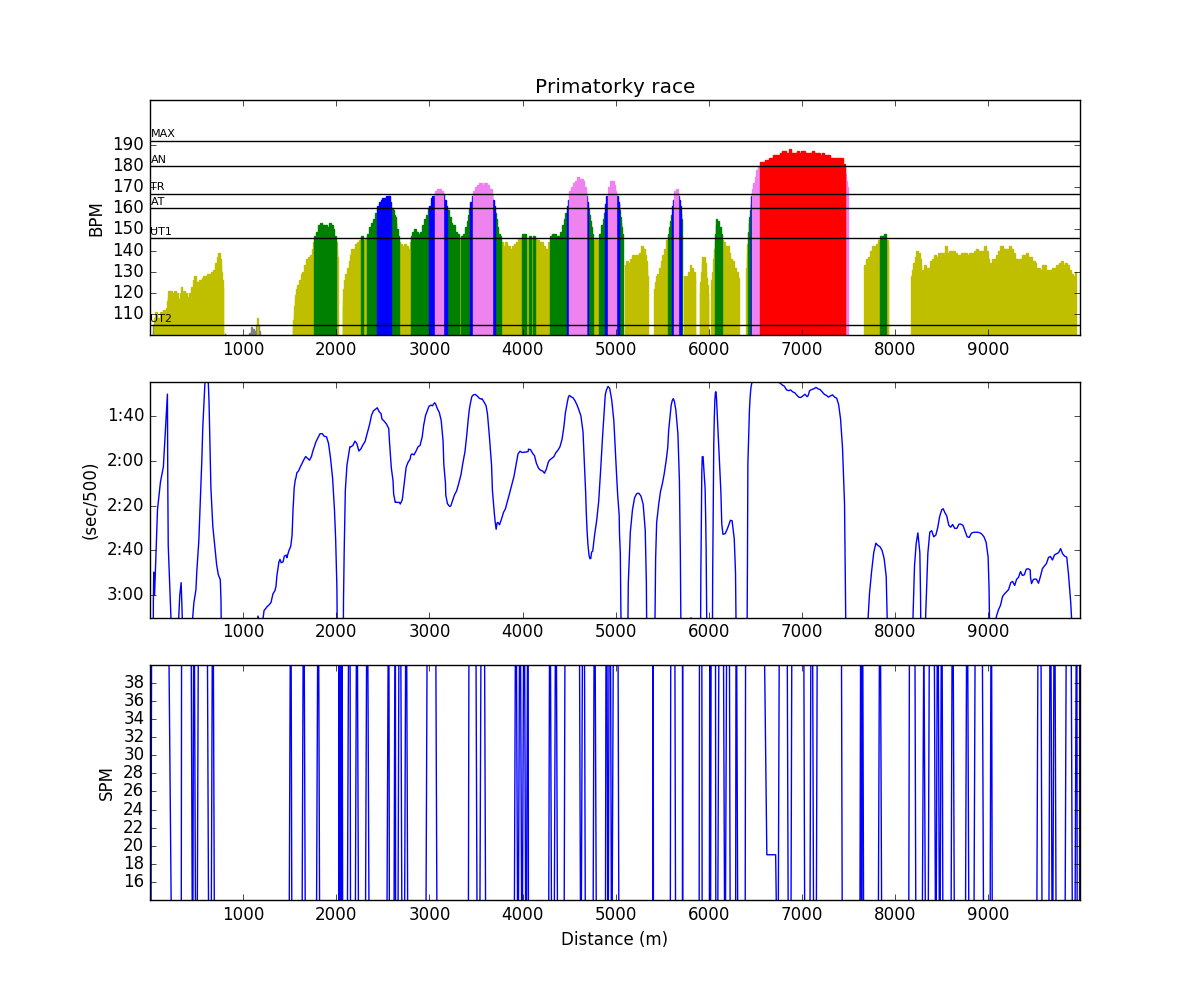 So of course I am disappointed by the result. On the one hand, I am sad we didn't do a re-row. That would have been a nice story and a nice thing to do for the spectators, whoever would win it. On the other hand, I must acknowledge that I have crew members who cannot do 2 1000m efforts in series. Especially when done at 37 to 41 spm. Also, we clearly should have rowed better in the final 300m, instead of just everyone pulling hard without coordination.
Romana, the girls and I took the 9pm train from Prague to Pardubice, where we spent the night. Today was basically getting home, taking the train from Pardubice to Brno, then some groceries and now I am firing up the barbecue. My training of today consisted of a bike ride to the supermarket.
Follow me in social media