Jun 15 2015
Lenka
Won the B final in the double and qualified for the Youth Nationals. There were 4 boats in the B final and the first 2 would qualify. Lenka stroked this with the "lead from start to finish" tactics, winning by a few lengths. There was a nice fight for second place, with Hodonin rowing second place for 1000m, only to be overtaken in the final 500m by Otrokovice.
Good for Laura and her to experience rowing in the lead. They enjoyed this race. Qualification secured.
Romana almost got them disqualified for following the race in the coach launch. She was at a long distance from the racing lanes and didn't shout any instructions. Still, at one point she was in front of the referee launch, so that was a concern. Luckily the referee was a reasonable person.
On to the single B final. Lenka was not looking forward to this one, rowed at noon in a 35 degree heat, with the quad only 2 hours later. Romana agreed that she would row it at a 25spm. In the end of the day Lenka rowed to (non-qualifying) 4th position, going up to 27spm in the heat of the fight.
She had a disappointing race in the quad. Their team had expectations to win, but in the end they were over-classed by 4 girls from LS Brno who are rowing at international level, and also Olomouc overtook them. A spark was missing here. I guess 3 races is quite a lot in these hot conditions.
Dominik
His race being at 4 o'clock, our son Dominik decided to spend most of the day swimming in the lake. Not exactly ideal race preparation but I wasn't going to prevent him. He had qualified himself for Youth Nationals, and it would be torture to keep a 11 year old indoors for the sake of a rowing race. In hot summer weather like this, when you're that age, you should be making fun by the water.
His 500m race was good for the first 250m, then he suddenly reduced pace. He also stopped 2 strokes before the finish line and had to be told to cross it. Came in last position.
He commented that he had the oldest boat.
Sander
Read about my adventure in the double in another blog post.
I was really tired after that. Still had to walk around on the club helping various others getting on the water in time. Also, spent some time and energy discussing our line-up for the Masters Nationals and for Hazewinkel.
Being at 72.0 kg on my own scale I had to be careful eating and drinking.
Then, at 1pm, I hopped on the bicycle to ride to the LS Brno club house for the weigh in. My upper legs protested vehemently, so in the heat of the day it was a very hard 2km ride.
I weighed in at 71.6 kg on the official race scale.
I can be brief about this race. My plan was to hold 2:00 to 2:05 pace in the light headwind, but it turned out to be too ambitious. My legs just didn't cooperate. I was rowing in the back with the referee boat and as I wasn't out of breath I was able to speak to him but I just couldn't push any harder for the pain in my legs.
Covered the course in 8:38 measured on CrewNerd. I can do that in a training, a couple of times.
Finished last.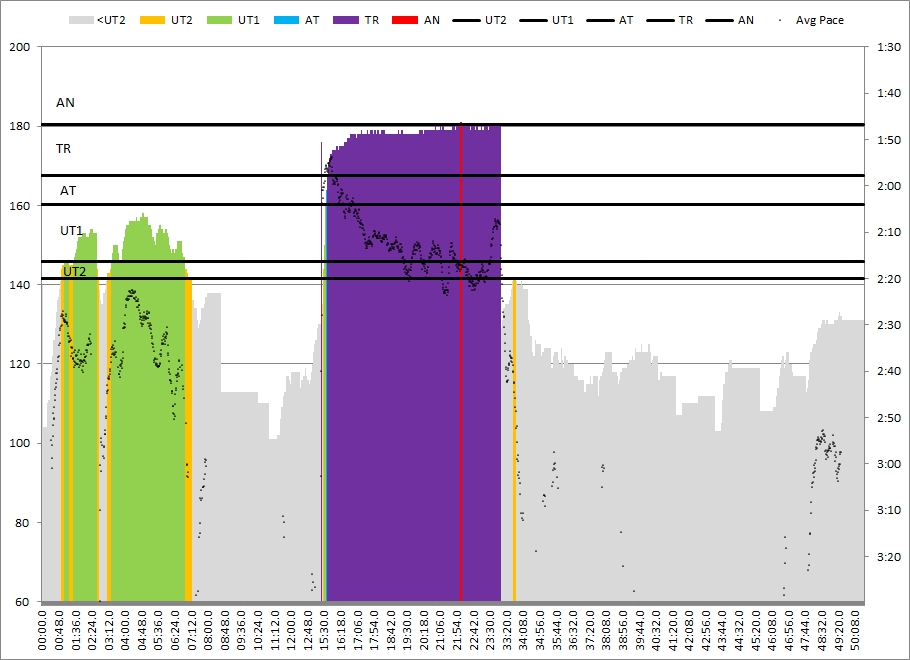 |Start|Stop_|Dist_|Time_|Pace__|_SPM__|avg HR|max HR|DPS|Remarks
|00000|01556|01556|15:21|04:56.0| 18.5 | 133 | 158 |05.5|warming up
|01556|02053|00498|02:01|02:01.5| 30.3 | 172 | 179 |08.2|2km 1st 500
|02053|02553|00500|02:12|02:12.0| 27.7 | 178 | 179 |08.2|2km 2nd 500
|02553|03055|00501|02:15|02:14.6| 27.5 | 179 | 180 |08.1|2km 3rd 500
|03055|03536|00481|02:10|02:15.1| 26.8 | 180 | 181 |08.3|2km 4th 500
|03536|05979|02443|26:35|05:26.4| 18.0 | 121 | 180 |05.1|cooling down

My final race of the day was a fun race. As one of the old guys was afraid of a heart attack, I took his place in the "historical eight". Here's how they looked last week in Prague: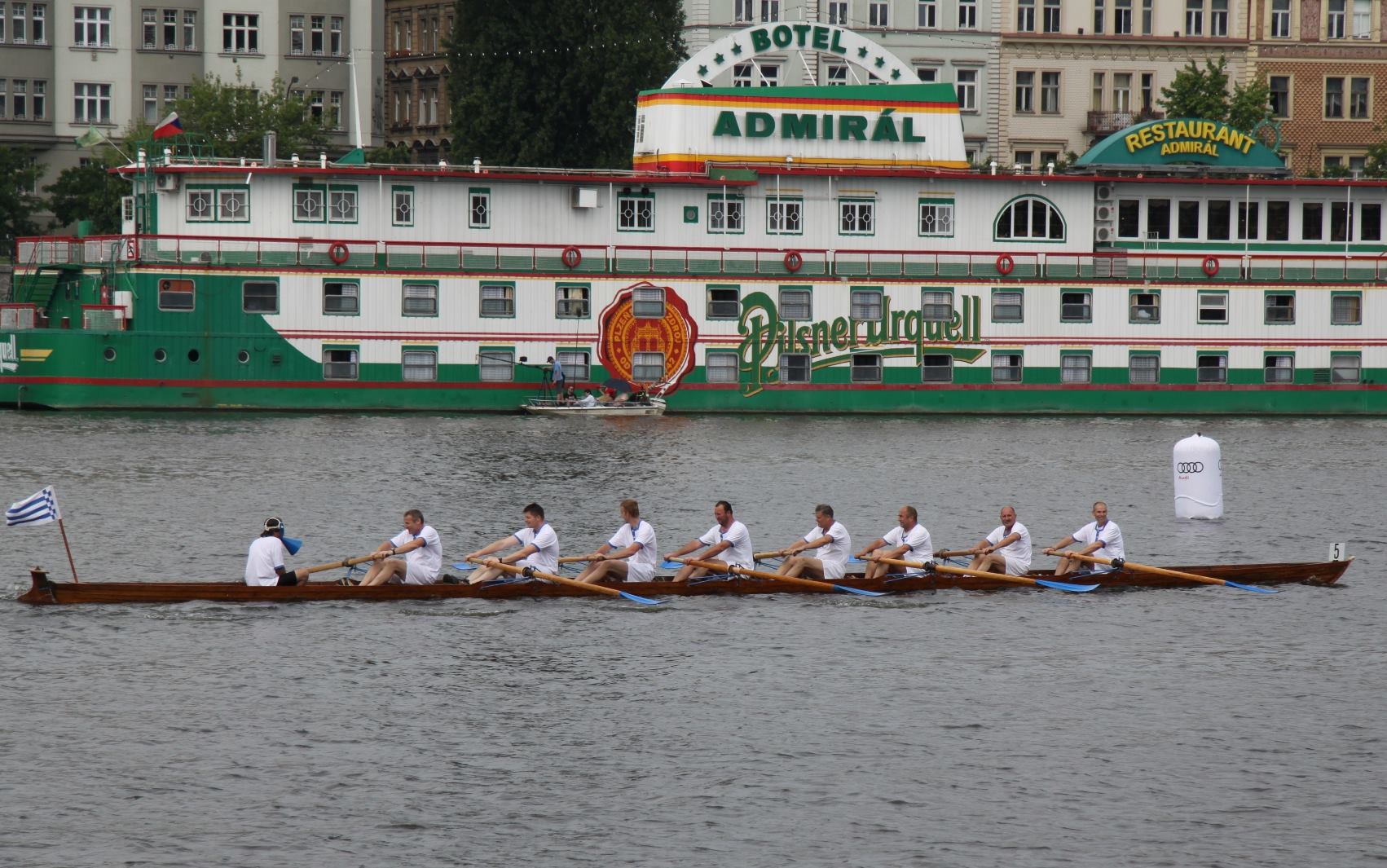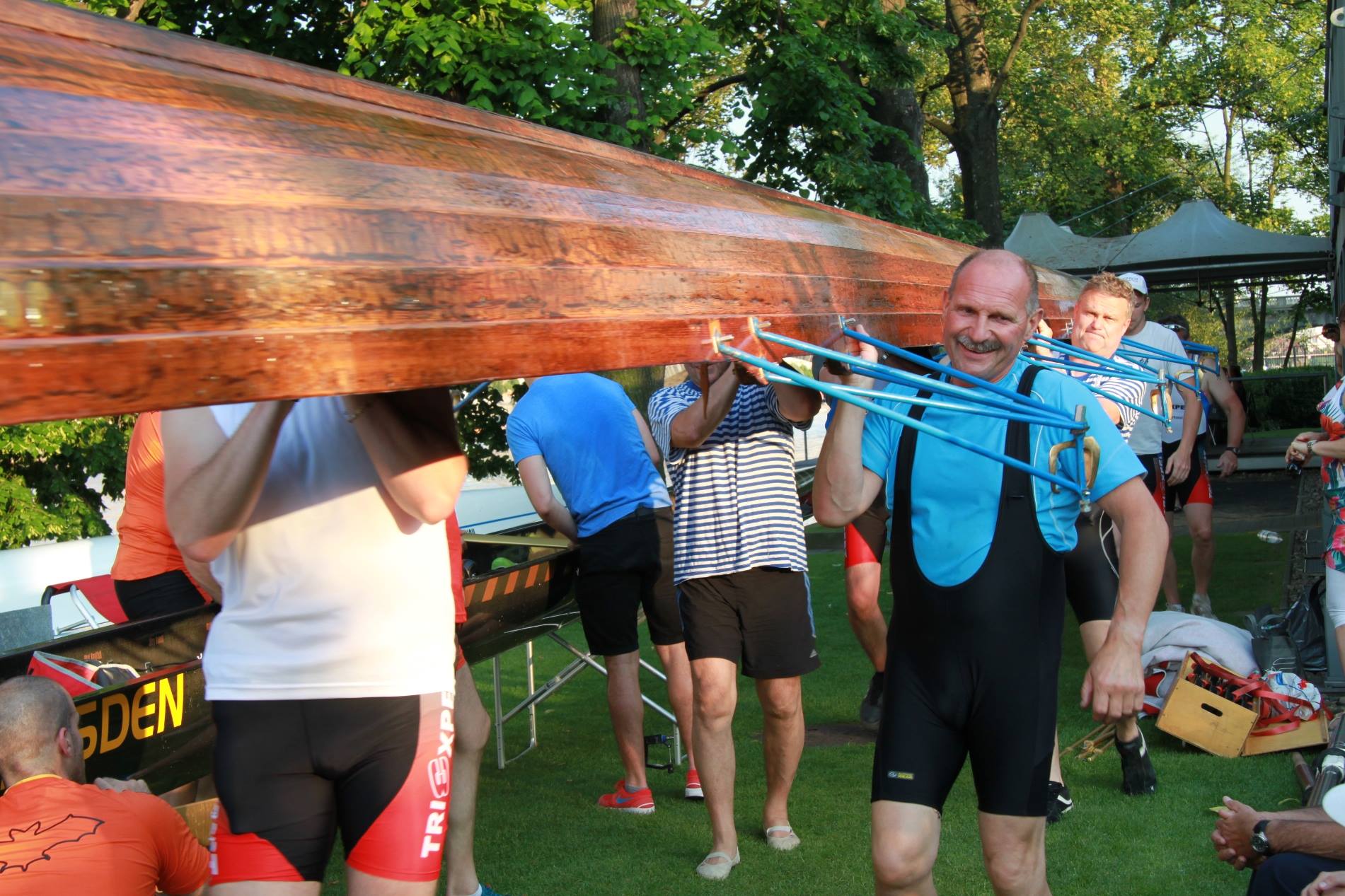 We wear 1940s rowing clothes and row in a lapstrake built wooden eight, with wooden oars with long, thin blades.
Of course we rowed way behind the real eights, but it was fun anyway. The referee was taking pictures of us and the speaker made us row a special round in front of the crowd at the finish.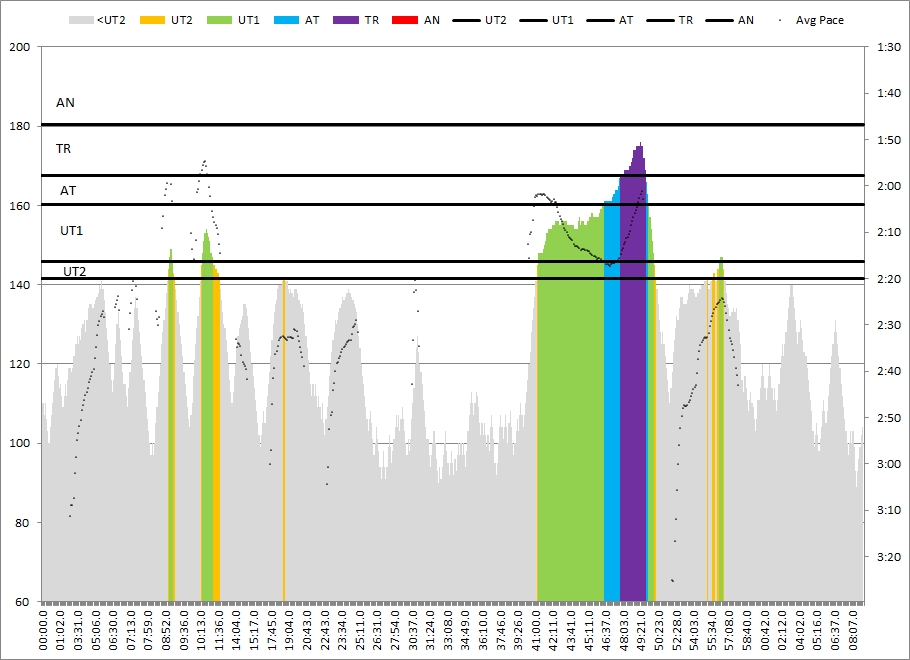 Follow me in social media