May 31 2015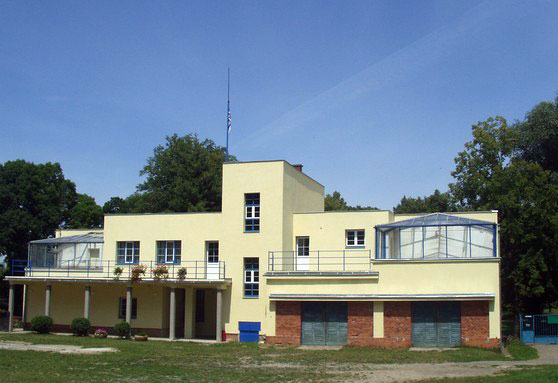 Saturday Evening
Went to the Italian restaurant in Hodonín again, a pre-race dinner with double partner Radek and his girlfriend. Our older children Lenka and Dominik spent the night at the Hodonín rowing club. Lenka had a good day, I think. She came in fourth in the toughest Girls 15/16 1x heat and third in the double toughest double heat. In the single, she gave it all. In the other heat, she would have qualified for the final. Dominik came in third in the boys 11 year old single, beating one other boy. In the other races he would have beaten one or two others as well.
So we had a lot of rowing to talk about over dinner. Our youngest son Robin fell asleep after finishing his desert. So we had to carry him home.
Back in the hotel there was some noise from the courtyard. There was a handball tournament in town this weekend and we happened to share the hotel with the coaches of an East Slovakia handball club. Alcohol flowed freely. We had to sleep with the window open because of the heat, so we spent some time listening to Slovakian complaints about handball referees. 🙂
Luckily we were tired enough to fall asleep despite the noise.
Sunday
Men Masters Single
My Masters single race was on at 9:21 AM. I like morning races. You arrive at the race venue when the music starts, when the first crews start to carry their sculls to the dock, and you get a feeling of how the other clubs spent the night. You see people waking up, rubbing the sleep out of their eyes, and getting ready for a nice day.
My back was relatively OK.
I did my usual routine. Running a bit. Stretching. Checking sculls, boat, slide, etc. Then rowing slowly to the start.
There would be two races in the 1x mM. I was between the younger ones, in lane 4.
The river we race on is the international border between the Czech and Slovak Republics, so my lane 4 meant racing abroad, together with the guy in lane 3, in contrast with lanes 1 and 2 who would race a home race. Well, despite the seriousness of international borders the important thing was that lanes 2 and 3 were in the middle of the river, with more current, and lanes 1 and 4 were close to the slower banks.
Did a 10 stroke set at race pace and a practice start to test my back. It didn't hurt but I still felt it isn't 100% ok. Still, good enough to race as long as I wouldn't force it.
Just three of us, so they put us in lanes 2, 3 and 4. I was in lane 4. As the race is a big turn, the starting line is diagonal, with me in lane 4 ahead of the two other boats.
I led out of the start. After ten strong strokes I focused on technique and was leading by a boat and a half pretty soon. Then I started to row away from the two other scullers.
I think trying to save my back doesn't really impact my boat speed.
With 150m to go I started a sprint, so the public wouldn't complain that I didn't sweat.
I enjoyed listening to the moderator calling my name when I rowed the last 10 strokes.
I won with 12 seconds on number 2, Michal Doubek from my own club who put in a nice final sprint to shake off nr 3. My end time was 3:28 (helped by the current), Michal came in 3:40. The other final (older guys) had times above 4 minutes.
An easy win. I won a medal and a bottle of hand soap. Yay!
One race before me, my son Dominik finished 2nd in the boys 11/12 year old 4x+. He was the youngest and rowed in the bow seat. He thoroughly enjoyed his row, so we were both happy.
Here are the stats:


|Dist_|Time_|_Pace__|_SPM__|Remarks
|01688|20:05|05:56.8| 19.0 |warming up
|00082|00:17|01:43.1| 36.2 |race
|00103|00:22|01:46.9| 33.9 |race
|00105|00:23|01:49.3| 32.6 |race
|00090|00:20|01:50.6| 31.5 |race
|00103|00:23|01:51.9| 30.7 |race
|00108|00:25|01:55.5| 30.2 |race
|00107|00:25|01:57.3| 30.0 |race
|00102|00:24|01:57.4| 30.3 |race
|00111|00:25|01:52.4| 30.2 |race
|00629|22:58|18:14.5| 18.9 |post-race
dist_____|time_____|_pace___|_HR__|_SPM__|_DPS|comment
1688_____|_20:05____|_5:56.8|000|19.0|4.4|warmup
0912_____|_03:24____|_1:51.8|000|31.5|8.5|Main set
0629_____|_22:58____|_18:14.5|000|18.9|1.4|Cool down
3230____|_46:27____|_7:11.4|000|18.5|3.8|_Total

So the race distance is a bit shorter than 1km, which explains the fast time. Still happy with race pace and stroke rate, given that I was rowing at 95% and didn't have to throw in the kitchen sink.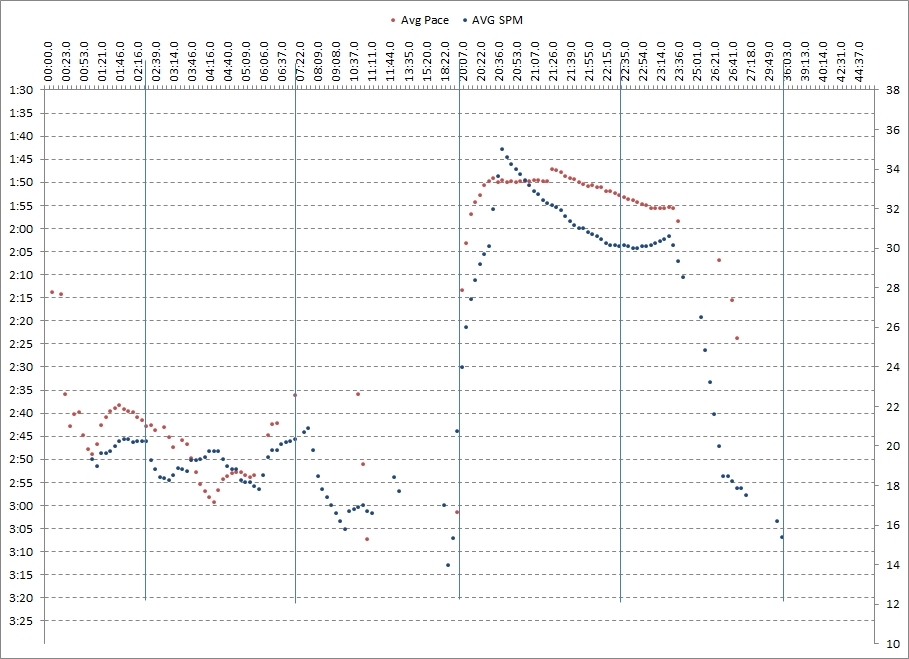 Masters Double
After winning the single, I rowed past the crowd. My masters double partner Radek shouted at me that I should be happy with one medal. I answered that I certainly want a second one. This only added to his nerves. He's a self-taught rower and I guess he feels he isn't up to guys like me who row since childhood. I think this is BS.
Anyway, he was pretty  nervous for our race. Rowing being for a large part in the head, it worried me.
All lanes occupied. Olomouc in lane 1, Ostrava in lane 2, ourselves in lane 3, and Břeclav in lane 4. We did a practice start in front of Ostrava before the race. They commented that we were beatable. 🙂
They didn't know I did this practice start just to test my back and I wasn't rowing full force.
I didn't know what to expect from this race. I expected all boats to be pretty close, with Ostrava in front, us probably fighting for second place with Olomouc, possibly fighting for first place with Ostrava.
Ostrava guys had big muscles and looked impressive against us skinny lightweights.
Also, I didn't know how Radek, in bow seat, would deal with rowing the big turn. You have to row in your lane, passing a few buoys on the right side, or you would be disqualified.
Ready – go.
As we were in lane 3, we were looking at lanes 1 and 2 and had a tactical advantage at the start. On the other hand, they would have the shorter turn.
We lead the race after 5 strokes, Břeclav in lane 4 falling behind quickly.
Passed the first buoy perfectly. When we had done our turning I called a 10 stroke set on concentration.
We quickly rowed away from the pack. Both of us relaxed.
Now the boat really started to run.
With 500m to go we were certain of our win.
Still, I called a 10 stroke set at 450m to go and another one at 150m to go. We won in 3:15, with Ostrava in second place in 3:30. I could have beaten them in the single.
The first prize was a medal and a voucher for a weekend in a hotel in the Austrian Alps. Nice, better than hand soap!
After the race I we had a photo shoot organized by Radek's girlfriend, then 2 beers in the sun, and then we prepared our boats for transport.
Here are the stats:

|Dist_|Time_|_Pace__|_SPM__|Remarks
|02280|28:42|06:17.7| 20.7 |warming up
|00092|00:18|01:38.3| 34.8 |race
|00099|00:20|01:41.5| 34.6 |race
|00103|00:21|01:41.6| 32.9 |race
|00090|00:18|01:40.3| 32.5 |race
|00103|00:21|01:42.2| 31.8 |race
|00111|00:23|01:43.5| 31.1 |race
|00103|00:22|01:47.1| 30.8 |race
|00090|00:20|01:50.7| 30.1 |race
|00141|00:30|01:46.6| 30.0 |race
|00503|16:53|16:46.2| 16.3 |post-race
dist_____|time_____|_pace___|_HR__|_SPM__|_DPS|comment
2280_____|_28:42____|_6:17.7|000|20.7|3.8|warmup
0931_____|_03:13____|_1:43.7|000|31.9|9.1|Main set
0503_____|_16:53____|_16:46.2|000|16.3|1.8|Cool down
3714____|_48:48____|_6:34.2|000|21.3|3.6|_Total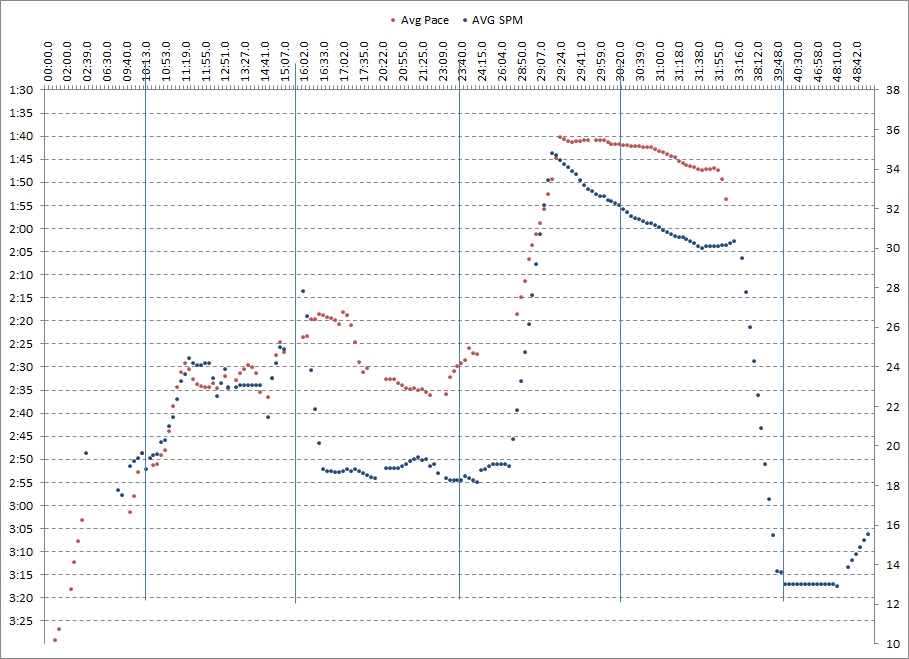 All in all a great weekend.