May 21 2015
Finally some time for proper L4 rate ladders in the single. It was a drizzly morning, but not too cold. The lake was rowable, but I preferred to go to the castle, where I found super flat water and no wind. The cost is having to steer through a few narrow and sharp turns, which inevitably slow you down and remove the focus from technique.
However, given that I would be rowing in a forest canyon, along a medieval castle and some very beautiful rocks, that was an easy price to pay.
I used the RIM app to keep track of my technique. I like to watch "stroke efficiency". It's a bit of a funny metric the way it is defined, and I can't really get a hold of why, but it seems to correlate strongly with what I believe I should be improving in my sculling. It's also a sensitive metric so you can monitor it from stroke to stroke and usually when it changes I can understand why. So the goal was to have stroke efficiency above 2 for as many strokes as possible.
I chose to row 4min/3min/2min/1min at 18/20/22/24spm. Here are the pretty pictures: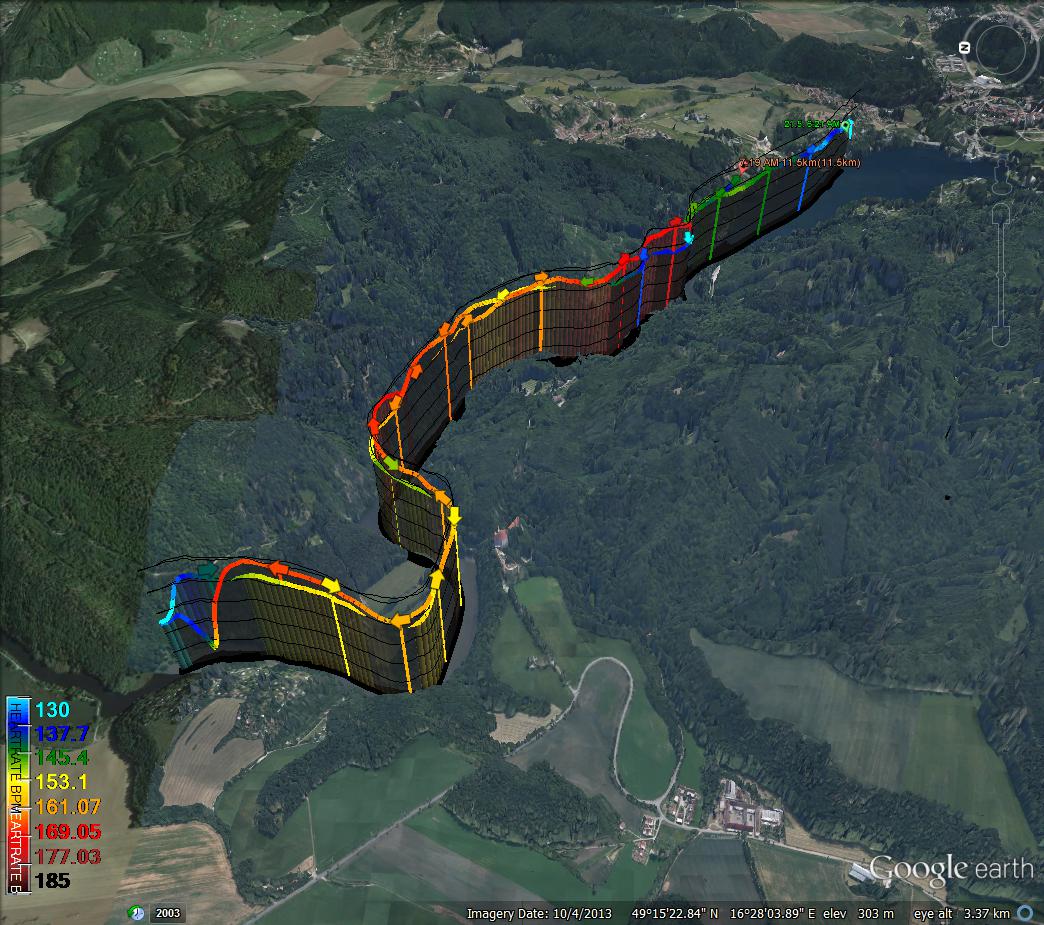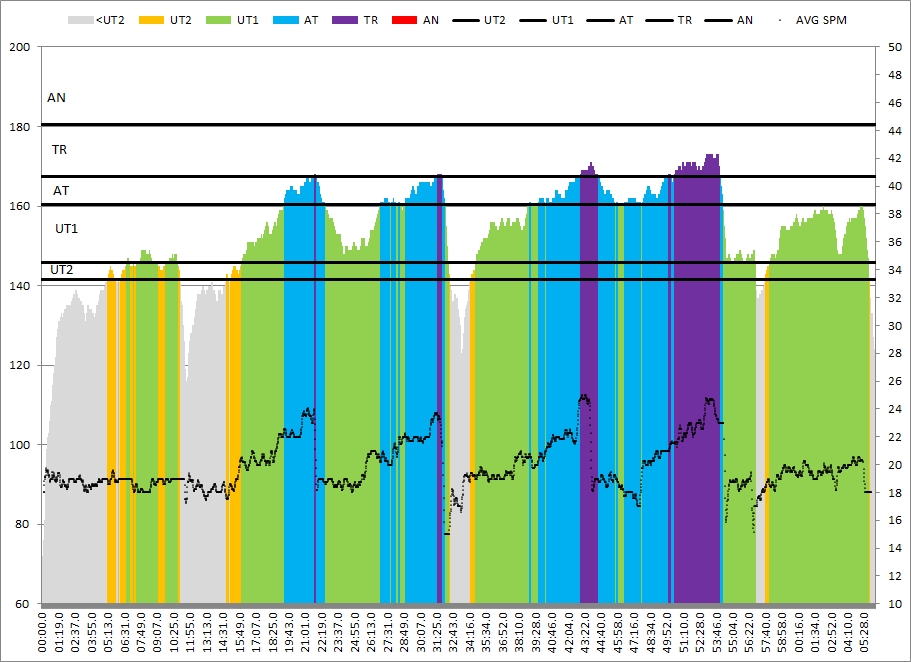 Here are the RIM analysis pictures: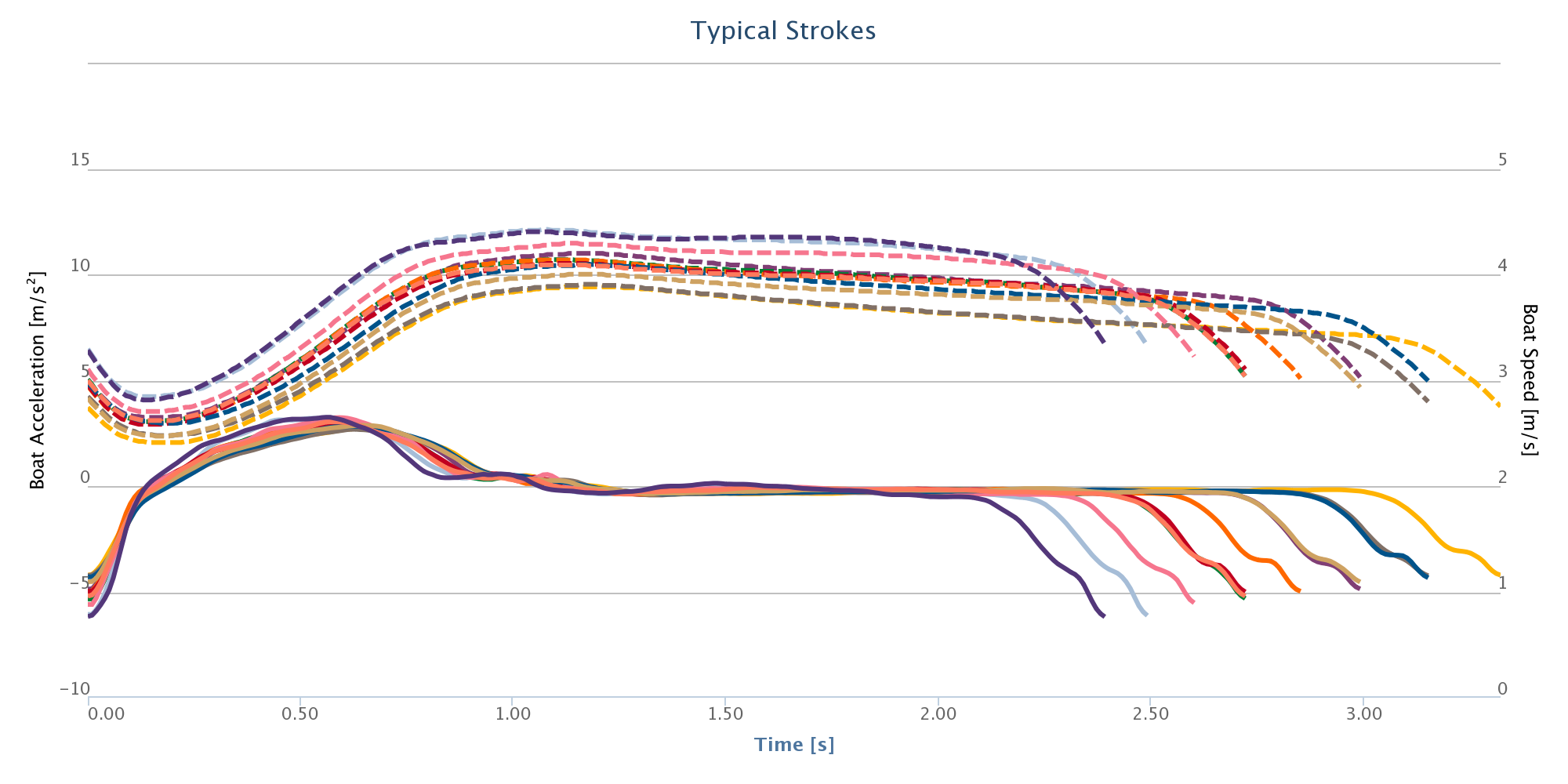 The conclusion: Yes I did succeed in working on technique.
Here are the data:

dist_____|time_____|_pace___|_HR__|_SPM__|_DPS|comment
2194_____|_12:00____|_2:44.1|136|18.8|9.7|warmup
8298_____|_40:01____|_2:24.7|158|20.5|10.1|Main set
2228_____|_12:33____|_2:49.0|151|19.2|9.2|Cool down
0236_____|_01:59____|_4:12.4|138|17.1|7.0|rest meters
12955____|_06:33____|_2:34.1|152|19.6|9.9|_Total

And all the gory details (broken up in the same way as the RIM analytics graphs above):

| Dist_ | Time_ | Pace__ | _SPM | avg HR | max HR | DPS | Remarks
| 02194 | 12:00 | 02:44.1 | 18.8 | 136 | 149 | 09.7 | WU
| 00772 | 04:00 | 02:35.5 | 18.4 | 139 | 146 | 10.5 | 4min @ 18spm, steering
| 00636 | 03:00 | 02:21.5 | 20.5 | 152 | 159 | 10.4 | 3min @ 20spm
| 00439 | 01:59 | 02:15.5 | 22.3 | 163 | 165 | 09.9 | 2min @ 22spm
| 00219 | 01:01 | 02:19.0 | 22.5 | 167 | 168 | 09.6 | 1min @ 24spm
| 00790 | 03:59 | 02:31.2 | 18.8 | 154 | 166 | 10.5 | 4min @ 18spm
| 00621 | 03:00 | 02:25.0 | 20.9 | 159 | 162 | 09.9 | 3min @ 20spm
| 00428 | 02:00 | 02:20.1 | 21.9 | 164 | 166 | 09.8 | 2min @ 22spm
| 00206 | 01:01 | 02:27.8 | 22.7 | 167 | 168 | 08.9 | 1min @ 24spm, steering
| 00236 | 01:59 | 04:12.4 | 17.1 | 138 | 163 | 07.0 | rest, turn
| 00797 | 04:01 | 02:31.2 | 19.3 | 151 | 157 | 10.3 | 4min @ 18spm,
| 00607 | 03:00 | 02:28.2 | 20.7 | 159 | 162 | 09.8 | 3min @ 20spm, steering
| 00437 | 02:00 | 02:17.3 | 22.3 | 164 | 167 | 09.8 | 2min @ 22spm
| 00219 | 00:59 | 02:15.0 | 23.6 | 169 | 171 | 09.4 | 1min @ 24spm
| 00822 | 04:01 | 02:26.6 | 18.5 | 163 | 170 | 11.1 | 4min @ 18spm
| 00644 | 03:00 | 02:19.8 | 21.0 | 165 | 170 | 10.2 | 3min @ 20spm
| 00445 | 02:00 | 02:14.9 | 22.8 | 170 | 173 | 09.8 | 2min @ 22spm, steering
| 00215 | 01:00 | 02:19.5 | 24.1 | 173 | 173 | 08.9 | 1min @ 24spm, steering
| 02228 | 12:33 | 02:49.0 | 19.2 | 151 | 171 | 09.2 |