Jun 11 2015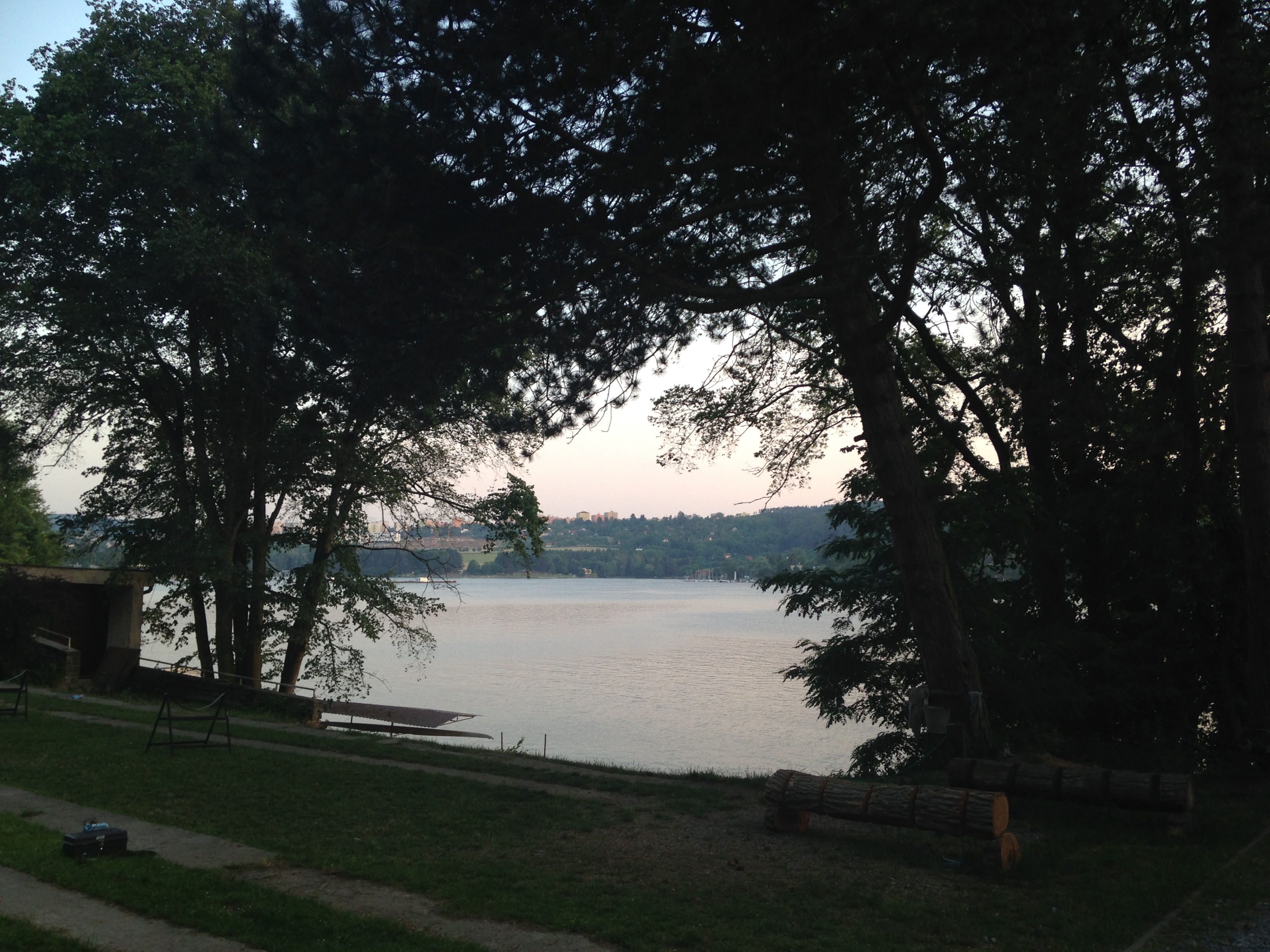 Tuesday
I traveled to Brussels on Monday afternoon, arriving at 9pm. No training on Tuesday, just mental endurance training during long meetings. Traveled home in the evening, arriving at 11:30pm.
Wednesday
I had some difficulty to reach the rowing club. It is the annual fireworks festival, and yesterday's location was our lake. So police was blocking the road to the rowing club, not allowing anyone in, I guess to avoid a traffic and parking chaos. I tried to argue with the police man that I was going to the rowing club and would be parking on private property. He asked if I could prove that … Apparently a bag with sports clothes and rowing club stickers on my car wasn't enough.
So I had to drive around and use the back road, which took another 25 minutes (because of the traffic chaos created by the police closing off the lake). I was now under time pressure, because it was already past 6pm and I would have a conference call at 7:30.
Steady state in the double with Radek. We just did 2×12 minutes because we didn't have time for more. The second 12 minute interval was interrupted by a short phone call that I had to take.
After the row, we quickly washed the boat and put it in the rack. After that I had literally 30 seconds left before the start of the conference call.
Still good to be out on the water, even on such a busy day.

| Dist_ | Time_ | Pace__ | _SPM | avg HR | max HR | DPS | Remarks
| 02306 | 12:52 | 02:47.4 | 19.2 | 118 | 140 | 09.3 | WU
| 00450 | 01:59 | 02:12.3 | 18.0 | 121 | 132 | 12.6 | 2min @18spm
| 00482 | 02:00 | 02:04.4 | 19.5 | 141 | 145 | 12.3 | 2min @20spm
| 00492 | 02:00 | 02:02.0 | 21.2 | 157 | 162 | 11.6 | 2min @22spm
| 00700 | 03:00 | 02:08.6 | 18.5 | 150 | 160 | 12.6 | 3min @18spm
| 00477 | 02:01 | 02:06.9 | 19.8 | 151 | 157 | 12.0 | 2min @20spm
| 00235 | 00:59 | 02:05.5 | 20.9 | 159 | 160 | 11.4 | 1min @22spm
| 00114 | 01:00 | 04:22.3 | 17.1 | 144 | 160 | 06.7 | turn
| 00420 | 02:00 | 02:23.0 | 19.1 | 135 | 152 | 11.0 | 2min @18spm
| 00444 | 02:00 | 02:15.1 | 19.4 | 152 | 155 | 11.4 | 2min @20spm
| 00276 | 02:01 | 03:39.1 | 19.0 | 132 | 161 | 07.2 | 2min @22spm, phone call
| 00614 | 03:02 | 02:28.3 | 18.9 | 133 | 155 | 10.7 | 3min @18spm
| 00459 | 02:00 | 02:10.9 | 20.1 | 160 | 164 | 11.4 | 2min @20spm
| 00245 | 01:01 | 02:04.5 | 21.8 | 163 | 168 | 11.0 | 1min @22spm
| 02229 | 13:37 | 03:03.3 | 18.8 | 136 | 168 | 08.7 | CD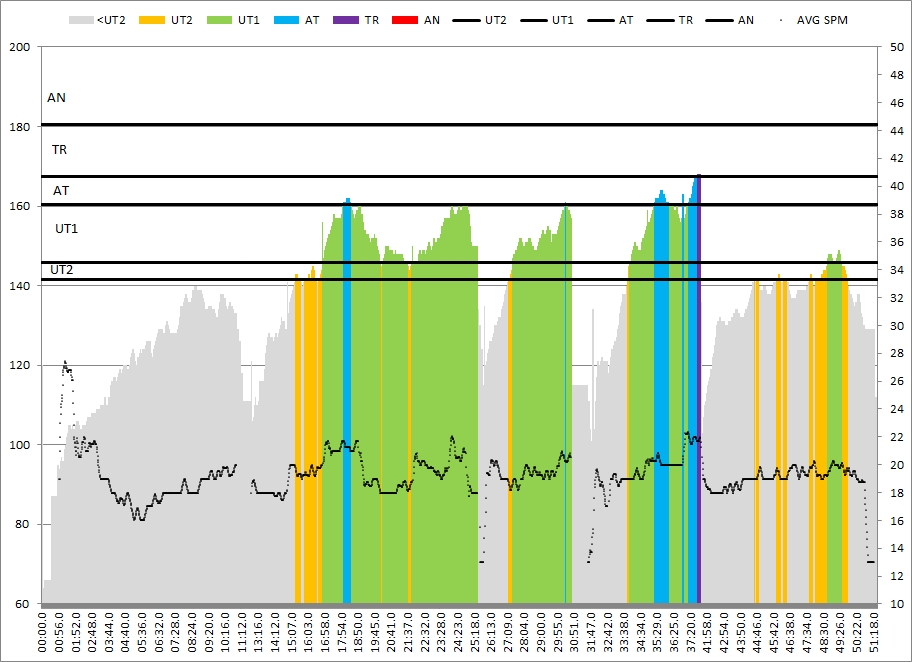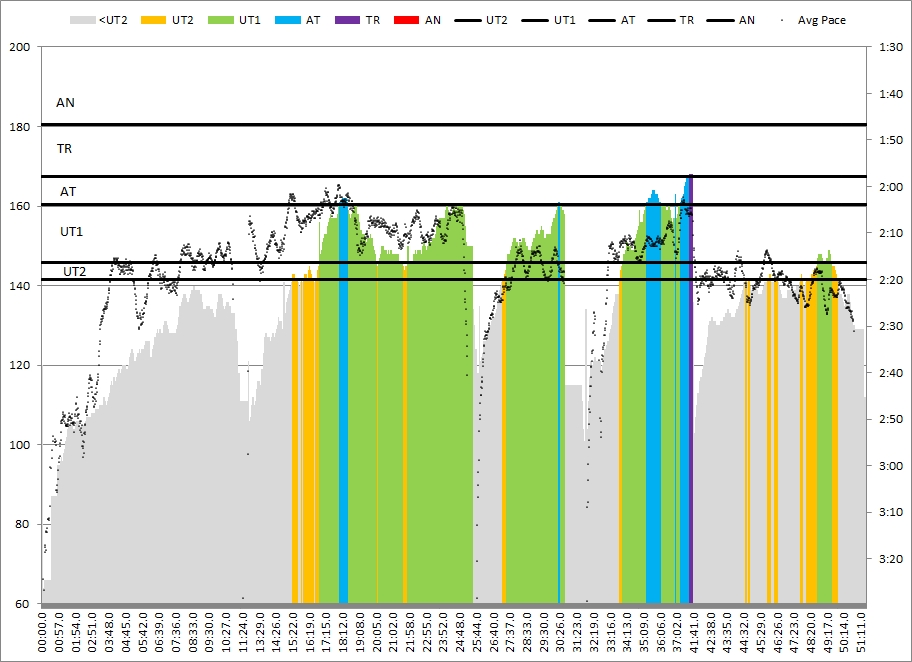 Follow me in social media