Oct 14 2018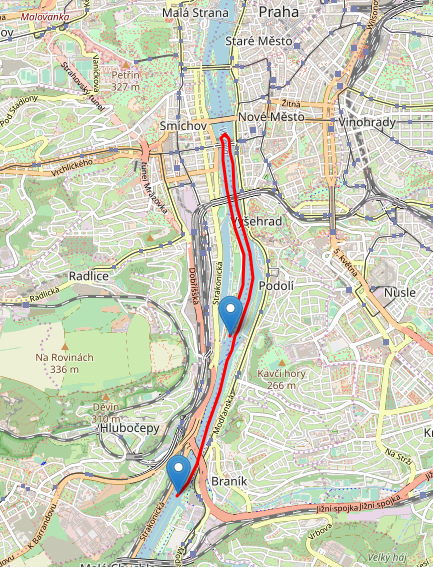 We arrived in Prague at 8am. Actually, we were the first to order coffee at the bar of the Prague rowing club Blesk ("Lightning"). Coffee and cake, and then getting our boat ready for the race.
Again, we were competing in the Mix 8+ category. No age restrictions, so we were up against combined Juniors crews as well as other Masters crews. For us, the Head of Prague is more a nice autumn experience than a "must win" race.
We had great fun rowing up to the start and enjoying the fine, sunny autumn weather along with 50 other eights waiting for the first boat to start.
We had some difficulty in the middle part of the race. Some tourists on a motor boat were going on in the middle of the river, at about the same speed as us, and for about 1500m we were surfing on their wake. I think we took about 100 Liters of water in that stretch. Sitting on 6 seat, both my oarlock and the stroke's were under water a couple of times and we got a good share of cold water.
Then, "The Turn". Our club president cheering on the bridge gaves us a 6 out of 10, with most other crews being slower but some remarkably faster.
The Roosendaal's were well represented in our crew, named "Zrejme Dobrej Oddil" (= "Apparently a good club"). Romana rowed in 4, Sander on 6, and Dominik (13) was our coxswain. I think the following 10 minute video captures the race atmosphere well:
The video was my first experiment with a GoPro chest strap. I think that a head mount will be better next time. The main protagonists of the video are coxswain Dominik and our stroke man and walking encyclopedia of Czech Rowing Martin "The Turkey" Krocil.
My heart rate monitor had some issues in the first part of the race. Otherwise the stroke rate and pace is accurate.