Mar 16 2020
Or actually, session 3, but more about that later.
The Situation
First a quick update on the situation over here in the Czech Republic. We went to bad in a partial lockdown, to wake up in a pretty complete one. Yesterday, we were still allowed to be outdoors in and gather in groups of less than thirty people.
Today, we are only allowed to go out to
Get to and from work
Do groceries (one time per day, only one person from each household)
Take care of relatives
Short ventures outdoors (walking the dog, maybe also a run in the forest but that is not entirely clear).
All shops except supermarkets, pharmacies, drug stores and pet stores were already closed, just as all fitness centers, wellnesses, hotels, restaurants, hairdressers, and so forth … We'll all have interesting hairstyles in a few weeks.
You have to wear a face mask every time you go out.
And a whole lot of other measures I won't bore you with.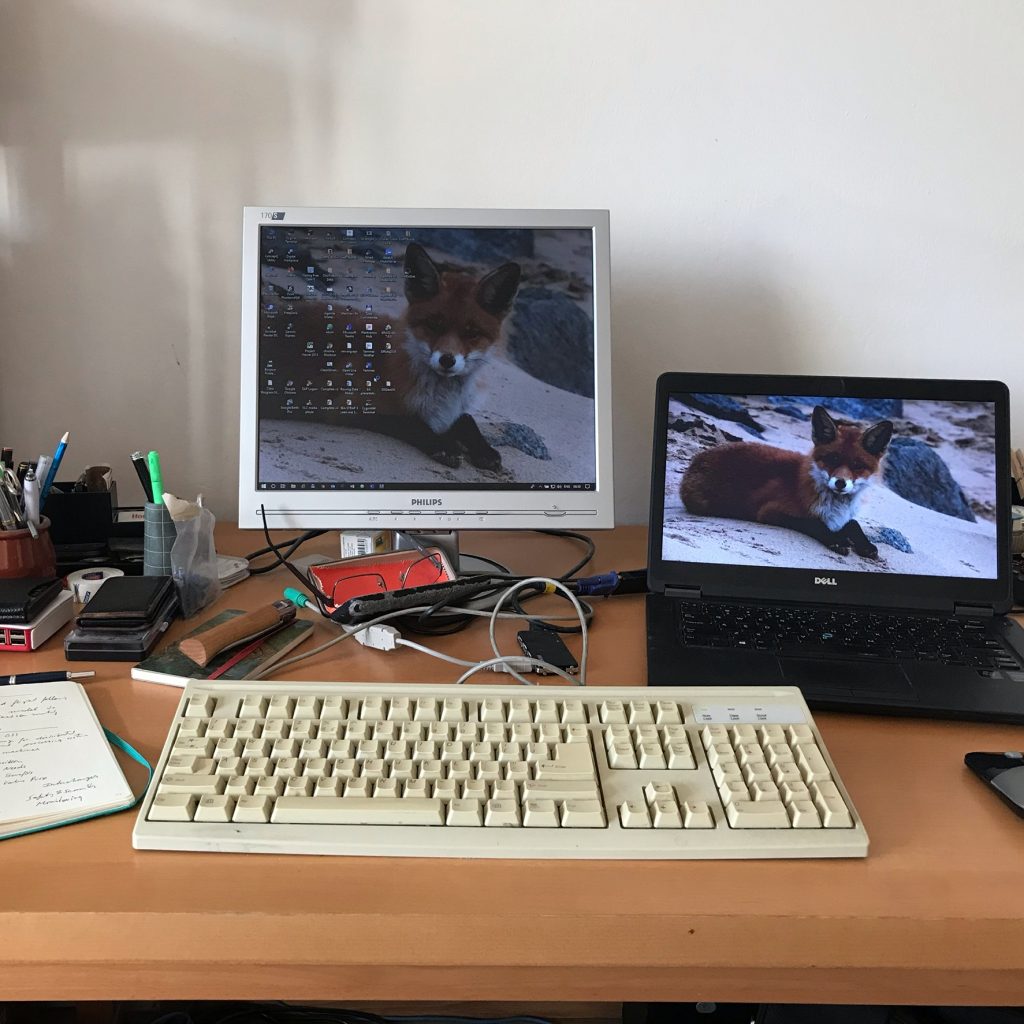 I had a great work-from-home day. Frankly, I have spent too much time following the news over the weekend, and today I followed my self-imposed media hygiene rules:
Check news sites at regular times, no more than three times a day
Limit news reading to three trusted websites. Verify important information through government portals.
Never read the readers comments
Also, with my group we have established a daily fifteen minute video conference, where I flow down news from the crisis team, and I do a roll call. Today, it was hilarious as we were admiring each others' work from home setup, kids were disturbing the meeting, etc. Where I work, we do a lot of teleconferencing, but we usually don't use video. Today, we made a point of switching on the video and I was very happy to see the faces of my colleagues.
Stuck At Home Rowing Club
My friend and rowing data nerd Greg Smith (read his blog Quantified Rowing) and I were discussion Europe being in various states of lockdown and other parts of the world going in lockdown soon or having experienced a lockdown. Greg had the idea of establishing a Facebook group for rowers stuck at home: Stuck At Home Rowing Club. We established the group and posted about it on a few social media. Since then it has gone viral. During my evening and morning, large groups of rowers joined the group. I am very happy about it.
The purpose of the group is to share photos of our home workout setup and to work along a common training plan. We have a program with 6 sessions per week. You don't have to do all of them. You can also do your own sessions and talk about them.  You can read more about how it works here: https://analytics.rowsandall.com/2020/03/15/welcome-to-the-stuck-at-home-rowing-club/
We hope that this group (as similar initiatives that have sprung up across the internet) will provide the necessary motivation to keep us exercising over what may be a few weeks (or longer?) of being stuck at home with an erg.
My Workout

The plan for this week is shown in the table above. Instead of starting with Session 1, I decided to start with the fitness assessment, a hard 20 minute test. Instead of rowing in my basement, I decided to use the warm weather and row outdoors. This basically being the only moment of the day where I was out, I better get my exposure to direct daylight and fresh air: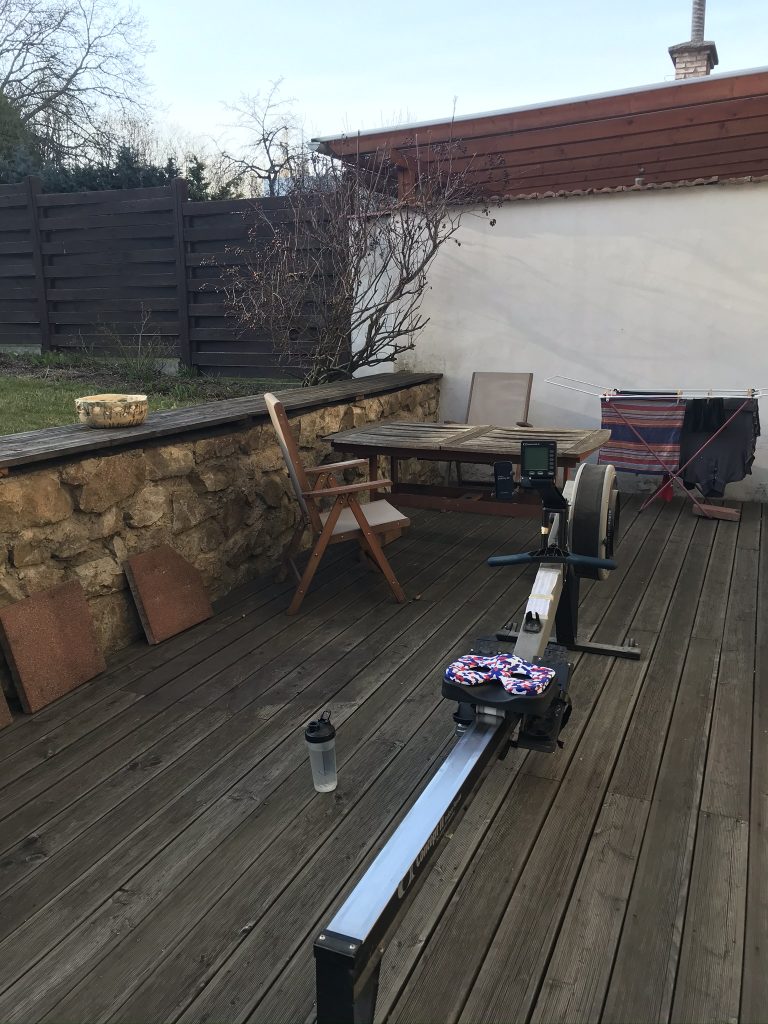 Yes, that's an old Model C fitted with a new PM5. It serves its purpose very well. Having it outdoors, I did notice that I might give it a good cleaning.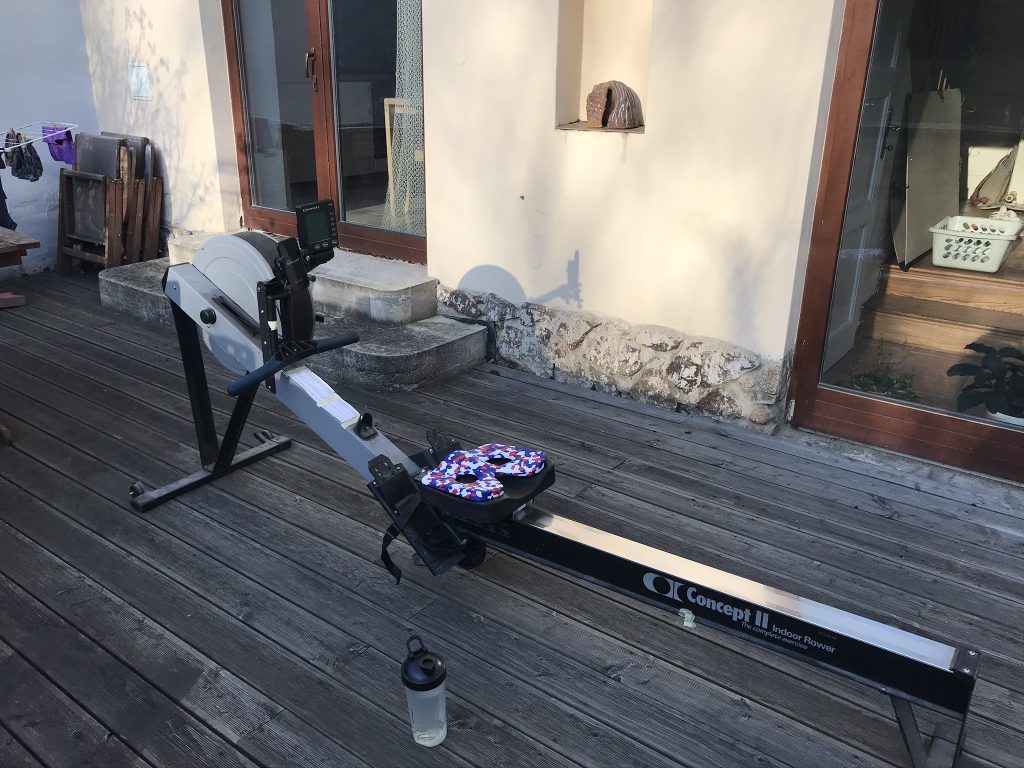 I started with a 20 minutes long warming up: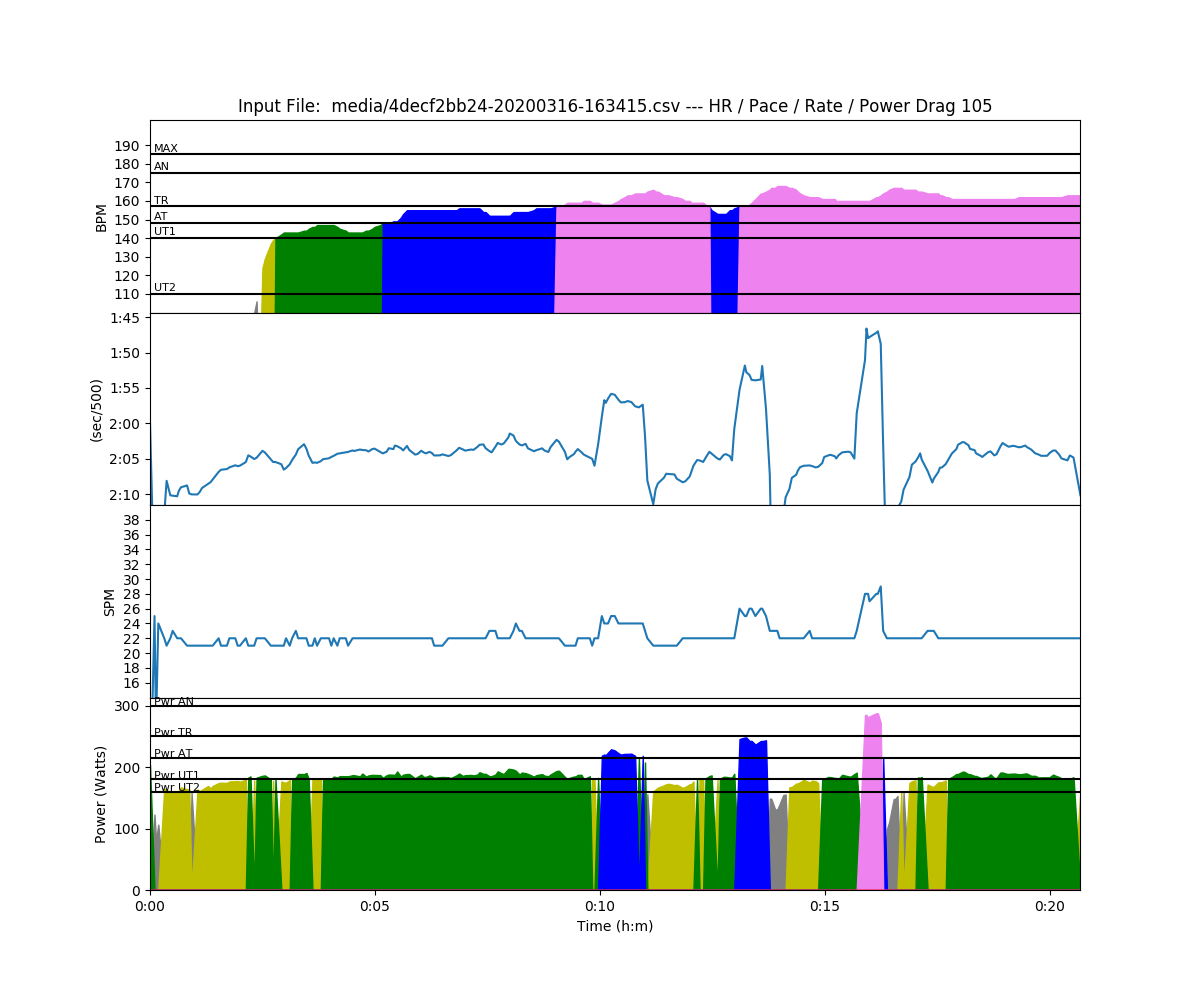 Then it was time for the main event. I was targeting 230W but I set a Pace Boat to 235W.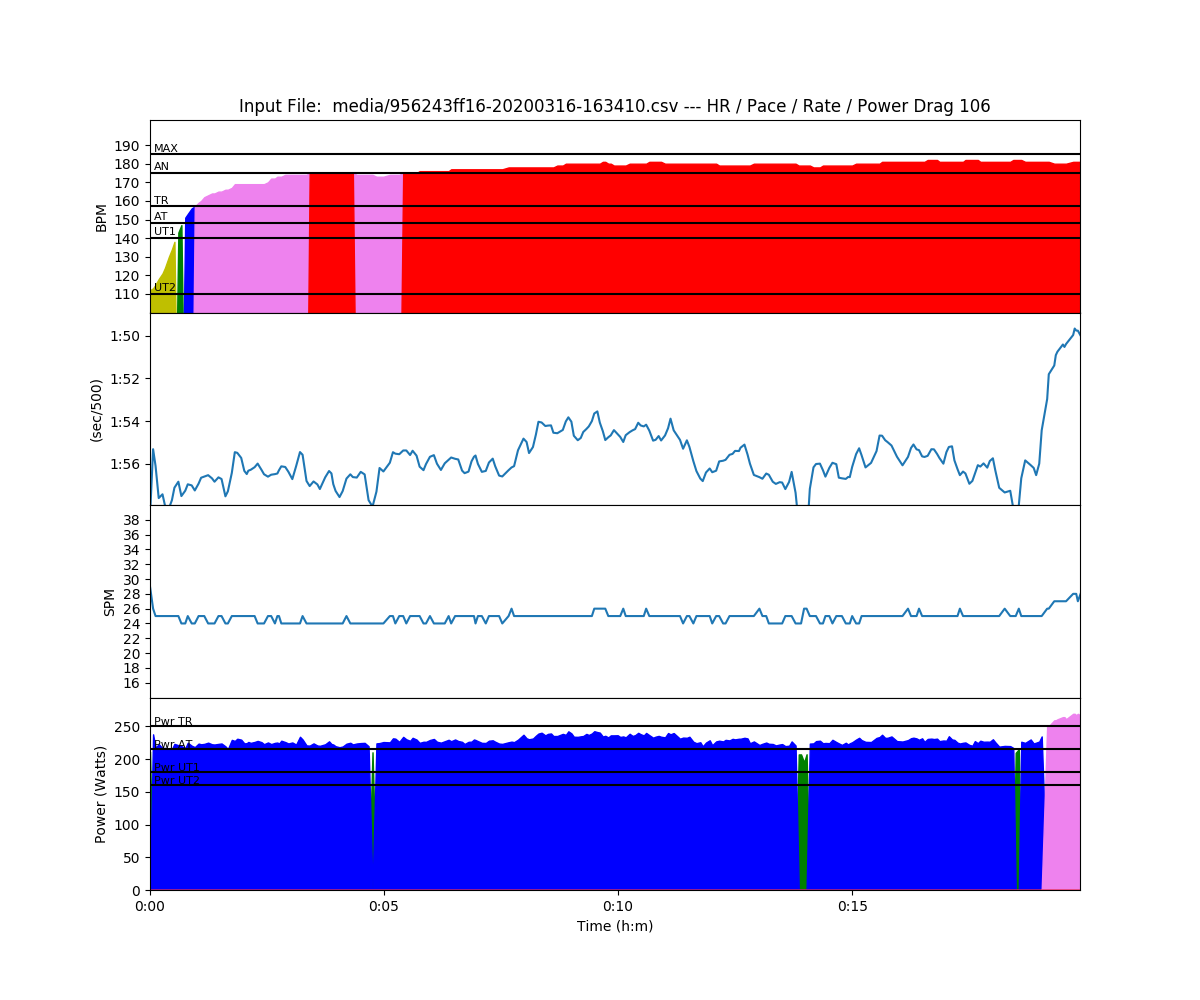 It was pretty hard, and with 10 minutes to go I decided to give up hope of passing the Pace Boat. Actually, there were a few moments in the row where I had to turn back the power a bit. With all the exposure to Corona related information I have become a bit scared to go full out.
I was also worried that I would end up gasping for breath so hard that the neighbors would think I had the disease …
So I relaxed a bit. Then around the 6 minutes to go mark I used a few strokes to push the Display button to switch from pace boat view to the regular view, showing split pace and meters rowed. In the end I managed an average power of 229 Watts. Good enough. At least I will show improvement at the end of the lockdown. 😉
After that I did an easy 20 minutes cooling down and that was all.
Follow me in social media