Mar 22 2020
The featured image above shows a sculpture in my town Brno. It's in front of the Constitutional Court of the Czech Republic. The official name of the statue is "Justice" (as in something that is really hard to grasp). Locals also use the name "Debt Collector". My daughter took the picture of the statue which is now wearing a face mask.
Still pretty sore after yesterday's run and Friday's body weight circuit.
I spent the entire morning in my Home Office doing some planning for next week and running some reports and doing calculations for revised plans for quarters 2 to 4.
After lunch, I sat down on the erg, while Romana was doing some body weight exercises. I decided to erg outside despite the cold temperature (around 0 degree). Sunshine and light snowing alternated during the session.
First, I did a warming up with some speed bumps. Then I dialled up a 4 minute time trial to submit for the Virtual Race that we have set up on Rowsandall.com.
I didn't pull this at 100%. My legs are still empty from the workouts of the previous days.
After that, it was time to set the monitor to the 2 minutes on / 4 minutes off session.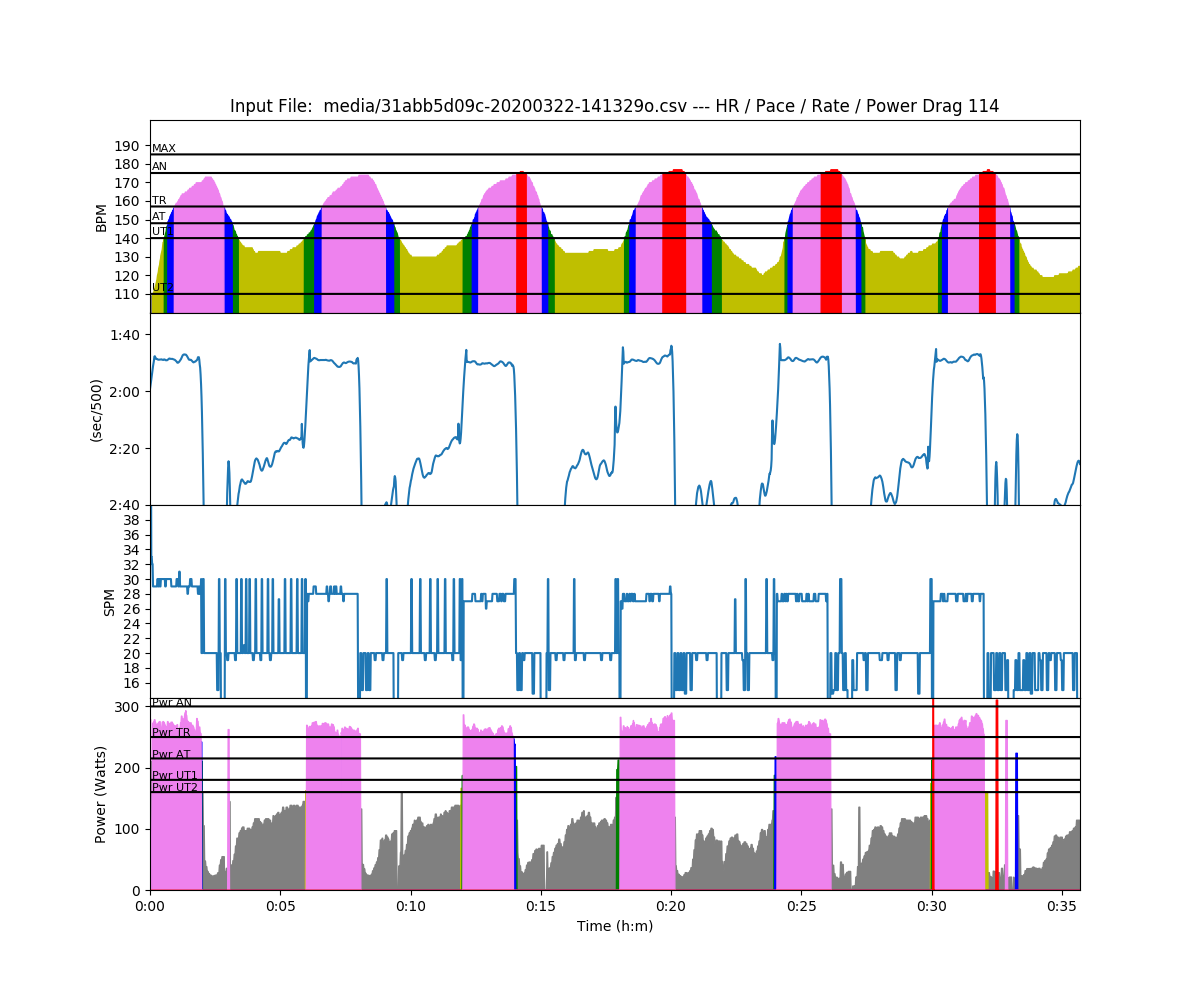 After 6 intervals, I called it a day. I didn't feel too well (my inner hypochondriac) and I reasoned that with the 4 minute intervals I had had enough work time for today. I did a 2k cooling down while the snow was getting more intense, then wiped down the ergometer and put it into the garden shed.

Workout Summary - media/31abb5d09c-20200322-141329o.csv
--|Total|-Total----|--Avg--|-Avg-|Avg-|-Avg-|-Max-|-Avg
--|Dist-|-Time-----|-Pace--|-Pwr-|SPM-|-HR--|-HR--|-DPS
--|07501|00:36:00.0|02:24.0|146.0|21.7|148.3|177.0|09.6
W-|03286|00:12:00.0|01:49.5|266.7|27.6|159.4|176.0|09.9
R-|04219|00:22:00.0|02:36.4|084.5|18.6|142.7|176.0|09.3
Workout Details
#-|SDist|-Split-|-SPace-|-Pwr-|SPM-|AvgHR|MaxHR|DPS-
00|00554|02:00.0|01:48.4|267.1|29.6|150.9|171.0|09.3
01|00547|02:00.0|01:49.8|265.6|27.7|161.7|173.0|09.9
02|00545|02:00.0|01:50.1|261.4|27.2|161.9|174.0|10.0
03|00542|02:00.0|01:50.7|268.1|27.0|161.8|176.0|10.0
04|00552|02:00.0|01:48.8|267.2|27.0|159.5|176.0|10.2
05|00548|02:00.0|01:49.6|270.7|27.0|160.8|176.0|10.2

That's all for today. I didn't set a single step outside my property. But I have to admit that being an introvert, I don't have too much problems with that.
In a way, I am also happy that the weather got worse. I have a brand new single at the rowing club. It's still wrapped in plastic and I haven't rowed a single meter in it. As our rowing club is closed, I will not be able to row any time soon, but thinking of our beautiful flat lake in nice weather would make me very sad.