Jun 15 2019
It's been a hectic and very exciting period, and that's the reason my last blog post was from May 25th. Here's a very quick run through the sessions starting on May 27th.
May 29th session 1: Weights. On Monday I was too tired, and on Tuesday I was too busy to workout. I do pretty heavy weights sessions, so I think this was a pretty heavy one.
May 29th session 2: Row in the 8+. One of the few preparation sessions we had for our short season. If I remember well, it was choppy. BoatCoach was misbehaving. I thought I had set it to splash guard, but it switched off during the row. The map also showing me taking a jump to North Africa during one or two strokes. It surely didn't look like I was visiting the Sahara. It was more choppy, wetter, and less coordinated.
On June 30, I drove to Racice to pick up the boats for the camp. Here are Daniela and Dave from Czech Concept2/Wintech/NK: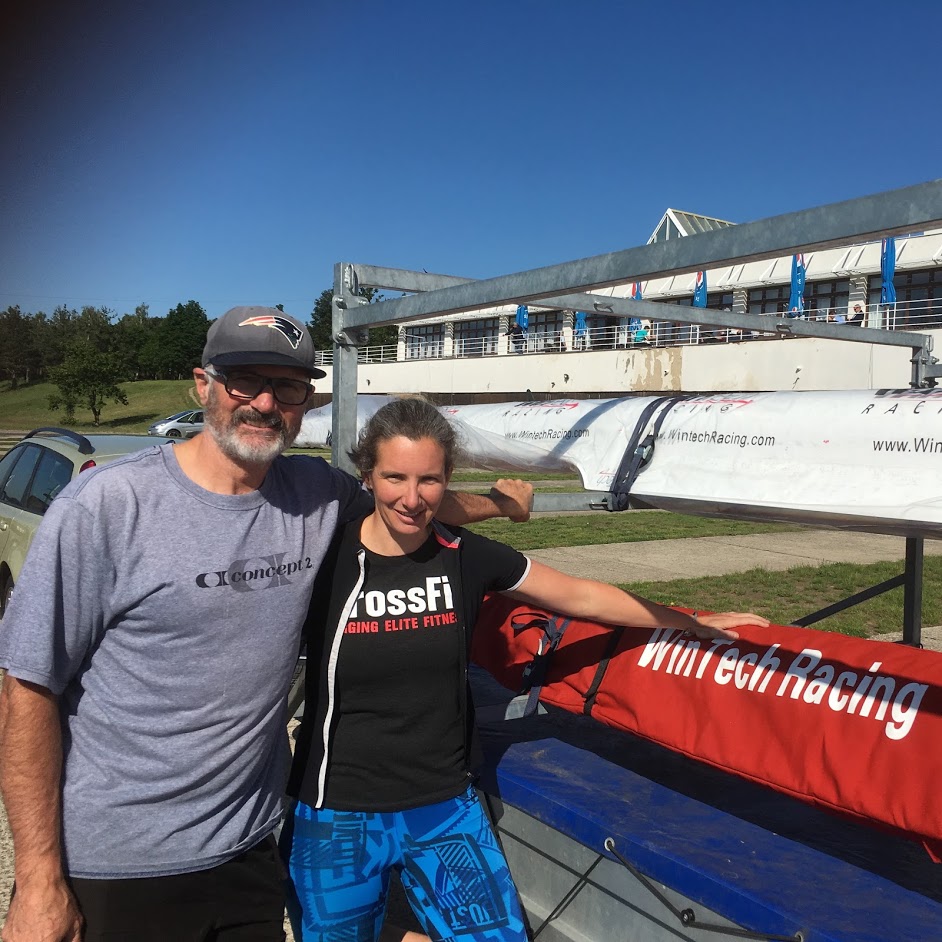 May 31st: A quick row in the double. We simply ran out of time. It wasn't very intensive, but it was a pleasure to row the double with Romana.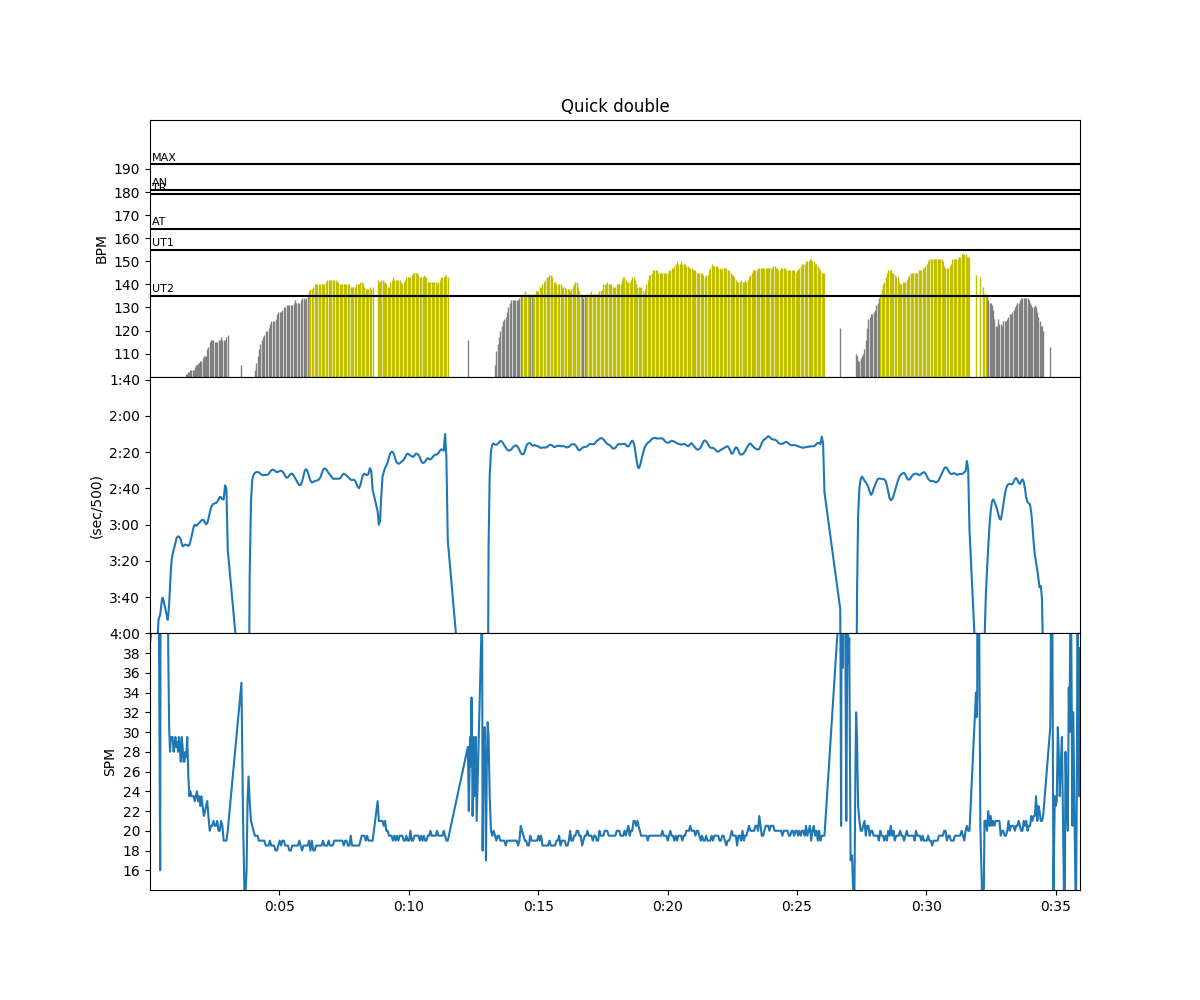 June 1: Morava Regatta on our home lake. Kazi and I rowed the heat of the men's 2x. We came in fourth place . It wasn't a very good race, and we expected to not proceed to the finals. It turns out our time was better than the winner of the second heat, and we qualified for the final on Sunday. We are trying to race faster crews in preparation for the Masters Worlds, so this was good. It was unfortunate that we couldn't deal with the wakes from the umpires launches and that we couldn't steer a straight course.
Sunday June 2: Our final race on the double. We were bold and did something you should not try at home: We changed some rigging parameters on our boat just before a race.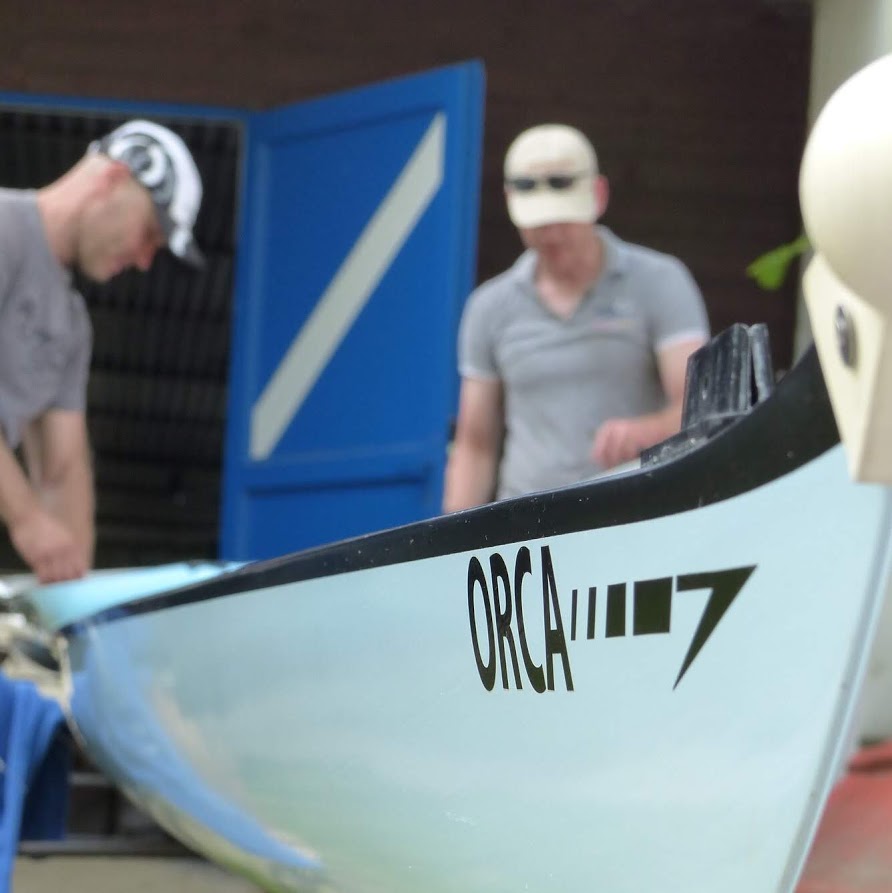 And off we were to the final: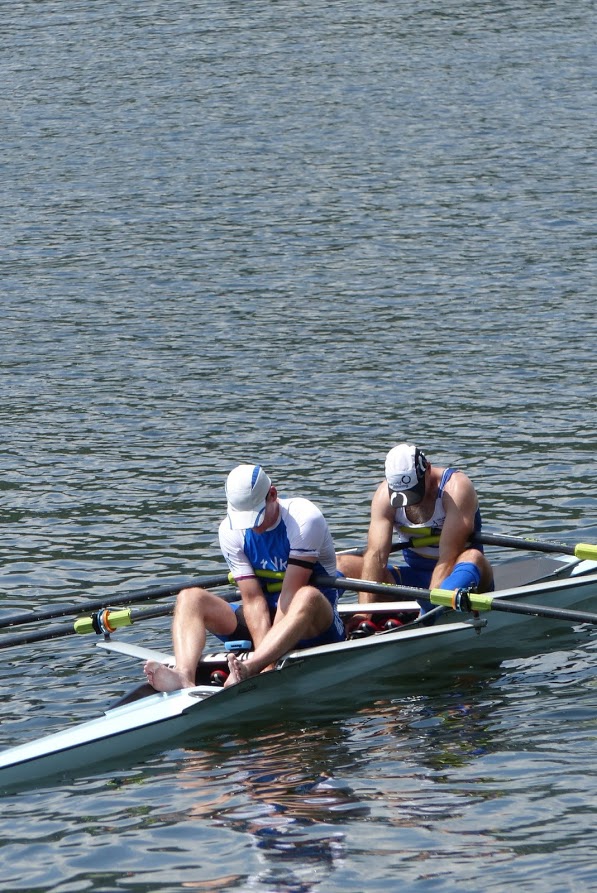 We raced a much better race this time, and managed exactly the same time as on Saturday, but this time we
rowed in a headwind (as opposed to Saturday's tailwind)
managed to pass another crew which is always a great feeling
Here are some charts comparing the Saturday and Sunday races:
Looks pretty similar, but we had a tailwind on Saturday, and it all felt much more controlled on Sunday.
On the same day, my youngest son Robin (on the right in the picture below) won his heat and final in the boys 4+, and can now call himself Champion of Moravia.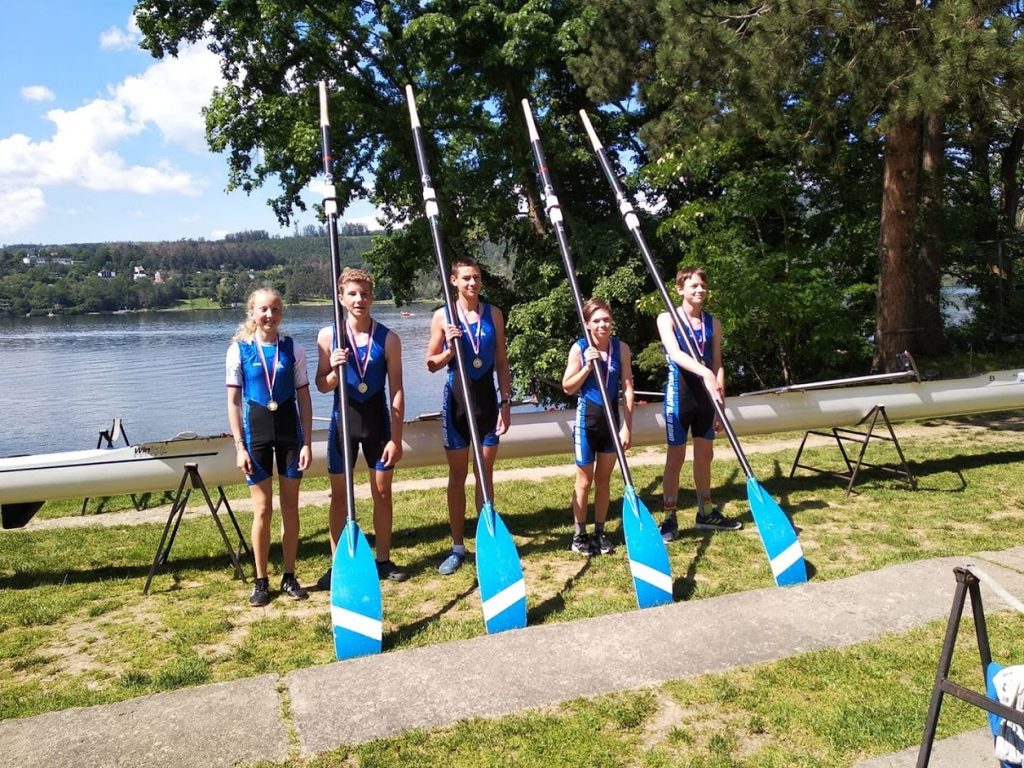 My final race of the weekend was a 2k in our Masters eight. We raced better than we had ever rowed in a training and managed to win a bronze medal.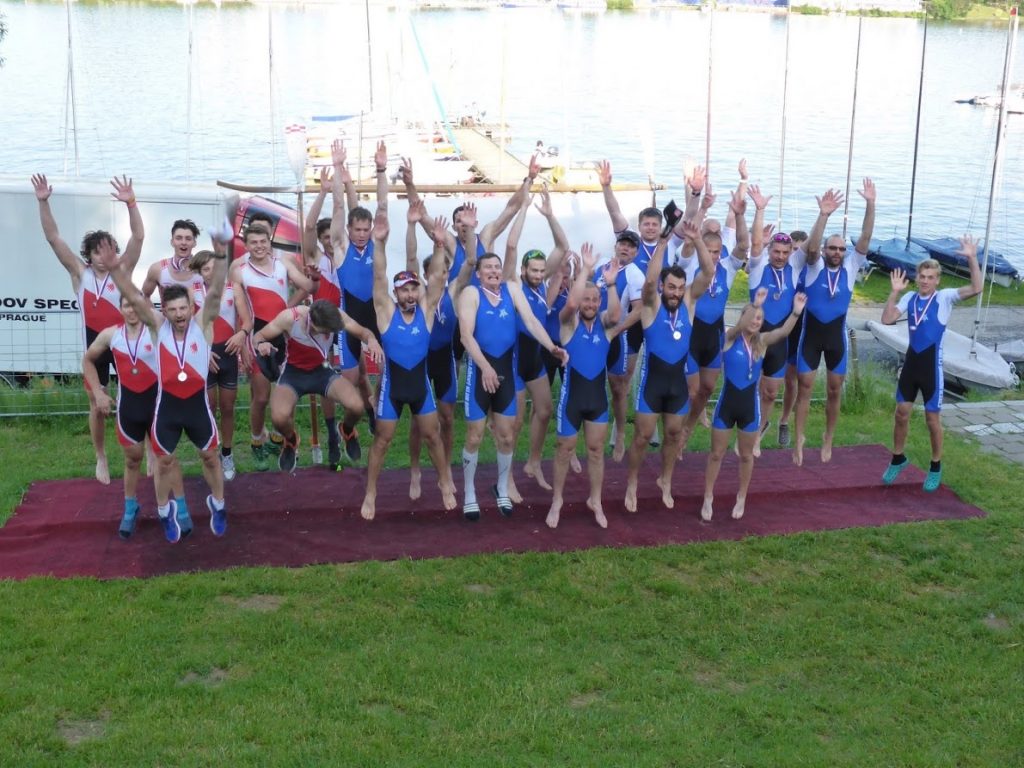 The picture shows our crew on the right, the winning Men's crew from our club in the middle, and Lodni Sporty Brno taking silver on the left. There was a little competition going on of funniest pictures on the podium. We weren't very good. I liked our Juniors 8+: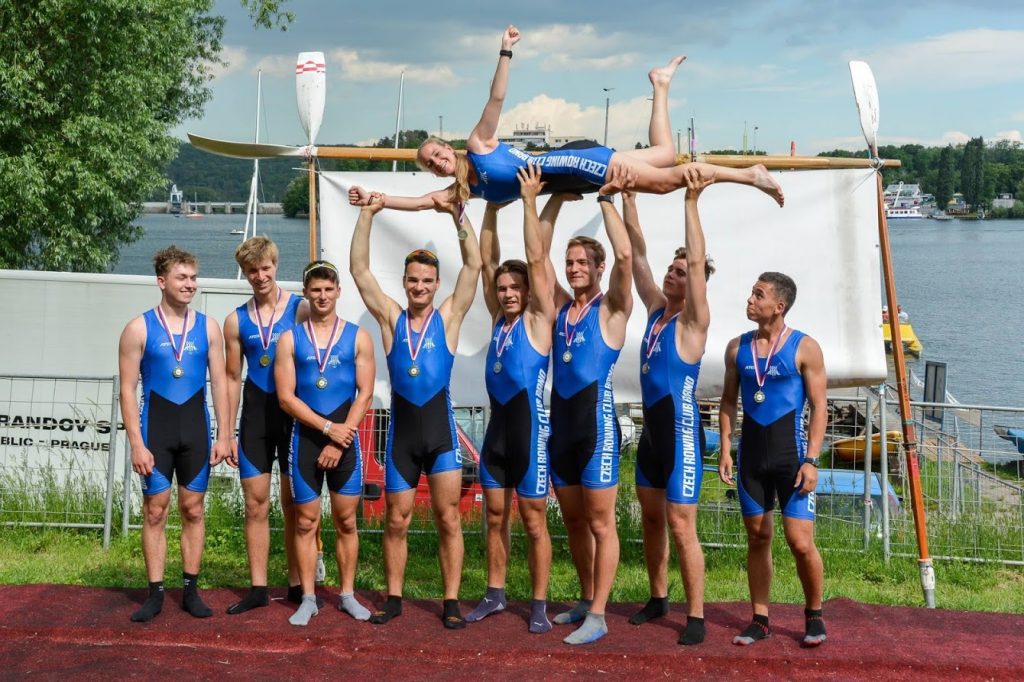 I took a quick shower and then it was time for the camp to start …
Follow me in social media