May 26 2019
Saturday
A steady state row in the single. This was the weekend of the Brno international Juniors regatta, so I decided to not go on the lake but row on the river instead. There was a strong wind and the lake was very choppy, so this was a good choice anyway. I didn't have a lot of time to Row because I had to be back in time to coach some of Romana's girls in Romana's absence.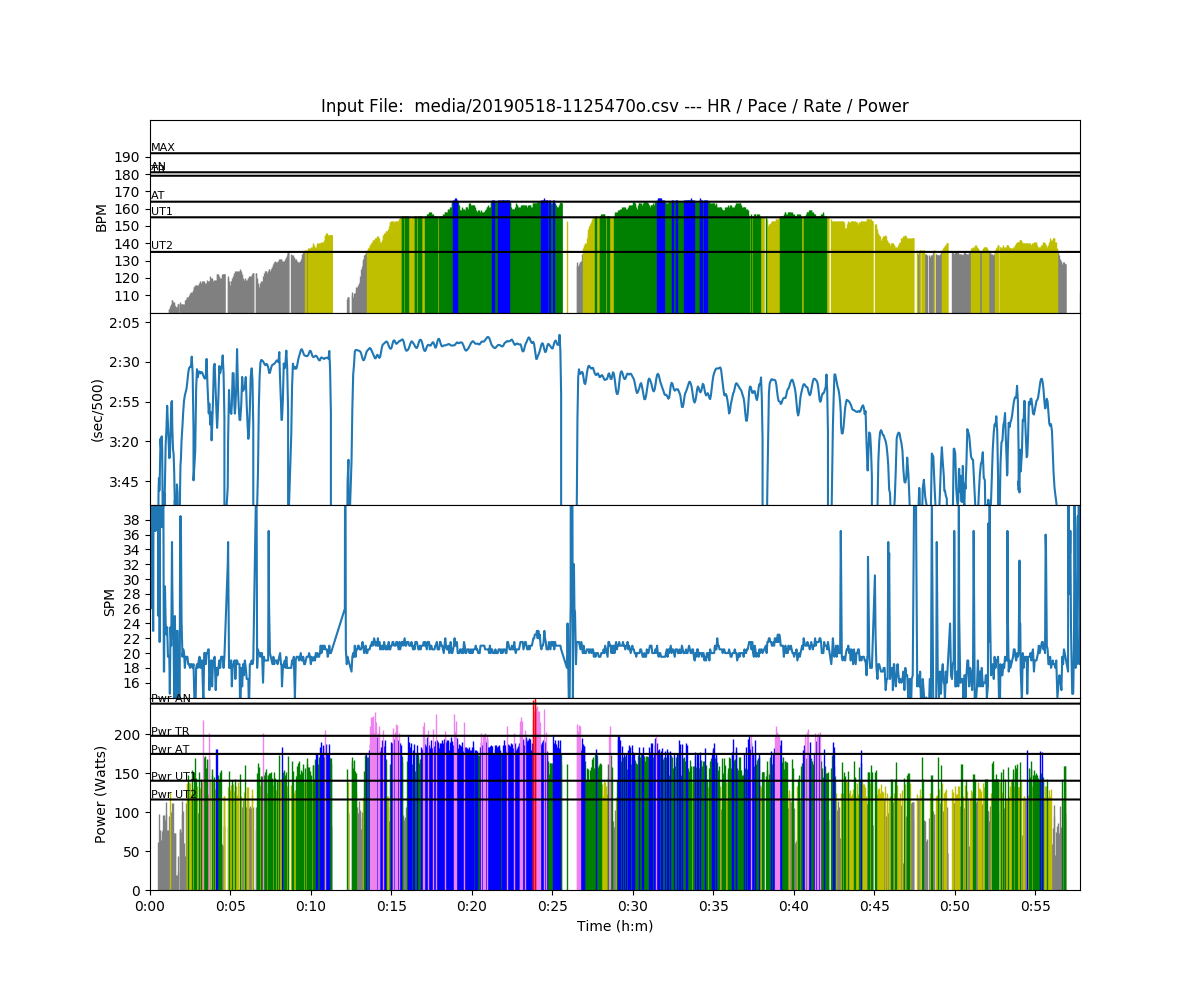 Nice row.
Sunday
Originally, I wanted to go on the double with Romana after the last race of the Juniors regatta, but somehow it went differently. Our club has bought a new LiteBoat Quattro (4x/4x+ combo) and it arrived from France on Sunday morning. I helped putting on the riggers and rigging it, including a complex foot steering mechanism, and so we wanted to try it out. It wasn't an overall success. The foot steering mechanism was somewhat loose so I had trouble steering it. I did like cutting through a huge wake caused by a motorboat, though.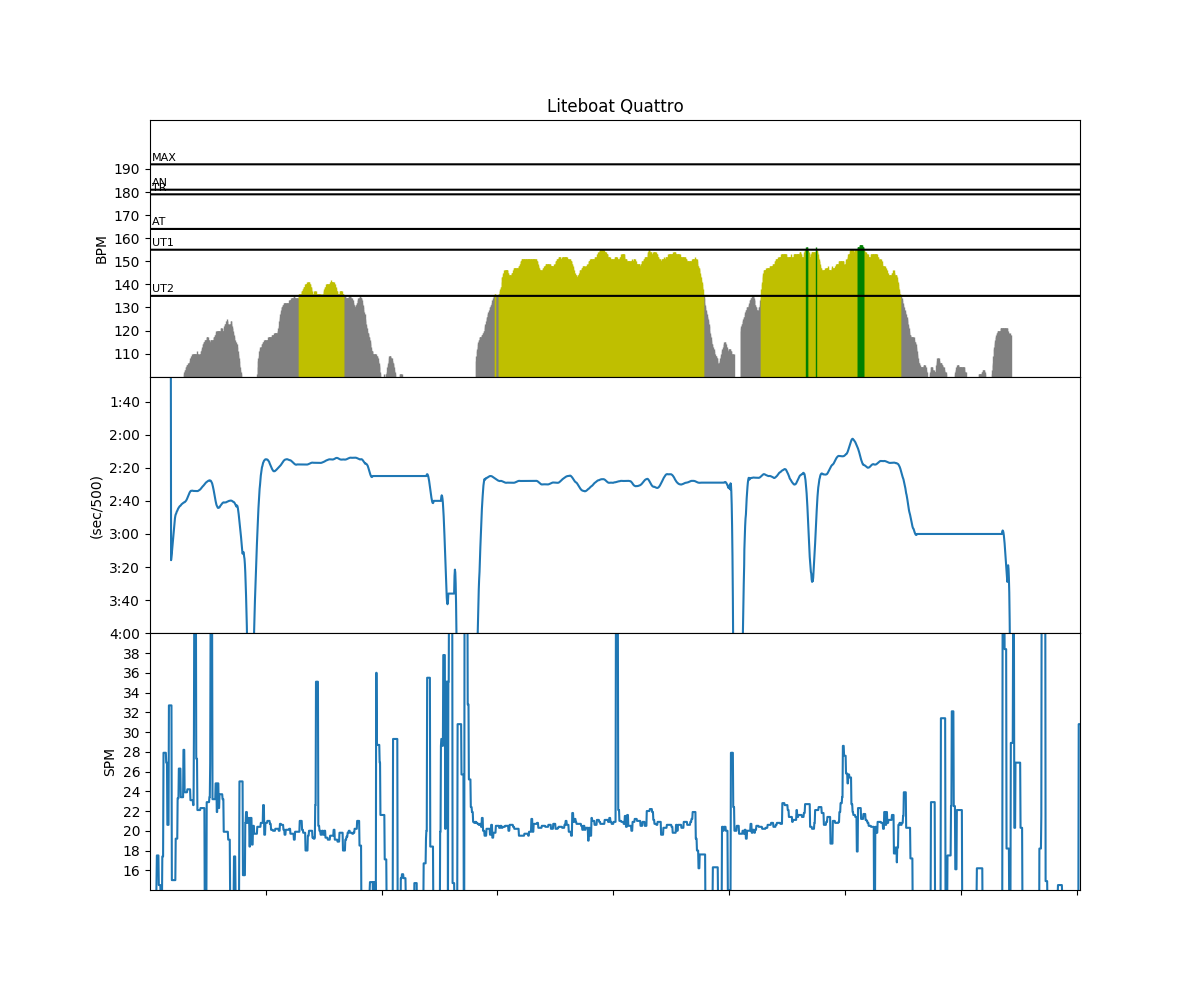 It was a short row, because we all wanted to be home in time.
Monday
I managed to leave the office at a reasonable time and I did a very nice steady state row in the single. Again to the castle to avoid the choppy lake.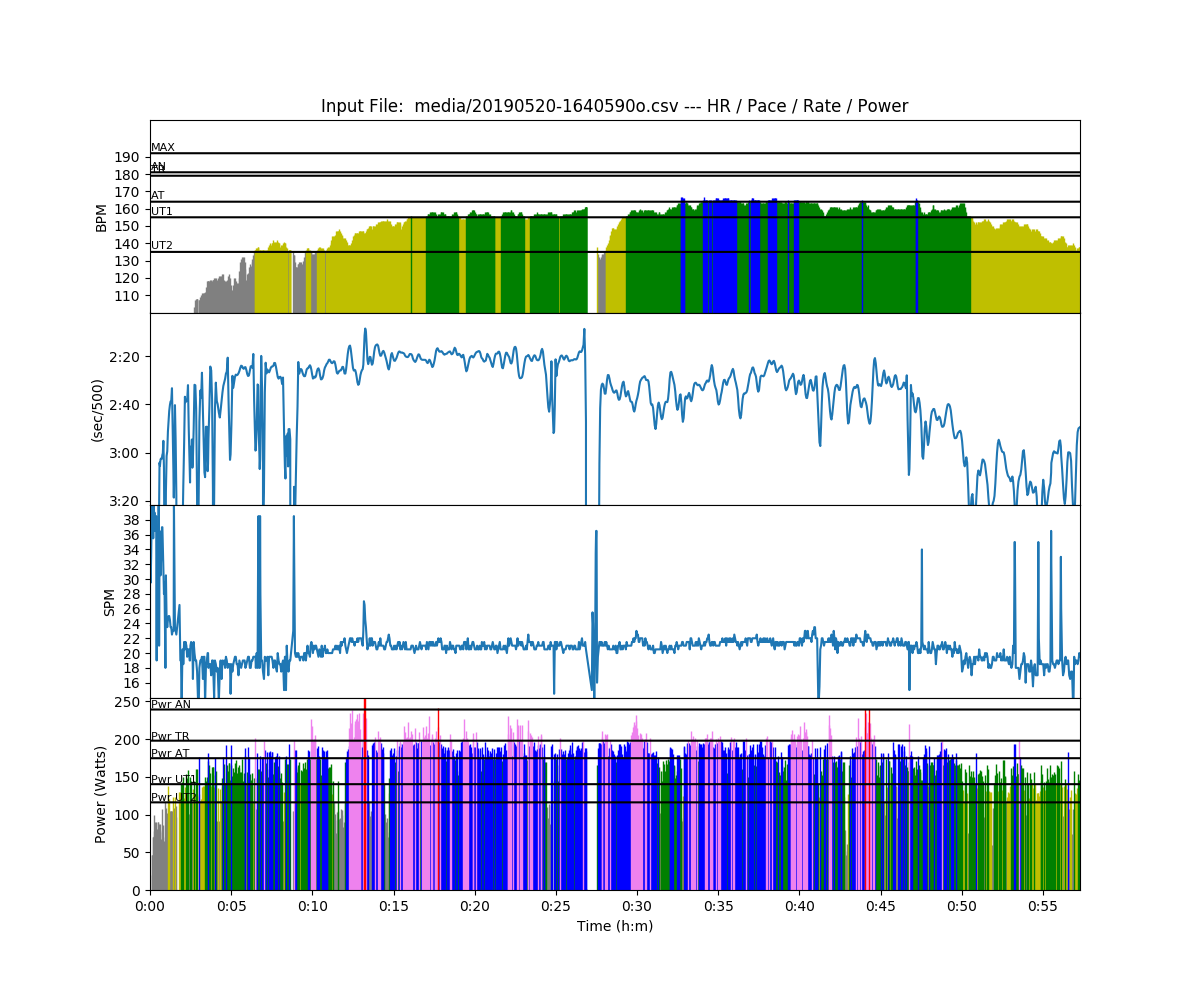 Interesting to see the difference in pace in the tailwind versus headwind part, compared to the power which is nearly constant.
Tuesday
Another day where I arrived early. I had to leave work early to go to the bank to solve an unpleasant issue. During my last visit to the USA, it seems my bank card was copied. Suddenly, suspicious payments at a gas station in North Carolina showed up in my electronic banking app. I blocked the card immediately, and this Tuesday I had to go to the bank to pick up my new card.
I suspect this happened on one of the dinners. I hate it when they take your card to do a swipe of the magnetic strip, and then you sign. I think this is a technology of the 1980s, but in the US it is still widely used.
The workout was 4x5min with each five minute interval 2 minutes at 24spm, 2 minutes at 26 SPM and 1 minute at 28 SPM.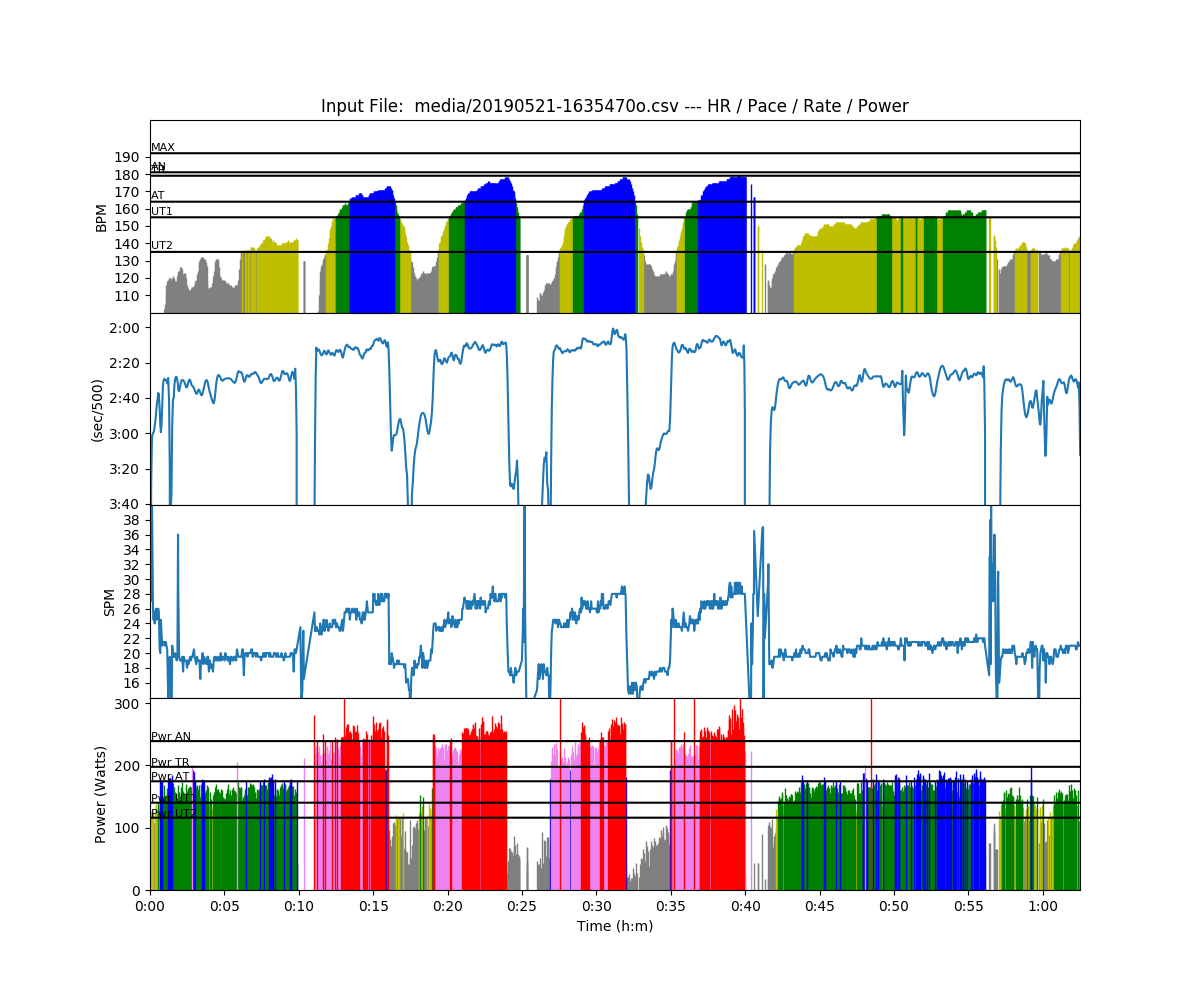 I had company from the Masters E pair, but I was slightly faster than them. The wind was a very light breeze from the south west, nothing to write home about.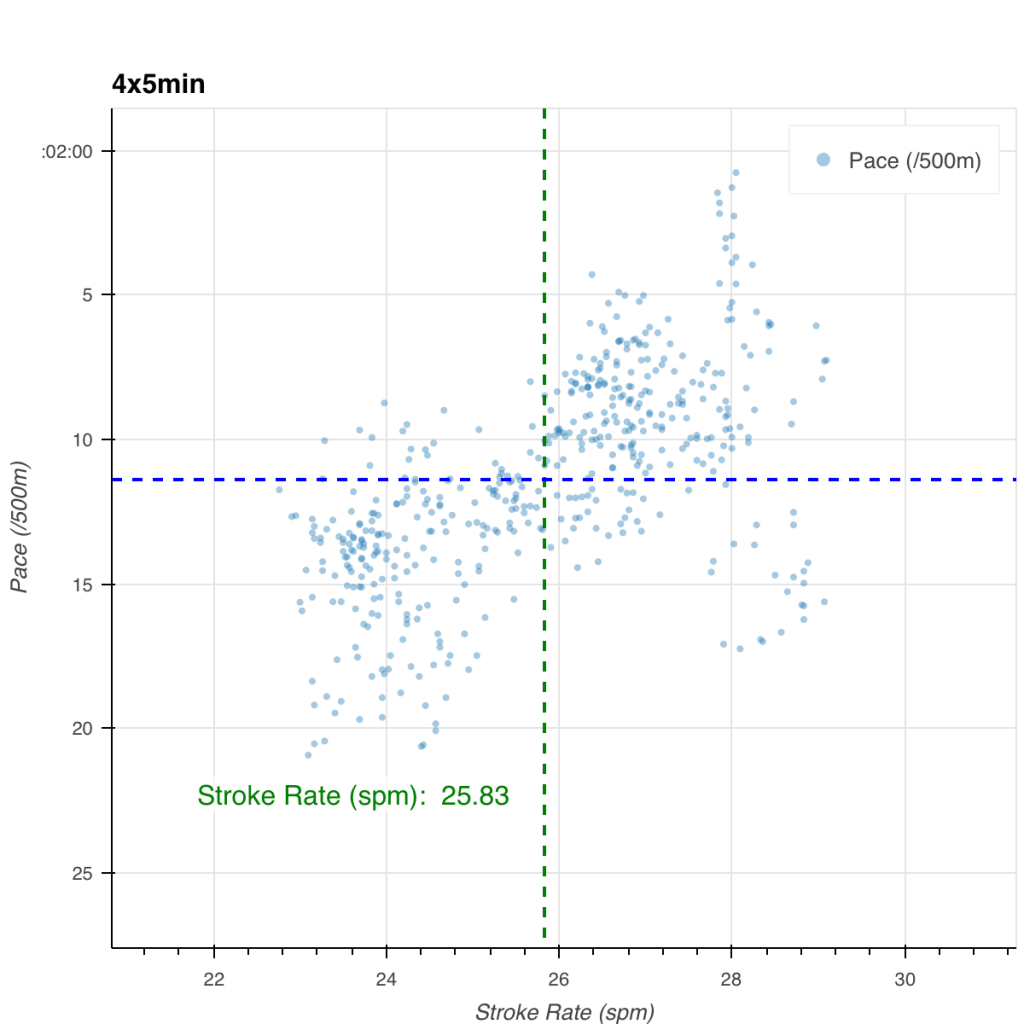 The speed vs pace chart looks pretty ok, I think.
Workout Summary – media/20190521-1635470o.csv
–|Total|-Total—-|–Avg–|-Avg-|Avg-|-Avg-|-Max-|-Avg
–|Dist-|-Time—–|-Pace–|-Pwr-|SPM-|-HR–|-HR–|-DPS
–|11886|01:02:30.5|02:37.8|169.1|21.8|145.7|179.0|08.7
W-|04472|00:19:33.5|02:11.2|239.4|25.7|162.5|179.0|08.9
R-|07417|00:-81:53.0|-5:-24.1|495692181610166.6|85618463765934.2|641582514294807.5|179.0|-0.0
Workout Details
#-|SDist|-Split-|-SPace-|-Pwr-|SPM-|AvgHR|MaxHR|DPS-
01|01105|04:51.2|02:11.8|238.2|25.1|158.2|173.0|09.1
02|01096|04:51.9|02:13.1|242.1|25.8|164.1|178.0|08.7
03|01154|04:58.4|02:09.3|232.9|25.9|161.6|178.0|09.0
04|01118|04:52.0|02:10.6|244.8|26.0|166.0|179.0|08.8
First two intervals were in a light headwind, last two in light tailwind. I was happy with the pace and it was a very enjoyable training session.
Wednesday
We were supposed to go out in an eight, but only three people showed up, unfortunately. Also the lake was very choppy, so my original idea to row a 4- wasn't going to be a very meaningful training. We settled for the erg, doing 2x(4x250m/250m)/4min.
I have no data, unfortunately, but I was happy to hold 1:37 to 1:38 on the intervals. I think this is slightly faster than I would have been able to hold a year ago. I believe this is my weights training paying off.
Friday
I had a quite difficult morning. Our club was supposed to go to the races in Hodonin, but it had been raining very hard in the preceding few days, and the water in the Morava River was rising fast. On Thursday evening, I received following video from the race venue:
I thought racing in these conditions was madness, but the race organizers were postponing their decision. On Friday morning I decided for myself to not race and not send my sons racing. The official decision to cancel the Regatta was done only at 3pm on Friday.
I did a weights session. Bench press, dead lift, squats, cable row, plank. Pretty heavy.
Saturday
Finally! Romana and I went out in the double. We did a short sprint workout: 2x(8×20″/20″). It was fun and it was nice to climb into the higher stroke rates.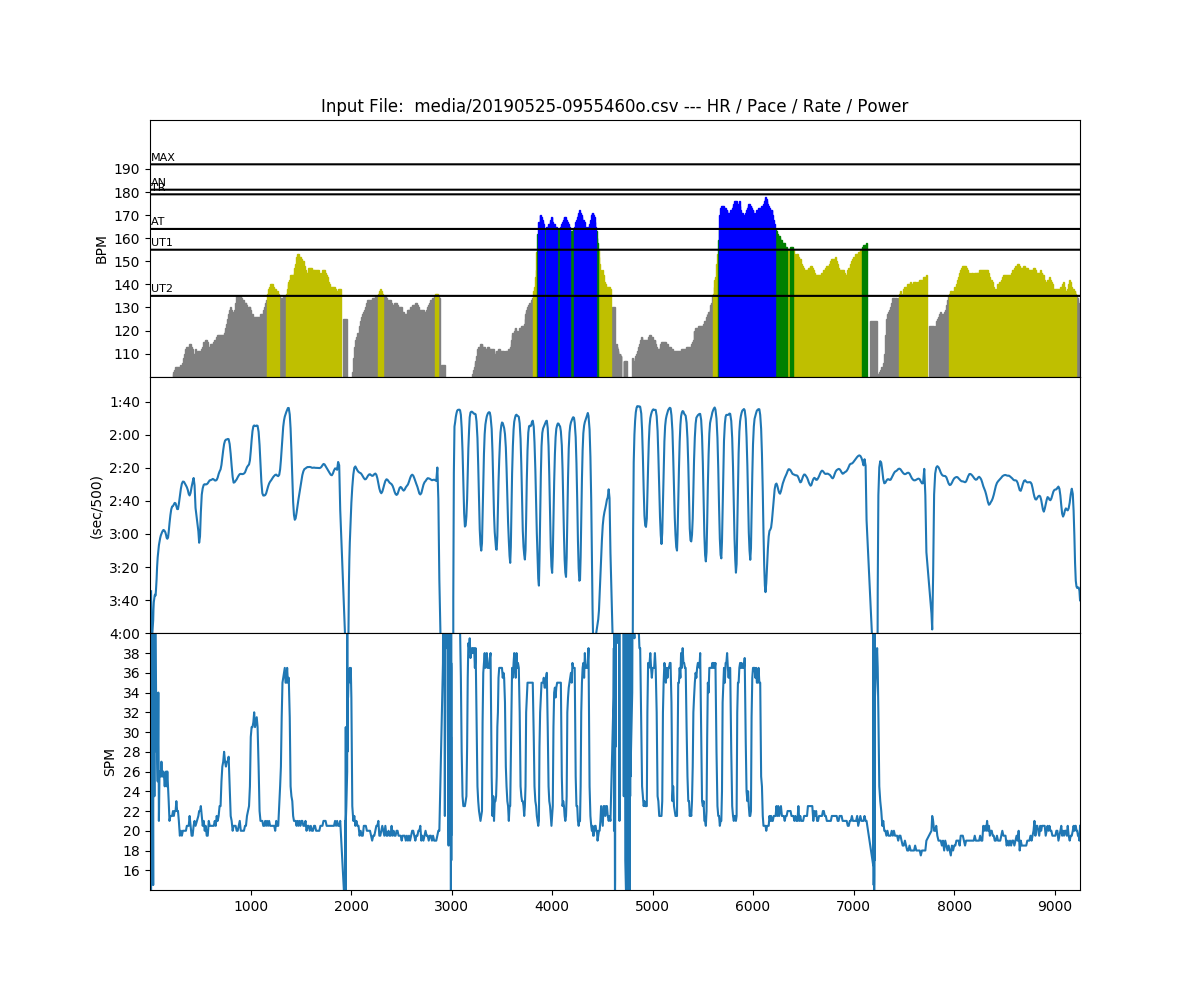 Somehow the heart rate monitor misbehaved again, I may have to go back to the chest straps.
After the row, we drove to Klentnice to fine tune the menu for the rowing camp dinner. The Fara restaurant in Klentnice, in the Palava area, just 40 minutes south of Brno, has true genius loci.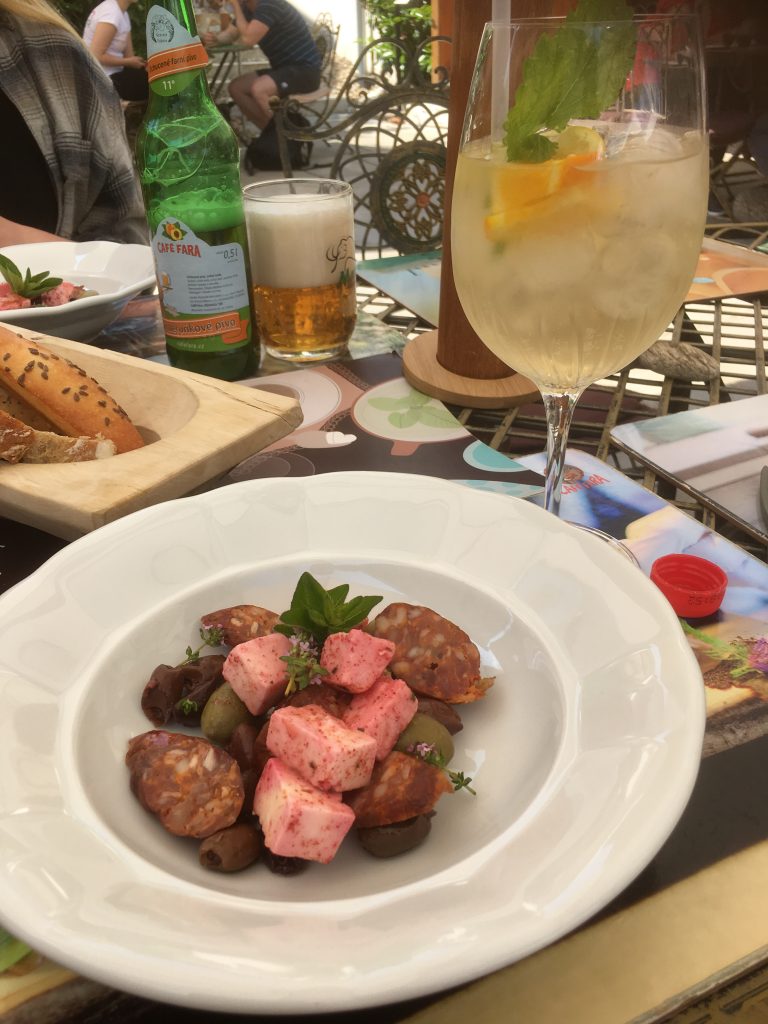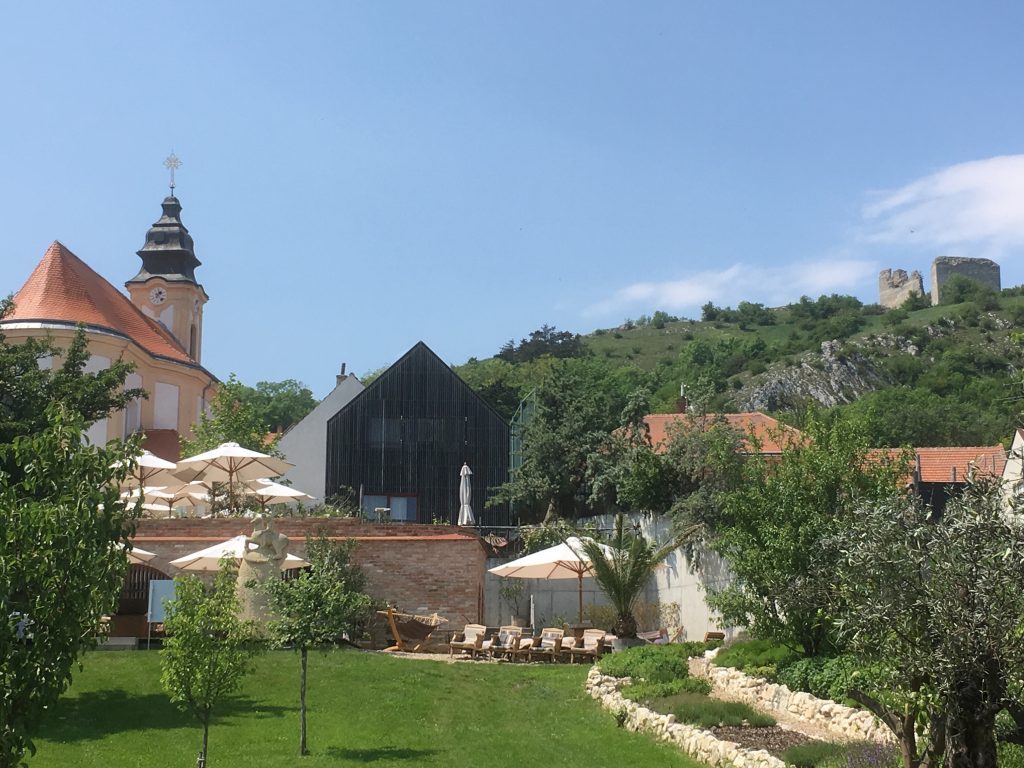 Sun, vineyards, nice modern architecture, ruins of a medieval castle. What do you want more?
Sunday
We were supposed to race in Hodonin, but the races were canceled because of high water. So I invited my 2x partner from Hodonin to come train in Brno. The boys were doing the Pete plan pyramid (250, 500, 750, 1000, 750, 500, 250m) and we decided to join them. There also was a mixed masters 4x on the water, so in the end we were an armada of 2 singles, one pair, one double and two quads doing the same workout, which was big fun. We have a buoyed 6 lane course.
Workout Summary – media/20190526-1226280o.csv
–|Total|-Total—-|–Avg–|-Avg-|Avg-|-Avg-|-Max-|-Avg
–|Dist-|-Time—–|-Pace–|-Pwr-|SPM-|-HR–|-HR–|-DPS
–|13065|01:31:23.5|03:29.9|000.0|23.0|126.1|181.0|06.2
W-|04064|00:14:51.9|01:49.7|000.0|32.7|157.2|181.0|08.4
R-|09007|00:-315:49.3|-17:-26.4|000.0|-1302108410965260137714941952.0|-5016110237894753553529962496.0|181.0|-0.0
Workout Details
#-|SDist|-Split-|-SPace-|-Pwr-|SPM-|AvgHR|MaxHR|DPS-
01|00320|01:08.4|01:46.9|000.0|30.5|152.3|166.0|09.2
02|00503|01:48.1|01:47.4|000.0|33.3|110.0|125.0|08.4
03|00743|02:45.0|01:51.0|000.0|32.0|166.2|179.0|08.4
04|00996|03:46.3|01:53.6|000.0|31.0|166.6|179.0|08.5
05|00777|02:54.6|01:52.3|000.0|32.7|163.7|177.0|08.2
06|00493|01:41.3|01:42.7|000.0|36.5|166.1|181.0|08.0
07|00231|00:48.2|01:44.2|000.0|36.0|152.3|168.0|08.0
Splits according to the GPS. In the second 500m we were quite competitive with the boys quad and took the rate up to 38spm in the final bit.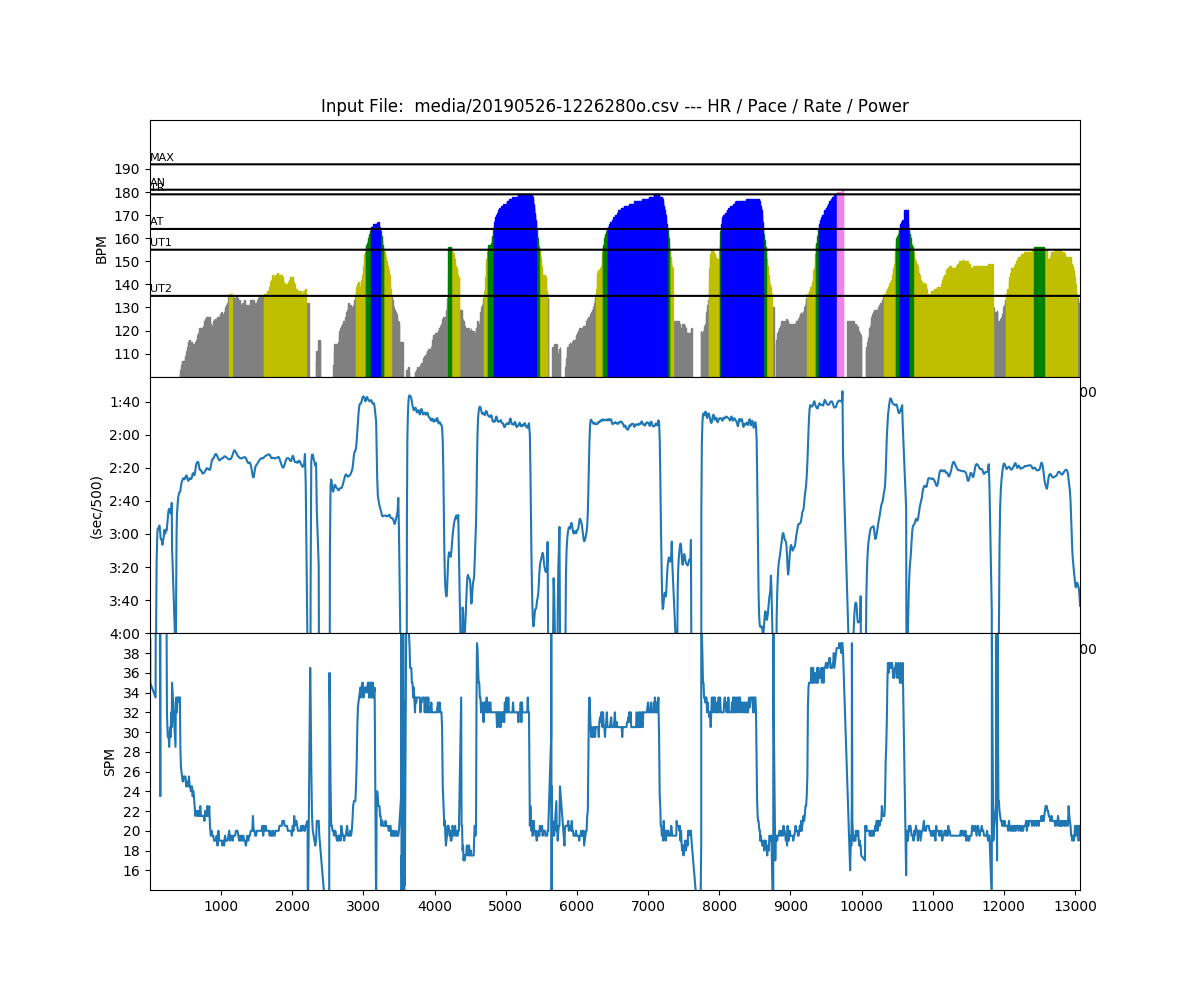 Here is our stroke rate vs pace chart: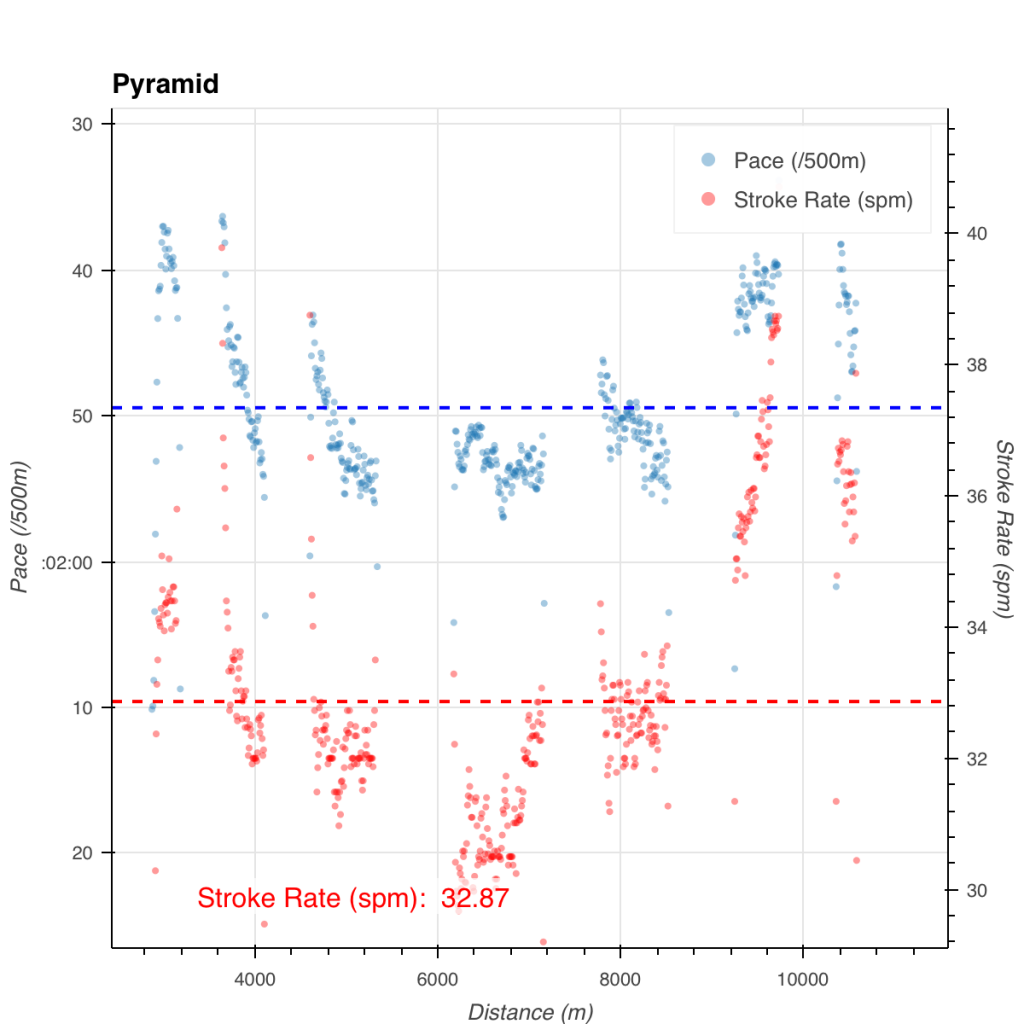 After a short coffee break, we rowed another 10k with lots of drills and technique training.
Follow me in social media