Mar 7 2019
Monday
Up at 5:30 for transport to the airport. Flight to Paris, then on a (delayed) flight to Casablanca. Check in to the hotel and one local beer tasted before going to the land of nod.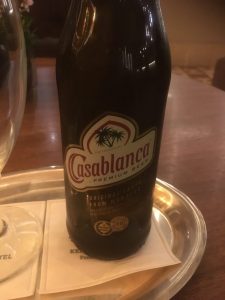 Tuesday
Up early. It was still dark outside. Also, I wasn't sure where to go running in Casablanca. It was a pity, because exploring new places by running is an excellent way to get more sight seeing out of a business trip.
I headed down from my 26th floor hotel room (magnificent views!) to the gym at the second floor. A typical hotel gym. The training plan prescribed 30 minutes of running which I replaced with 10min/10min/10min of treadmill/elliptical/spinning. After that, the second part of the session looked horrendous:
6x (20x burpee + 20x jerk 25kg)/60″
6x (20x squat 10kg + 40x boxing with 6-8kg dumbbell)
I was under time pressure so I did 6x (20x burpee + 40x boxing). And that was hard! So all in all a session of 50 minutes but I got some work done.
We had a good meeting, and then there was some time for sight seeing. We took a taxi to the biggest mosque of North Africa, right on the beach, and took a few pictures.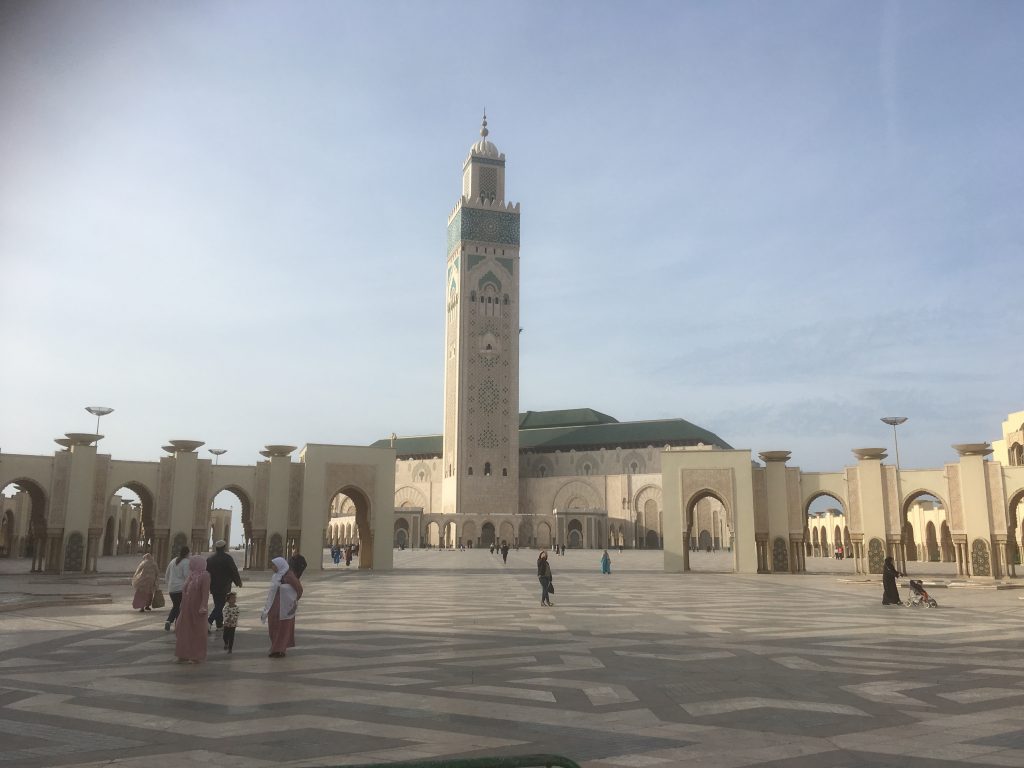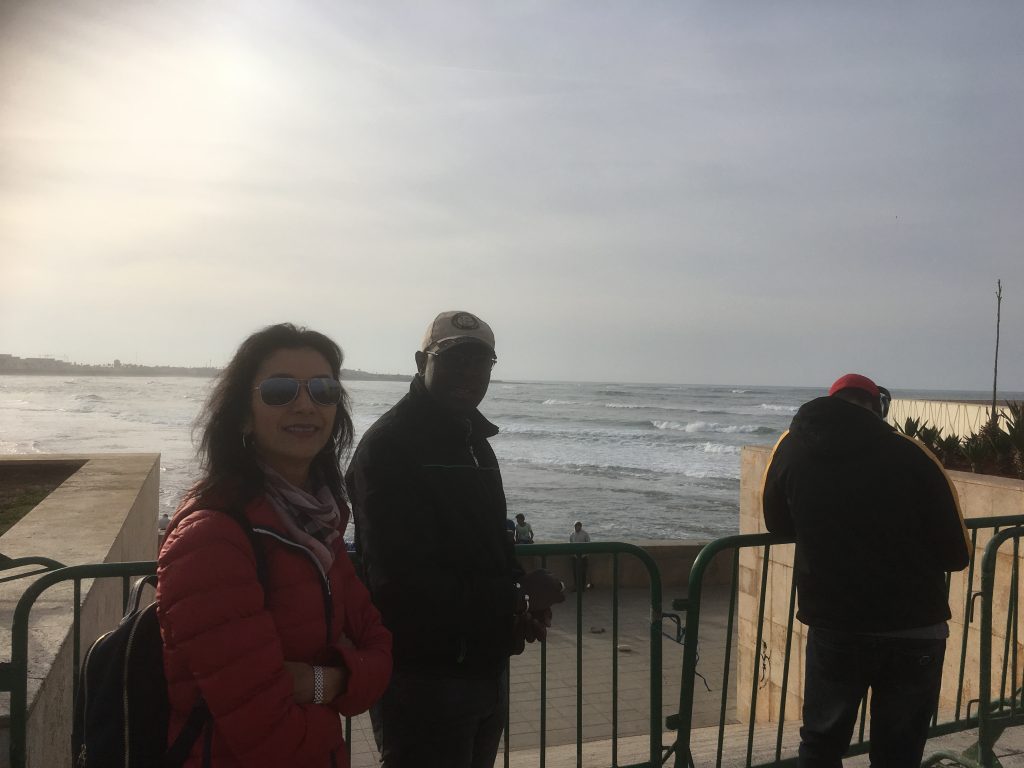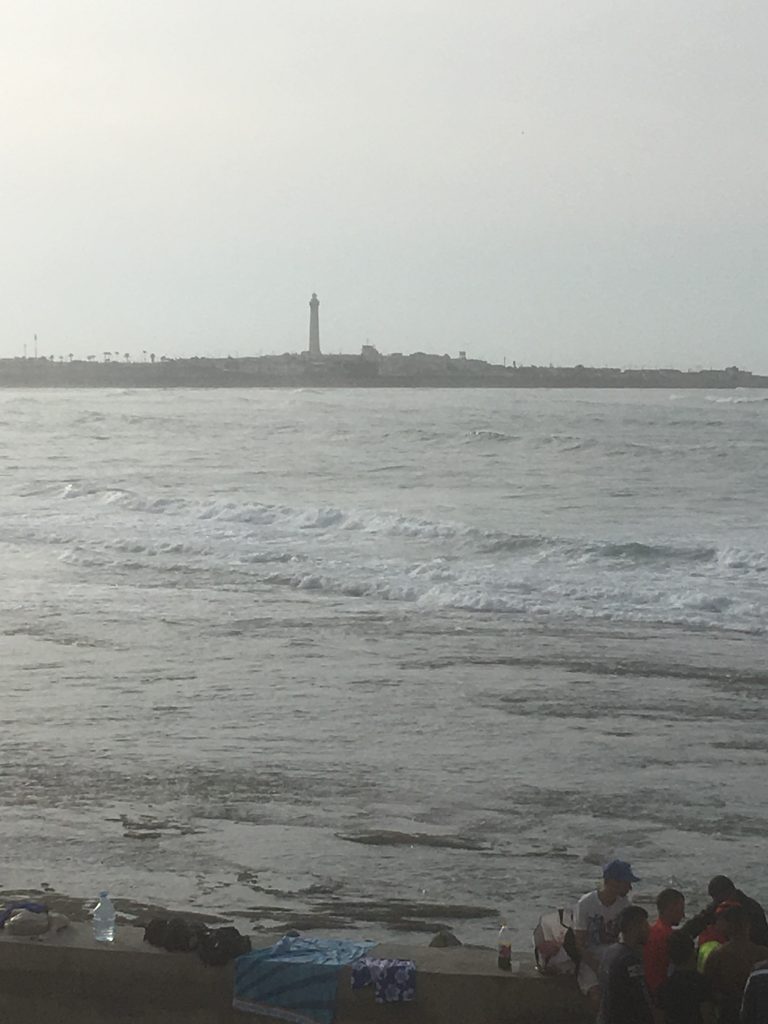 Then we took a taxi to the fishing port. We passed "Rick's Cafe", then a part of the waterfront that looked like a piece of Monaco transplanted to Morocco. You can see it in the background of this picture.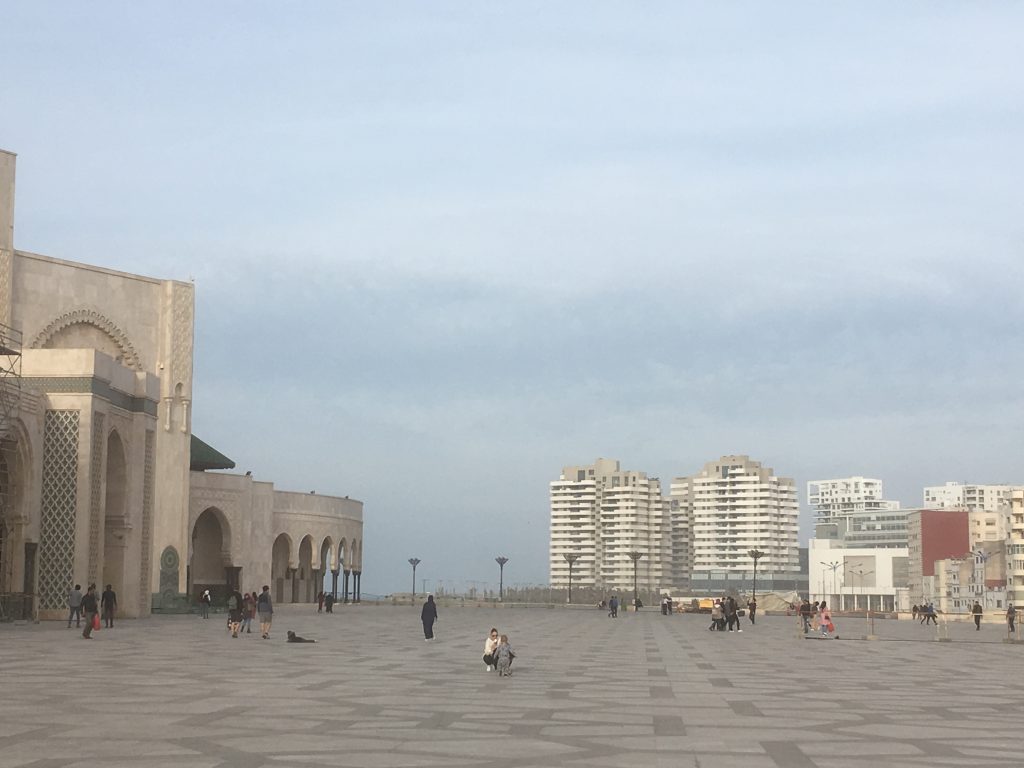 In the port, we watched the boats getting prepared and leaving. We were at a significant risk of being covered in seagull poop, but we still stood there watching for a while, taking in the aroma of diesel, fish, sea water, and other undefined.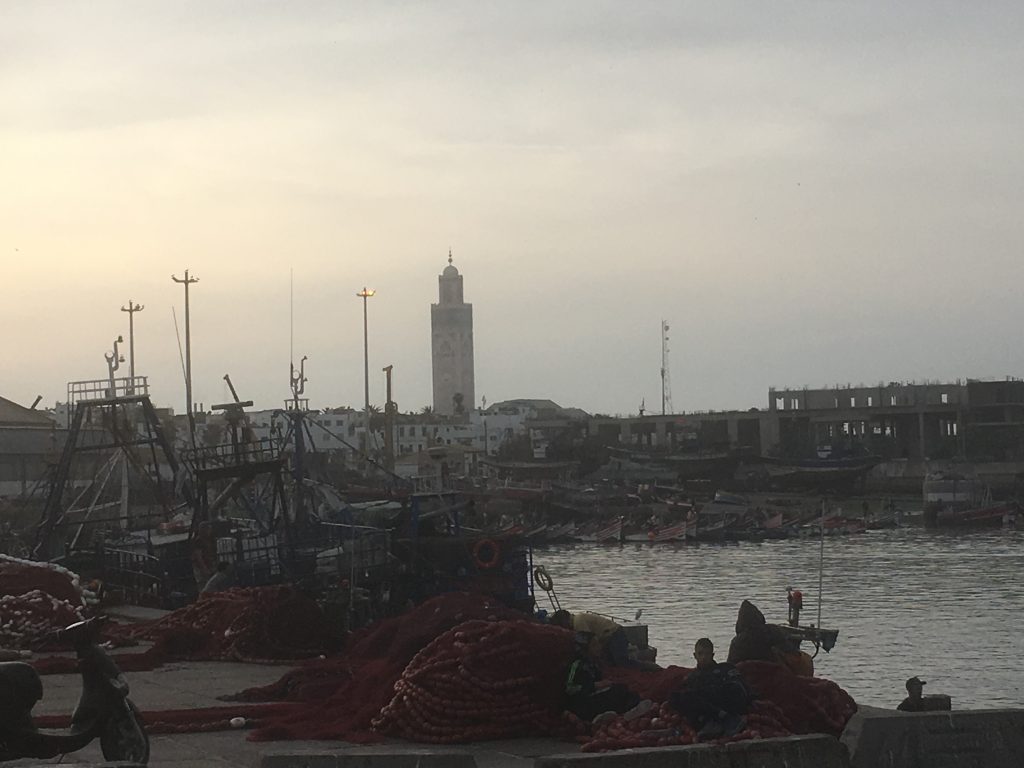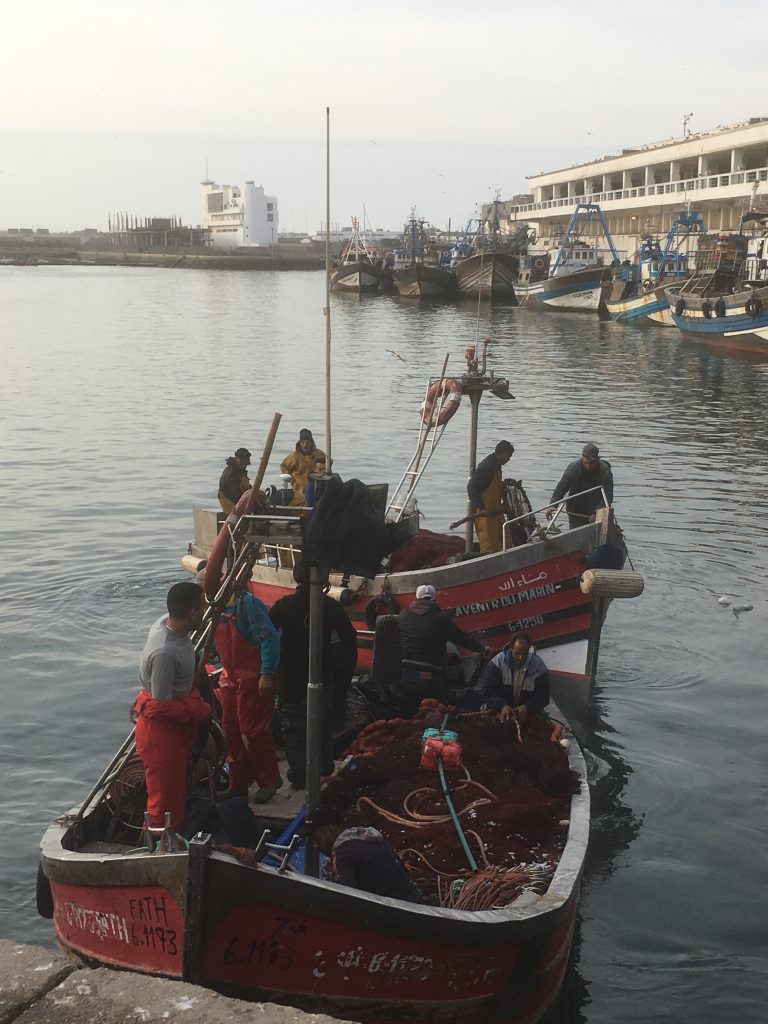 We had great seafood in a nearby restaurant.
Wednesday
Basically spent the whole day making it back from Casablanca to Brno, with stops in Paris and Vienna.
Thursday
Back in the office and lots of things to do. But it was great spring weather and I knew that our local rowers have been rowing OTW since Monday! I needed part of the action, so I left early, claiming to be tired from the business trip and grabbing the opportunity offered by one canceled meeting. Drove home, grabbed rowing gear, went to lake.
The lake was perfectly flat. Took out the single and did a little over an hour of 18spm steady state. I had no need to go any higher. This was a session to work on technique on the water, after a winter stop of three months. Oh, how I enjoyed feeling the boat run between strokes, something that no erg can simulate, dynamic or not.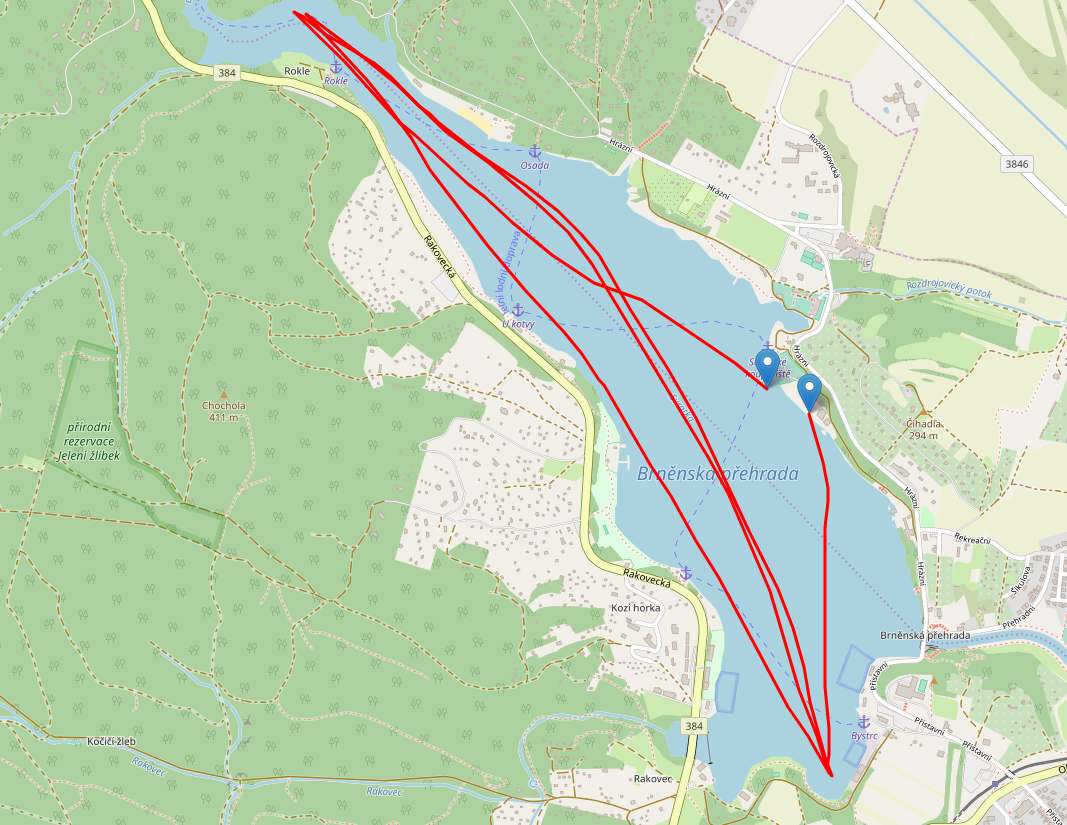 I must have switched off the SpeedCoach after the warming up. I noticed half way the first "lake" that the SpeedCoach was showing "Ready". It took a while for me to realize that this was not OK. So the session was recorded as 55 minutes, but I rowed for 68 minutes. I have the Garmin backup data to prove it.
After 40 minutes it started raining a bit, and when I was closing in on the last part, the water got a few wrinkles. I turned at "Sirka" and started the final 1000m back to the rowing club. After a minute or so I heard the wind, and then I felt it. A very strong headwind came up and within 30 seconds the lake turned very choppy. And another 30 seconds later I was rowing in white caps and getting water in the boat. As I caught water, a little later it took just too big waves to completely fill my boat with ice cold water. I saw my water bottle float away but I decided not to go back to catch it. I was only 400m from the dock but I was fearing I wouldn't make it.
Actually, I turned around to see if anybody was outside on the rowing club who could help me. Nobody there. I swore loudly, but in the wind nobody heard it.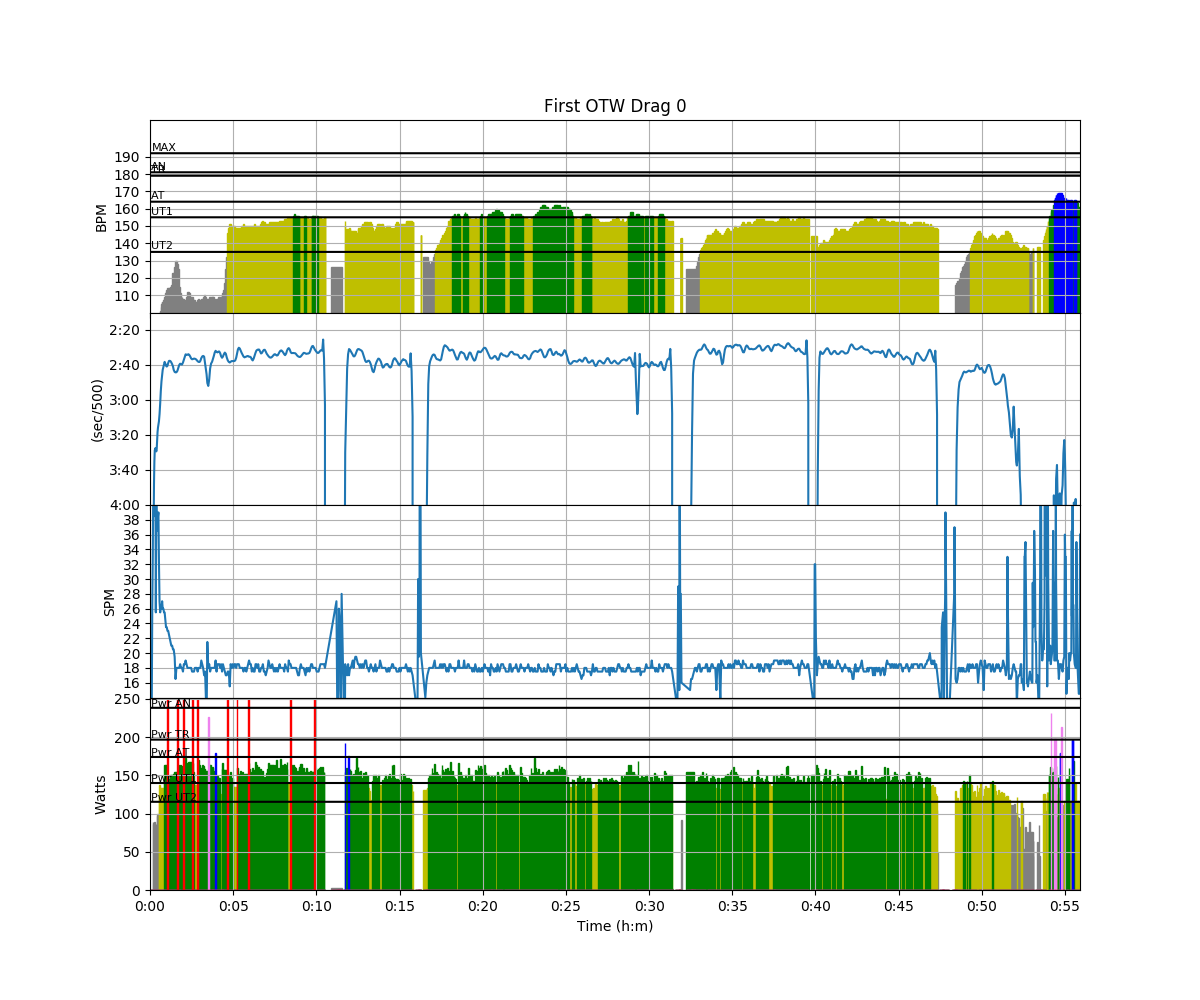 Look at the chart and you see the frightful bit. With 200m to go I was considering to just paddle in survival mode until the wind would die down, but eventually I made it to the dock. There, I found that my shoes had been blown into the water and were nowhere to be seen. Well, the advantage of cold, numb feet is that you can walk without feeling the sharp stones. I had to put the boat in slings  and secure it before I could put it in the boathouse, because the wind had slammed the doors shut.
Well, that was quite an unexpected adventure. But it was great to be out on the water again. Here are some of the metrics:
This slideshow requires JavaScript.