Jan 12 2019
Friday
After the underwhelming performance of Thursday (I was lucky the schedule called for such a short and relatively light session), Friday was cross training / recovery training day. The schedule talked about 40 minutes of cross training followed by some body weight exercises for twenty minutes.
I just swam for an hour straight. No breaks. Did my 2k of swimming and felt happy about it. I even managed to make it on time for the 9am meeting, but that was mainly the result of knowing some back roads that avoid traffic jams. Or maybe the traffic was lighter than usual.
Saturday: Nearly Ten Henleys
Nearly Ten Henleys is an online event on Rowsandall. It's not on the schedule that our head coach writes, but I have already decided to add one session per week if possible. What session is better than 21097 meters of erging?
Saturday morning was spent doing some Rowsandall.com related chores. Answering overdue emails, paying the bills, and so forth. I was also not looking forward to the half marathon and basically hung out on the couch until I couldn't postpone it any more without compromising my plans for the afternoon.
I did a 5 minute warming up and then I dialed up the 21097m and got going. The plans was to hold 200W initially, then start increasing power, aiming for a nice 203W or better average, as was predicted by Rowsandall.com.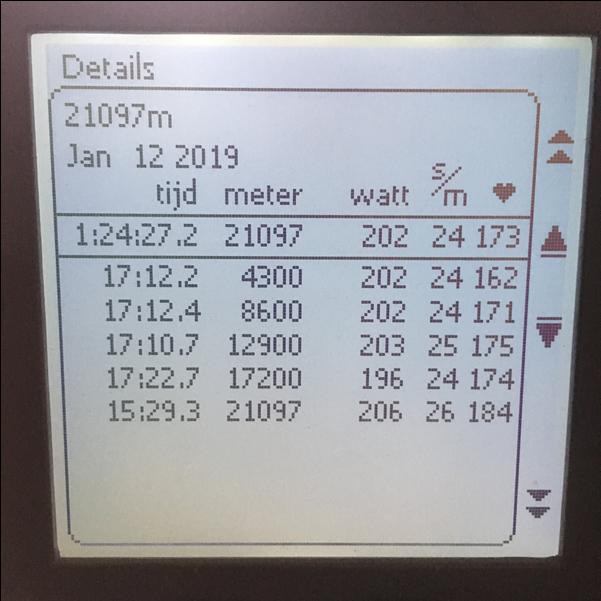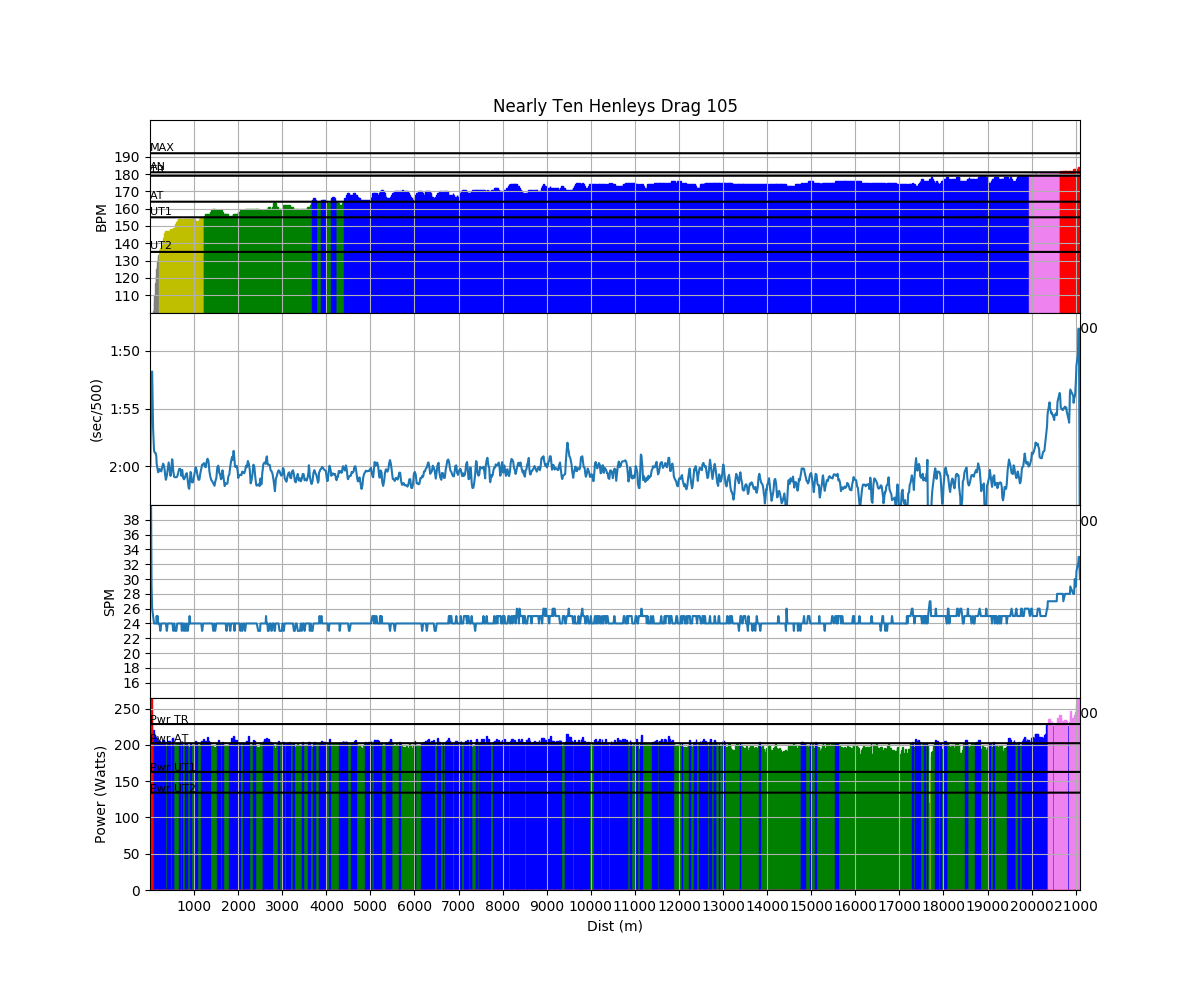 Somehow around the 9 km to go point, the increase the power plan didn't seem so smart any more. Between that point and the final 2k, I was really struggling. I had to remind myself to row with good posture and to rate up a bit if necessary to keep the splits in the right range. I was sad to see the average power drop back from 203W to 202W and then even, briefly, to 201W. In the final 800 meters I managed to find some energy and rate up to empty the tank.
The cool water tasted deliciously after the row.
I browsed to the workout on Rowsandall.com and did a few quick comparisons with a similar effort a year ago. That effort from December 2017 was the one that caused me to go out so conservatively, because it was a slowing down drama. Turns out 2017 was a few Watts more and under 1:24. I didn't like that. I liked how easy it was to make these comparison charts: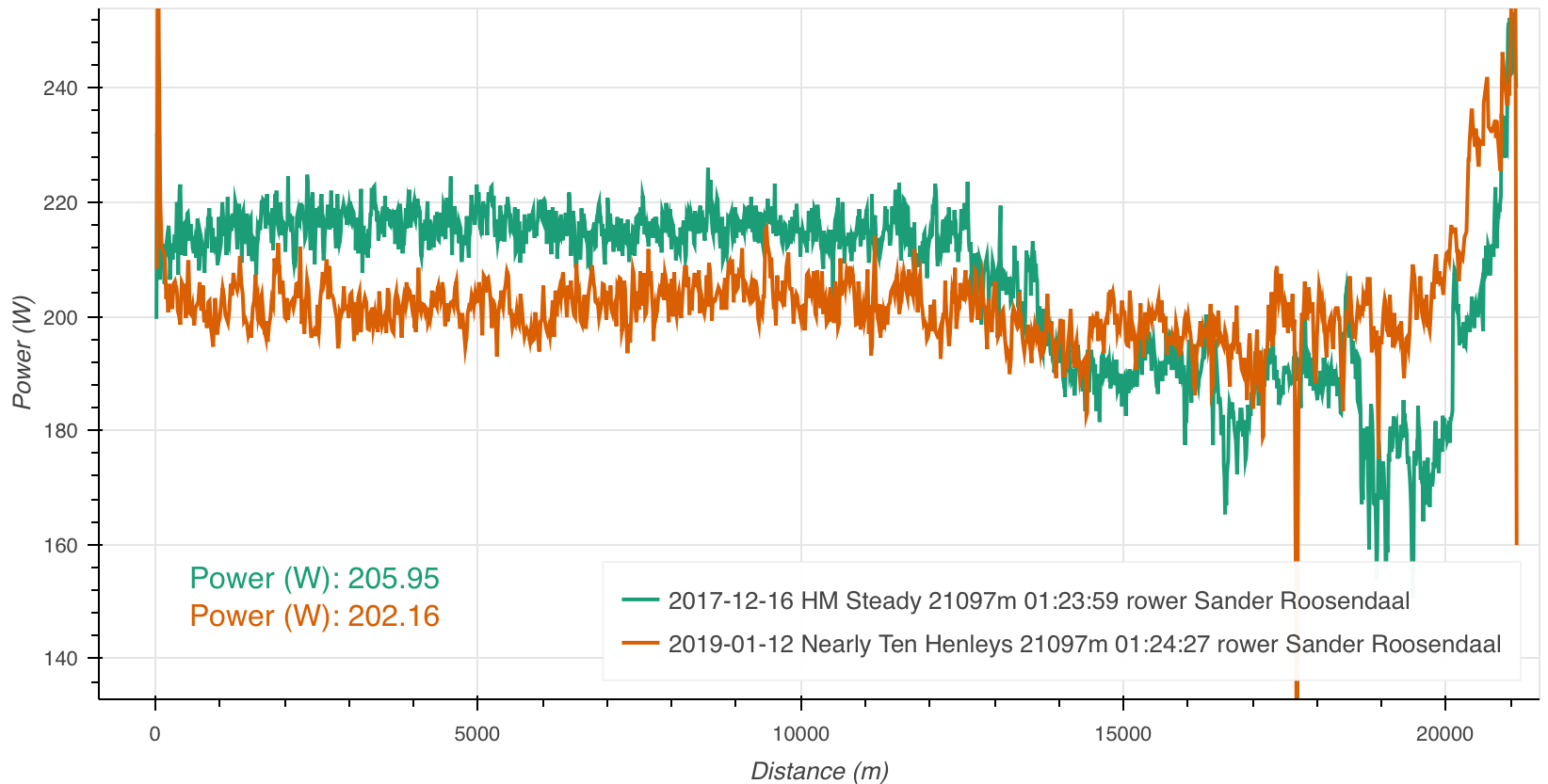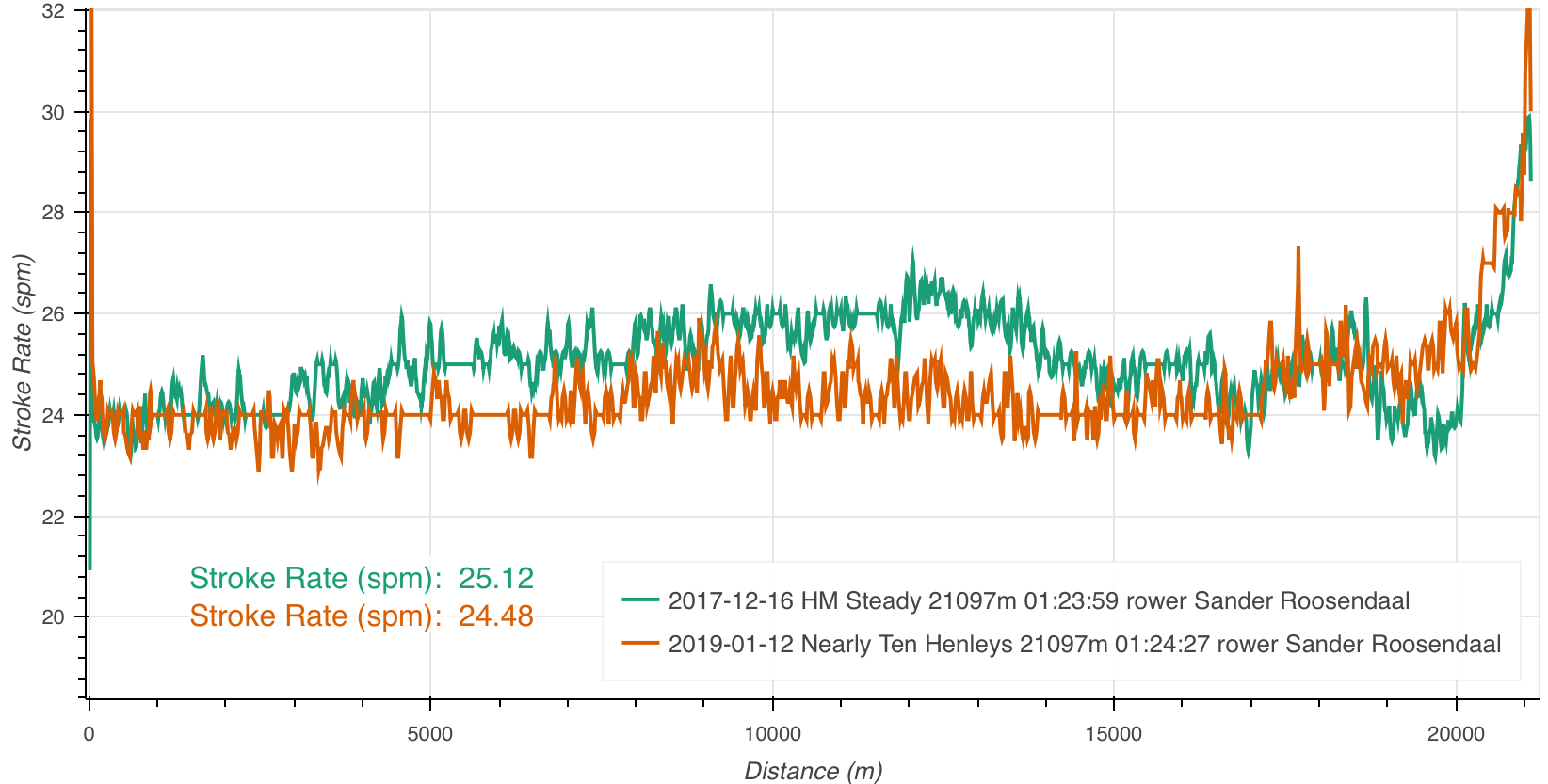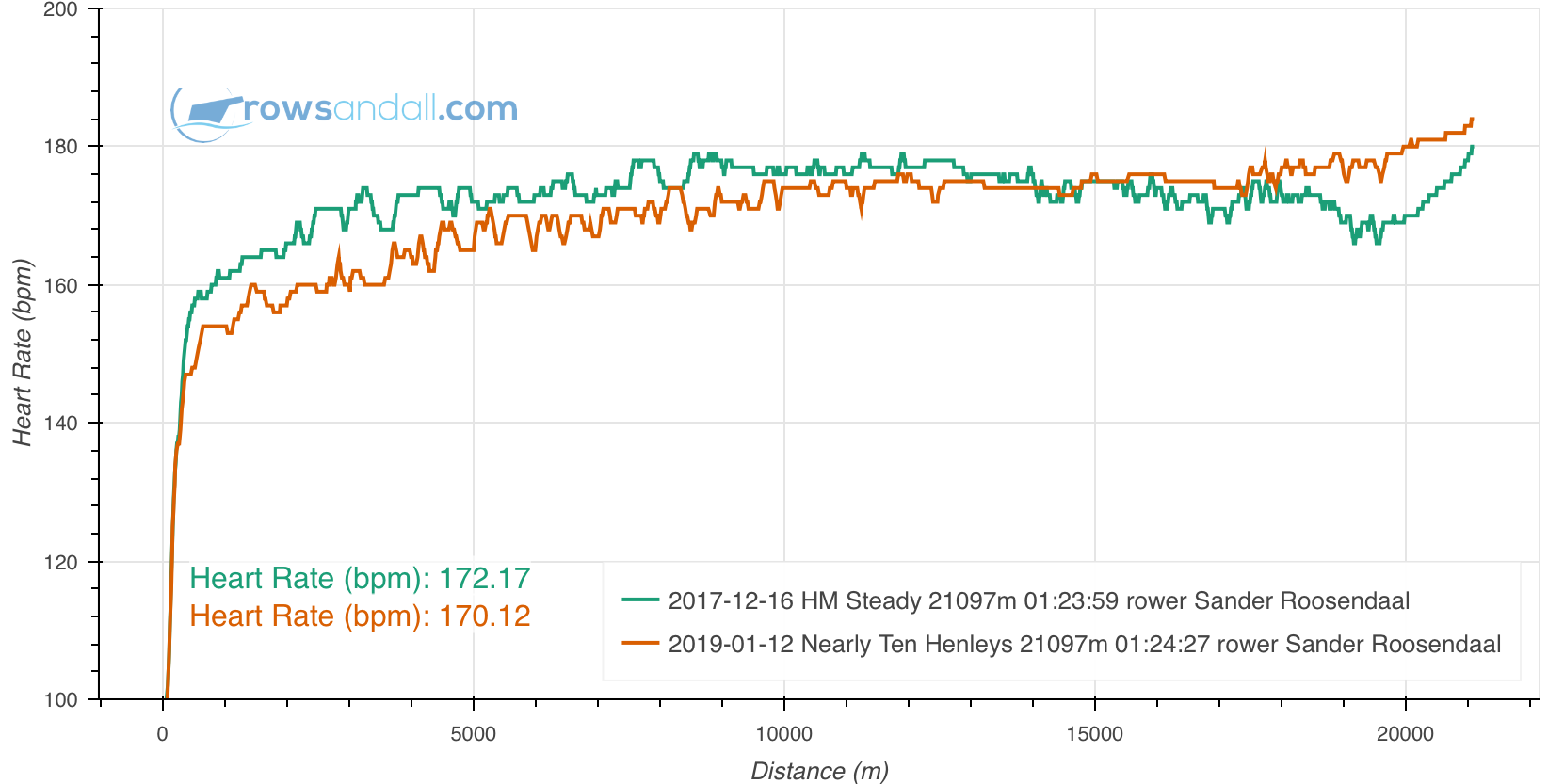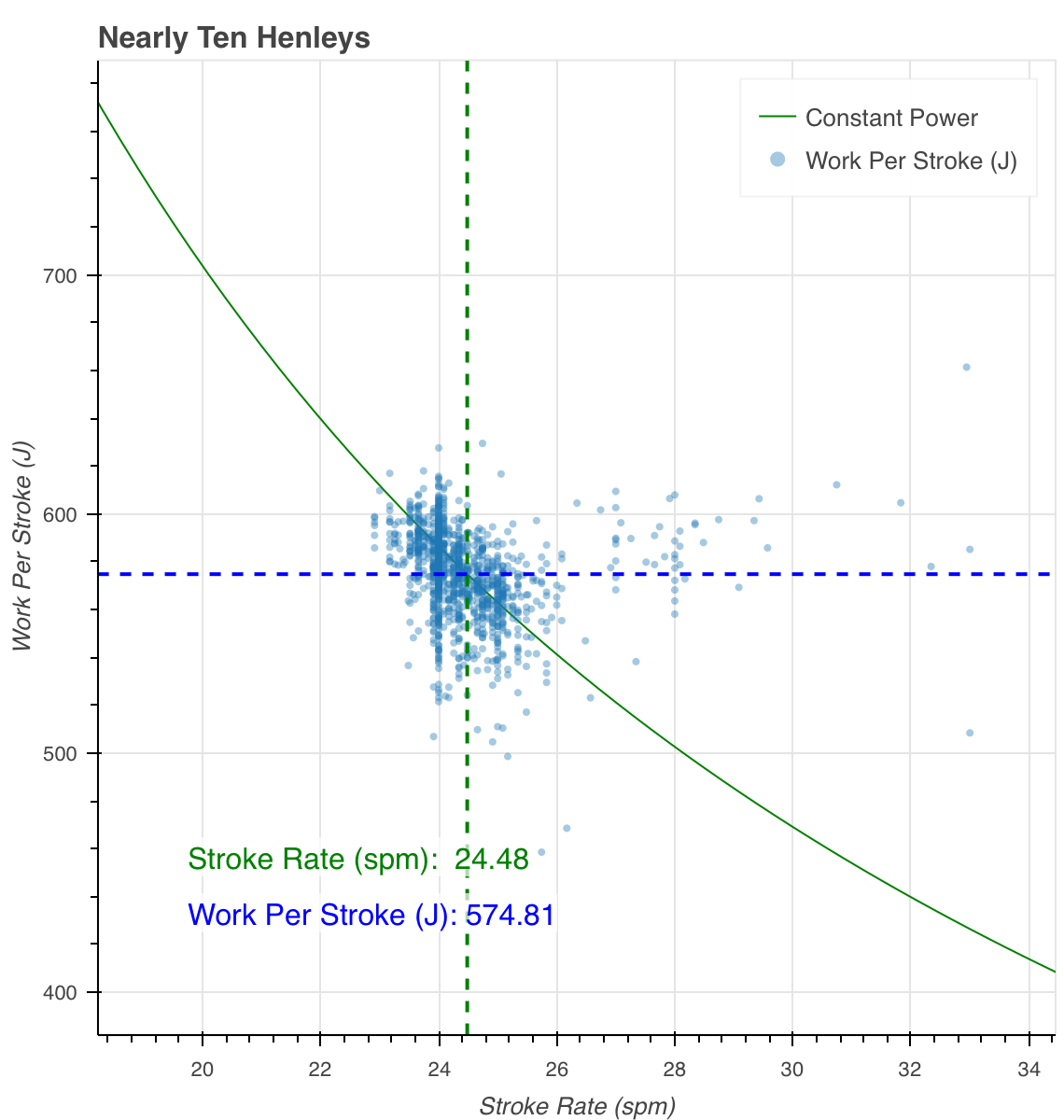 The final chart shows how I traded Work for Rate when I got tired.
Follow me in social media