Dec 27 2018
Monday – 24/12/2018
Romana and I went swimming. Forgot to charge my heart rate belt so I swam without recording heart rate. No big deal as I roughly know what the values are. I swam 2km.
In the evening we had a traditional Christmas dinner and then some presents. It was a very nice evening.
Tuesday – 25/12/2018
Christmas!
I did manage, however, to get in a 10k row. We have a Indoor Rowing Christmas Challenge on rowsandall.com and I had to do a 10k either on Tuesday or Wednesday.
We went to a nearby Chateau that always puts up special Christmas decorations. The tour of the chateau is very nice, but the chateau is not heated, so we were all pretty cold when we came back home. There was a two hour gap before I had to help prepare the Christmas dinner, so I grabbed the opportunity to row the 10k. First, I did a 2k warming up, and then I did the main event: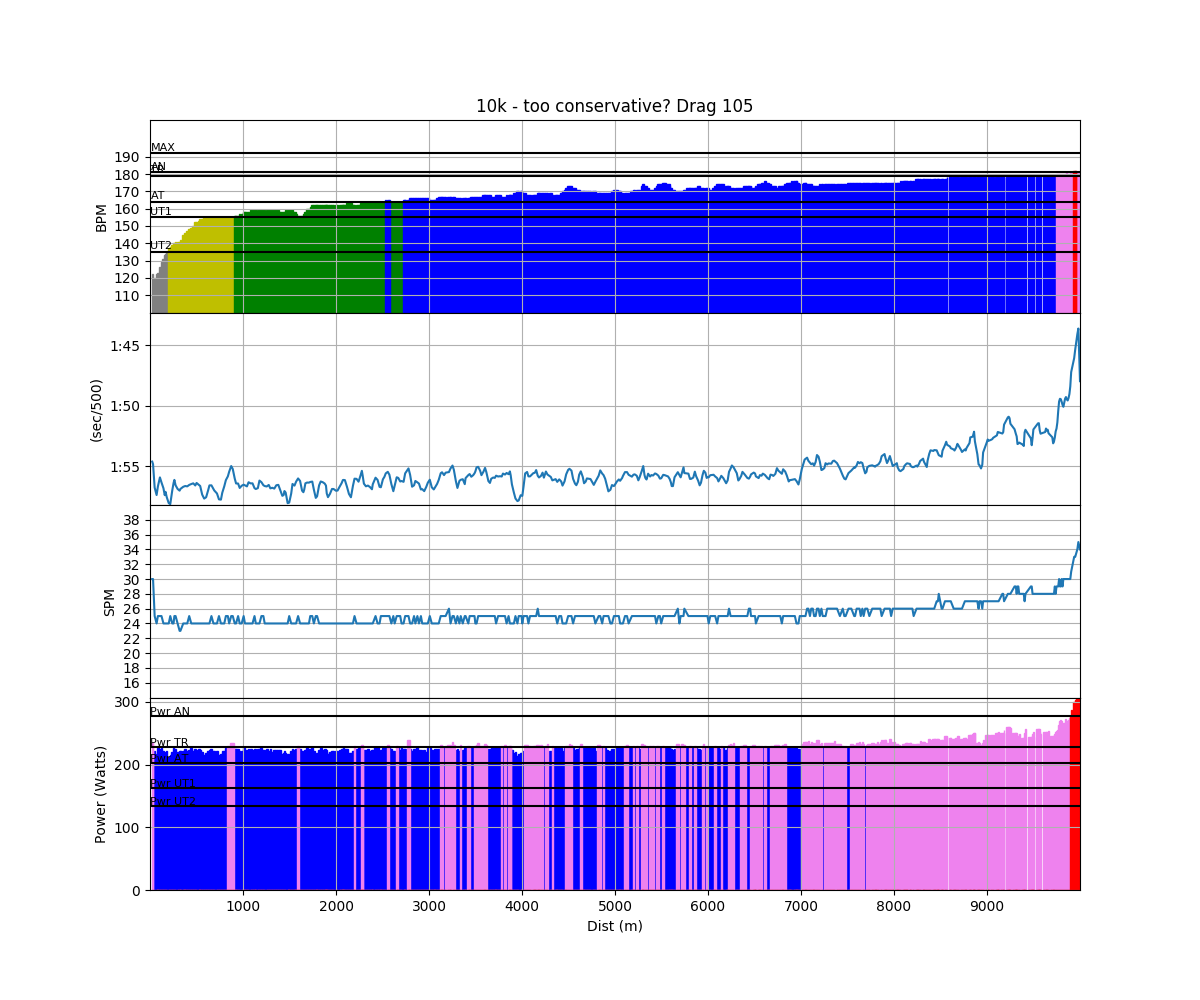 I set out quite conservative, basically because I wasn't sure about my fitness level, but also because I was still pretty cold after the warming up. For the first 4000m, I didn't push any further than needed to hold at least 220W. That was quite easy, so with 6k to go I pushed it up a little, and then very carefully kept adding watts. Then, when I sensed that I could equal or even better my last year's effort of 229W, I started to push it real hard, ending at 231W and a time of 38:16.8.
Happy with the result, although I am wondering how much faster I could have gone with a bit more aggression in the first half. This row really started to hurt only when there weren't too many meters left, and I knew I could limp home and still post a reasonably good result. Good baseline though for the 10k race in February.
Thursday – 27/12/2018
Talking about limping home … This was one of the worst training experiences of the year.
The idea was a 45 minute run followed by a 30 minute core strength workout.
First, there was the drama with the apps. I have started using the Polar Beat app to record my runs, but recently it has been giving strange GPS results. My theory was that it didn't find the satellites and then just never caught up. So today I made a point of checking Google Maps and other map apps on the phone to see that the GPS was receiving well. Then I started up Polar Beat and waited until it confirmed that the GPS signal was OK.
I started running and after about 1.5km it started to fail. The app would report a completed 1k lap every few seconds.
Disgusted, I stopped the app and started the Strava app instead. I thought I was recording, but as I found out after the run, I had recorded only 5 seconds. Apparently hit the stop button before I managed to lock the screen of the phone.
Then, about half way, I started to feel pain in my right calf. I continued to run, perhaps slowing down a little. At a point about 3km from home, when I was running on a slightly muddy trail, I felt a sharp pain and I had to stop running.
I walked for about 10 minutes, then did some running again, then walked again, and this is how I limped home. Not amused.
I know this will heal by itself, just by not running for a few days, but it didn't improve my mood.
(Oh – I did complete the Core Strength session though. Glad I did.)
Follow me in social media